Shift the Carbon to Neutral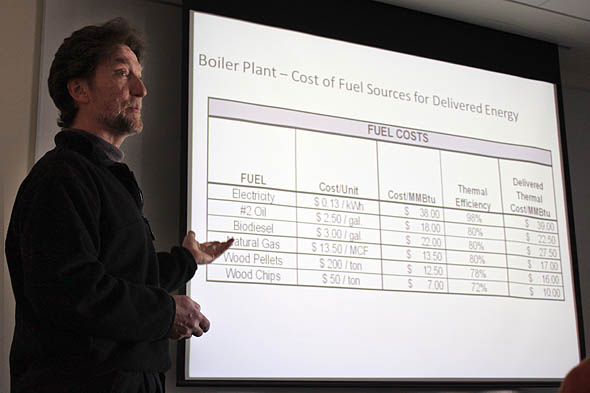 Bates plan looks to biomass for curbing emissions
Can a college get smaller as it gets bigger?
Bates believes so. A recently adopted Climate Action Plan anticipates that the College can reduce its carbon footprint even as its physical footprint expands in the coming decades.
And by tying the CAP to long-range campus development, "we've framed it as an integral part of growing and updating our campus infrastructure," says Julie Rosenbach, sustainability coordinator. "We're wrapping climate action into how we do business."
Three years ago, Bates signed the American College & University Presidents' Climate Commitment, which committed the College to, among other things, publishing a meaningful climate action plan ("Zeroing In," Fall 2007). Bates submitted its plan to the ACUPCC in March.
How Bates heats the campus is key to attaining carbon neutrality. Bates' central heating plant now uses three boilers that burn fossil fuel to make steam for campus heat and hot water. The CAP proposes a new plant that would cut net emissions by some 70 percent, starting at the same time (about a decade from now) that new buildings, such as an integrated math and science center, start to outstrip current heating capacity.
The new plant would address greenhouse gas emissions through its fuel: biomass, aka plant materials such as waste wood. Burning biomass recycles atmospheric carbon rather than pulling it out of the ground in the form of fossil fuel.
Heating the campus (and its water) is the major component of Bates emissions. Electricity was once a second major chunk, until 2005, when the College began purchasing electricity generated from sources, like hydropower and biomass, that don't create net increases in atmospheric carbon.
The CAP mandates that this practice continue in some form, but it also suggests that the new heating plant be able to generate electricity with the residual heat from biomass consumption. Called cogeneration, this efficiency would pay for itself in a decade and reduce the College's electrical purchases.
Finally, the plan envisions a variety of efficiency, conservation, educational, and green-building measures to further reduce emissions; and the purchase of verifiable carbon offsets to account for the approximately 10 percent of emissions that can't be eliminated.
View Comments