Boston company joins Bates dancers for informal program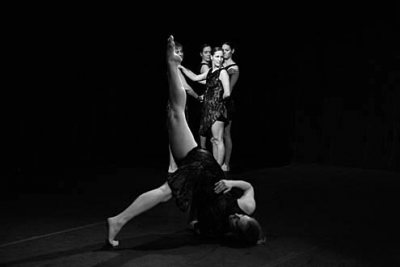 Choreographer Jody Weber and her company Weber Dance join the Bates College Modern Dance Company and Maine dancers Carol Dilley and Trish Harms in an informal program of current works and works in progress at 5 p.m. Saturday, Feb. 27, in the Plavin Dance Studios in Merrill Gymnasium, 141 Russell St.
Admission for the performance, titled "Home & Away III," is free. For more information, contact this cdilley@bates.edu. Additionally, there will be an open modern dance class in Plavin Studios at noon with Jody Weber.
This is the third exchange between Jody Weber of Bridgewater State College and Dilley, director of Bates' dance program. The pair began in 2007 with an exchange of student companies, each sharing a class and a combined performance in the home studio of the other. The second exchange was professional works by the non-student companies of the faculty members.
Through these exchanges, Dilley and Weber have developed a supportive network of performance and feedback opportunities between colleagues. Students have the opportunity to perform in the professional working environment of their dance faculty and the faculty choreographers have the opportunity to meet new audiences and interact with peers.
Weber received a BFA from SUNY Purchase in 1988, influenced by teachers Sarah Stackhouse, Kevin Wynn and Mel Wong. In 1992, she received a master's from American University focusing on dance history. At American University, she received a full teaching fellowship. Over the past 18 years, she has performed in New York City, Washington, D.C., and Boston.
Dilley, who is organizing the event, joined the Bates dance program in fall 2003. She has been an international choreographer, performer and teacher for nearly 20 years. Based first in New York, then Barcelona, Seattle, Sydney and now Maine, she has worked with many companies and independent choreographers as well as her own companies, Radio Suec and Carol Dilley & Co. She has performed her work in the U.S. and Europe both as a solo artist and as director and choreographer.
View Comments