With Young Dancers Workshop, festival bridges gap in dance education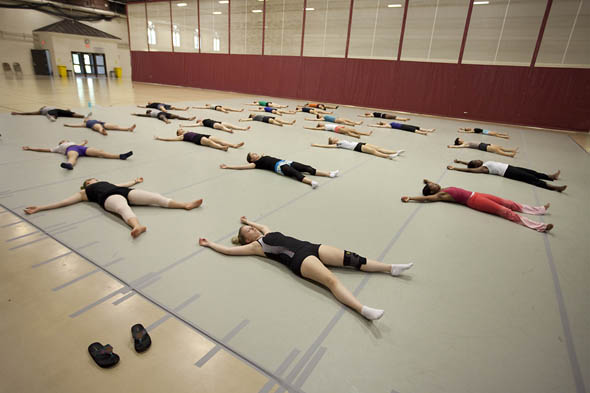 By Brittney French '11
Resounding to the chant of "one, two, three, four," followed by "five, six, seven, eight," the Gray Athletic Building at Bates College has become a studio filled with students perfecting their modern-dance technique.
Amidst the heat and humidity of a mid-Maine summer, percussion and electronic soundscapes drive the dancers' body rhythms — but not for long, as instructor Christal Brown forthrightly, but constructively, corrects a student's stance.

Five days a week for three weeks in June and July, 100 student dancers spend hours perfecting their technique in studios, gymnasiums and classrooms around the Bates campus. These accomplished students come from the U.S. and abroad to attend the Young Dancers Workshop, part of the nationally acclaimed Bates Dance Festival.
Founded in 1982, the annual festival hosts an international group of choreographers, dancers, educators and students in a collaborative environment to study, perform and create new work. One of the festival's three educational components, the YDW is aimed at dancers in their mid-teens.
"Part of our mission is to train dancers to be as versatile as possible and to foster their development in as many areas of dance as we can," says Laura Faure, festival director. "We encourage them to think broadly about what it means to be a dancer and how there are a wide range of career possibilities in this profession."
Faure established the workshop in 1996 to fill a gap in the field of dance training, as other dance programs tend to teach only older, better established dancers.
The YDW curriculum includes modern, ballet, jazz, Afrofusion, hip-hop, repertory and improvisation. A class size of 20-25 students allows the dancers to get the individual attention that need at this age. In supplemental weekend workshops, "we might do a ballet class, Pilates, yoga or other styles that aren't taught throughout the week," Faure says.
For dancer Lindsay Spratt of Cape Elizabeth, Maine, the demanding sessions were something to get used to. "I don't think I was prepared for how physically rigorous the sessions were, but it's good for me to learn this now rather than later," she says.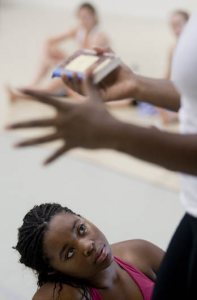 Many of the instructors have abundant experience in both teaching and performance. "I've never had this many people that I could talk to" about dance, Spratt adds.
The program fosters a supportive, noncompetitive learning environment. "I find the staff very open and honest," says Jemma McElroy, a student from Freeport, Maine. "They're really helpful with motivating us. Overall, they're really inspiring people."
Many of the YDW students plan to study dance during the academic year, and some want to pursue a professional career in the field. The YDW gives insight into what a dance major in college might be like. Christian Allen, a second-year participant from Boston, says, "the staff gives us a wide and realistic view of what majoring in dance really means."
The program complements the academic-year dance curriculum at Bates, which is directed by Assistant Professor of Dance Carol Dilley and offers a minor in dance. (A major in dance is being developed.) Where the summer program is more about skill-building, "Carol focuses on developing the individual and the expressive voice, choreography, improvisation and composition," says Faure.
But the programs have similar teaching models and philosophies. "There's a lot of crossover between the two programs," she says, adding that the two programs often share resident artists. Faure sees the YDW workshop, too, as a valuable recruiting tool for Bates.
If the quality of instruction is the program's primary draw, the Bates Dance Festival's overall reputation — it shares the first tier of festivals with the American Dance Festival, at Duke University, and Jacob's Pillow Dance Festival in Massachusetts — sure doesn't hurt.
"When our name lands on a resume, people notice it," says Faure.
View Comments