Revisiting her first impressions of Bates
About to graduate, a student circles back
By Becca Chacko '10
I played with the hair bands looped around my wrists and found myself saying "um" and "like" just as I did when I was 17 and being interviewed for admission to Bates.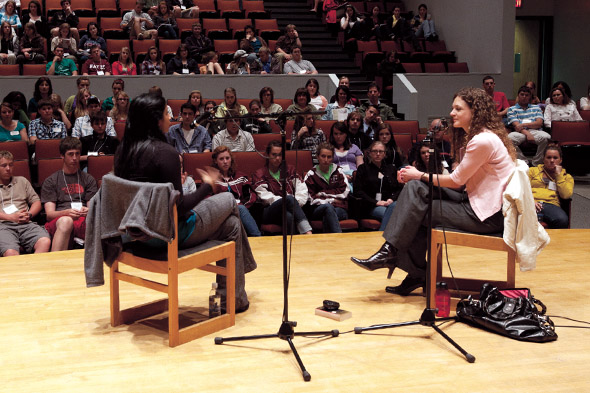 But this time it was just three weeks before I would graduate from Bates, and I was on the Olin concert hall stage playing the role of a high school senior.

The occasion was Maine Day, when counselors and college-hunting students from high schools around the state visit Bates — this year, more than 100 attendees from about two-thirds of Maine high schools.
The program focused on searching for and applying to colleges. Bates admissions staff proffered essay-writing tips and a roadmap for the process, and staged a mock reading of applications. Current Bates students from Maine, sharing the benefits of hindsight, recalled their own searches.
As for me, a senior admissions fellow, I helped assistant dean Johie Farrar '03 lead a college-interview workshop. I had interviewed more than 50 prospective applicants last fall, and got quite used to talking about Bates: Why I love it, what needs improvement, how a prospective student could succeed here.
The resume that began "I am a responsible and friendly individual" seemed distant and unimpressive.
So now here I was in the mock interview that unexpectedly reawakened my 17-year-old self, once again being asked to explain not only which classes and activities I undertook in high school, but why I chose them and what they meant to me.
It felt strange to revisit my resume from Palo Alto High. The resume that began "I am a responsible and friendly individual" and offered my neatly bulleted accomplishments now seemed distant and unimpressive. Why did I once feel so strongly about Prop 77? What did I really accomplish as president of the Second Harvest food drive? There on the Olin stage, I couldn't even remember things as basic as the high school subject I'd struggled with the most.
But Johie's questions did help me clarify for the Maine high school students what I love most about Bates. When she asked what I was seeking in a college, I said I wanted a place where students could collaborate without cutthroat competition, integrate into a small community where they felt like names and not numbers, and become broadly educated, well-rounded scholars.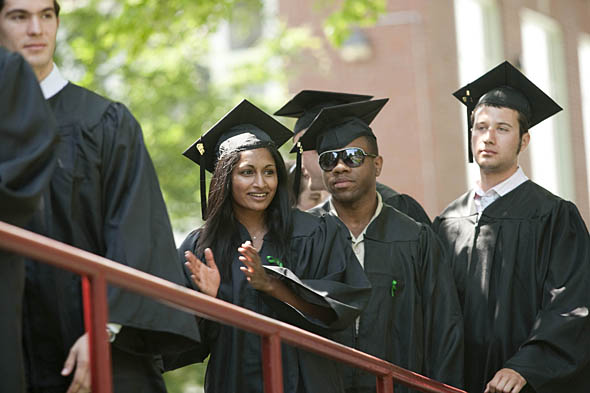 And then I remembered why I volunteered to help Johie in the first place — my own real interview as a prospective Bates student. It cemented my decision to attend. The relaxed atmosphere of Lindholm House, the senior interviewer who put her feet up on her chair, contributed to my seeing Bates as a collaborative and comfortable environment. It was a place where my interviewer was trying to get to know me, not to trip me up. — Now at the Boston-area consulting firm Circadian, Becca Chacko will enter the Harvard Business School's 2+2 Program in 2012.
View Comments