Student from Afghanistan leads book drive for Kabul university to top 2,000 volumes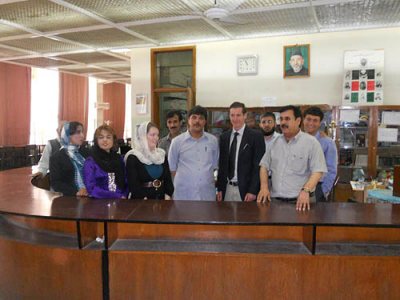 Last spring, Bates, Colby and Bowdoin colleges channeled their long-standing rivalry for altruistic purposes. The three schools competed to collect the most books to donate to the Polytechnic University of Kabul, in Afghanistan.
A Bates student, Kabul native Mustafa Basij-Rasikh '12, launched the project in an effort to restock the university's library, left critically short of English literature and textbooks.
The book drive collected more than 2,000 books in a variety of disciplines, including math, science, sociology, history, and women and gender studies. Bates raised the most books, with a total of 41 boxes. Colby ranked second with 33 boxes, and Bowdoin came in third with a total of 22 boxes.
Bates alum Chris Robinson '07 and other friends of the colleges contributed by picking up the tab for shipping costs.
The Polytechnic University of Kabul, the second-largest university in the city, was established in 1963. Like many major institutions in Afghanistan, government inattention, violent conflict and constant upheaval during the past three decades have left the university lacking many basic resources.
"All in all, everyone was incredibly grateful for the donations," said Basij-Rasikh, "and is looking forward to expand the program if possible."
Along with the book drive and an initiative supporting land mine victims, Basij-Rasikh worked with Matiullah Amin, an Afghanistan native who is now a junior at Williams College, to found the Afghan Youth Initiative this summer. This nonprofit, non-governmental organization aims to build a peaceful and prosperous Afghanistan by empowering today's youth.
View Comments