A day at the (gubernatorial) race: MPBN, Bates partner for debate
• Click on the thumbnails below to view images of from gubernatorial debate day:
If the absence of Republican candidate Paul LePage from last night's gubernatorial showdown at Bates disappointed some spectators, you wouldn't have known it from the debate watch party that took place just downstairs from the debate held in the Olin Arts Center Concert Hall.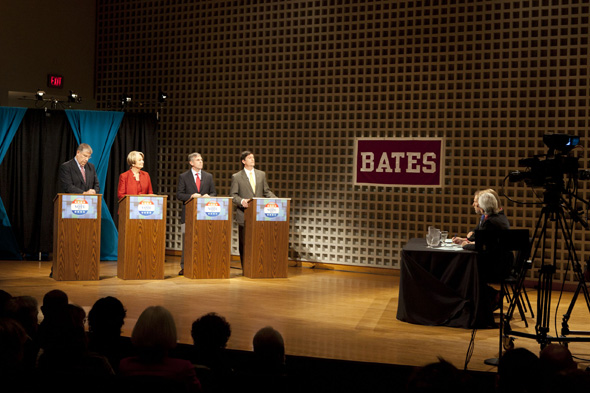 Though attentive and informed, the 50 or so students — for the most part Quimby Debate Council members and students in a campaign rhetoric course — still brought a certain wisenheimer energy to the gathering as they and their professors watched the Maine Public Broadcasting Network debate on the big screen.
Of course there were cheers whenever Bates was mentioned, and a particular candidate's folksy appeals to the viewers at home reliably drew a response. But the laughter and exuberant mock applause practically broke through the ceiling when candidate Kevin Scott, alone among the four, expressed support for a conditional legalization of marijuana.
"I laughed too," said Associate Professor of Rhetoric Stephanie Kelley-Romano. "It was so unexpected and unorthodox for a candidate."
• Complete video of the Oct. 28 Maine Public Broadcasting Network gubernatorial debate at Bates.

Featuring four of the five candidates for the Blaine House — Democrat Elizabeth Mitchell and independents Eliot Cutler, Shawn Moody and Scott — the debate held in the Olin Arts Center Concert Hall capped a day at Bates largely centered around the event. A crew from MPBN was on hand bright and early to start setting up in the concert hall, and Bates folks from Facility Services and Dining Services had plenty to do setting up green rooms for the debaters and prepping the Museum of Art for a welcoming reception.
Public events began with a late-afternoon presentation, by seven students, designed to give spectators context for the main event that evening. Four members of the Brooks Quimby Debate Council summarized the candidates' positions on the economy, social issues and the environment. And three students from Kelley-Romano's "Presidential Campaign Rhetoric" course offered tips on debate strategy and likely outcomes.
The seven had done their homework. Quimbyites Nate Sweet '11, Sam Schleipman '12, Spencer Collett '13 and Daniel Lambright '12 effectively differentiated the candidates (including LePage, who bailed out of the debate the day before), providing basic themes for each contender that were helpful in relating them to larger currents of political thought.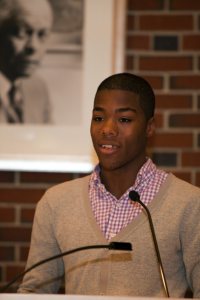 From Kelley-Romano's course, Kevin McCandlish '13, Daniel Waters '12 and Jordan Conwell '12 laid out debate strategy and tactics. If candidate debates offer great insights into policy, Waters noted, the real takeaway is so-called relational strategies — the language, posture and gestures candidates use when they address each other.
A debate has less to do with scoring policy points, he said, and "everything to do with how candidates are judged [as people] by the voting public."
Partners from way back
The evening's events picked up momentum around 6 p.m. as guests, ultimately 100 or so, converged at the Museum of Art for a reception co-hosted by Bates and MPBN. Bates President Elaine Tuttle Hansen and MPBN President Jim Dowe welcomed the visitors, both taking care to remind us that, in fact, the relationship between the two organizations goes back a ways: Bates and sister colleges Bowdoin and Colby founded WCBB, one component of what's now MPBN, back in 1961.
"MPBN wouldn't exist without Bates," Dowe said, recalling that then-Bates President Charles Phillips was among a Bates group that went to Washington on the first day that licenses for public television were issued, in the early 1960s. "They waited on the steps for the doors to open" at the FCC, Dowe said.
"It's very fitting for us to host debates at Bates," Hansen said, referring not only to the college's long and proud debate history, but also to the fact that the city of Lewiston welcomed Bates debates in City Hall before the college had a suitable venue of its own. Now, she said, "we're thrilled to be able to reciprocate."
As the hennaed Moroccan women of Lalla Essaydi's photographs looked on, guests at the reception sipped champagne and munched chilled shrimp, chocolate-dipped strawberries and mustard-rubbed lamb.
In attendance were members of local government such as Auburn Mayor Dick Gleason P'93; well-known Bates faces such as dance program founder Marcy Plavin and Professor Emeritus of Psychology and state Rep. Richard Wagner; and two of the candidates, Shawn Moody — with son James '12 — and Kevin Scott. A second Bates student had a candidate connection too — David Cutler '12, nephew of Eliot.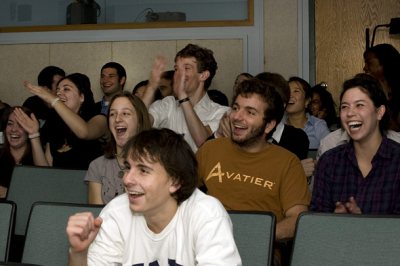 No empty podium
As showtime drew near, MPBN crew members, all in black shirts, put the final touches on the stage and camera setup. Would there be a symbolic empty podium for the absent Lepage, we asked? No, one staffer joked, "but we did get them from Marden's." (LePage is general manager of the discount store chain.)
By showtime, about 280 of the Olin concert hall's 300 seats were filled. About half the audience was invited, with the rest of the seats going to members of the Bates community, including some 70 students.
Associate Professor of Politics John Baughman greeted the gathering. Picking up the thread from Hansen of Bates' debate history, he raised the spirit of a great Maine and U.S. politician who, before all that, was a debater at Bates: Edmund S. Muskie '36.
Baughman pointed out that when Muskie ran for governor in the mid-1950s, the candidates never debated one another. So even in a political season as rancorous as this one, it's clear that there has been at least some kind of progress.
Indeed, as silly as the students got during the watch party in the basement, there was no question that each had a critical eye — in the best sense — on the discourse emanating from the auditorium upstairs.
In an age when so many potential voters shun the polls, director of debate Jan Hovden said before the event, "anything that engages people in the political process is a good thing in and of itself."
View Comments