Brooks Quimby Debate Council hosts annual high school tournament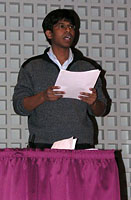 For the fifth consecutive year, the Brooks Quimby Debate Council hosted a Maine high school forensics tournament at Bates College. Approximately 170 students and 70 judges from 23 schools took part in the all-day event, the Bates College Forensics Tournament, on Saturday, Nov. 17. A scheduled tournament in the 2007-08 season of the Maine Forensics Association, the judged competition featured events in speech, debate and Student Congress.
Schools receiving top tournament honors from the Brooks Quimby Debate Council were: Scarborough High School for best overall performance by a team in Student Congress; Deering High School for best overall performance by a team in Lincoln-Douglas debate; Bangor High School for best overall performance by a team in public forum debate; and Skowhegan High School for best overall performance by a team in speech.
For the first time, the Quimby Debate Council hosted debaters from the Harlem Village Academies in New York City as part of its high school debate tournament. The Harlem team's debate coach, former Bates debater Andrew Jarboe, Bates Class of 2005, brought the team to the tournament, says senior Brendan Jarboe of Acton, Mass., president of Bates debate and Andrew's younger brother.
"Drew suggested that it would be great to extend our reach to high schools outside of Maine, and to college-bound students who might not otherwise get a chance to come and see Bates," the younger Jarboe said. A total of 30 Harlem students visited the Bates campus for the weekend, met the debate team and participated in the tournament. Several of them won awards in extemporaneous speaking.
"We hope that as our high school tournament continues to grow, this will be the first of many visits from the Village Academies and other schools outside the state," Brendan Jarboe said.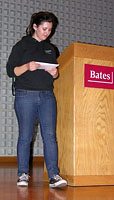 The tournament demonstrates Brooks Quimby's continued commitment to maintaining a strong relationship with debate programs across the state of Maine, says sophomore Ariela Silberstein of New York City, the Brooks Quimby director of publicity. "That connection has been an integral part of the team's community involvement, and will certainly continue to be so," Silberstein said.
Bates College sophomores Alix Melamed of New York City and Sartaj Khan Mojlish of Dhaka, Bangladesh, organized the forensics tournament with the help of their teammates and their coaches Andrea Curtis and Julie Rabinowitz, directors of debate at Bates. Lewiston High School speech coach John Blanchette, Bates Class of 1987, helped to organize the speech events for the tournament.
View Comments