Video: NASA profile of Petro '01 reveals influence of Bates mentor
In a profile and short video titled "Paid to Have Fun," planetary geologist Noah Petro '01 of NASA's Goddard Space Flight Center recalls points in his life when his parents and teachers helped him see how to meld personal passions and his professional path. One of those key mentors was Gene Clough, longtime Bates faculty member who became Petro's  friend and guide.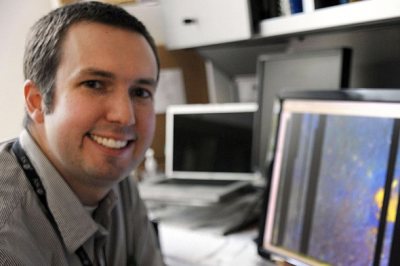 Interviewed for the story, Clough tells NASA writer Cynthia O'Carroll how he met Petro.
"I was substituting for another faculty member and decided to discuss the geology of the moon," Clough recalls. "Noah introduced himself as being an enthusiastic fan of space exploration with plans to major in geology. That day we began a conversation about the geology of the moon that never stopped."
During his time at Bates, Petro did a summer internship through NASA's Planetary Geology and Geophysics Undergraduate Research Program and worked with the U.S. Geological Survey in Flagstaff, Ariz. He also was also active in the Lewiston-Auburn community, teaching children and adults about the glacial "stories" that can be read from the rock formations on the Androscoggin River's Great Falls.
View Comments