Chevron's Lisa Barry '77 brings global energy insights to College Key residency
A touch of irony was in the air as Chevron's Lisa Barry '77 got ready to field questions about global energy policy and practices from an audience of mostly geology majors and professors gathered in a Carnegie Science Hall classroom on Wednesday.
As a Bates government major, Barry took just a single geo course, in order to fulfill her science requirement.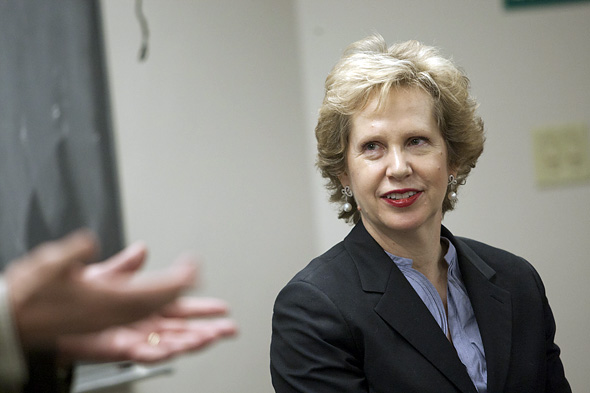 But after seven years as head of Chevron's government affairs operation in Washington, D.C., Barry knows that the field of geology is where it's at. "Continue your focus on geology," she said. "The field provides a fundamental skill set to join the energy debate."
Barry, on campus March 23 and 24 as the 2011 College Key Distinguished Alumna in Residence, is vice president and general manager of Chevron government affairs. With a global reach, the position keeps Barry involved in everything from the oil industry's response to the Gulf of Mexico disaster last summer to Chevron's expansion of its crude oil pipeline in Russia.
During her residency, Barry also addressed economics and sociology classes; met individually with students interested in energy-related careers and with President Elaine Tuttle Hansen; and delivered a keynote address in Muskie Archives. The reception and discussion in Carnegie was sponsored by the geology department and the College Key.
Deft and upbeat, befitting Barry's reputation as one of Washington's top energy and global-trade lobbyists, she peppered her public remarks with compelling energy facts ("while I'm speaking for 20 minutes, the world will consume a million barrels of crude oil"), while staying relentlessly on message about Chevron's role in meeting global energy needs. She noted that a "conversation about emerging markets and sustainability cannot take place without talking about energy."
With the Bates geologists and budding geologists, she discussed issues facing Chevron, the nation's second-largest energy company, behind ExxonMobil.
Professor Dyk Eusden '80, just back from a regional Geological Society of America meeting, commented how that event was dominated by presentations about Marcellus Shale, a potential massive source of natural gas located along the Appalachian basin.
"What are the pros and cons of extraction?" Eusden asked.
Chevron recently announced plans to increase unconventional shale gas drilling in the U.S. and elsewhere, including a prominent position in Marcellus Shale. (In energy-speak, "unconventional" means energy sources not previously considered practical to extract.)
"What are the pros and cons of extraction?" Eusden asked.
The positives, Barry replied, include jobs, of course, and lowering U.S. dependence on imported energy. "From an energy-security perspective, it is especially meaningful," she said. "And it would allow some electricity generation to move from coal to natural gas."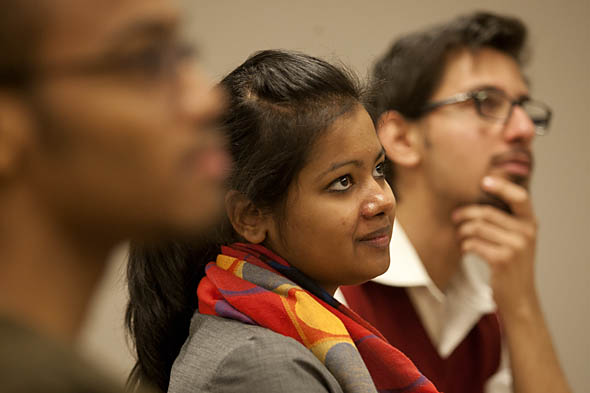 Natural gas extraction from shale is done by hydraulic fracturing: high-pressure liquid, mostly water, is shot deep into a well, where it breaks up the shale and releases trapped natural gas. The process uses millions of gallons of water, creating a veritable flood of water-use issues.
"Where does all the water go?" Barry asked rhetorically. "Hydraulic fracturing raises policy issues related to the supply chain of water." Chevron's position, says Barry, is that "we will not conduct [extraction] work without an understanding that the water is treated properly."
The current policy framework around hydraulic fracturing, Barry said, was developed when shale was being developed at a "smaller scale and by smaller energy players. While Chevron believes that we can develop the resources and protect water supplies, a review of some of these issues is appropriate given the scale at which the resource will be developed."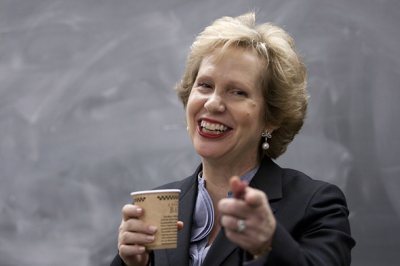 Barry began her Washington, D.C., career after earning a master's at Georgetown. She served as a foreign-policy staffer for the late Silvio Conte, the long-serving Massachusetts congressman, and then moved to the Office of the U.S. Trade Representative.
Entering the private sector later in the 1980s, she rapidly developed a strong reputation as a trade-savvy lobbyist. In her nine years as Boeing's vice president of international trade policy, for example, she was a player in China's gaining permanent normal trade relations with the U.S.
With Chevron, she helped to orchestrate the acquisition of the oil exploration company Unocal and, more recently, worked with federal regulators to develop new regulations that would restore public confidence in the safety of deepwater drilling operations after last year's BP well blowout. (On March 24, Chevron won approval for the first completely new deepwater oil drilling venture since drilling was suspended last June.)
"I've had the privilege of participating in some of the most interesting economic issues of our time," said Barry, whose D.C. office teams with the Bates Career Development Center to sponsor a Bates intern each summer.
Against the backdrop of the Sendai earthquake and Fukushima nuclear accident, Theodore Sutherland '11, an economics and French major whose late grandfather was the famed Pan-African activist Bill Sutherland '40, asked how Chevron manages global risk.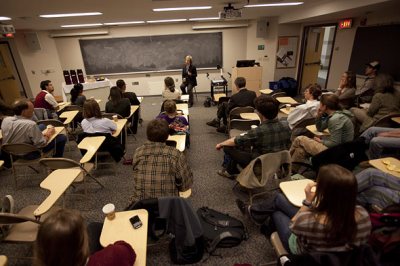 The question prompted Barry to invoke the so-called Black Swan Theory: how the occurrence and magnitude of major disasters are nearly impossible to predict or even comprehend. While companies like Chevron do "a tremendous amount of planning for natural disasters," Barry said, something like the Sendai quake "requires everyone to take a second look at whether they have sufficient systems in place."
Specifically talking about the Japan disaster, Barry says that one short-term effect has been to ease pressure on world crude prices because the crippled country isn't consuming oil (even so, crude prices have recently moved above $106 per barrel, prompting concerns about its effect on the global economic recovery).
In the long term, if countries respond by pulling back on their atomic energy programs, that would remove an important component of global energy supply, she said (around 6 percent of the world's energy is provided by atomic energy, according to various sources).
"That would put even more pressure on the price of oil," Barry said.
View Comments