College-access program head fills swing dean position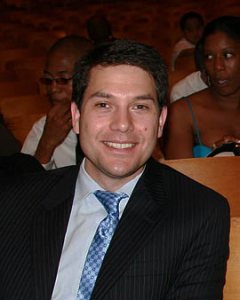 Michael Martinez of Dallas, Texas, has joined an unusual and innovative Bates initiative for enhancing student diversity.
Currently director of a highly successful college access program for high school students, Martinez joins Bates as associate dean for admission and student transition on Dec. 1.
As one of two "swing deans" at Bates, Martinez will play a key role in easing the transition to college for students from groups underrepresented in higher education. This transition, for socio-economic and cultural reasons, can challenge even students with the strong academic credentials that Bates requires.
The two deans trade places annually — hence the term "swing dean." As one goes to Admission to recruit new students, the other moves to the Dean of Students office to support the multicultural and first-generation-to-college students that she or he helped recruit in the previous year.
The extra measure of guidance, familiarity and reassurance that comes from this extended relationship can be decisive in student retention. During a recent Bates visit, Martinez lunched with sophomores and juniors who had benefited from the swing dean program.
"Some of them told me that if it weren't for the swing deans, they wouldn't be at Bates now," he says. "What a powerfully positive statement for Bates. That's why I'm so excited about being a part of it."
Martinez will join Carmita McCoy, who inaugurated the swing dean position in 2007. He succeeds Marylyn Scott, who has been appointed to the position of senior associate dean of admission and director of multicultural enrollment.
Now in its fourth year, the swing dean program is distinctive to Bates and has proven integral to both the success of multicultural students at the college and Bates' increasing attractiveness to those students. In fall 2010, so-called ALANA students — African American, Latino/a, Asian American and Native American — constituted about 17 percent of the entering class, an increase of more than two-thirds over 2006.
For Martinez, word of the Bates opening was a welcome surprise. "No other college that I have worked with has created this position, and devoted so much resource to helping multicultural students adjust to college life," he says.
The fact that the position covers both admissions and student services in a unique way "was a huge draw," he adds. "It will allow me to understand the full scope of issues that face students when they come to college — but also the full scope of solutions and challenges that face institutions in trying to serve those students."
"Michael gets these issues from a practical perspective, an intellectual perspective and then a boots-on-the-ground perspective, in that he can talk to the students in a way that shows he knows where they're coming from," says Roland Davis, associate dean of students and director of Bates' Office of Intercultural Education. Davis co-chaired the swing dean search committee with Nancy Cable, vice president for enrollment and external affairs.
Martinez will be leaving behind the Academic Success Program, for which he had volunteered as a student and which he joined professionally in 2006 as an adviser. ASP helps predominantly low-income and minority students in Dallas high schools get into college.
In the 2009-10 academic year, 99 percent of the nearly 1,400 seniors served by ASP were admitted to college. Dartmouth, Middlebury and Wellesley colleges — and Bates — were among the schools admitting ASP participants.
The program works closely with liberal arts colleges, Martinez says, because "our students oftentimes ultimately discover that colleges like Bates are their best-fit schools." In part, that's because of the resources, "like Bates' swing dean position, that they can provide students."
View Comments