Shirl Penney '99 creates Wall Street buzz with Dynasty startup
Wealth-management startup Dynasty Partners, with Shirl Penney '99 as partner, president and CEO, has the Wall Street media buzzing that the firm's emergence could signal a fundamental change in the full-service brokerage model for high-net-worth clients.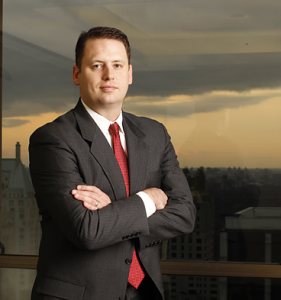 In its analysis, Reuters notes that Dynasty seeks to attract independent investment advisers away from traditional wirehouses and give them access to a platform of "trading, clearing, research and other support services." In that sense, reports The Wall Street Journal, Dynasty resembles a firm like Sanctuary Wealth Services, self-described provider of advice and solutions to independent wealth advisers.
Quoting Penney, Reuters notes the Dynasty seeks to fill a "hole" in the marketplace "for a dedicated service provider with a deep understanding of high-end advisers and what they need to grow their business."
Posting the most in-depth story thus far, Bloomberg Businessweek quotes Penney as saying that by eliminating pressure on advisers to sell house brands, Dynasty's business model allows independent brokers "sit on the same side of the table as their client and act as an adviser and get paid for advice, not have to act as a sales professional."
In the Bloomberg story, Penney cites research by Boston-based Cerulli Associates that independent advisers will reach $5 trillion in client assets, predicting that Dynasty can capture 1 percent of that, or $50 billion, by 2016.
The startup's impact was felt Monday after Barron's reported that Dynasty had recruited (one business gossip website used "poached") top financial adviser Michael Brown from Bank of America, prompting that company's shares to dip nearly 1-1/2 percent. Brown is reportedly taking $5.9 billion in assets from Bank of America to Dynasty, where he will be a partner and the firm's wealth-management director.
Dynasty gets financial backing and operational support from a "clutch of Wall Street veterans," in the words of The Wall Street Journal, including Todd Thomson, former head of Citigroup's wealth-management division, as chairman of its board.
On CNBC on Monday (see clip above), the question was whether Dynasty was leading a sea change in the full-service brokerage model.  Gary Kaminsky noted that Dynasty is hoping to capitalize on a "wave of feeling" among high-net-worth financial advisers with firms like Morgan Stanley Smith Barney or Merrill Lynch who, under the thumb of in-house analysts and researchers, feel more like salespeople.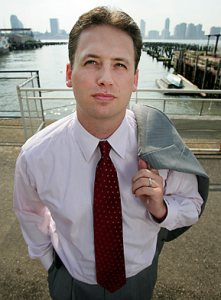 The fact that "significant industry veterans" have joined Dynasty as directors suggests that Dynasty "thinks they have an opportunity to change the model," Kamisky says. Board members include former American Express CEO Harvey Golub, Bill Donaldson, co-founder and former CEO of Donaldson, Lufkin & Jenrette, and Jim Brown, CEO of Long Ridge Equity Partners.
Penney, who is former head of business development for Smith Barney, is joined on the Dynasty management team by COO Edward Swenson '99 and Jason Pinkham '02, chief of staff. Well-chronicled is Penney's path from his Down East childhood to Bates and to Wall Street.
View Comments