$150,000 grant from Alden Trust supports Hedge-Bill renovations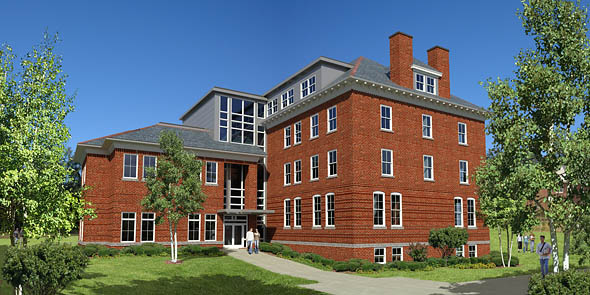 As Bates continues to transform two 19th-century residence halls into state-of-the-art academic buildings, the college has received a $150,000 grant from the George I. Alden Trust to support the renovation project.
The grant supports the $15 million expansion and renovation of Hedge Hall, built in 1890, and nearby Roger Williams Hall (1895) into homes for academic departments and programs. The Alden Trust, established by George Alden in 1912, supports learning institutions that demonstrate educational excellence, exciting programming and effective administration.
"We are deeply grateful for this support from the Alden Trust," says Bates President Elaine Tuttle Hansen.
"It's a validation of our belief in the important role that the built environment can and should play in the liberal arts experience. These renovations are more than mere facelifts — they support a number of educational priorities at Bates," Hansen says.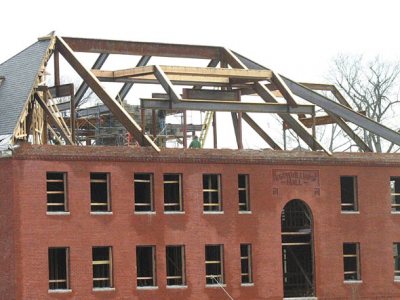 The new spaces are designed to bring faculty and students together both formally, in classes, and informally in lounge and common spaces," she explains. "This supports our belief that significant learning happens as much in the social arena as in classroom and lab."
In addition, she says, "Bates' nationally recognized commitment to sustainability is prominently reflected in the Hedge-Williams project," which, like all new major construction at the college, conforms to the equivalent of the "silver" rating in the Leadership in Energy and Environmental Design (LEED) system of standards.
Finally, by providing new focuses for activity and stunning new visuals at the east end of a major college thoroughfare, the Hedge-Williams project continues the redefinition of the central Bates campus.
"Foundation funding for infrastructure and capital projects has become increasingly rare," notes Susan Orton, director of foundation, corporate and government relations. "The Alden Trust understands this, and that's why this grant is particularly meaningful to all of us at Bates."
The nationally known design firm JSA, with offices in Jacksonville, Fla., and Portsmouth, N.H., did the architectural work for the renovations.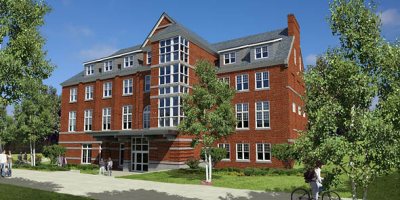 Designed by noted architect G.M. Coombs as a chemistry lab, Hedge Hall was converted into a student residence in 1965. In its return to academic service, it will house the Program in Environmental Studies and the departments of religious studies and philosophy. Currently at 14,764 square feet, the building will gain nearly 5,200 square feet in the renovation, including a major addition.
Roger Williams Hall, designed by Lewiston architect Elmer Thomas, opened in 1895 as the home of Cobb Divinity School at Bates. It was converted to combined residential and administrative use in 1908, becoming fully residential around 1964.
Expanding from about 27,300 square feet to more than 34,000, the hall will house the departments of German and Russian studies and of romance languages and literatures; the Program in Asian Studies; the Language Resource Center; and the Off-Campus Study Office.
Begun in March 2010, the Hedge-Williams project is the fourth and final undertaking of the first phase of Bates' campus facilities master plan, which also produced a new residence on College Street; the New Dining Commons, on Central Avenue; and the pedestrian boulevard on campus called Alumni Walk.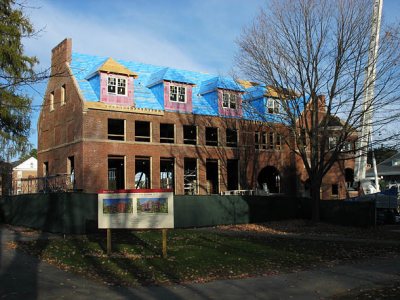 Anticipated completion date is summer 2011. The Hedge-Williams project also represents a significant act of historic and architectural preservation, as these buildings, constructed within the college's first 50 years of existence, help tell the early history of Bates.
Hedge and Roger Williams will feature spacious facilities that combine classrooms, lounges, offices and common areas to create intellectually stimulating and emotionally nurturing spaces for students and faculty to come together.
The departments and programs moving to Hedge were previously located away from the center of campus in small wooden buildings. The new location in Hedge will promote easier collaboration and camaraderie both among them and with other disciplines in nearby buildings. Aesthetic additions include new dormer and first-floor windows and a new staircase entrance with a glassed-in stairway that will present an inviting view for passers-by on Alumni Walk.
---
Follow the progress of the Hedge-Roger Williams renovations through the Campus Construction Updates.
---
Among distinctive new features in Roger Williams Hall (familiarly known on campus as "Roger Bill" or "the Bill") is a "cultural kitchen." New dormers, an addition behind the building and a glass-metal stair tower will transform the exterior.
Hedge and Roger Williams will be 35 percent more energy-efficient than required by ASTM International, a major standards-development organization. "Green" building tactics include hydronic, or water-based, heating and cooling systems; Web-based processes for measuring and verifying energy use; the recycling of construction waste materials; low-flow water fixtures; and motorized windows for automatic ventilation and mitigation of solar warmth gains.
View Comments