The Bates Outing Club has a way of getting inside your heart, writes Baker-White '13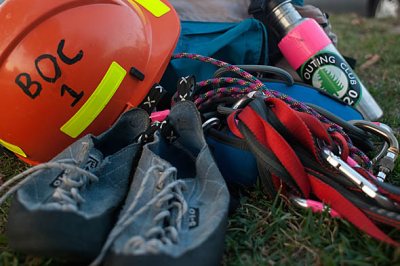 • Click thumbnails above to view slide show
Text and photographs by Matt Baker-White '13
Last spring, as I helped with the Bates Outing Club's 90th celebration during Reunion Weekend, I heard BOC alums swapping stories from back in the day. It made me realize that BOC friendships will be with me for the rest of my life, and that the Outing Club is the sole reason I have these great friendships.
For about half of all incoming students, their very first Bates experiences are are infused with BOC spirit through the Annual Entering Student Orientation Program. While the BOC no longer runs AESOP, the club contributes leaders, outdoor skills, equipment and an upbeat Bates attitude to these trips for first-year students.
AESOP forms lasting friendships. Some of my closest friends here at Bates were on my AESOP trip or are people I met swapping AESOP tales of hikes, climbs and paddles.
And after this sweet encounter with Maine's and New England's wilderness,  many students get figuratively  (and usually literally) bitten by the outdoor bug.
Almost every weekend morning this past fall, I donned hiking boots, a wetsuit or a climbing harness, getting out to the hills, rivers, and cliffs of Maine and New Hampshire with fellow Batesies. Nearly every weekend there's at least one BOC trip offering something, somewhere. It's during these trips that we learn to rely on each other, and this trust forges lifelong BOC friendships.
The BOC also gives students with much less outdoor experience the chance to try something new.
I recently led three Batesies on a trip to Tumbledown Mountain. Each had either never hiked or never winter-hiked. I cherished the chance to share the outdoors with fellow students, to help others feel a real sense of connection to beautiful places in Maine and beyond.
Some people see the BOC as a bunch of crazy kids who do outdoorsy things. For others, the club is a totally normal place that, like any Bates club, attracts heavy involvement. In truth, we're both.
Here's to the next 90 years.
Matt Baker-White '13 of Williamstown, Mass., is a BOC director.
View Comments