Poetry, portraits of incarcerated women Jan. 20-Feb. 3 in Chase Hall Gallery
More Than a Rap Sheet [real stories of incarcerated women], an exhibition of poetry by incarcerated women and photographic portraits of them, opens with a reception at 7 p.m. Thursday, Jan. 20, in Chase Hall Lounge, 56 Campus Ave. The exhibition continues in the Chase Hall Gallery through Feb. 3.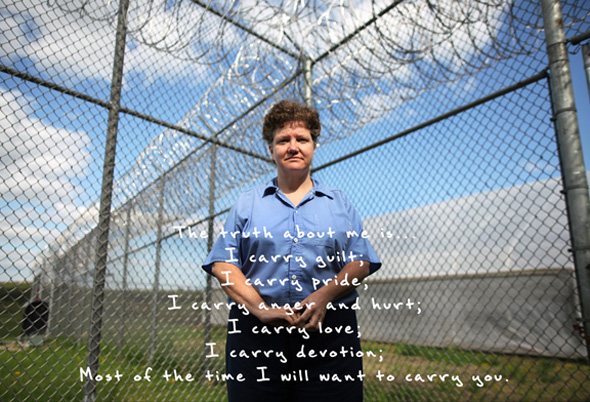 At the reception, Jenny Stasio '07 will talk about her work with incarcerated women through her position with Family Crisis Services and its Incarcerated Women's Program.
Recognizing the statistical connection between female incarceration and domestic abuse, the program offers support groups for women at the Cumberland County Jail (Portland) and the Maine Correctional Center (Windham), one of only a handful of such programs offered by U.S. domestic violence agencies.
In 2007, the program added creative writing activities to its educational groups. The women began each creative writing session by reading author Natalie Goldberg's tips for writers in Writing Down the Bones: Freeing the Writer Within:
1. Keep your hand moving.
2. Don't cross out.
3. Don't worry about spelling, punctuation, grammar.
4. Lose control.
5. Don't think. Don't get logical.
6. Go for the jugular.
The majority of the work in the exhibition was done within 15-minute free-writing sessions.
To create the photographic portraits for More Than a Rap Sheet, Family Crisis Services worked with the Salt Institute for Documentary Studies and Salt alum Christine Heinz, who photographed the women.
Donations of non-spiral-bound notebooks or composition books are greatly appreciated. They are always needed for the project's ongoing work.
View Comments