Chamber group to celebrate lives of three legendary Latina women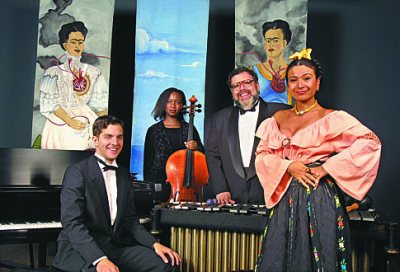 The Core Ensemble, a chamber group that has used theater to push out the boundaries of its genre, presents a work celebrating the lives of three significant Latin American women at 8 p.m. Friday, March 26, in the Olin Arts Center Concert Hall at Bates College, 75 Russell St.
The concert is presented by the Multicultural Affairs office. For more information please call 207-786-6135 or this olinarts@bates.edu.
Featuring actress Georgina Corbo, the ensemble's piece Tres Vidas ("Three Lives") celebrates Mexican painter Frieda Kahlo, Salvadoran peasant activist Rufina Amaya and Argentine poet Alfonsina Storni.
Since its inception in 1993, the Core Ensemble has garnered international recognition for its efforts to commission new music for its distinctive combination of cello, piano and percussion. The ensemble has been the catalyst in the creation of several chamber music theater works weaving narrative and drama into the chamber music experience.
Tres Vidas looks at Kahlo's dramatic and passionate relationship with painter Diego Rivera; Amaya's astounding survival of the 1981 government massacre of Salvadoran civilians at El Mozote; and Storni's lifelong challenges as Argentina's first great feminist poet. The dramatic situations presented in Tres Vidas are timeless in their emotional appeal to audiences across all gender and ethnic spectrums.
From a script by Chilean writer Marjorie Agosin, actress Georgina Corbo offers powerful portrayals of each woman. The music includes traditional Mexican folk songs as well as Argentinean popular and tango songs made famous by Mercedes Sosa and Carlos Gardel.
The Core Ensemble is composed of Tahirah Whittington, cellist, Hugh Hinton, pianist, and Michael Parola, percussionist. The ensemble has toured to every region of the United States and internationally to England, Russia the Ukraine, Australia and the British Virgin Islands. The ensemble received the 2000 Eugene McDermott Award for Excellence in the Arts awarded by the Massachusetts Institute of Technology.
A native of Cuba, Corbo is a graduate of the acting program at SUNY Purchase. Her television appearances include Law & Order and New York Undercover. She has appeared on and off Broadway as well as at the Kennedy Center in Washington, D.C., and at the Russian International Theatre Festival in St. Petersburg
View Comments