A Day at the Ranch
• Click the thumbnails below to view the slide show

An idyllic but hardly idle day at the Laramie River Dude Ranch of Bill Burleigh '86 and family
Text and photographs by Shauna Stephenson

Bill Burleigh '86 stands at the bedroom door of his sons, Christopher and Alex. Cowboy clothes, he tells them gently. You need to find your cowboy clothes. It's time to get up.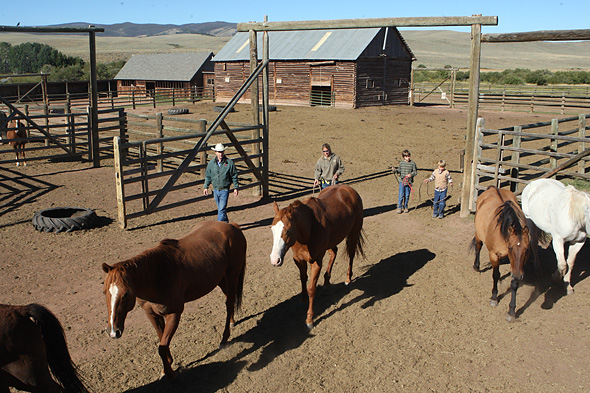 There is a grumble from within, and then two bright, yet less-than-impressed faces emerge. Life is both tough and exhilarating for boys growing up on a dude ranch.
This notion does not seem to faze the even-keeled Burleigh. Cool, calm, and collected, he talks to his boys the same way he talks to everyone, from his guests down to Tex, the old and nearly blind cat eating his breakfast in the bathroom.
Outside, morning has arrived at the Laramie River Dude Ranch, in Colorado just south of the Wyoming border, as the sun chases away the chill of the night, painting the peaks of the Rawah Mountains. Inside the main lodge, guests eat breakfast in a large, lofted dining hall. A bear skin hangs on the wall and guests dab their mouths with red, yellow, and blue bandanna napkins. A sliver of light slides in the window, highlighting a stocking hat, prompting a twinge of remorse on this mid-September day. Where has summer gone?
Shocking things happen in these parts this time of year. First, you spot a yellow leaf in a stand of aspens, and it takes your breath away. Then you wake up one morning and the entire forest has gone from green to golden overnight.
"It doesn't ever get lonely," Burleigh says. "Just about the time I need some space, the fall arrives and it's just us on the ranch."
By winter, the guests who walked the halls and grounds of this 1,360-acre ranch will be long gone. In the gin-clear waters of the Laramie River, which winds through the heart of this place, trout that snapped at guests' fly-fishing lures in the summer will be left alone. The willows that line the riverbanks will be bare.
Which suits Burleigh just fine. "It doesn't ever get lonely," Burleigh says. "Just about the time I need some space, the fall arrives and it's just us on the ranch."
The Burleighs used to live year-round on the ranch, but as the boys got older it made less sense to drive 50 miles to Laramie for school. "A pretty hairy commute in the winter," Burleigh says. So the family bought a winter home in town, and Bill and his wife visit the ranch a few times a week.
As a chemistry major at Bates, and later a consultant in information technology, owning a dude ranch was never on Burleigh's radar until his wife, Krista Kaplan, weighed in. "Her dream, of running a dude ranch, was definitely more interesting than mine," he says.
In 1995, the two purchased the Laramie River Dude Ranch, re-opening a place that had housed guests from 1937 to the 1970s. "It felt like it had a history," he says.
Now in its 14th season, the ranch welcomes guests from around the country and abroad. About 30 percent of their clients are international, mostly from Europe, and many return year after year to the dude ranch. (The word "dude" came into use in the 1800s and originally meant a fop or dandy; it soon came to mean someone from the East unfamiliar with Western farm life.)
Out in the corral, horses have been saddled up for the morning's ride. Other horses get the day off, and they're led to pasture by Alex, age 9, who then joins his dad for a drive to the spot chosen for the guests' lunch.
In a grove of aspens, checkered table cloths are set out on picnic tables scattered among hammocks. Cribbage boards and cards are laid on the tables, a clear sign of the mission here: Let go of the stress of your life, relax, and enjoy.
True, the ranch is idyllic, but rarely idle. Even inexperienced riders work on "team penning," a game that involves "cutting" a steer from a group and moving it into an open pen. Experienced riders help with larger cattle drives, helping Burleigh's neighbors move cows and their new calves from mountain pastures leased from the U.S. Forest Service (much of the land around the ranch is federally owned) back down to the owner's ranch.
"Most ranches have crews only big enough to get daily tasks done," Burleigh explains. "They're more than happy to have us come down with a trailer load of horses and guests to help on those big cattle moves."
And contrary to the dramatic cattle drives seen on TV, "the secret to successfully moving cattle is to move them slowly," he says. "They stay together and go in the right direction if you take it easy."
Take it easy. That's the watchword. So detach yourself from that cell phone (there's no service anyway), because a visit to this ranch is a time to sit and reflect, to contemplate life, mortality, and love — all those things a good dose of nature can give to the unsuspecting soul.
Burleigh shrugs and says he's not saving lives by running a dude ranch. But in a way, lives are in play on the ranch, a place where people just discover the value of a life lived intentionally. After all, what is better than a horse, a hammock, and a cool fall breeze in a setting that takes your breath away?
Shauna Stephenson is a Wyoming-based writer and photographer.
View Comments