Garcelon Field Is Looking Good
• Click the thumbnails below to view the slide show

Makeover complete, Garcelon Field re-asserts itself as prime Bates real estate
Striding en masse from Merrill Gym to Garcelon Field on game day, the Bates football team used to be an express train — no stops along the way. But all the hoopla surrounding renovated Garcelon Field turned the Bobcat train into something of a local this fall.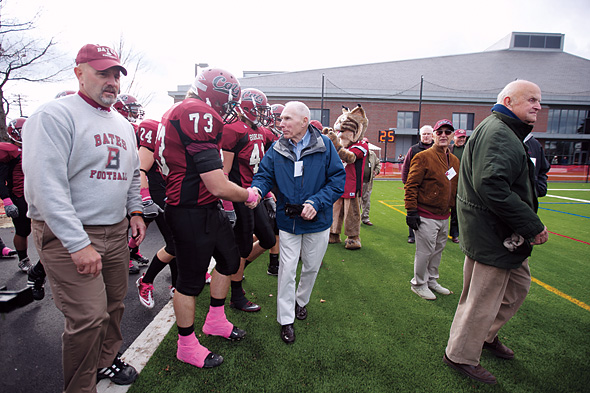 On game day, the team's first stop is the Bobcat statue, where coaches and players tap the cat's muzzle, a tradition begun after the statue's 2009 installation. And on Oct. 9, as players and coaches walked to Garcelon for their home opener vs. Williams, the team stopped right before stepping onto the field.
There, as part of dedication ceremonies, the players accepted greetings from President Hansen. In turn, the tricaptains gave Hansen a game ball signed by the members of the Board of Trustees. The ball now sits in Muskie Archives.
Also that day, as the Bates and Williams captains gathered at midfield prior to their kickoff, the zebras allowed a Bobcat toss the coin. The honors went to Susanne Morrison Jarnryd '87, who, with husband Erik Jarnryd '87, made the lead gift for the $2.6 million, donor-funded Garcelon renovation. Proving that the fix wasn't in, Williams won the toss.
Like anything at Bates, what goes on over here produces ripples over there.
At Homecoming — on Oct. 30, vs. Colby — the Bobcat train paused again at the Garcelon entrance to say hello to members of the glorious 1956 football team that won the Maine State Series title.
Like anything at Bates, what goes on over here produces ripples over there. Garcelon Field is now sitting pretty, right next to Pettengill (academic), New Commons (dining), and the Village (residential life), and soon to be joined by academic centers Roger Williams and Hedge halls, now undergoing renovations. Bates campus planners call this our "distributed use pattern" — studying, living, dining, and sporting are all interwoven.
In more lofty language, "every dimension of the campus community is visible, valued, and contributes to a shared experience." So how does the new Garcelon — Field- Turf, lights, grandstand, press box, scoreboard — compare with the old? Well, it's like when I was age 8, and I put on my first pair of glasses. Suddenly, everything got a lot more interesting. That's what it's like now. Just like that, Garcelon Field is back in focus. — HJB
View Comments