Campus Construction Update Special: 1941-49
Captivated by the details of steel, drywall and bricks, as we often are, it's easy to lose sight of the fact that the renovation of Hedge and Roger Williams halls is not actually the most important activity involving these buildings.
What really matters, of course, is what people do in a building during those long intervals between construction projects.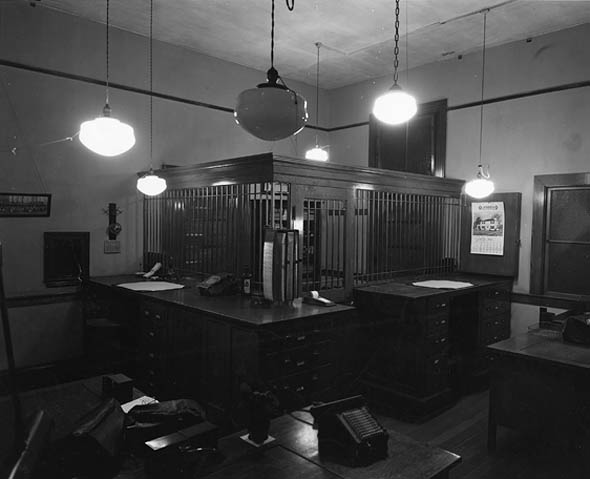 We were reminded of this truth by Ken '45 and Muriel Baldwin of Cornwall, Pa. The Baldwins, donors to the Roger Williams project, may have a genuinely unique perspective on the Bill. Ken lived there as a freshman in 1941-42, and Muriel took a job there as secretary to bursar Norm Ross '22 in 1946, when Ken resumed his studies after World War II military service.
Back then, the first floor and basement were given over to administrative offices and the upper stories housed first-year students. "We were a wild crew," Ken told Campus Construction Update.
Succeeding generations of inhabitants found their own, increasingly creative ways to ornament the Bill's reputation, but in Ken's day wildness involved, among other transgressions, pillow fights and water bombs.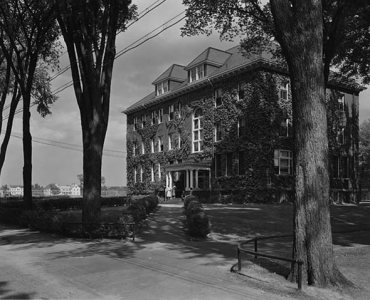 Upperclassmen, Ken explained, would lurk at the top of the Bill's four-story open stairwell and bombard first-years with bags of water as they entered the building. The ambushees, in turn, would counterattack with pillows. Pity the poor custodians.
"Norm Ross had a desk full of feathers from the pillows," gathered as evidence, Muriel told us. And Ross did tamp down the high spirits of Ken and his housemates — as did World War II, in a much more profound way. When Ken and other veterans returned to Bates after the war, "it was business, not monkey business," said Ken.
The Baldwins met in Baltimore during Ken's Coast Guard service, and he brought her back to Bates 65 years ago this month. While Muriel worked for Ross, Ken pursued an economics degree, and for a time they lived in Sampsonville — the village of prefab barracks erected near Russell Street for returning veterans and their families. (The nickname was for Charles Sampson, an engineering prof who also administered the vets' housing and was beloved for the consideration he brought to that role).
"Norm Ross said I could write the check to buy the barracks for Sampsonville," Muriel revealed. " 'Since you are going to live there, I am going to let you write the check.' He said this is probably the largest check you will ever write in your life."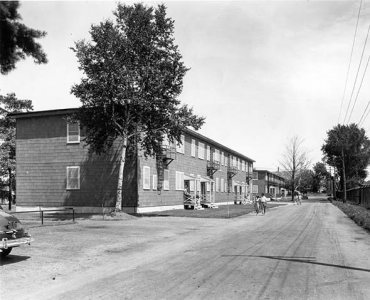 The deans of men and women, the registrar and President Charles Franklin Phillips shared the Bill's first floor with Ross and Muriel. Downstairs was accountant Gertrude Cox Campbell — "a very 'fixy' woman," in Muriel's description — who maintained an attractive flower-filled office.
There was scant contact with the Bill's upper-story inhabitants or any other students. "They only came when they had to pay their bills," Muriel said. And the veterans, now out on their own and many with families to support, often had to pay their bills in installments.
"Norm Ross would always call me when a veteran would come in to pay his bill. He would ask, 'How's this guy? Can I give him an extension?'
"And I had to tell him whether I thought that person could pay his bill by the end of semester or not." Her information was generally on the mark. "We were a tight group, really, the veterans and their wives."
She worked for Ross for three years — "a wonderful, wonderful man whose whole heart and soul was Bates." But Ross expressed a detailed and fact-driven kind of dedication. Muriel recalled a time when Ross called in the maintenance department's Albert Johnson and asked him to count the squares in two rolls of toilet paper: one the college's usual brand, and the other a salesman's sample reputed to have more sheets, but for the same price.
"Al came out and looked at me, and raised his eyes to the ceiling," Muriel recounted, "and I knew what he had in his head." But he counted the sheets and corroborated the salesman — the old brand had 10 fewer sheets — and the vendor won a big new customer.
Ross, she said, "was all business and all for Bates — whatever he could do to save money for Bates. And it was just amazing for me."
View Comments