The Boston Globe previews two Nordic races where Freeman '98 is defending champ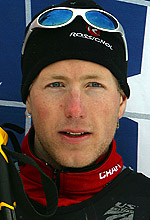 In its preview of two major Nordic races in New England, The Boston Globe focuses on Justin Freeman '98, defending champion of both the March 6 Ski to the Clouds up Mount Washington and the Bretton Woods Nordic Marathon six days later. Describing the Mount Washington event, Freeman notes that "it's very different racing uphill. Not necessarily hard, but certainly not easier than racing on the flats. There is no time to recover, and at the same time you can't go as hard as you can in other races."
The 10K race, which uses the Mount Washington Auto Road for its final six kilometers, ends near the treeline at the road's halfway about, about 3,800 feet above sea level.
The Globe says that "Freeman, 34, was an All-American at Bates College, had six career podium finishes at the nationals, and competed in the 2006 Olympics in Turin, Italy. The brother of three-time Olympian Kris Freeman, he's now an educator at the New Hampton School in New Hampshire." Freeman, a math and physics double major at Bates, blogs at FasterSkier.com
View story from The Boston Globe, March3, 2011, and a 1998 profile of Freeman by Marc Glass '88 for Bates Magazine.
View Comments