To the Bates Community From President Elaine Tuttle Hansen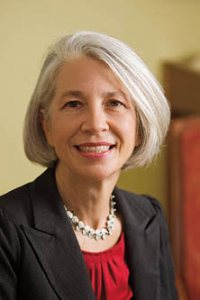 Dear Members of the Bates College Community,
As Mike Bonney notes in his message, I will be stepping down as the President of Bates this summer, and I expect to be able to share more details about my new position soon. For now, please know that in my remaining time here as well as in the work that lies ahead, I plan to continue to devote my full attention to advancing the objective I know we all share: promoting academic excellence and transformational educational experiences. As I said in my 2002 inaugural address, "Bates is and always has been a place of possibility because our purview is education, and the essence of education is to create the conditions under which each individual can realize his or her highest potential."
In that inaugural address, I also told students that they would be changed by Bates forever. "You will explore identities you have not yet imagined that will have a profound effect on the rest of your existence," I said. Nine years later, I realize that the same is true for me. I've been changed by the experience of being your president. With the help of so many wonderful students and colleagues, I've had the privilege of exploring possibilities, learning lessons, and engaging challenges and opportunities that have deeply affected me.
When I look back over nearly a decade, I am so proud of how Bates has met the challenges of being a liberal arts college in the world today. In our highly virtual and transient society, we have preserved the idea that living and learning in a stable, physical community presents unique and golden opportunities for the next generation of leaders and thinkers. We have characteristically managed to thrive despite great uncertainty in the economic climate, challenges to our treasured curricular ideas, and ongoing concerns that we as a community can always be more inclusive, more diverse, more learned, and more adequately funded. In my view, the global recession that began in 2008 only reaffirms the relevance of liberal arts colleges as the wellspring of creative thinking and innovation, the driving forces behind our economy and culture that we need to move forward.
I believe that new leadership at appropriate intervals can also help us move forward and encourage the positive response to change that is vital to the health of a place like Bates. With most of the goals of my administration accomplished and the time for our next comprehensive fundraising campaign on the horizon, I believe that this is the right moment for reaching out to find the next leader of this very important college.
My short-term goal through June will be to work with the Interim President, the Board, and all of you to ensure that the speed and direction of our current momentum is not lost and that this time of transition is at once smooth and productive. And I am and will remain unchanged in one way: in my profound and enduring gratitude for all the Bates faculty, staff, students and families, trustees, alumni, neighbors and friends, foundations and other organizations who have contributed so much to achieving the strategic priorities we have set and pursued together.
With warm regards,
Elaine
View Comments