President Elaine Tuttle Hansen appointed executive director of the Center for Talented Youth at Johns Hopkins
The Johns Hopkins University announced on April 21 that Bates President Elaine Tuttle Hansen will become executive director of the Baltimore university's Center for Talented Youth in August.
On April 13, Bates Board Chairman Michael W. Bonney '80 had informed the Bates community that Hansen planned to leave the Bates presidency in July, after nine years in that role, to accept a leadership position at another educational institution that would be announced shortly.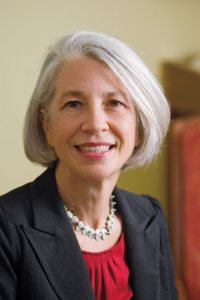 The Center for Talented Youth is an arm of Johns Hopkins that finds exceptionally able primary and secondary school students and supports them with challenging advanced courses and other programs, both in person and online. In 2010, CTY enrolled more than 26,000 students in summer residential classes and year-round online courses, bringing to more than 444,000 the number of talented second through 12th graders it has served since 1979.
Achievements at Bates under Hansen's leadership at include strengthened student diversity, expanded and improved facilities, greater financial strength through the largest fundraising campaign in Bates history, and innovative strategic planning.
President Hansen's announcement of her Johns Hopkins appointment:
Dear Members of the Bates Community,
Last week, Mike Bonney, chair of the Bates Board of Trustees, and I wrote to share with you the news that I would step away from my current role in July, after nine years as the president, to accept a leadership position with another educational institution.
I write now to let you know that late Thursday the Johns Hopkins University announced my appointment as executive director of the Center for Talented Youth at Johns Hopkins, beginning Aug. 1, 2011.
The Johns Hopkins announcement is available online at http://bit.ly/hansen-appointment.
In my new role, I will oversee an organization dedicated to teaching, research, and service in the field of gifted education. Since 1979, CTY has spearheaded efforts to identify and educate exceptionally able pre-collegiate students in the United States and increasingly around the world by providing advanced courses and other programs, both in person and online.
So even as I am moving from Bates, I am staying focused on my commitment to this College's fundamental mission: promoting academic achievement and offering transformative educational experiences to the most highly promising students, who in turn are motivated and prepared to use their talents for the common good.
I look forward in the weeks ahead to finding more time and ways to express my appreciation to all the members of the Bates community — students, faculty, staff, alums, parents and families and friends of the College — who have helped me to understand and promote the value of our enterprise. I am also and most particularly grateful to our remarkable Board of Trustees, whose time and talent are among our most precious and peerless resources.
For a president, the working relationship with the chair of the Board is particularly critical, and I have been lucky enough to share this year of transition with our outstanding new chair, Mike Bonney. He succeeds two extraordinary leaders of the Board, Burton M. Harris and Joseph T. Willett, for whose support, guidance, and wisdom I will always be so very grateful.
As the next executive director of CTY, I will have the enviable task of drawing energy and innovation from the best programs and practitioners at Johns Hopkins and elsewhere to ensure that more talented young people are challenged to aspire and enabled to succeed.
I am convinced that this effort, effectively pursued in all its forms at places like Bates and Johns Hopkins, is more important to our world than ever before. I owe the opportunity to carry on with this work in a new position to all I have learned in the course of the last nine years. It has been a privilege to be at Bates, and I look forward to staying close to the College as it evolves and flourishes in the years ahead.
With deepest thanks and warmest regards,
Elaine
View Comments