Bates hosts community forum for labor leaders, Latino immigrants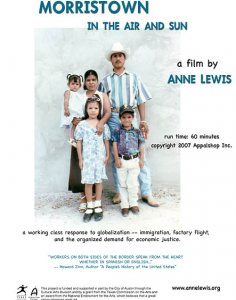 Bates presents a community forum for local labor leaders and Latino immigrants in an event starting at 5:30 p.m. Wednesday, May 4, in the IBEW 567 Hall, 238 Goddard Road, Lewiston.
The program includes a dinner at 5:30 p.m., followed by a screening of the documentary "Morristown: In the Air and Sun" from 6 to 7 p.m. and a discussion with labor and civil rights activist Fran Ansley from 7 to 8.
Open to the public at no cost, this event is presented as part of the Harward Center for Community Partnerships' Public Scholars Symposium, and is sponsored by the Western Maine Labor Council and the Maine Fair Trade Campaign. For more information, please contact 207-786-6202.
The intent of the gathering is to provide "a forum at which labor leaders and Latino immigrants in the Lewiston-Auburn area can meet each other and discuss how the events depicted in the film might shed light on the situation here in Maine," explains Leila Kawar, visiting assistant professor of politics at Bates and an organizer of the event.
"Professor Ansley has organized similar events in Tennessee and this event aims to build coalitions between labor and immigrant groups in Maine."
In 2007's "Morristown," director Anne Lewis' film documents the impacts of globalization in East Tennessee. She recorded nearly a decade of change in Morristown, interviewing displaced or low-wage Southern workers, Mexican immigrants and other people impacted by globalization.
The hourlong documentary looks at issues of immigration, factory flight and the organized demand for economic justice. The film depicts the effects of massive economic change and the challenges it poses to working people's assumptions about work, family, nation and community. Learn more: http://www.annelewis.org/Morristown.html.
The story of Morristown is not unique. Communities throughout Maine are struggling with plant closures and a downward pressure on jobs and wages. Meanwhile, immigrants struggle to provide a livelihood for their families in a system designed to exploit their labor.
Law professor emerita at the University of Tennessee Knoxville, Ansley was the principal humanities adviser to the documentary. She has actively sought to unite her scholarship, teaching and service in collaborative projects aimed at understanding and addressing problems of social justice.
Ansley speaks frequently and is widely published in the areas of civil rights, labor rights, impacts of globalization, and issues of race and gender, taking a special interest in the American Southeast and the evolving economic and cultural relations between the U.S. and Latin America.
The numerous awards and accolades she has received for her work include the 2002 W. Allen Separk Award for Superior Achievement in Scholarship and the 2003 Carden Award for Outstanding Achievement in Scholarship.
Funded by a grant from the Christian A. Johnson Endeavor Foundation, the Harward Center's Public Scholars Symposium is a new program supporting annual presentations and discussions of academic civic-engagement work.
View Comments