Berkshire Eagle describes 'verve and nerve' of Wyeth '01 gallery talk
Berkshire Eagle writer Ruth Haskins Bass '55 tells of the scintillating tour of Wyeth paintings led by family scion Victoria Wyeth '01 at the Brandywine River Museum.
"Family history is never better than when a lively member of the family has the ability to tell the inside stories with both verve and nerve," writes Bass. "Victoria Wyeth is one of those people, a young woman who seems to delight in telling 'all' about her famous family of artists."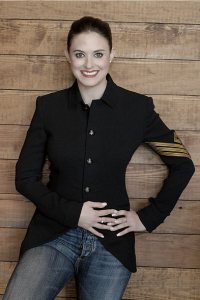 As Bass notes, "Ordinarily, visitors have a tendency to wander about during formal gallery tours, partly to get a better look at a particular work and partly to pass the time until the tour moves on. Not on Victoria's tour."
Wyeth talk, exhibition at Reunion
As part of Bates Reunion festivities, Victoria Wyeth will offer a lecture on June 11, at 3:30 p.m., in the Olin Arts Center Concert Hall. The talk precedes the opening reception for the Bates College Museum of Art exhibition Andrew and Jamie Wyeth: Selections from the Private Collection of Victoria Browning Wyeth.

The exhibition features drawings and watercolors from the Victoria Wyeth's personal collection, many of which have never before been exhibited. There are portraits of family members and neighbors (familiar as models for Andrew Wyeth, her grandfather), and sketchbooks and preliminary studies for well-known paintings provide insights into Andrew Wyeth's working process.
Overall, the works reflect intimacy between members of one of America's most prominent artist families, further explored by the inclusion of illustrated personal correspondence between Victoria Wyeth, her uncle Jamie and her grandfather.
View Comments