Faculty promotions, 2011: Kirk Read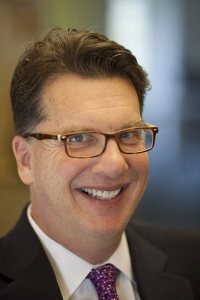 Promoted to full professor in May 2011, Kirk Read is professor of French and chair of the Division of Humanities. A specialist in early modern French literature, he concentrates on pre-Revolutionary France and Francophone North Africa. Released in April by Ashgate Publishing, his Birthing Bodies in Early Modern France: Stories of Gender and Reproduction investigates gender, sex and sexuality in medical discourse and across various literary genres building on an acute knowledge of early modern gender and culture as well as contemporary gender theory.
In collaboration with colleagues and students at Bates, Read has developed a multimedia course in oral French that follows the adventures of a fictional North African heroine, Marie Malika d'Alger — an endeavor that combines his interests in language, culture and theater. Read has served as chair of French in 2011 and also chairs the Bates Arts Collaborative, a campus-wide initiative promoting and advancing the arts at the college.
Read received his doctorate and master's in French literature at Princeton, and a bachelor's degree in French at Dartmouth. Prior to arriving at Bates in 1990, he taught at Princeton and Dartmouth. He is also an
exhibiting photographer, and has written and recorded
nearly 20 audio commentaries for Maine Public Radio.
View Comments