Emily Grady '10, Fulbright teaching assistantship recipient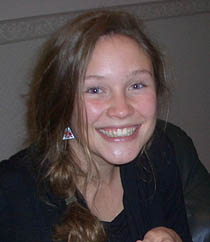 Emily Grady '10 has received an English Teaching Assistantship from the Fulbright U.S. Student Program. These grants support recipients in positions as teaching assistants abroad who work with local students on their English language skills and knowledge of the United States. As the same time, the teaching assistants pursue individual research.
Grady will teach in Argentina. As an environmental studies major at Bates, she co-founded two student environmental organizations, lobbied Maine's senators for comprehensive climate legislation and co-founded an environmental leadership training program for Bates students.
Now, as she teaches English in Argentina, she hopes also to continue her environmental advocacy, both with local organizations and, hopefully, in her own curriculum.
"I hope to partner with an environmental organization or government agency to first, learn about the ways environmental issues are perceived, discussed and managed in Argentina," she says, "and second, to couple that knowledge with my experience working in sustainability education."
View Comments