Therí Pickens, assistant professor of English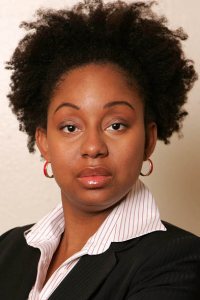 Newly appointed as assistant professor of English, Therí Pickens investigates African American and Arab American literature, literary theory and disability issues. She bases her research on the exploration of the nature of awareness itself — a branch of philosophy called phenomenology.
Pickens' book project, New Body Politics, analyzes the roles played by physicality and the body in Arab American and African American literature. She argues that embodied experience is at the crux of any social and political critique made by those groups.
The book expands upon Pickens' doctoral dissertation for the University of California, Los Angeles. She analyzed, first, the gap between the ways we perceive and think about our own bodies vs. others'. Second, she examined ways in which bodily experience adds to literature and how we analyze and understand it.
In her work, Pickens draws from multiple disciplines including comparative literature, African American studies, Arab American studies, disability studies and philosophy. "I'm really drawn to the interdisciplinary nature of my research, even as I'm grounded in English as a discipline," she says.
As a creative writer and performer as well as a scholarly writer, she adds, "I'm particularly fascinated by the ways that artists speak to each other across and within racial, ethnic, gender and ability categories."
Pickens has published numerous book reviews in Al Jadid, a quarterly review of Arab arts and culture; the Journal of Canadian Literature; and Disability Studies Quarterly. Her articles also appear in the journal Al Raida and the book Blackness and Disability, published this year by LIT Verlag Press. Her creative writing has appeared in publications including Black Renaissance/Renaissance Noir.
This fall, Pickens will teach an introduction to African American literature titled "Vision and Revision" that encompasses authors both well-known and those whom, she says, "I didn't read until graduate school. I firmly believe that undergraduates should get a taste of the canonical and non-canonical in their education." Her teaching in spring 2012 will include a course on contemporary Arab American literature.
"Coming to Bates will be a little like coming home," Pickens says. "I completed my undergraduate degree at Princeton University, so the small, liberal arts college setting is very attractive. I like the size of the community, the personal interaction with colleagues and the real opportunity to make a difference in students' lives."
In addition to her doctorate in comparative literature, Pickens also earned a master's degree in that field at UCLA. At Princeton she received an AB degree in comparative literature and a certificate in linguistics. She has taught communications at the University of Phoenix and disability studies at UCLA, among other courses.
Pickens serves on the editorial board of Disability Studies Quarterly and was a judge for the Arab American National Museum's Arab American Book Award Judge, 2011.
View Comments