Each week this fall, we'll introduce new Bates professors who have tenure-track positions on the faculty.
This year's nine tenure appointments are in the disciplines of art and visual culture, classical and medieval studies, economics, English, environmental studies, dance, politics (two appointments), and psychology.
This week we introduce the seventh of our nine new faculty members, Katie Adkison.
Name: Katie Adkison
Title: Assistant Professor of English
Degrees from: University of California, Santa Barbara, Ph.D. in English; Colorado State University, M.A. in English literature, B.A. in English education
Her work: Adkison studies the role of an individual's spoken voice in early modern English literature — what the actual feeling of speaking means and conveys, especially in terms of power structures.
In Adkison's scholarship, voice becomes a "kind of embodied sensation. Not literally a sixth sense, but something more akin to sensing knowledge than to just a tool of communication."
Her dissertation: "The Sense of Speech: Voice and Sovereignty in Early Modern Tragedy," describes the relationship between early modern theories of sovereignty and the phenomenology of the voice in Elizabethan and Jacobean tragedy.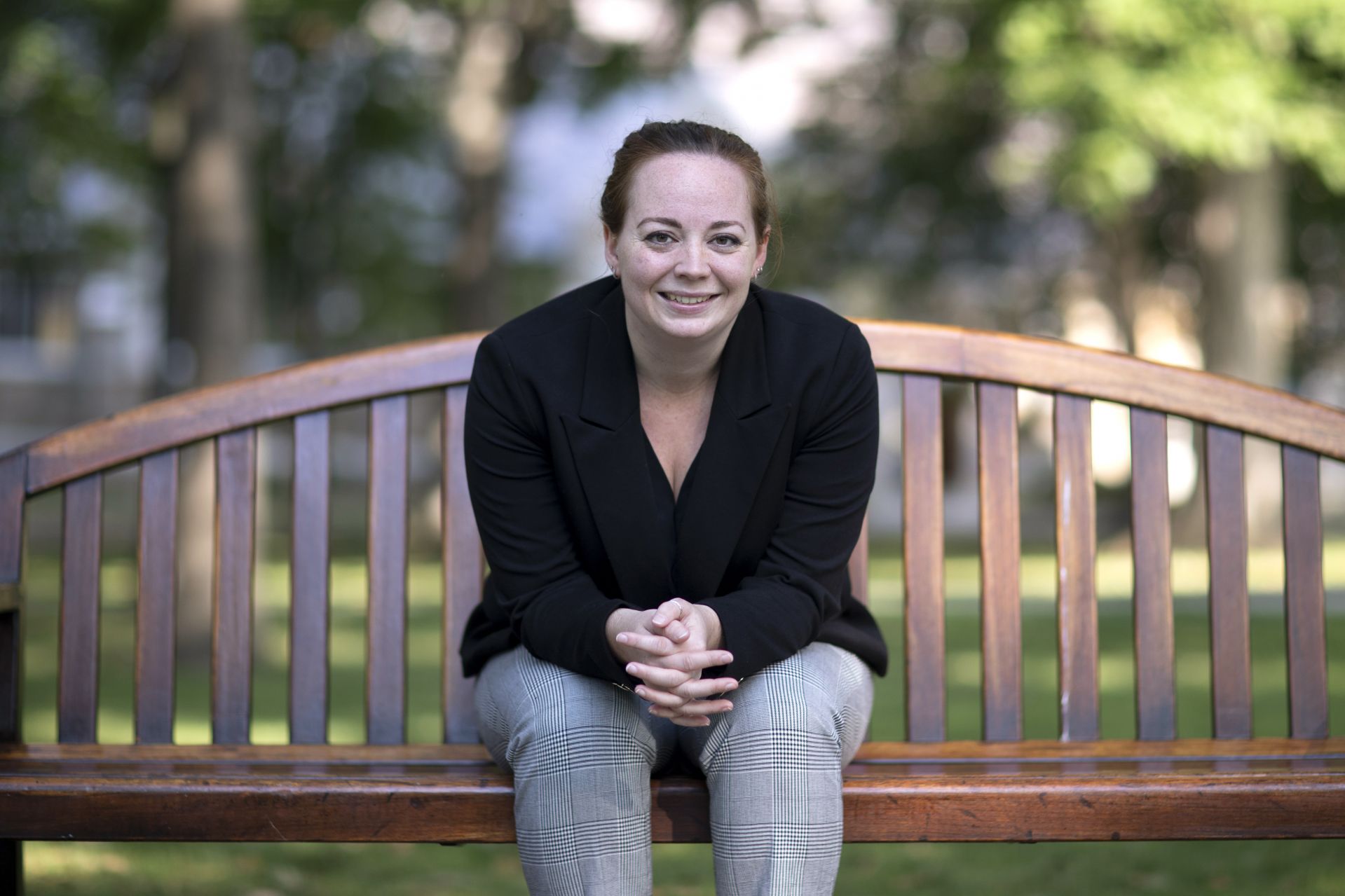 For example: In the opening scene of King Lear, the titular monarch decides to divide his kingdom based on how much his three daughters say they love him. His first two daughters make elaborate but insincere declarations of love.
Lear then turns to his third daughter, Cordelia, and asks, "What can you say to draw a third more opulent than your sisters?" Cordelia, who does truly love the king, responds, "Nothing, my Lord." She continues:
Unhappy that I am, I cannot heave
My heart into my mouth: I love your majesty
According to my bond; nor more nor less…. (1.1.91-93)
In referring to her own voice, Cordelia is trying to tell her father "something about politics and about love that his love test is failing to understand," says Adkison. She's saying that "love and politics are not mathematical equations. You can't give more love through your voice the way that you can give more money or more of something tangible."
The opening scene is a kernel in the larger lesson of the play. Cordelia, in effect, is vocalizing the fact that her vocalization can't do what her father wants it to do — it can't be reduced to words. "She's saying, 'There's more to love here, just as there's more to language in the very voice I'm speaking through.'"
The scene sets the stage for the tragedy. "Lear wants words to equal inheritance, a kingdom, power." Cordelia wants no part of it. "And so it ends, with death, tears, and so much pain," says Adkison.
Iambic sortameter: In King Lear's opening scene, Shakespeare uses a jarring version of iambic pentameter for some of Cordelia's lines. "The rhythm is off," says Adkison, noting that the Bard sometimes "uses an extra syllable, 11 instead of the usual 10 — or even a whole extra two-syllable iamb — in some lines."
Shakespeare did that often, she explains, usually to draw attention to something. "If the rhythm is off, you are supposed to feel it as an audience member."
We can't know the intentions of the author now or 500 years later. But the meaning is there, regardless. That's magic to me.
Adkison recalls the moment that "something felt off in one of the lines. And so I started counting syllables, the way you're supposed to when something feels off." The extra syllable "had to be purposeful. It's too perfect not to be."
In Cordelia's 11-syllable lines, there is "something that literally can't be divided up. The rhythm of the lines is as out of step with her father's demands as her inability to speak her love is. She's really talking about vocal rhythm and the experience of voice to explain what's going on."
A beautiful thing: "The beautiful thing about how literature thinks about language is that we can't know the intentions of the author now or 500 years later," Adkison says. "But the meaning is there, regardless. There's always something new to be parsed and to be found. That's magic to me."
Classroom magic: Sometimes, magical classroom moments happen when a teacher allows a discussion to go off the straight rails.
Last winter, at the University of California, Santa Barbara, Adkison was teaching Thomas More's Utopia. A student asked, "Is anyone watching The Good Place?" referring to the NBC fantasy comedy about a utopian, but problematic, afterlife.
Rather than guide the discussion back to the 16th century, Adkison took a moment to connect the dots. She noted the etymology of the word "utopia" and how it "can mean 'the good place' or 'no place' or 'the good place that cannot exist' or something along those lines."
Eager for wordplay, Adkison's students jumped at the chance to connect More's Utopia to The Good Place, which led to a "conversation about the way that the show uses and problematizes the notion of a utopia in such interesting ways."
Then she guided the students back to how More imagined what a good life looked like in his Utopia. "The text is infamously sticky about how one constructs a good life, what it means to live the good life, and all the problems that are wrapped up in that text."
And a course is born: All of that left Adkison "wanting so badly to teach a class on utopia." And if you look at utopia, "you have to teach the second half of the class on dystopias because it seems to be true that a good place for some frequently comes to mean a bad place for others."
"College students are special because they will think with you — taking on the agency of research and thinking of their learning as their own."
And, voilà! This spring, Adkison will teach such a course on utopian and dystopian fiction, from More's Utopia and Margaret Cavendish's The Blazing World to George Orwell's 1984 and the first of N.K. Jemisin's Broken Earth trilogy. "I'm hoping we'll end with the first season of The Good Place and try and end on a funny note — even if it's not necessarily optimistic in all of the ways one wants it to be."
Why Bates? "I was so excited when I visited Bates to see how much collaboration happens between departments and between students and faculty. Collaborative research structures the idea of the undergraduate thesis that all students write here."
Why college? "College students are special because they will think with you — taking on the agency of research and thinking of their learning as their own."
Finding her path: "At my core, I have always known I wanted to be a teacher," Adkison says.
"I thought I would be a high school English teacher for the rest of my life. But my path to graduate work was one I found late in the stages of my own bachelor's degree, when I was taking education courses alongside literature courses. I realized I had more questions about the literature. I couldn't be done."
View Comments