President Nancy J. Cable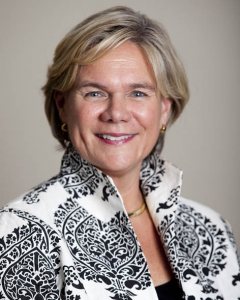 By unanimous vote of the Bates College Board of Trustees, Nancy J. Cable was appointed interim president of Bates College April 12, 2011, and assumed her duties on July 1, 2011. Bates has begun a national search for its next president, who will begin service to the college on or before July 1, 2012.
Cable succeeds Elaine Tuttle Hansen, who served as the seventh president of Bates for nine years before becoming executive director of the Center for Talented Youth at Johns Hopkins University on Aug. 1, 2011.
Cable joined Bates in 2010 as vice president and dean of enrollment and external affairs, with responsibility for strategic enhancement in admission, financial aid, career development, and college communications, marketing and positioning. She will retain that role while serving as interim president.
Cable has built a national reputation in higher education, compiling a distinguished record of senior leadership at highly regarded colleges and universities and in various national higher education organizations.
She began her career in 1977 at Denison University, where she served as associate dean of students and director of the career development center and graduate student advising. In 1987 she joined Guilford College as vice president for student development and dean of students. In 1992 she became vice president and dean of admission and financial aid at Davidson College, a position she held until 2005.
Cable joined the University of Virginia in 2005 in two vice presidential capacities, serving as vice president for development for U.Va.'s School of Engineering and Applied Science; and as vice president for development and alumni affairs for the Institute for Shipboard Education and Semester-at-Sea, for which U.Va. is the academic sponsor. Subsequently she joined Bates.
She received a bachelor's degree in history from Marietta College, a master's degree in higher education administration from the University of Vermont and a Ph.D. in educational history from the University of Virginia.
View Comments