Higher ed leaders to discuss cost — and value — of top-quality higher education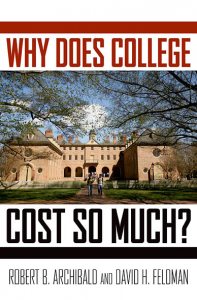 Bates College, in partnership with Brown University and Northeastern University, will host approximately 200 New England higher education leaders for a Leadership Symposium on College Cost, Price and Financial Aid, featuring an array of national experts on these subjects, from noon to 3:30 p.m. Saturday, Oct. 29.
The symposium will include:
• A keynote address by Robert B. Archibald and David H. Feldman, authors of the widely noted 2010 book Why Does College Cost So Much? Archibald and Feldman are faculty members at the College of William and Mary, where they teach in the economics and public policy departments. Both have published much research on the economics of higher education, in scholarly journals and for the general public.
• An Update on National Trends in Student Financial Aid by Sandy Baum, professor emerita of economics at Skidmore College and a senior policy analyst for the College Board. A sought-after expert who is frequently quoted in the national media and has testified before Senate and House committees on matters of higher education finance, Baum is the co-author of a number of publications for the College Board, including Trends in Student Aid, Trends in College Pricing, and Education Pays: The Benefits of Higher Education for Individuals and Society.
• A panel discussion featuring Archibald, Feldman and Baum together with two leaders in college admission: Jane Brown '69, vice president for enrollment management at Northeastern University; and James S. Miller, dean of admission at Brown University.
Serving as moderator and honorary chair of the event is Jamie Merisotis, a 1986 Bates graduate and current member of the Bates board of trustees who is president and chief executive officer of the Lumina Foundation, the nation's largest foundation dedicated exclusively to increasing students' access to and success in post-secondary education.
While the symposium is not a public event, it is open to news coverage. Proceedings will also be posted on the Bates website following the conference.
Nancy J. Cable, president of Bates and a higher education leader for three decades at top liberal arts and sciences colleges and universities, said, "We're excited that the nation's leading experts in cost, price and financial aid will be at Bates for this event.
"The public has a right to be told accurately what various colleges are charging and why," she added. "The symposium is intended to help participants think together about cost and value questions the public is deeply interested in, as well as how to most meaningfully present the answers, which usually are not simple or easy.
"For instance, it's very important to understand the difference between cost and price in higher education.
"In highly selective colleges and universities, which are experiencing ever-increasing public demand for the education they offer, price is directly related to the ability of the institution to create a community that is as diverse in every way as the world its students will enter and help lead; and on the institution's ability to provide a top-quality faculty.
"The financial cost to the institution of creating and maintaining such communities is very high. But not everyone in such communities pays the same price for the product. Those who can afford to pay full price help make possible financial aid for those who cannot. Yet all benefit equally from the resulting community of great diversity and talent. And without that benefit, you would not have the same quality of education.
"The cost of top-quality higher education is also about investing in an appreciating asset that is highly respected worldwide.
"We hope participants in this symposium will share the discussion here with their counterparts in other colleges and universities outside New England, helping spread the benefits nationwide."
View Comments