Peter Marsters '09, Fulbright grant recipient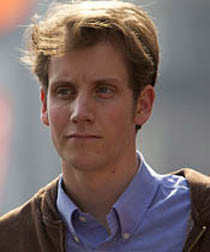 Peter Marsters '09 has received a Fulbright U.S. Student Program scholarship for research in China. Marsters, who graduated from Bates with a degree in modern Chinese history, has worked as a program assistant for the China Environment Forum at the Woodrow Wilson International Center for Scholars.
"I first became fascinated with the scale of China and believe that China is currently confronting issues that the globe as a whole will eventually have to face," he says.
His research has focused on energy and climate issues, and he has published articles on electric cars, cooperation between the U.S. and China on clean energy and lake pollution issues in China. Marsters has studied Chinese language and culture at China Normal University in Shanghai and at The Johns Hopkins School of Advanced International Studies.
View Comments