The art of storytelling gets a new twist as the Museum of Art presents 'Tale Spinning'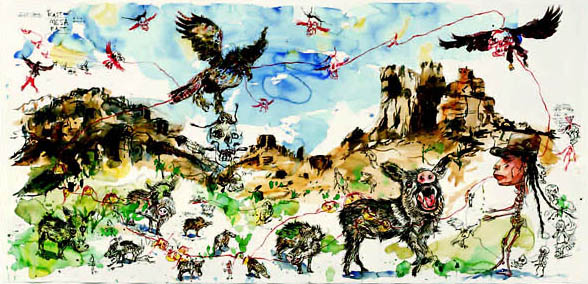 Storytelling is the theme of a new Bates College Museum of Art exhibition that opens with a talk by curator and museum director Dan Mills at 7 p.m. Friday, Sept. 23, in the museum, located in the Olin Arts Center at Bates, 75 Russell St.
A highlight of the arts center's 25th anniversary season, the exhibition Tale Spinning features work in media from video to sculpture to watercolor by six renowned artists: Enrique Chagoya, Lesley Dill, Brad Kahlhamer, Shirin Neshat, Nicky Nodjoumi and Alison Saar.
The museum is open to the public at no cost from 10 a.m. to 5 p.m. Monday through Saturday, and till 7 p.m. on Wednesdays. For more information, please contact 207-786-6158 or museum@bates.edu.
Kahlhamer talks about his artwork at 6 p.m. Wednesday, Oct. 5, at the museum. He is also a musician, and with his musical partner Kelsey Barrett offers the mixed-media performance Yondering at 7:30 p.m. Friday, Oct. 7, in the Olin Arts Center Concert Hall.
The concert, also featuring multimedia artists Ursula Scherrer and Kato Hideki, is open to the public at no cost. For more information, please contact 207-786-6135 or olinarts@bates.edu.
Tale Spinning, explains museum director Mills, is "essentially an exhibition of artists who, in very different ways, have a strong narrative component in their work. They come from diverse backgrounds, and they tell tales incorporating aspects of their personal and cultural stories, of history and their imaginations. "It is a group of extraordinary artists who spin tales worth seeing."
Each employs different aesthetic, conceptual and narrative strategies, resulting in imagery and stories that take many forms.
Here is more about the artists: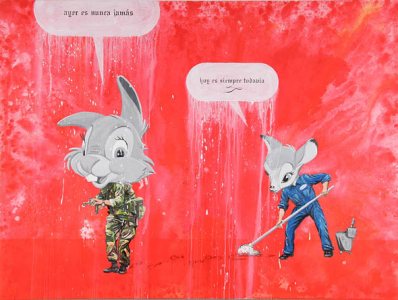 Enrique Chagoya
Chagoya describes his prints and paintings as "a product of collisions between historical visions, ancient and modern, marginal and dominant paradigms." From visual vocabularies ranging from pre-Columbian mythology to Christian symbolism to American pop culture, he fashions a layered and provocative commentary on the U.S. role in the world.
Chagoya is a professor in the art and art history department at Stanford University. His work is represented in some of the nation's most prestigious museums, including the Museum of Modern Art, Metropolitan Museum of Art and Whitney Museum of American Art in New York; and the San Francisco Museum of Modern Art and the Fine Arts Museums of San Francisco. He lives in San Francisco.
Lesley Dill
Dill works in sculpture, photography and performance, using a variety of techniques to explore themes of language, emotion, the body and transformational experience. She is known for incorporating letters, words and the language of great writers into her images. Her work has been widely exhibited and is represented in the collections of the Cleveland Museum of Art, and in New York, the Metropolitan Museum of Art, Museum of Modern Art and Whitney Museum of American Art, among other institutions.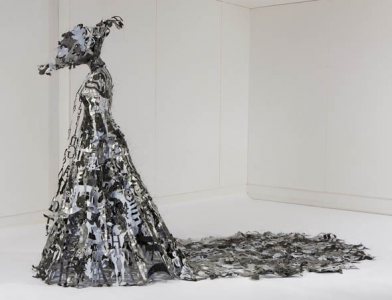 In 2008, collaborating with composer Richard Marriott, she created and directed the opera ìDivide Light,î based on the language of Emily Dickinson. They are now creating their second opera, derived from the life and writings of Machiavelli. She lives in New York City.
Brad Kahlhamer
Kahlhamer was born to Native American parents in Arizona, adopted by a middle-class German-American family and raised in the Midwest unaware of his background. His paintings and prints fuse expressionist painting with comics, street culture and the visionary tradition of Native American art.
A New York City resident, Kahlhamer is also a musician whose work includes a new score, commissioned by the Smithsonian National Museum of the American Indian, for the 1929 silent film "Red Skins." He lives in New York City.
Shirin Neshat
Neshat, a native of Iran, makes photographs and videos that use the situations of women in Muslim culture to explore broader issues of memory and identity. She eschews simple polemics in favor of a complex and nuanced approach to the subject. Neshat's recent work includes parallel videos projected on opposite walls that engage the viewer in a dynamic engagement with the material.
Neshat gained prominence in the mid-1990s with the photograph series "Women of Allah," in which she overlaid Farsi calligraphy on the hands and faces of her subjects. Perhaps Iran's best-known contemporary artist, Neshat has work in museums including the Whitney Museum of American Art and the Tate Gallery, London. She lives in New York City.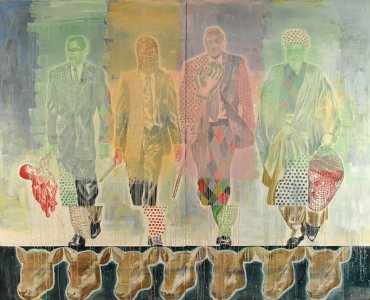 Nicky Nodjoumi
Also born in Iran, Nodjoumi makes paintings and drawings that assemble Persian, modern Iranian and Western stereotypes into scenarios reflecting issues of tyranny, hypocrisy and exploitation. His narratives often feature and poke fun of authority figures in symbolically charged paintings.
He has shown work in numerous solo and group exhibitions at venues in the U.S. and abroad, including museums in New York, Chicago and the Middle East. With Neshat, Nodjoumi co-curated the 2008 exhibition "Ardeshir Mohassess: Art and Satire in Iran" at the Asia Society and Museum in New York City. He lives in Brooklyn.
Alison Saar
Saar, the daughter of white writer and art conservator Richard Saar and noted sculptor Betye Saar, an artist of black, Native American and Irish descent, is known particularly for her sculpture. She brings a lively wit and the visual exuberance of folk art to sophisticated symbolic explorations of African and Afro-Caribbean religion, African American history and American politics.
Her work has appeared in group and solo exhibitions across the nation and is represented in the collections of such museums as the Baltimore Art Museum; the Hirshhorn Museum and Sculpture Garden of the Smithsonian Institution; the Walker Art Center in Minneapolis; and the Metropolitan Museum of Art and the Whitney Museum of American Art, New York.
The exhibition, says Mills, doesn't hew strictly to conventional approaches to narration. "One of the exciting things about the exhibition is that it can expand for the viewer the notion of how one constructs a narrative," he says. In addition, "it's exciting to present important artworks by these internationally recognized artists, works that spin tales about a wide range of compelling topics."
View Comments