Conference at Bates explores women's ritual activities in ancient times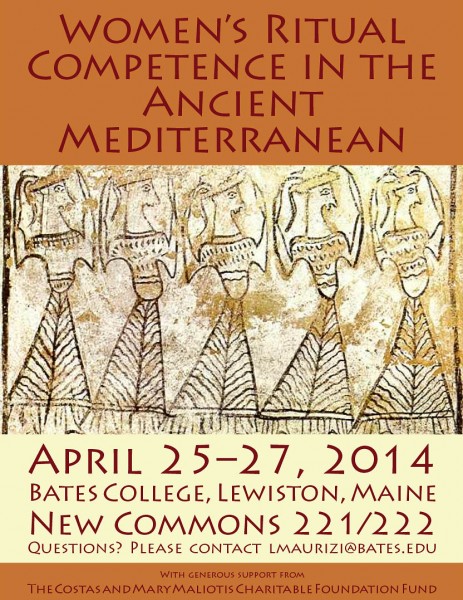 While men may have dominated public life in ancient Greece and Rome, women nevertheless played active roles in religious rituals.
In ancient times, says Bates classicist Lisa Maurizio, "women were significant actors in funerary practices. We know women composed and chanted songs for those rites. Many scholars argue that through their laments they influenced the tradition of epic poetry," such as the works of Homer.
Women's lament is one of the topics that international scholars will take up at Bates next week as the college hosts the conference Women's Ritual Competence in the Ancient Mediterranean April 25–27.
The conference looks at a variety of women's ritual activities, such as lamentation, prophecy, magical incantation, prayer, weaving and sacrifice.
"Competence" in the conference title, she adds, refers to the fact that the women in question were "participants in and constructors of the divine — how the divine was understood, imagined and worshipped."
The conference will bring together classicists in a variety of disciplines: archaeology; art history; philology, the study of literary language; and epigraphy, the study of ancient inscriptions, especially on stone.
Maurizio's co-organizers are Esther Eidinow, a historian of ancient Greece at the University of Nottingham in England, and Matthew Dillon, a professor of the humanities at the University of New England — not the UNE in Maine, but the school in Armidale, Australia, northwest of Sydney.
Bates presenters at the conference are:
Rhetoric professor Stephanie Kelley-Romano, with "Symbolic Ritualization of Reproduction/Reproductive Anxieties in Alien Abduction Narratives"; Maurizio herself, whose talk is titled "Delphic Oracles: Occasional Verse and Ritual Competence"; and a colleague in classical and medieval studies, Laurie O'Higgins, who will discuss the ritual and symbolic dimensions of Penelope's "web" — the robe Odysseus' wife wove by day and unraveled at night .
Presenters at the Bates event include experts in ancient textiles, writings on stone and statuettes from Italy.
"We're interested in a range of types of ancient evidence, not just literary texts," Maurizio says. "We look at how these objects were used in the social world — how they indicated status, how they moved from person to person.
"For example, women in antiquity often gave soft gifts, like textiles, and dedicated them to gods and goddesses. Men often exchanged hard objects, such as metal weaponry.
"If you begin to look at these items beyond their immediate use, they give you insight into much broader social processes and structures."
For more information about the conference, please contact Lisa Maurizio at lmaurizi@bates.edu. The conference is made possible by support from The Costas and Mary Maliotis Charitable Foundation.
View Comments