With Convocation in view, a new Age of Discovery is about to begin at Bates
For Matt Auer, there's a clear connection between a student's journey while at Bates and the Age of Discovery that opened the globe to seafaring European explorers centuries ago.
Auer, the college's vice president for academic affairs and dean of the faculty, will explicate that connection for the Class of 2018 in his Convocation address on Tuesday, Sept. 2.
"If discovery gets you excited, then it's a great time to be at Bates, or as we say, it's a great day to be a Bobcat," Auer tells the incoming students in a preliminary draft of his speech, titled Hoisting the Mainsail at Bates. "Because your own Age of Discovery is likely to be more consequential and fulfilling than the typical collegiate experience of just a few decades ago."
What's changed between then and now? Today, Auer says, "you are entering an age of guided discovery rather than ready-made, received wisdom. … Why not just tell you what's important? Precisely because it wouldn't be as important to you as the liberating experience of finding your way into big questions, harvesting some answers and locating the next set of big questions."
Formally opening the 2014-15 academic year, Convocation starts at 11 a.m. on Tuesday on the Historic Quad and livestreamed at bates.edu/live.
Also speaking are college President Clayton Spencer; student government President Alyssa Morgosh, a Bates senior from Oceanside, Calif.; and Acting Multifaith Chaplain Emily Wright-Magoon.
In the event of rain, the ceremony will be moved into Alumni Gymnasium.
"Touchstones for moving through this new world that you have chosen."
In her convocation remarks, President Spencer will offer some thoughts on the concept of community as practiced at Bates.
"If you put love and respect together as your touchstones for moving through this new world that you have chosen, I can assure you that we will have a stronger and more welcoming community," she writes.
"And if you do this consistently you will find that you have the solidarity and support of community not only in the good times, but also in times of worry and anxiety, regret or longing."
Convocation 2014 is the first for Joshua McIntosh, who joined the college community as vice president of student affairs and dean of students on Aug. 1. McIntosh came to Bates from The Johns Hopkins University, where he served as dean of academic services, and previously worked in campus life and other fields at Harvard and Syracuse universities.
Not surprisingly, job No. 1 for McIntosh is getting to know the student and faculty cultures at Bates, and getting a handle on co-curricular life at the college. When it comes to interactions with students, he prefers to keep it informal — including showing up for late-night events.
"This approach has allowed me to cultivate meaningful and trusting relationships with students," he says. "These interactions will allow me to learn more about the current co-curricular landscape at Bates, which will certainly inform how I plan for strengthening student life at Bates" — a focus for the college going forward.
(Read more about these plans in President Spencer's fall Community Letter letter.)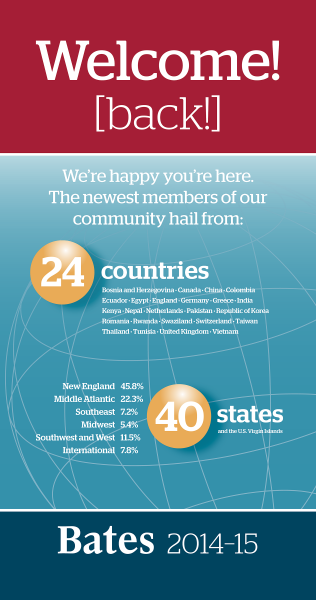 A morning Convocation is also new at Bates, which previously held the ceremony in the late afternoon. The change makes it easier for all members of the Bates community, especially those with children in day care, to attend the ceremony and the campus-wide celebration afterward.
Bates' Convocation follows a week of orientation activities for first-year students, including the Annual Entering Student Outdoor Program.
Led by upperclass students, AESOP comprises outdoor experiences, including community service projects and wilderness adventures, that help introduce the new students to their classmates and to Bates values and traditions. With destinations ranging from Acadia National Park to Casco Bay to the White Mountains, AESOP treks departed Aug. 25 and will return to campus Friday, Aug. 29.
On-campus orientation activities for first-year students take place over the weekend. Classes at Bates start Sept. 3.
There are 498 students in the Bates class of 2018. U.S. students of color constitute 21 percent of the class, international students nearly 8 percent and 10 percent of the students represent their families' first generation to attend college.
The first-years hail from 40 states and 24 non-U.S. countries, from Bosnia and Herzegovina to Vietnam. Nearly 46 percent of the students are New England residents, and about 22 percent come from the Middle Atlantic states, 12 percent from the Southwest and West, 7 percent from the Southeast and 8 percent from other countries.
View Comments