Bates in the News: Dec. 11, 2015
Rebecca Herzig
In a year of worldwide publicity and rave reviews, Plucked, by Johnson Professor of Interdisciplinary Studies Rebecca Herzig, has hit at least one end-of-year list, The Economist's best books of 2015.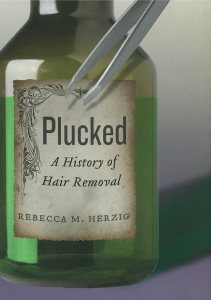 The book, previously reviewed as "delightful" by The Economist last February, is a "curious account of hair-erasing, and why people have tried clamshell razors, lasers, lye depilatories, tweezers, waxes, threading and electrolysis to try and free themselves from hairiness."
The Globe and Mail has praised Herzig for this "smart and engaging" social history that examines the "insidious repercussions and political currency" of all those hair-removal practices, "which reverberate as loudly now" as when those practices began in the West 200 years ago.
Plucked has had a remarkable 2015 run. It's been reviewed some 20 times in the mainstream media, and Herzig herself has been interviewed, has written articles on the topic, or had the book excerpted in nearly two dozen media outlets.
---
Ben Ayers '99
A feature story in Bloomberg Business spotlights the work that Ben Ayers '99 is doing as the Nepal director of the nonprofit dZi Foundation, a development group focused on rural communities.
Titled "Toilets, Not Tarps: What People Really Need After a Natural Disaster," the story by Abe Streep focuses on Ayers and dZi as a way to contrast sustainable vs. short-term relief efforts in Nepal after the April 2015 earthquake.
Ayers and dZi focus on helping communities by, for example, rebuilding schools to "develop the kind of prosperity that can make a community more resilient when it's confronted by natural disaster."
Ayers, a magna cum laude English major at Bates who has worked in Nepal for much of his post-graduate life, tells Street that it's "easy to drop off some tarps and call it good. I think this is more effective."
---
Ben Chin '07
National and local media offered extensive pre- and post-election coverage to the Lewiston mayoral race, in which Ben Chin '07 lost a Dec. 8 runoff election to incumbent Robert Macdonald.
The New York Times said the race was a "classic clash between generations and ideologies," describing Chin as a well-organized and well-funded "activist with the liberal Maine People's Alliance" and noting that the conservative Macdonald was a "Vietnam veteran and former police detective, who did little campaigning."
The Bangor Daily News noted that it's "no surprise that such a race arose in Lewiston," where a large population of immigrants from African countries has made the city, according to the Times, "younger and more racially diverse than the rest of Maine" while noting that these new citizens' political leanings are left-leaning compared to the aging population of longtime residents.
---
Amy Bass '92
Another manifestation of Lewiston's diverse racial makeup (and, some would say, a true harbinger of the city's future) came last month when the Lewiston High School boys soccer team won the state title.
Amy Bass '92, a professor of history at the College of New Rochelle and a frequent media contributor on issues around race and sport in U.S. society, wrote an essay for CNN noting that the Lewiston team has players from Congo, Kenya, Turkey, Germany, and Somalia, reflecting the influx of immigrants over the last 15 years, playing alongside teammates whose families have much longer roots in Lewiston.
"Seven members of the championship team came from the same refugee camp," she writes. "They knew each other before becoming classmates and teammates."
In recent years, Lewiston has "grappled with its identities," Bass writes. "It has not, by any means, been a painless transition." Youth soccer, she writes, "has been a microcosm of that process." In fact, "it would be tough to overstate the importance of soccer in these community relations."
A film about the Lewiston soccer team's triumph by Ian Clough, a 2001 Lewiston graduate and former soccer player:

---
Lisa Simpson (Bates '20?)
It's a communications strategy that you learn in kindergarten: When teased, respond with humor.
In the Dec. 6 episode of The Simpsons, Lisa Simpson's solar-powered car stalls during an alternative-energy car competition. She gets teased with, as one pop culture site said, "strangely specific insults" that suggest that she's doomed to, in order, Bates, Maine winters, and Division III basketball.
"But rather than lick its wounds over the slight, the college decided to own the joke," the Chronicle wrote.
The college posted screen captures of the key scenes on their Twitter and Facebook channels along with an invitation to Lisa to apply to Bates.
"Cute gesture," the Chronicle said, "and a fun use of the college's social-media platforms."
---
---
View Comments