4 reasons that Bates is again a Fulbright 'Top Producer' in 2016
Bates College has again received "Top Producer" honors from the U.S. Fulbright Program.
In fact, Bates ranks third in the country in the number of Fulbright U.S. Student awards earned in 2015-16, according to lists published by the Chronicle of Higher Education. Pitzer and Smith are one-two, respectively.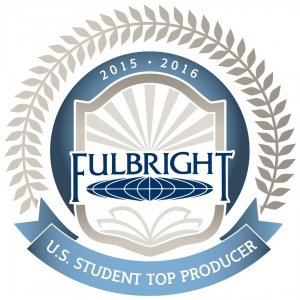 The Top Producer honor reflects the Bates Fulbright cohort that was selected and profiled in spring 2015.
Bates has earned Top Producer honors five straight years and seven out of the last eight.
While Bates' robust study-abroad program is a major reason for student success in the Fulbright program, there are less-obvious reasons that the Bates experience is prime preparation for winning post-graduate fellowships.
Robert Strong, director of national fellowships for Bates, explains in these video clips.
---
Bates Fulbright success: community-based learning in Lewiston
Bates students gain valuable cross-cultural experience by doing community-engaged learning in the city of Lewiston, experiences that support their Fulbright candidacy.
---
Bates Fulbright success: putting leaders into the world
The Bates-Fulbright tradition recognizes that earning a Fulbright experience adds value to the world and also adds to each young leader's skills and abilities.
---
Bates Fulbright success: teaching experience broadly defined
Bates students often have the requisite experience for a Fulbright English Teaching Assistantship, though they might not know it yet.
---
Bates Fulbright success: experiences that test and reward
Students who do service and community-based work are gaining more than "gold star" experiences. They're having opportunities for success, failure, and self-improvement.
---
"It is incredibly gratifying to see so many of our students going abroad to make an impact as teachers, as scholars, and as ambassadors of Bates," says Matthew Auer, dean of the faculty and vice president for academic affairs.
Supporting an academic year of research or teaching in more than 155 countries outside the U.S., the Fulbright U.S. Student Program, funded primarily by the U.S. Department of State, sends some 1,500 U.S. citizens abroad annually.
View Comments