Theater students call her "the queen."
The royal in question is Katalin Vecsey, senior lecturer in theater, and because she's the queen, she naturally has a framed oil portrait of herself looking very queenly hanging in her second-floor office above Schaeffer Theatre.
Painted by Singha Hon '14, a double major in theater and art and visual culture, the portrait was a surprise birthday gift from the Robinson Players, the student theater troupe that Vecsey advises, which threw in a second present: a sign that reads, "It ain't easy being queen."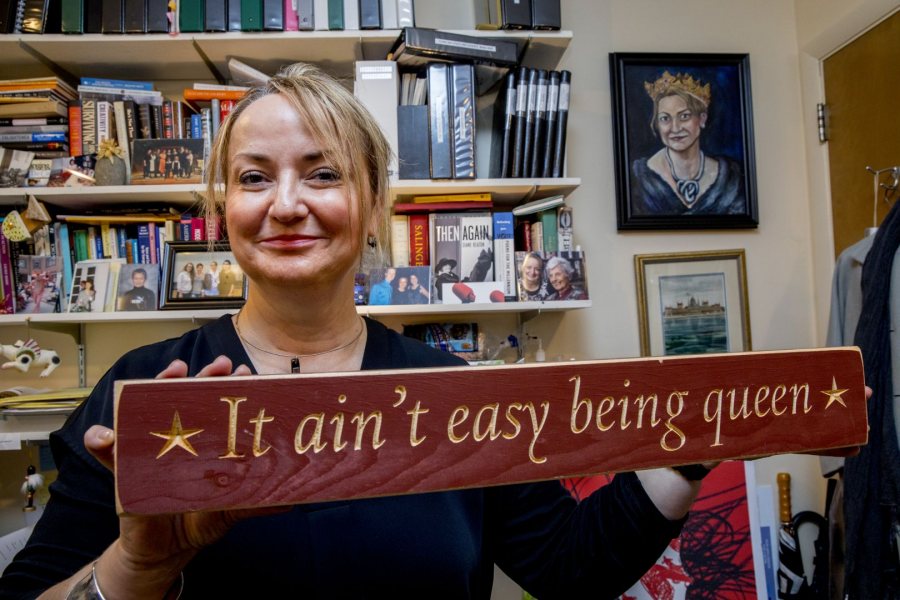 Vecsey, who is also the vocal director for Bates theatrical productions, stashed the painting at home but a friend recently suggested that she frame it and hang it in her office for others to enjoy. That made practical sense. But another sense — modesty — prompted Vecsey to place the artwork behind her office door "so it's not so obvious to everyone who comes in that I think of myself as a queen."
The painting includes a fur stole — "I don't wear fur, but I guess a queen has to" — and a signature Vecsey necklace made of surgical steel, representative of her taste in "crazy" jewelry.
"Every time I look at it, I smile and think of how much I enjoy the work that I do with the Robinson Players," Vecsey says, noting Hon's artistic skill to make sure that "the crown doesn't look like it came from Burger King."
The admiration is mutual. The acknowledgments in a Robinson Players' program always include "a very special thanks to Kati Vecsey, our unbelievably dedicated faculty adviser for her unending commitment."
Each year, the Robinson Players votes in a faculty adviser, and each year the organization's board of directors and members choose Vecsey. At some point, she says, they changed the ballot to read "Queen of the Robinson Players." Like any good monarch, Vecsey figures that "I'm going to die out instead of passing it to somebody else."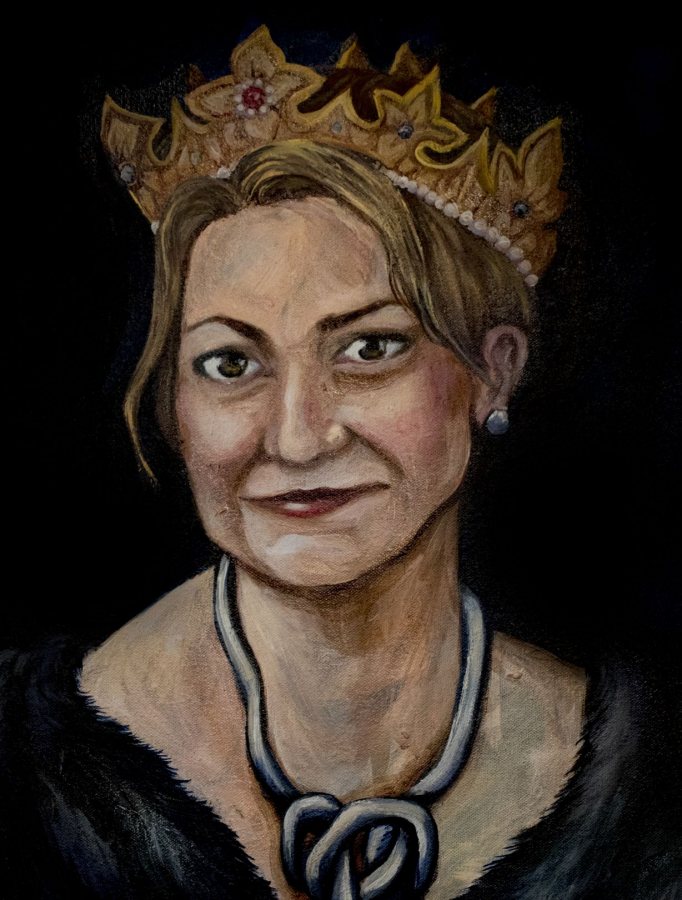 Why do they call her the Queen? Perhaps because she sounds the part, with a distinctive Hungarian accent that, thanks to old Hollywood films, tells us she should belong to the aristocracy.
Vecsey's is a benevolent, yet activist monarchy. She advises the troupe on its play choices, and they turn to her for advice during dress rehearsals. "It's a very honorable position. The students trust me with my criticism, with my reviews of the play," she says. "People feel very vulnerable showing their art, and I feel very privileged that they choose me every year to be that special person who provides critical feedback."
In the end, Vecsey's portrait occupies very little real estate in the curio shop that is her office, which is filled with books, papers, and objects from years of theater, scholarship, and teaching.
But with a collector's passion, she concludes, "I come into my office, I look at lots of stuff that I've done, and it makes me feel good." What more could a queen ask for?
View Comments