Welcome to a Bates New Year's tradition: Sharing favorite images taken by Bates Communications photographers during the past year.
This year's selection features images from three perspectives: that of veteran Director of Photography and Video Phyllis Graber Jensen; Josh Kuckens, who concluded his two years as the college's photography/video fellow last spring; and new fellow Theophil Syslo, a Minnesota native who offers another new way of looking at Bates.
Enjoy, and Happy New Year!
---
Finding the Key
"After spending 90 minutes photographing Isobel Curtis '17 as she took tree core samples at the Bates-Morse Mountain Conservation Area, where she's doing mapping work in cooperation with the Nature Conservancy, we headed back to our vehicles. That's when I noticed my car key was missing. My heart sank: It was lost in the woods, never to be found. Isobel, however, who had spent hundreds of hours walking, working, and observing within those woods, begged to differ. She led me back into the forest, and we retraced our exact steps. Within 15 minutes, she spotted my black Toyota key fob nestled on the mossy forest floor. Hugs all around." — Phyllis Graber Jensen
---
Light and Lace
"Photographers try to make their own good luck. During Back to Bates, I was photographing the Shabbat evening service and dinner in the Benjamin Mays Center. Brooke Drabkin '18 had just lit two Shabbat candles and was listening to the service leader, and her lace dress was kissed by candlelight. What could have been an ordinary photo of a religious service became a little more meaningful with some creative camera framing and pretty light. Beauty is in the details." — Theophil Syslo
---
Good Sportraits
"How does the saying go? 'Find a job you love and you won't work a day in your life?' This fall at Bates we decided to have some fun, adding so-called sportraits to the traditional job of taking roster photos. Besides fun, it was a learning experience for me (creating an ad-hoc studio in places like Underhill Arena or Gray Athletic Building) and for the athletes, who were game to try out different poses. As a Bates newcomer, it was a chance to meet students while taking some cool pictures of them. It's great to feel as though I have contributed to the team, even if it's just creating some fun content, like this portrait of soccer All-American Katherine Cook '18. Go Bobcats!" — Theophil Syslo
---
Spires in Silhouette
"Foliage on Campus Avenue frames the Chase Hall weathervane, a Bates beacon. (The vane's twin B's are said to stand for Benjamin Bates.) This iconic building ends up in many of my photographs, and I approach it with the reverence and respect due any storied member of our community. The early morning fog and the longest lens I had available — 400mm — contributed to this result." — Phyllis Graber Jensen
---
Happy Mace
"Phillips Professor of Economics Michael Murray is the senior member of the faculty. As such, he bears the mace on major ceremonial Bates occasions. Here, as he leads the academic procession to Convocation, he projects appropriate authority and gravitas. But we know the real Michael Murray, and we also feel the warmth and welcome that he radiates with every step he takes." — Phyllis Graber Jensen
---
Up
"Well, we're not in Kansas anymore. As a flatlander who grew up in the Midwest amidst corn, beans, and the Mississippi River, I hoped one day to land somewhere less vertically challenged. Well, I've arrived. The first step in making a photo atop a mountain — in this case during an AESOP Orientation trip in the White Mountain National Forest — is deciding that you are willing and able to carry an extra dozen pounds of camera gear up that mountain. The second is having quick access to that gear. The last thing you want to do is reach for your camera and realize it's packed behind all of your food, sleeping equipment, and tent." — Theophil Syslo
---
Ice, Ice
"After an ice storm last January, this cherry tree next to the Bates Communications Office caught my attention. Half of the tree's ice had already melted, and the still-frozen half created an interesting contrast in the background." — Josh Kuckens
---
Almost a Prizeless Moment
"After Bates defeated Bowdoin for our fourth straight CBB title and the celebration began on Garcelon Field, we waited for the CBB trophy to appear. I had photographed it just two days before to promote the game. Even as the team gathered for the traditional singing/shouting of 'The Fight Song,' the trophy was still nowhere in sight. Oh well, I thought, it's a no-show. But as the players dispersed, team captain Frank Williams '18 suddenly appeared, trophy in hand, and the celebration began anew." — Phyllis Graber Jensen
---
Quiet Light
"Khalil Muhammad delivered the 2017 keynote address on Martin Luther King Jr. Day at Bates. For big events at Bates, there are often two photographers working. On those occasions, I feel freer to look for quiet moments. The morning light was pouring into Gomes Chapel, illuminating Muhammad and his glasses as he waited in a pew to deliver his address." — Josh Kuckens
---
Ready and Willing
"A couple of hours before the Boston launch of The Bates Campaign last May, I joined trustee Geri FitzGerald '75 for a cab ride to the event venue, the Museum of Fine Arts. I could tell she was feeling the enormity of what was ahead: In a short while, she and other college leaders would share their Bates stories with some 700 guests, gathered in a majestic setting, to kick off the college's biggest fundraising effort ever. We headed to the event's green room, where President Clayton Spencer, host Bryant Gumbel '70, and other participants had gathered. Several were reviewing their prepared remarks, though Geri alone stepped outside the room to practice her speech in a sculpture-filled hall. I don't believe she saw or heard me. Pre-talk jitters aside, she addressed the crowd with the characteristic warmth, confidence, and conviction that many of us have come to know from her decades as a Bates volunteer." — Phyllis Graber Jensen
---
It Smarts
"Ask any photographer: Smartphone cameras have been a game changer. Everything (much to the dismay of my husband) is a picture possibility. Exiting Commons on a foggy winter night, I pulled the iPhone 7 Plus out of my pocket to photograph a Dining Services staff member walking on Alumni Walk while on his break. You never know if a photo will measure up to your expectation, but this surreal image exceeded mine. When you factor in the marriage of Instagram filters and the photo editing app Snapseed, you've arrived in the photographers' promised land." — Phyllis Graber Jensen
Cheer Up
"I had seen Don Robitaille leading cheers at Bates basketball games before. I figured he was a player's parent or grandparent. One evening, I was doing a 'Bates at Night' feature and decided to dig a little deeper. It was a treat to learn that he wasn't a parent, grandparent, or even alumnus but an enthusiastic Lewiston octogenarian who loved to lead cheers. It was yet another aspect of the unique atmosphere and home-court advantage of Alumni Gymnasium." — Josh Kuckens
---
Out of the Fog
"The first women's lacrosse game of 2017, on March 1, was a dominating performance by the Bobcats. It also featured an overwhelmingly dense late-winter Maine fog. After a long and snowy winter, this outdoor game, just the second of the 'spring' season, seemed to wake the campus from slumber." — Josh Kuckens
---
Telling Details
"Photographing the nude figure drawing class in the Olin Arts Center was a challenging assignment. There are times when you are limited in how you can photograph a subject — in this case, limited for reasons of taste and to respect the model's privacy. I was looking for small details within the limitations, and Meghan Cleary's purple Converse high-top sneakers stood out from the otherwise neutral background." — Josh Kuckens
---
Snow Bubble
"Call it a winter wonderland. Or call it Narnia, as did a student who commented on this photo on Instagram. February can manifest itself in a host of ways, and this way, with a blanket of snow covering the Historic Quad and students passing through as if walking on clouds, evokes a magical, mystical Age of Winter where anything is possible." — Phyllis Graber Jensen
---
Picturing Puck
"In photographing a performance, you may feel you've been given something of a head start. The various artists offer you their visions of lighting, scenery, and acting. But the photographer still has to have her own vision. This gorgeous set, designed by Judy Gailen for A Midsummer Night's Dream, directed by Martin Andrucki, provided the backdrop for a vanishing Puck. His simple step personified this 'merry wanderer of the night.'" — Phyllis Graber Jensen
---
Double Fisted
"When you arrive late to a sports contest, you can often tell how it's going even without knowing the score. Arriving midway through a tennis match last April, I could tell by their fist-pumping demeanor that Ben Rosen '18 and Chris Ellis '17, Bates' first doubles team, were in contention despite being underdogs. When the duo stunned their Bowdoin opponents with a win, the Bobcat supporters felt and shared that rush of adrenaline and pride." — Phyllis Graber Jensen
---
Missing Person
"True, a rainy day enhances the colors of the Clifton Daggett Gray Athletic Building, and I do enjoy the saturated simplicity of this picture. And yes, the historic entrance and timeless ivy seems to conceal a world behind closed doors. But truth be told, I feel it's missing something. Whenever I look at it, I'm reminded that I would love to improve it by adding a person, perhaps President Clayton Spencer. I'd have her wearing a red blazer, standing in the right third of the image, thus converting a still life to a portrait." — Phyllis Graber Jensen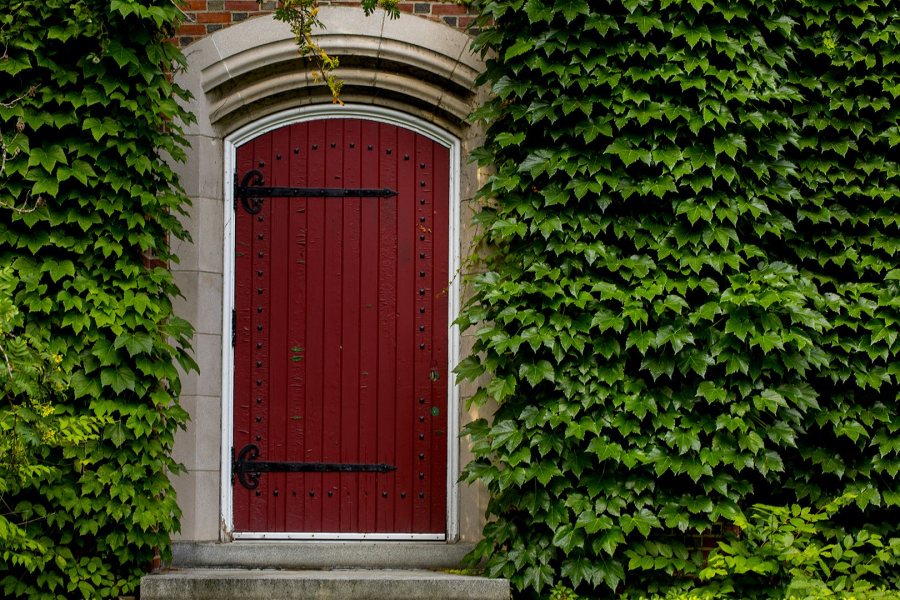 ---
Helping Hands
"My assignment at a downtown nonprofit, the Center for Wisdom's Women, was to photograph two students, Grace Jurkovich '18 and Ali Rabideau '17, as they worked with the center to create and market herbal products. As I photographed, it was clear that a group portrait was needed to convey the power of their partnership with women at the center, which offers safe haven, support, and community. And what better way to show the collaborative nature of their entrepreneurial venture than through a study of their hands?" — Phyllis Graber Jensen
---
Gotta Wear Shades
"I like to try to show something different from what people are expecting to see. It can be a challenge, but it motivated me to create variety. After snapping a few photos of first-year Bates students in front of a lighthouse during a trip to Portland Head Light last August, I decided to start playing around with the frame, which eventually led me to see the lighthouse reflected in Perla Figuereo's sunglasses." — Theophil Syslo
---
Winter Ball
"On April 3, opening day for Major League Baseball, Leahey Field looked more suitable for Nordic skiing than for the national pastime. Even so, pitcher Anthony Telesca '17 happily agreed to pose for a portrait. As with all the athletes I photograph, I admire his focus and composure. And his grace, evident even as he stands completely still." — Phyllis Graber Jensen
---
Banner Day
"On some assignments, you know exactly what you're looking for and what you'll see; on others, you have to be a little bit more creative and opportunistic. During Orientation, I had a little of both on my plate: assigned subjects as well as found features. I was looking for something that would help elevate the story of Orientation: families on the cusp of a huge change. I was pleased when I stumbled upon this moment, a first-year daughter and father pinning a Bates banner on the wall of her room." — Theophil Syslo
---
Hammocking It Up
"Annie Gundeck '21 and Esme Goldfinger '21 had indulged me as I photographed them in a borrowed hammock on the Historic Quad. And they gamely complied when I asked if they would hang their hammock in another place for a different background. But in setting up in the new location, the hammock got the better of them, and down they fell, laughing all the way. I appreciated their good-natured cooperation, and I think that my intrusion into their reality yielded a better picture." — Phyllis Graber Jensen
---
Reflective Moment
"Each week, I work on 'Bates at Night,' a photo story about students and their evening activities. Before I visit, I try to create a dialogue so I'm not just doing a drive-by photo. I let people know what I'm trying to accomplish, and I try to learn what the students are trying to accomplish. This helps me visualize what the story might be and how I wanted to show it. This moment, as students and faculty of a dance repertory performance class appear in a mirrored wall in the Marcy Plavin Dance Studio, captures the feelings and intimacy that develops as dancers prepare for performance. I thought this photo was a nice overall scene-setter, a glimpse of life inside the studio." — Theophil Syslo
---
Power Tennis
"I've attended class with Maisie Silverman, where she sits observant and unassuming. And I've photographed her on the tennis court, where she radiates power as her racquet connects with the ball. Her strength, focus, and intensity embody the game of tennis, a sport I have played and loved all my life." — Phyllis Graber Jensen
---
Leafing Nothing to Chance
"As the first leaves change color, the annual foliage watch begins. It's inevitable, it's gorgeous, and it's a photographer's challenge — what can you make of this today? — that persists until November, when the grounds crew rakes, mows, and blows all the leaves into beautiful piles that extend the length and width of the Historic Quad before vacuuming them up and carting them away. This year, I saw something new when I chased Mike Lecompte in circles, trying to focus on him rather than the leaves blowing around him. I found one sharp frame." — Phyllis Graber Jensen
---
Smile
"This photo captures a humorous moment in the play Gruesome Playground Injuries. Doug (Gavin Schuerch '18) raises his hand in victory after kissing Kaylee (Charlotte Karlsen '20). It was a funny moment, and funny photographs are hard to capture yet they are, well, fun to take. They offer a change of pace. It's a great feeling to leave an assignment smiling and feeling that you want to share what you've photographed and maybe make other people happy." — Theophil Syslo
---
In the Swim
"Beyond capturing the action, photographing sports gives you the chance to tell the whole story of the competition. This photo of swimmers celebrating their victory in a dual meet is a kind of Hail Mary: I'm holding the camera over my head and hoping that something nice happens and that I hit my focus points. Much like in football, relying on the Hail Mary is far from a sure bet. But it's worth the gamble for its high payoff." — Theophil Syslo
---
Throw a Smile
"To find a feature for Instagram late one November afternoon, I headed to Merrill Gym, where I knew I'd find students practicing myriad sports or just working out. Out on the Slovenski Track, I photographed runners and pole vaulters before heading over to the throwers. In focusing on their efforts, I didn't notice Zach Campbell's hot pink socks, nor his brilliant smile, until I returned to the office and edited the take." — Phyllis Graber Jensen
---
Broom for Improvement
"In one of the more entertaining assignments I had at Bates, I discovered what broomball is. I also discovered that you don't need skates to move on ice. (Whether you can move effectively without skates is another story.) To help illustrate the movement of broomball, I used a slow shutter speed while panning in the direction these players were moving. And this was one of the few frames where all the broomball players were upright." — Josh Kuckens
View Comments