As we slide into summer, we pause to share various moments from the month of May. You'll note the delighted expressions on many we've photographed all over campus, and beyond. Explore the way in which, with some joyful noise, we close out the academic year with the final edition of This Month at Bates.
Starting Players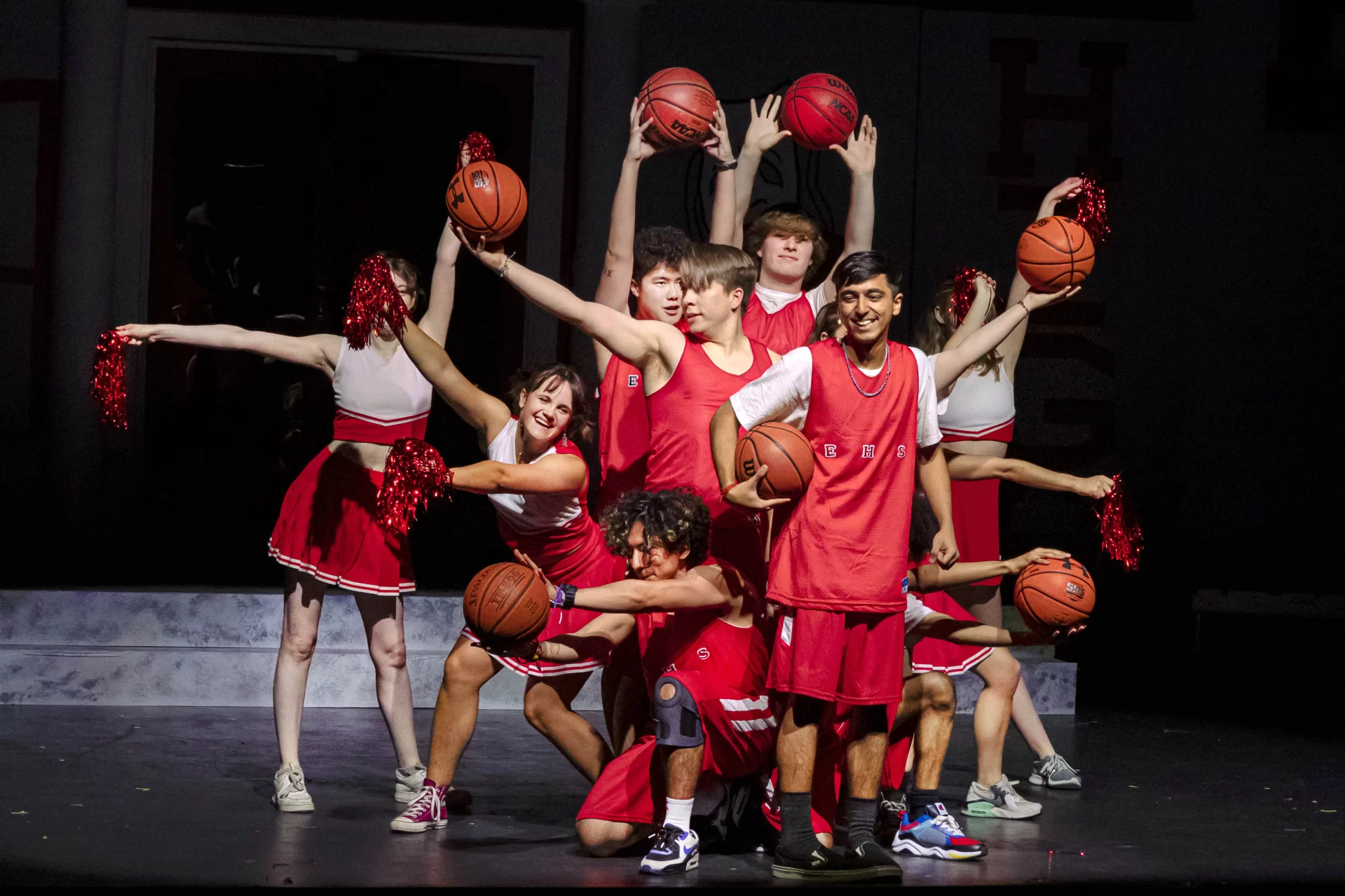 The Robinson Players took to the Schaeffer Theatre stage in May to present the Disney's High School Musical: One Act Edition, directed by Brady Chilson '23 of Carlisle, Pa., and Kush Sharma '23 of South Burlington, Vt.
---
Holi and Hathorn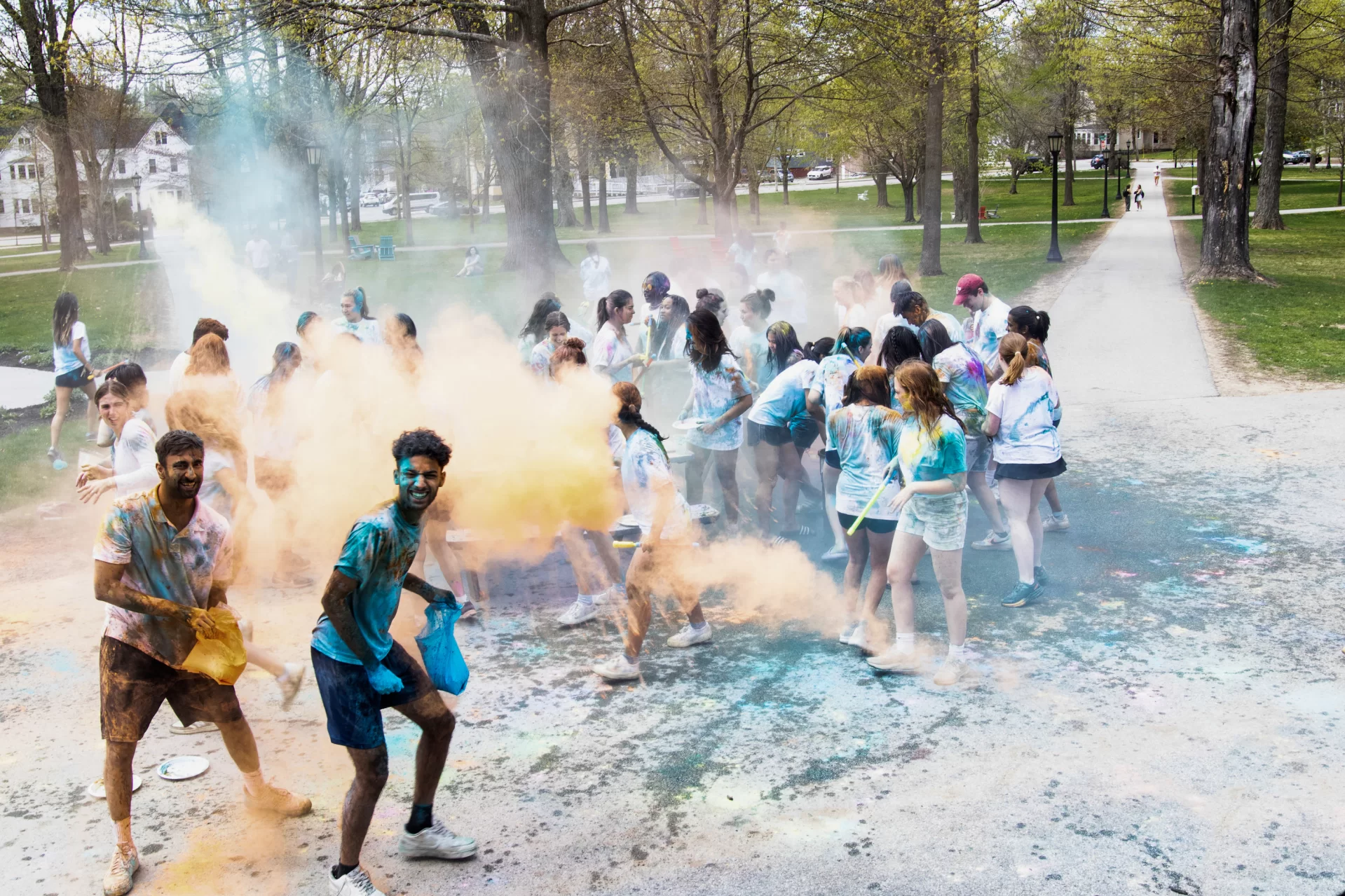 The spring exuberance of Bates students was on full display as they swarmed the walks in front of Hathorn Hall on May 7, with lots of colorful gulal powder in hand, to celebrate Holi, a Hindu festival of colors symbolizing the beginning of spring and the triumph of good over evil.
For the South Asian student community, the event "celebrated togetherness and strengthened a sense of belonging," says Amisha Kalra '23 of Short Hills, N.J., co-president of the South Asian Student Association.
Everyone was invited to join the fun, says Kalra, "to get an opportunity to learn and experience cultural traditions."
---
Falls Front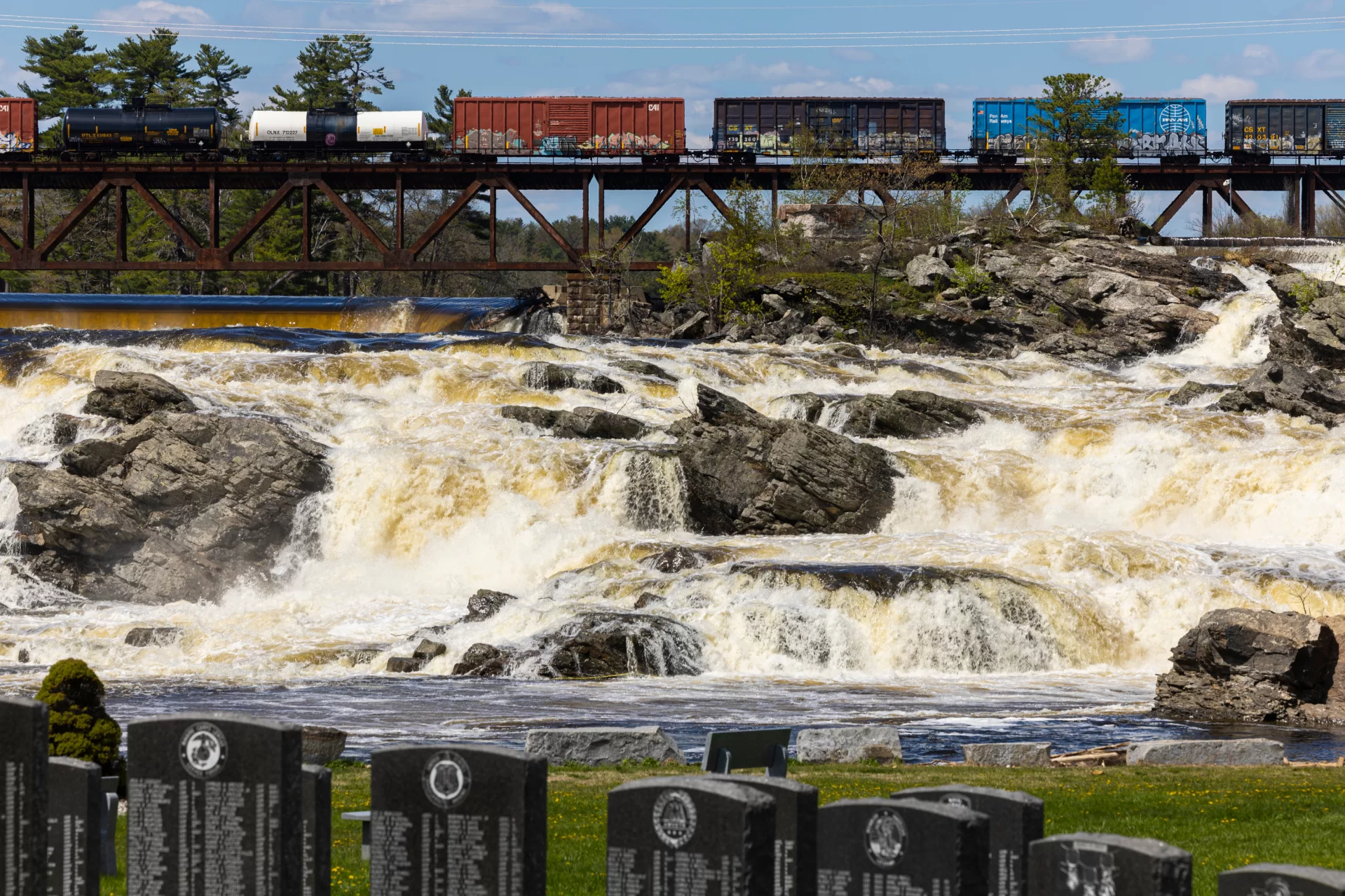 In early May, nearly a week after 5.25 inches of rain fell on the area, Great Falls on the Androscoggin River were still roaring along. In the background, a train crosses the 1,000-foot truss bridge over the falls, which are located between downtown Lewiston and Auburn.
---
Pause with the Cat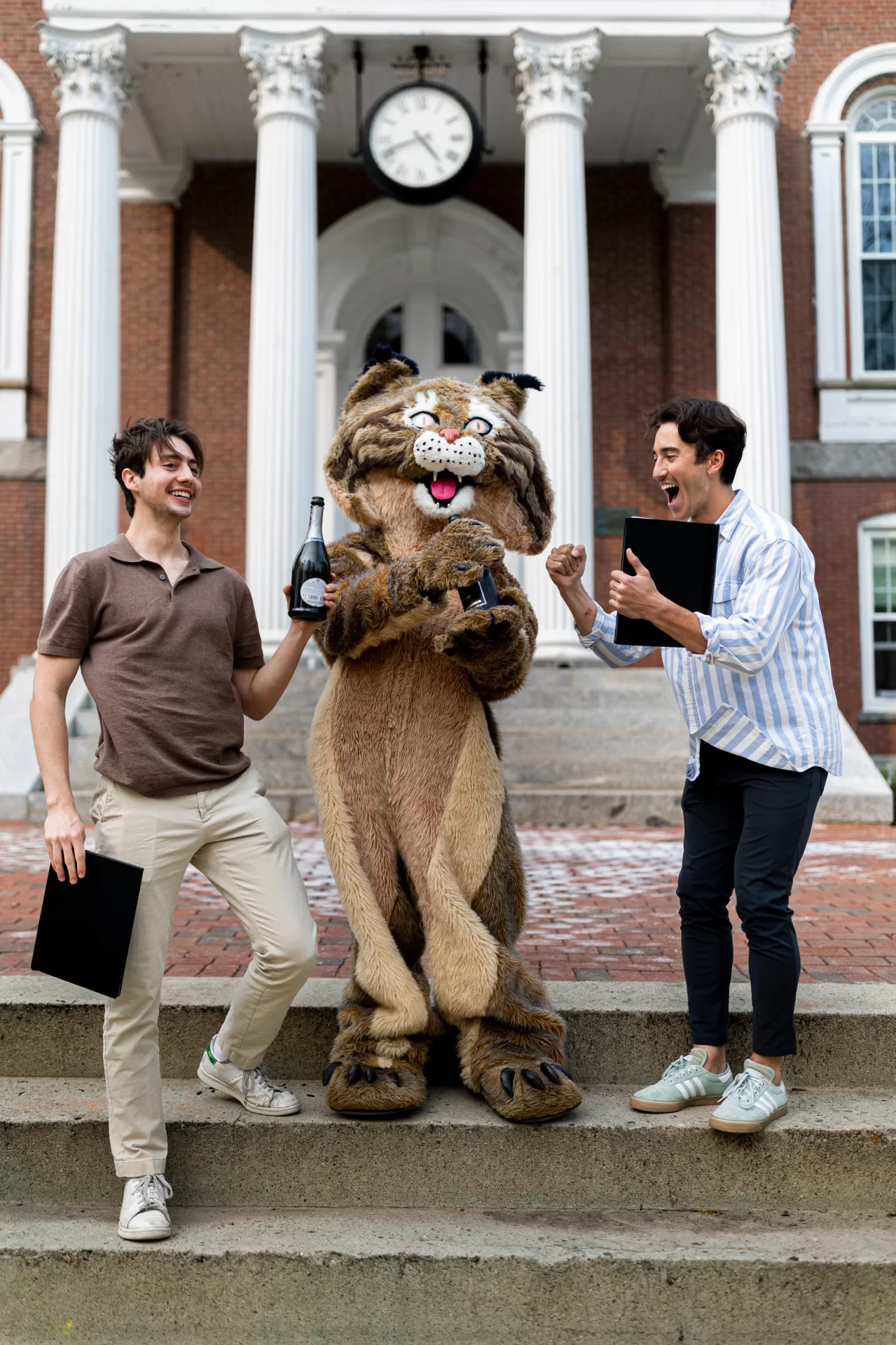 The Bobcat stopped by Hathorn Hall to congratulate senior neuroscience majors William Symmans (left) of Houston and Evan Koch of Shelburne, Vt., during their thesis-binding celebration.
Symmans' thesis is titled, "A Data-Driven Taxonomy of Olfactory System Principal Neurons."
Koch's is "A Comparative Analysis of Gene Expression in the Dorsolateral Prefrontal Cortex of Autistic Individuals Across Age and Sex."
---
Tri Cycle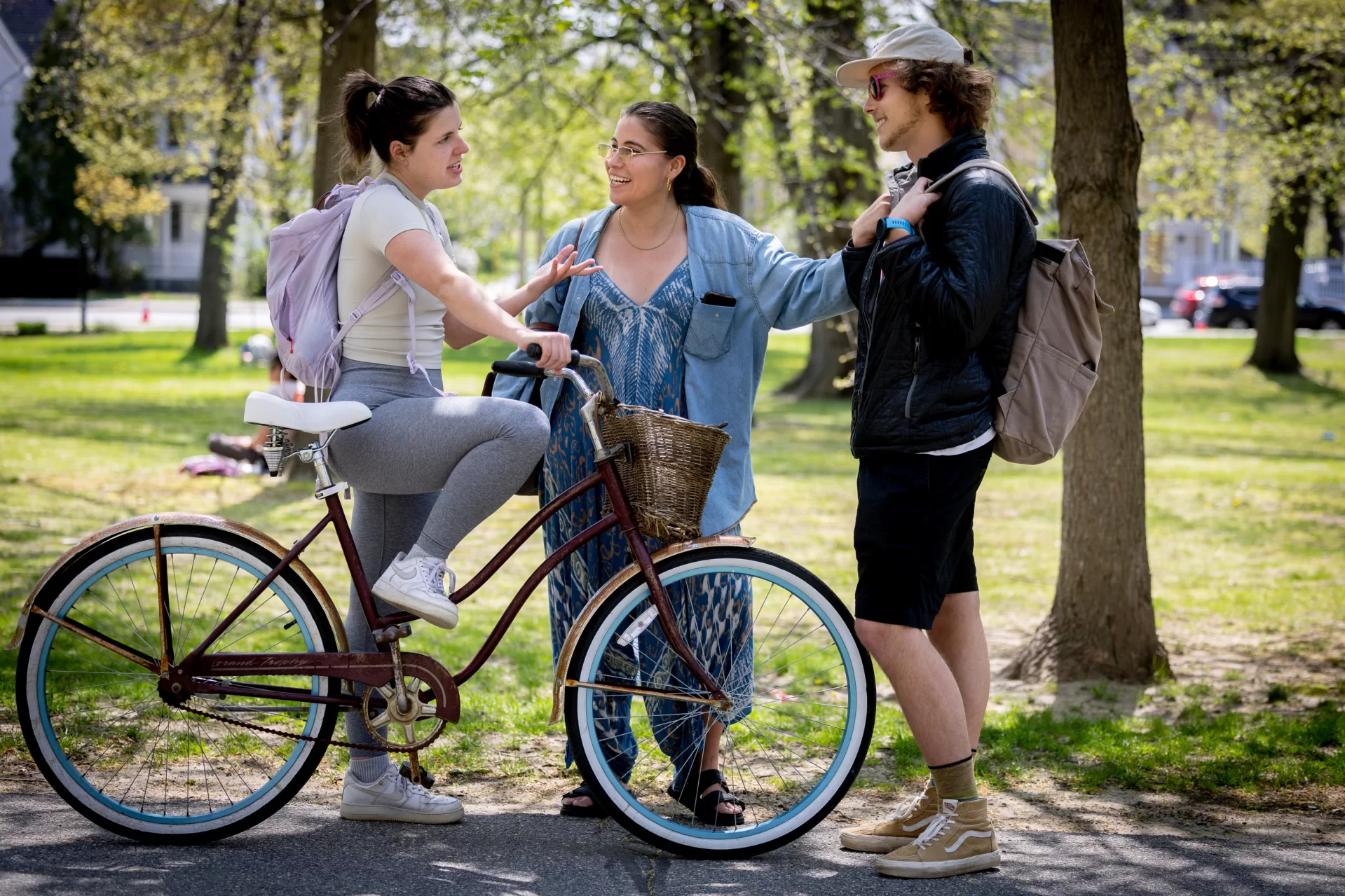 From left, Abbey Ende '23 of Asheville, N.C., Katia Ryan '23 of Amsterdam, N.Y., and David King '25 of Wilson, Wyo., connect on the Historic Quad on a warm afternoon during Short Term.
---
'Proud Adviser'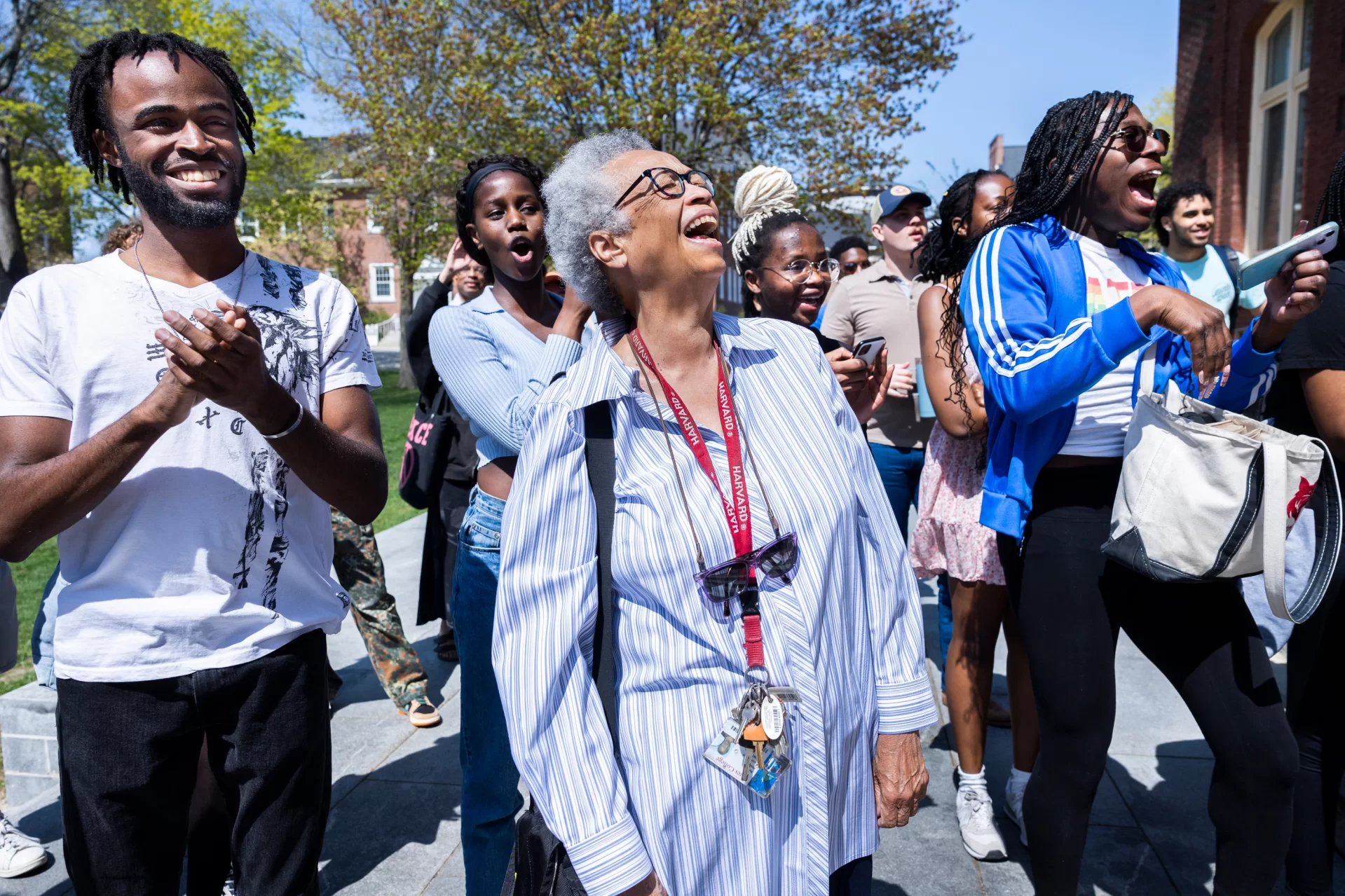 The self-described "proud adviser," Associate Professor of Africana Sue Houchins joins students, faculty, and staff gathered on the front steps of Coram Library to celebrate the completed senior honors thesis of Sam Jean-Francois, an Africana major from Medford, Mass.
Jean-Francois' thesis is titled, "Colonialism as the Disaster: Retelling the Fight for Haitian Sovereignty." The project was a "heuristic exercise centered in my journey to uncover more about my history, my family's history, and Haiti's history as the world's first free Black republic."
"Through this thesis I've had the opportunity to engage with the works of Haitian scholars such as Myriam Chancy, and reconnect with my mother tongue, Kreyol."
---
Crabby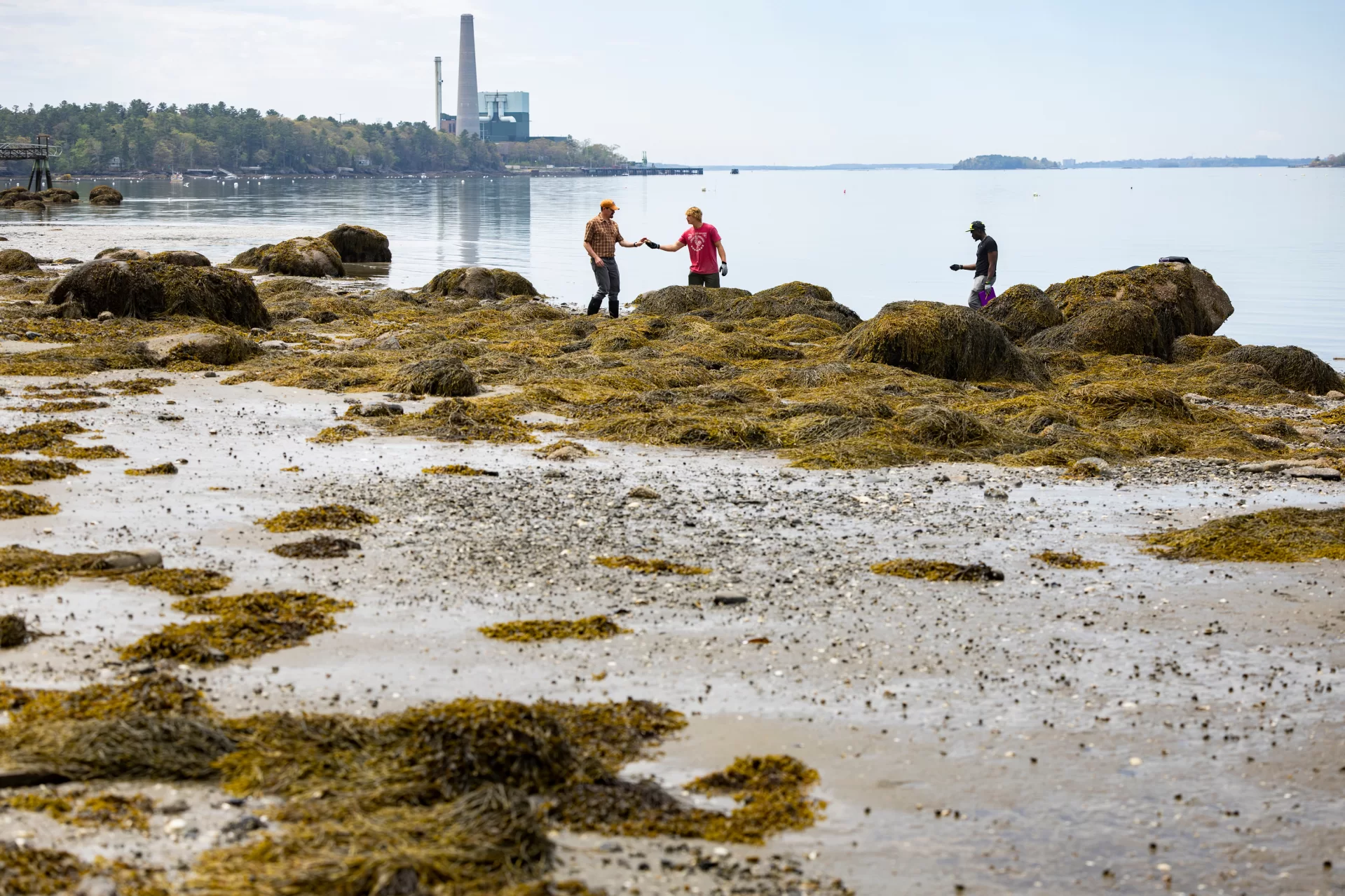 Taught by Jesse Minor '09, a Short Term biology course headed to Cousins Island in Yarmouth to help with efforts along coastal Maine to monitor invasive green crabs, a "small but voracious invasive species threatening Maine's soft-shell clam industry," in the words of a Portland Press Herald story.
The Bates course teamed up with Manomet, a nonprofit specializing in conservation and science education, which has engaged in a long-term monitoring project to track green crab population trends.
---
Streaming Along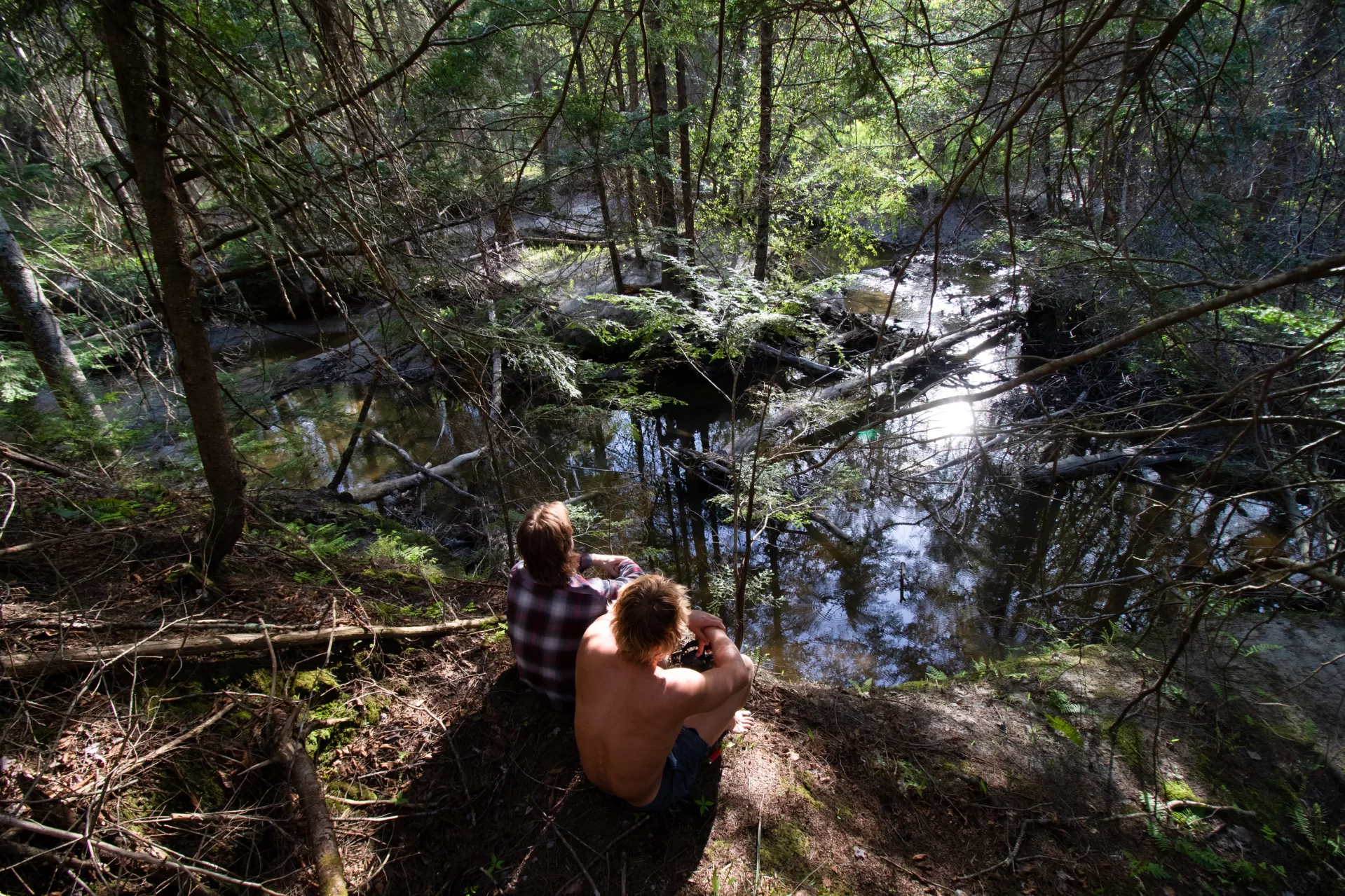 Two Bates friends sit on the high bank of a Maine stream, waiting patiently for the chance to see a mink. None showed, "but there were dozens of tracks and other evidence of recent mink activity," said photographer Huck Triggs '25 of Malibu, Calif. "The forest was absolutely beautiful and burgeoning with activity as animals are raising their young."
---
Eyes Have It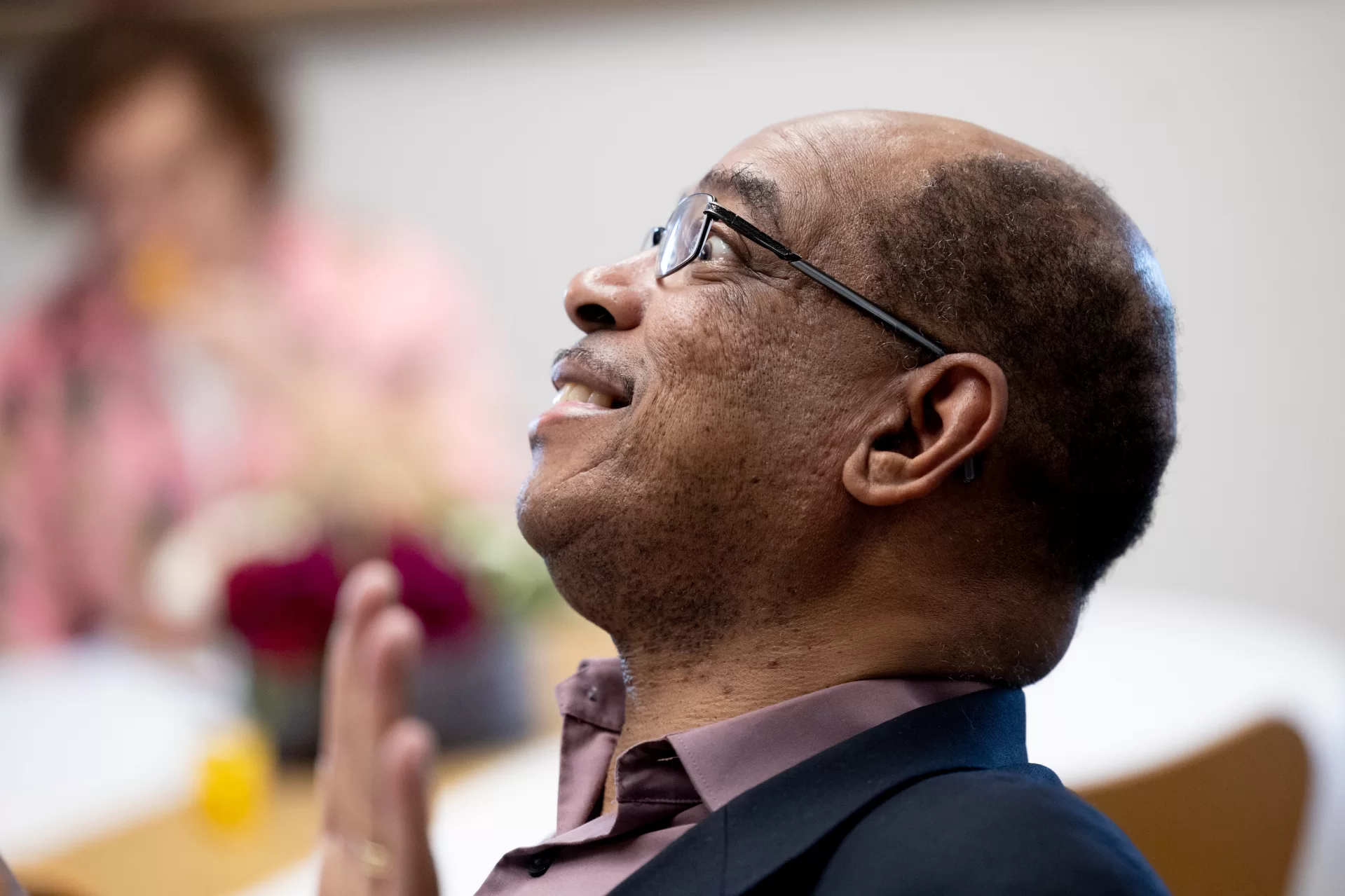 James Reese, associate dean of students for international student programs, reacts during the annual Bobcat First banquet.
---
Arm in Arm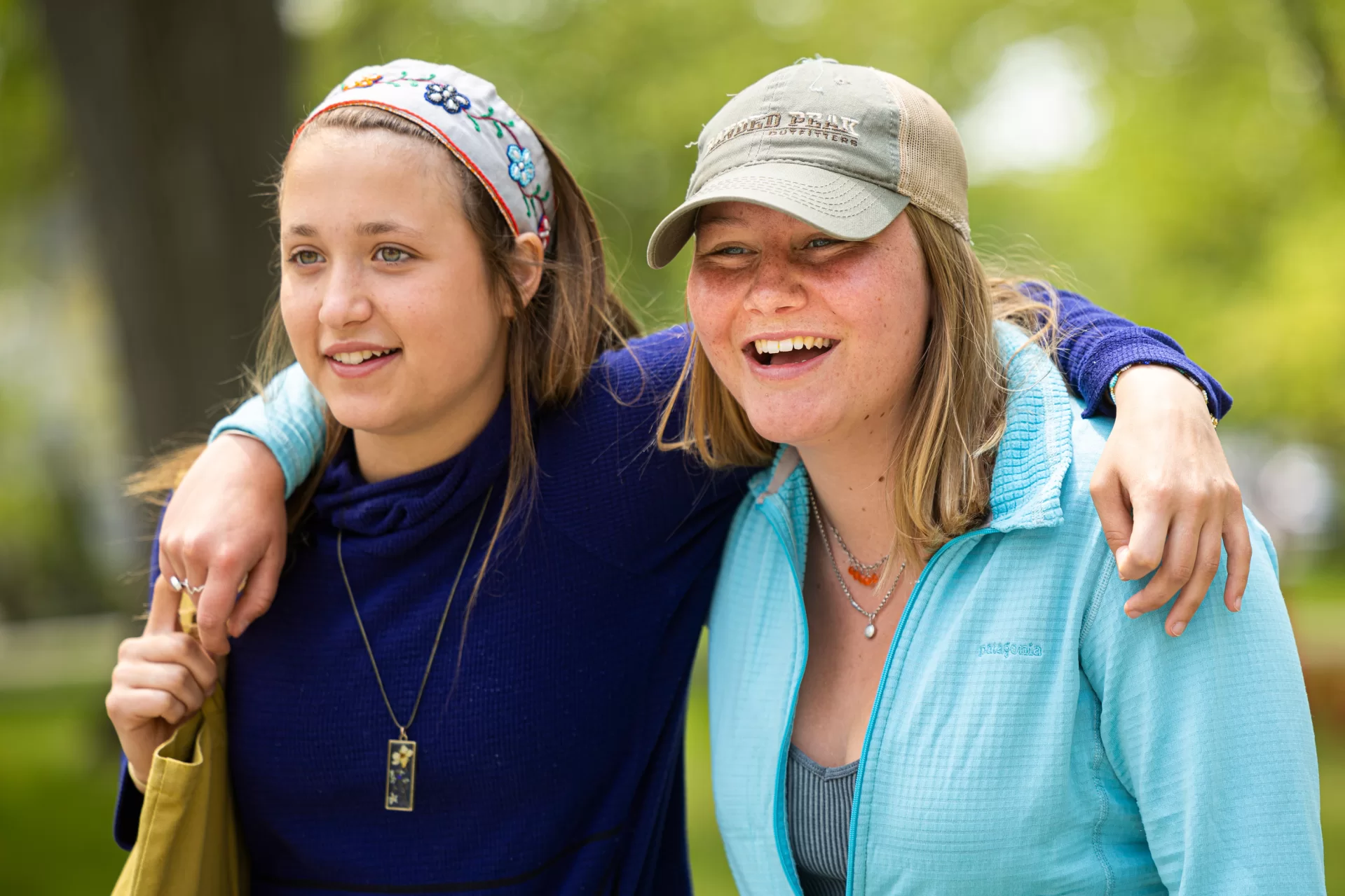 From left, Isabelle "Izzy" Larson '25 of East Aurora, N.Y., and Chelsea Griscom '25 of Santa Fe pause near Hathorn Hall to take a look at a rare campus construction project: the replacement of the Mouthpiece with a new model that's identical to the old, hand-crafted by Bates carpenters.
---
Coming Along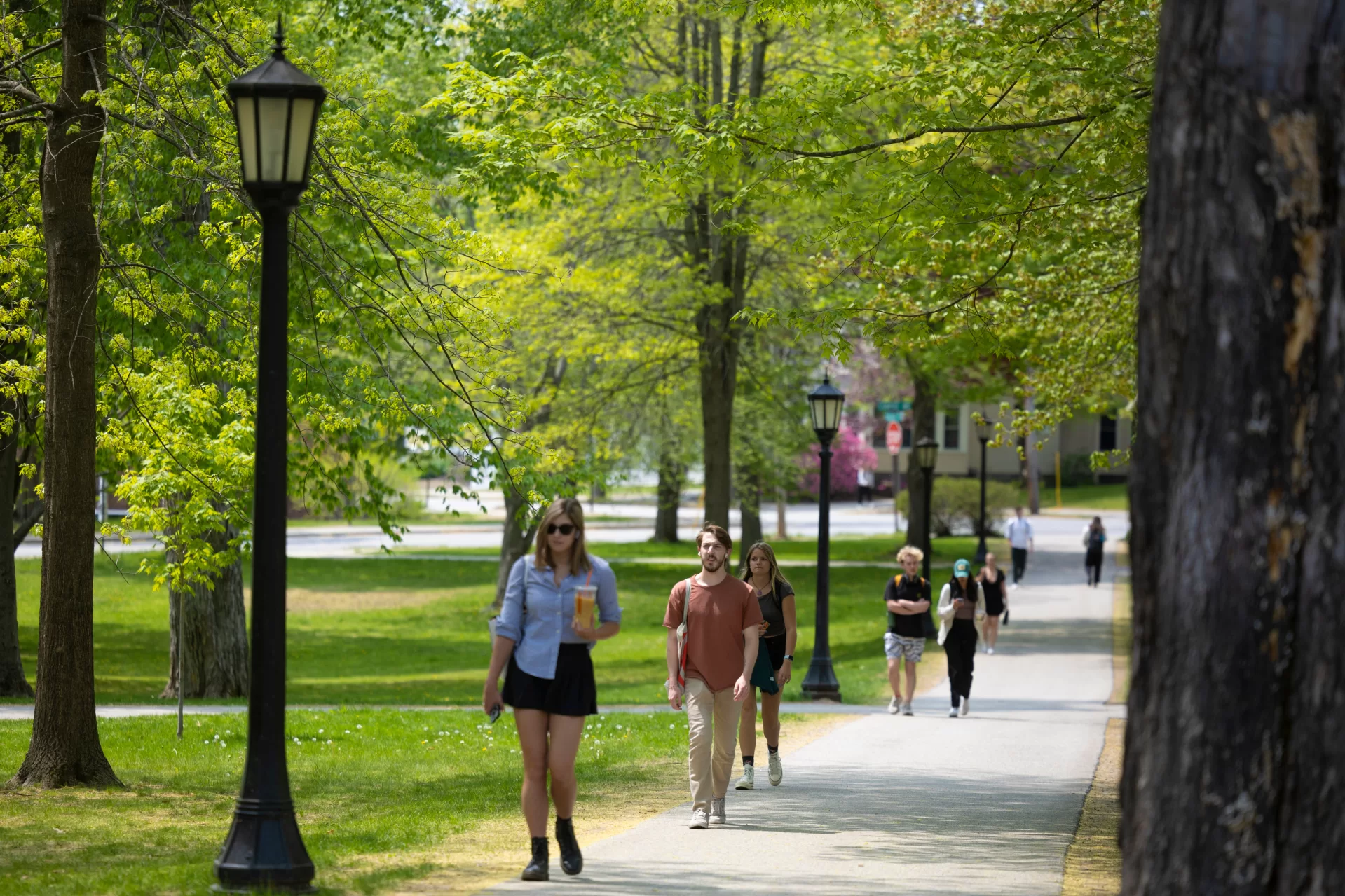 One of the busier walks on the Quad is the one leading from the Frye Street area, chock full of students' residences.
---
Plus Two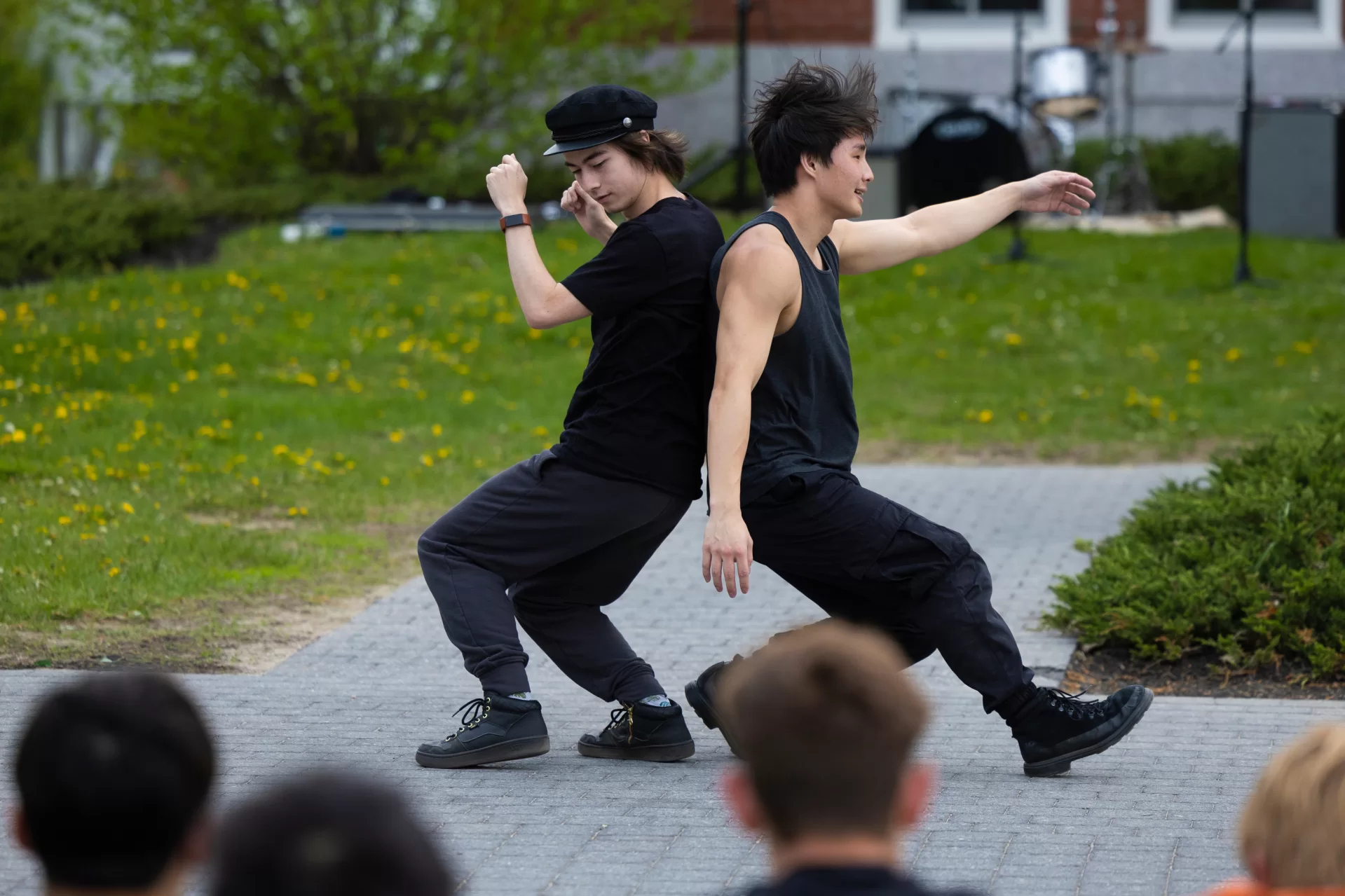 From left, Tori Kusukawa '23 of Salt Lake City and Jaewoo Kim '25 of San Ramon, Calif., dancers in the student club ACE+, showcase their individual and collective talents and Asian art culture during the annual Bobcats-N-Brisket picnic outside Commons in May.
---
Quick Chat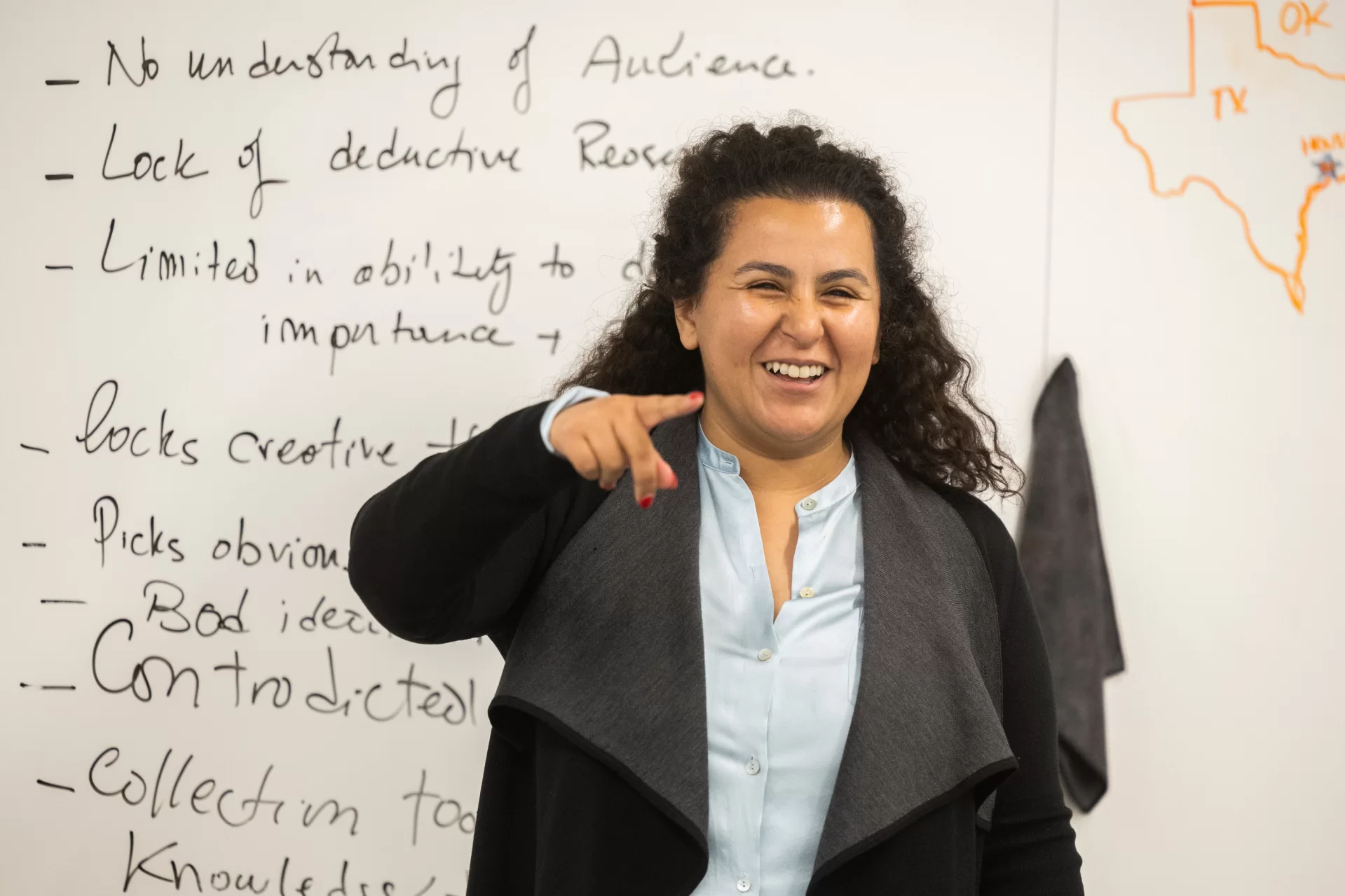 Elly Rostoum '07, instructor for the Short Term course "Spies, Special Agents, and the Presidency," leads her students in a discussion of how and whether the U.S. intelligence community should use artificial intelligence in its work.
The discussion was promoted by a recent news story about a top U.S. official urging the use of AI to keep pace in the world of international intelligence gathering.
So Rostoum, a former U.S. intelligence officer, asked her students to use ChatGPT, a well-known open AI tool, to evaluate a few thorny foreign affairs topics from history, such as Rafael Trujillo's dictatorship of the Dominican Republic, and offer strategic options that the U.S. might employ.
If the "whole point of intel is to anticipate in order to preempt," as Rostoum said, how did ChatGPT fare? Not well, said the students. "It can't be creative," one said. At least not now.
---
Sitting Speaker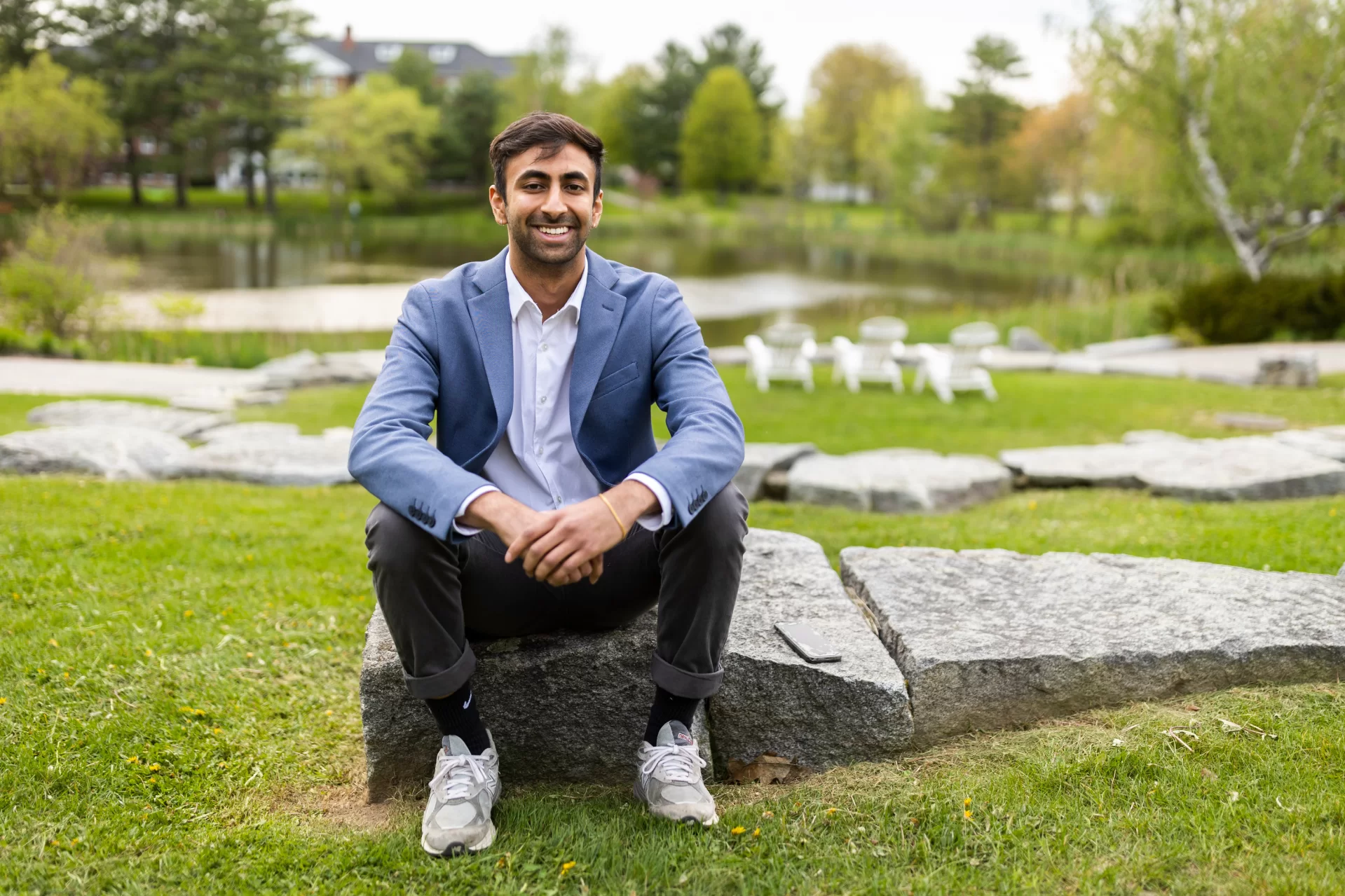 Rishi Madnani '23 of Langhorne, Pa., poses at the Keigwin Amphitheater for a story about his Senior Address at Commencement.
Madnani used the metaphor of an in-vitro cell culture — controlled environments for growing cells — to describe the Bates community. "As incoming stem cells, each of us brought a unique genetic and molecular profile to the table: our similarities, and our differences, brought us together to form an impressively cohesive socio-cellular infrastructure."
---
Art and Activism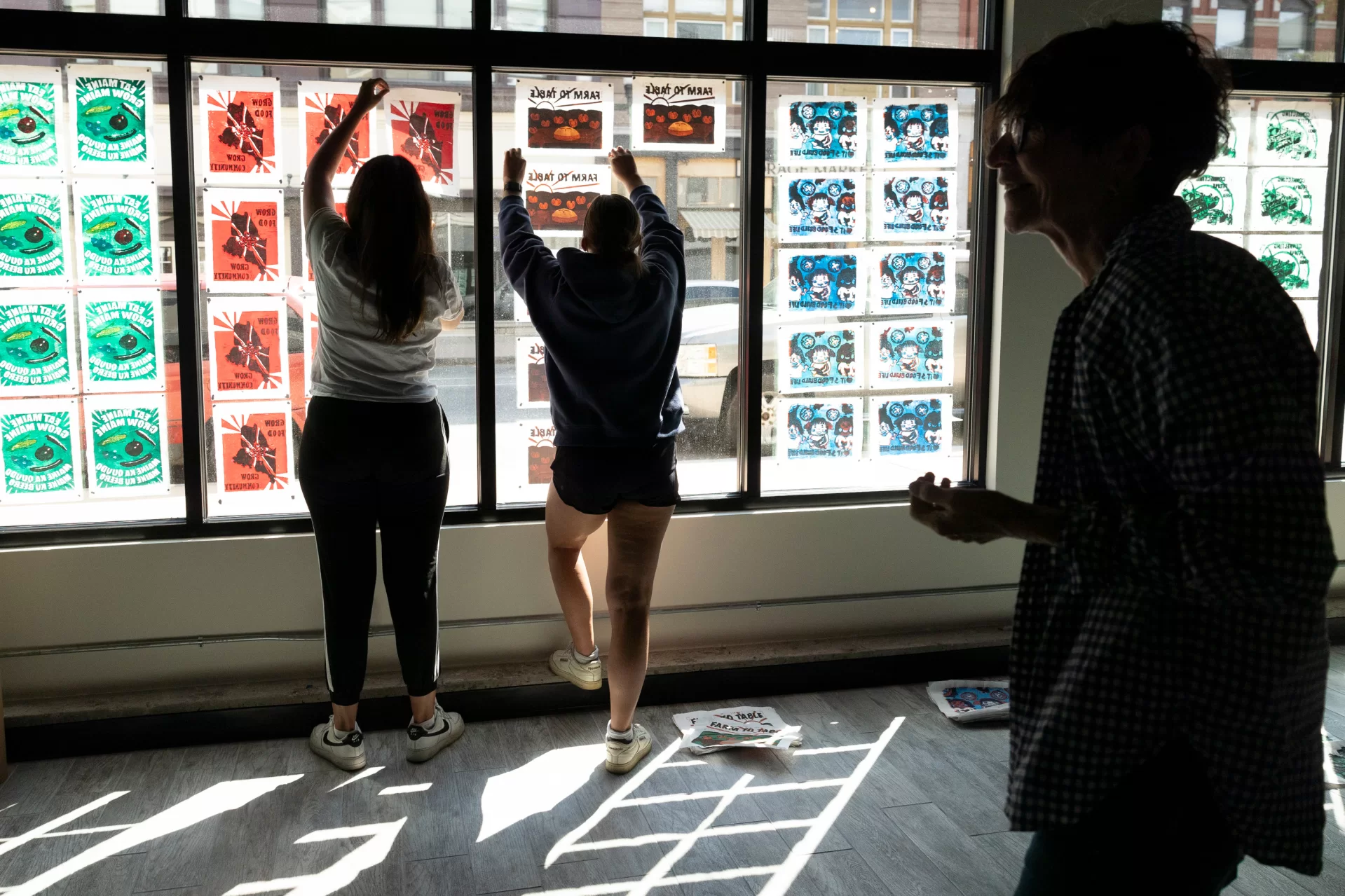 Students in Bates Short Term "Art and Social Practice" class, taught by Lecturer in Arts and Visual Culture Michel Droge, install artwork in the windows of the Hartley Block at 155 Lisbon St, Lewiston. The installation is on view through June 10.
The course combined research of historical and contemporary social practice with practical studio experience and collaborative community engagement, paying special attention to issues of equity, inclusion, and accessibility.
Partnering with the Coordinating Team of the Local Foods Local Places (LFLP) Action Plan which includes the Good Food Council of Lewiston-Auburn (GFCLA) and the St. Mary's Nutrition Center (NC), students examined local solutions to food and land justice issues and investigated how socially-engaged art can raise awareness and motivate action around such causes.
---
Jump Start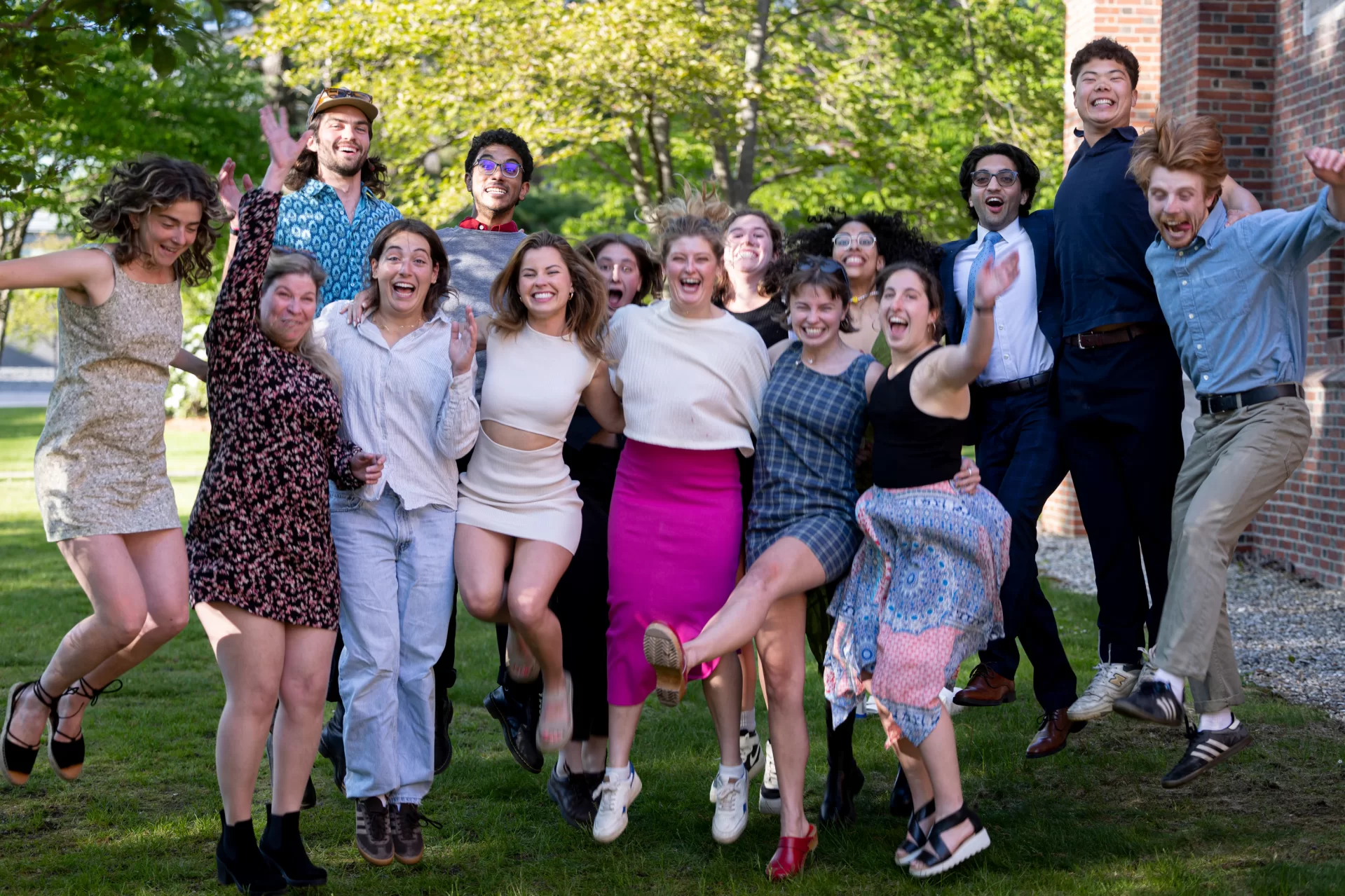 Seniors and faculty in the Department of Rhetoric, Film, and Screen Studies get a jump on Senior Week at the annual Senior-Faculty Reception, a gathering that celebrates the relationship of student and teacher that is at the heart of a Bates education.
---
Head Strong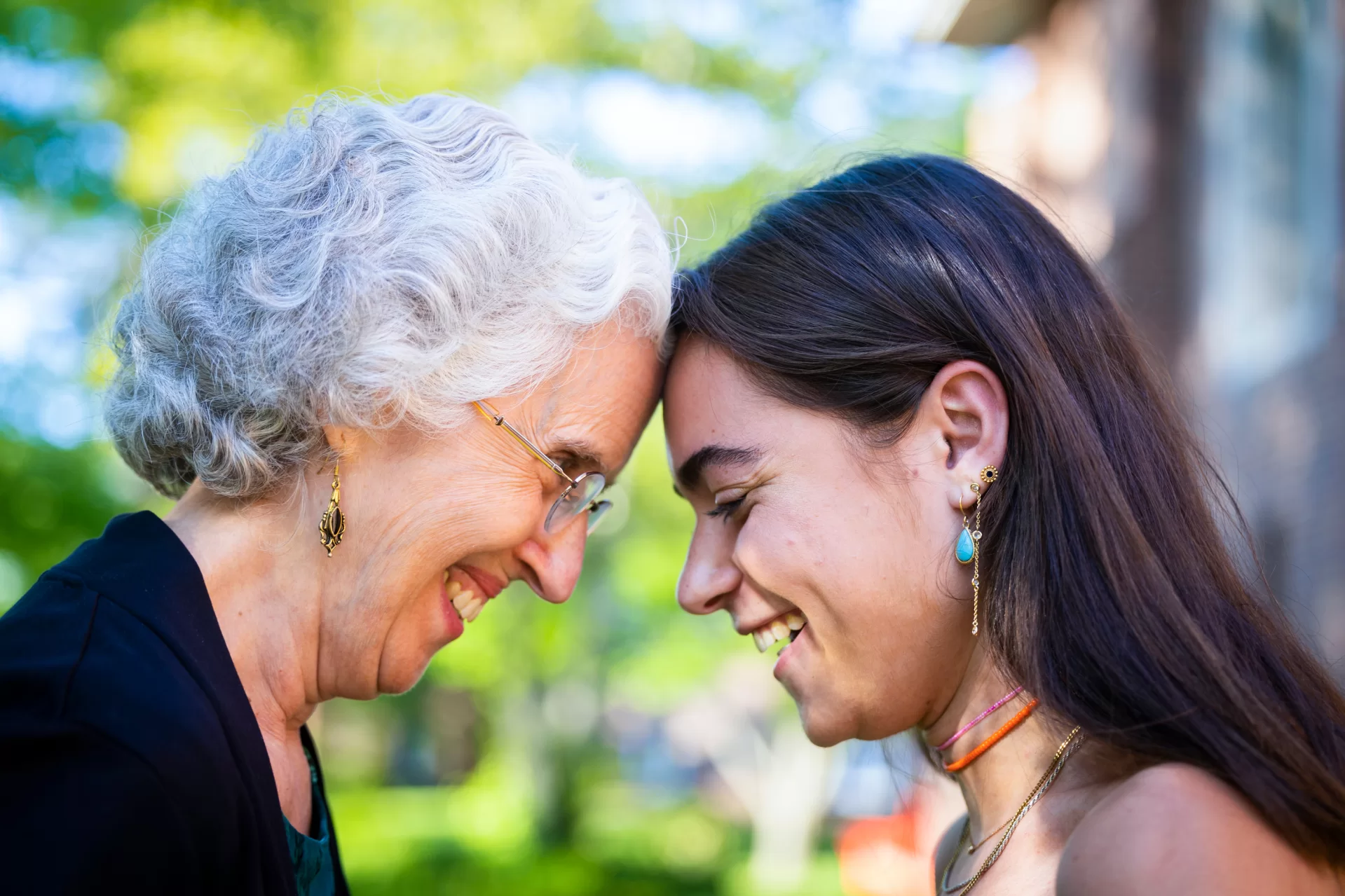 Professor of Sociology Emily Kane shares a moment with senior thesis advisee Ilana Zeilinger '23 of Washington, D.C., outside the Gray Athletic Building during the annual Senior-Faculty Reception on May 22.
Zeilinger's thesis, "Mothering in the Mama Sphere: Intensive Mothering in Contemporary Mommy Blogs," won the sociology department's thesis award, the Myhrman-Swett Award.
---
On the Run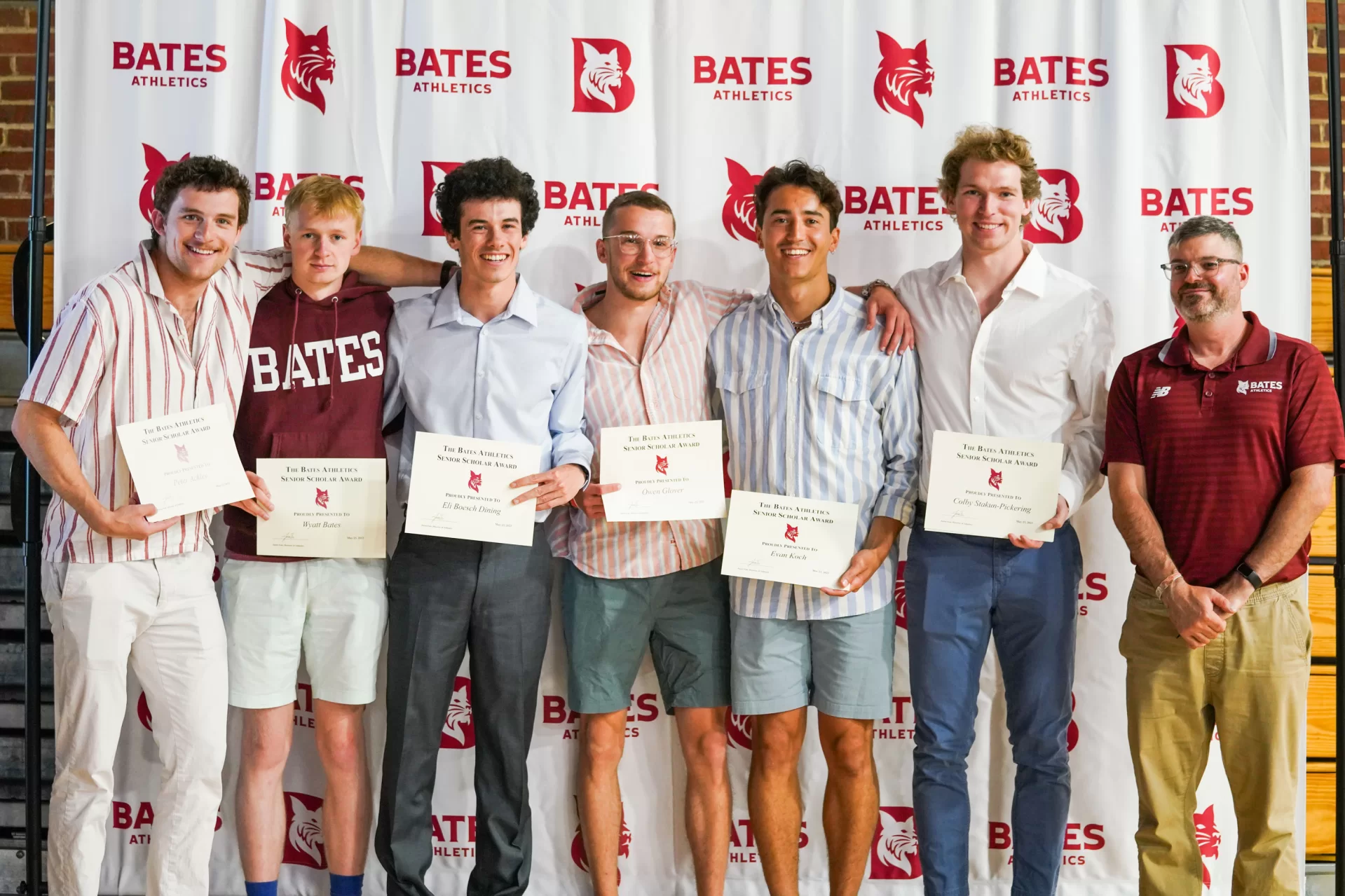 Six seniors from the cross country and track and field programs who won Senior Scholar awards this year pose with Associate Professor of Sociology Michael Rocque, who serves as Faculty Athletics Representative, during the Senior Athlete Recognition Ceremony, held on May 23.
Third from left is Eli Boesch Dining of Concord, N.H., who, with Sophie Martens (soccer) of Scarborough, Maine, won the Milton L. Lindholm Scholar-Athlete Award for achieving the top GPA among letter-winning athletes on men's and women's teams.
Joining Boesch Dining are, from left, Peter Ackley, Wyatt Bates, Owen Glover, Evan Koch, and Colby Stakun-Pickering.
The annual ceremony recognized 89 four-year Bates athletes who maintained a cumulative grade point average of 3.5 or above.
---
Making a Splash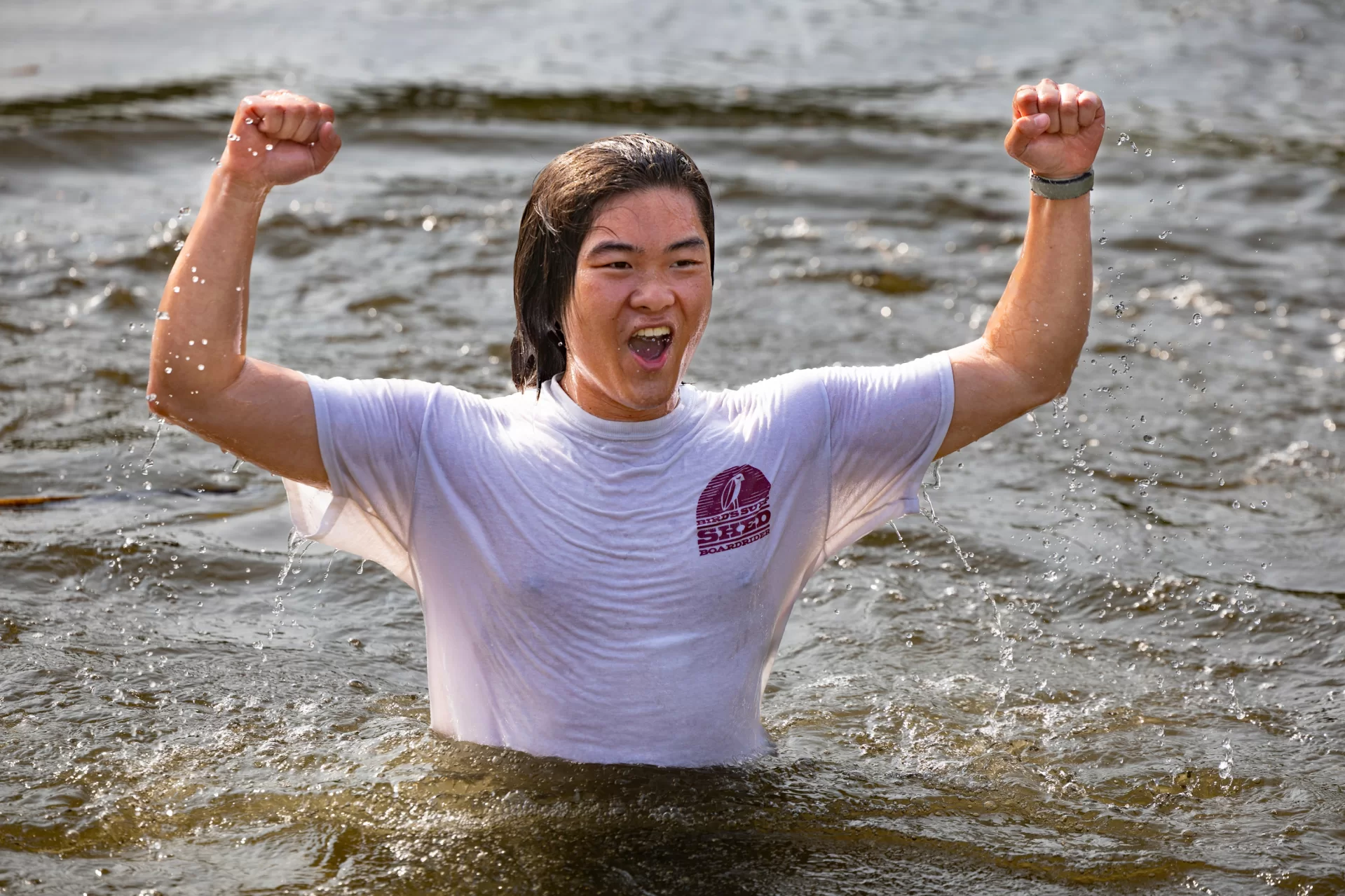 Nathan Huynh '23 of San Diego emerges triumphantly from Lake Andrews after diving from the Keigwin Amphitheater into the campus pond to celebrate his completed environmental studies thesis.
Huynh's thesis is titled, "Navigating Shifting Tides: Resilience Amidst Climate Change, Overfishing, and Industrialization Through Diverse Media Perspectives."
---
First Chair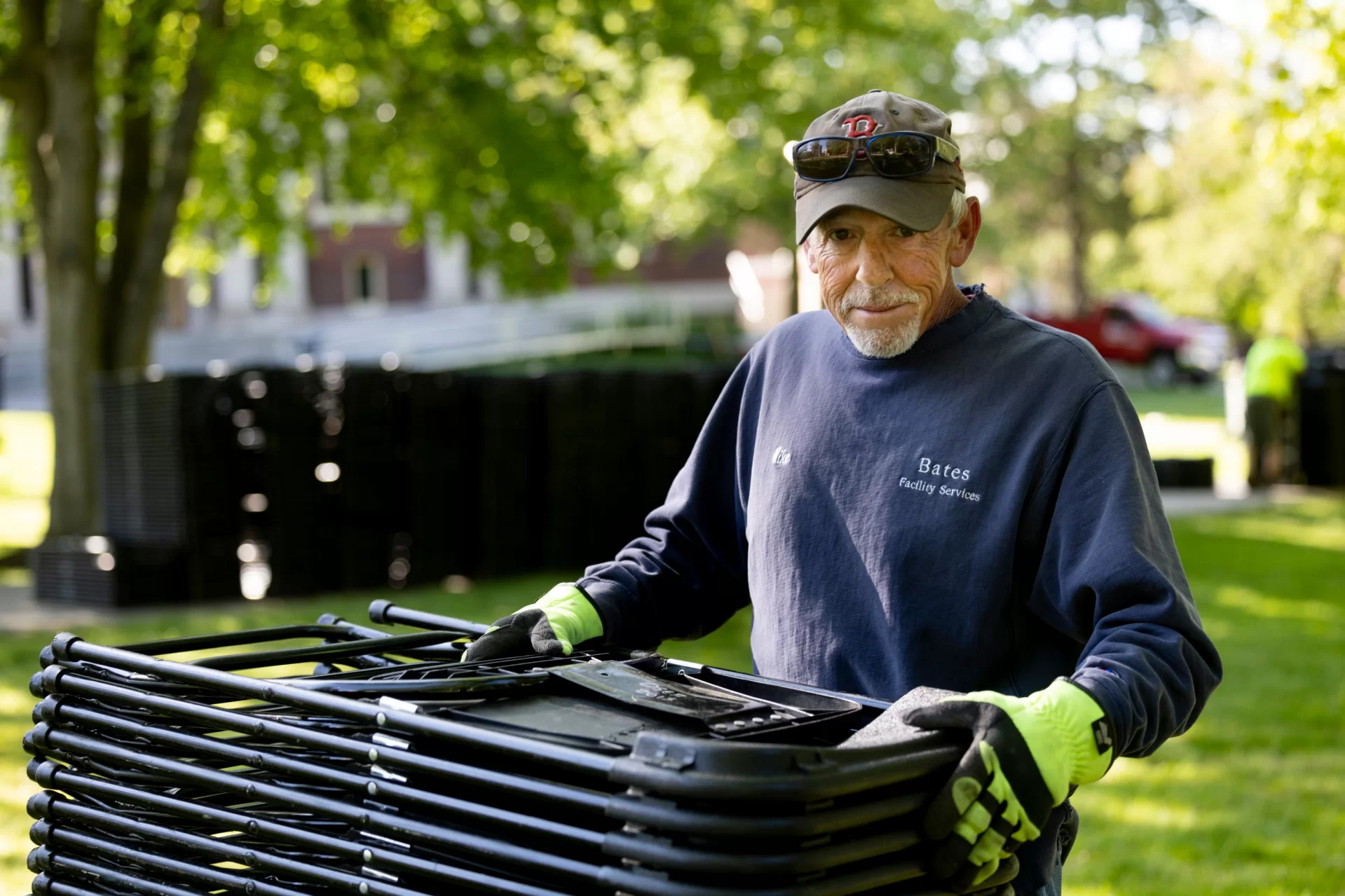 Mike Adams, leads grounds keeper for Facility Services, pauses as he and his team take down the Commencement setup — including several thousands chairs.
---
Numbers Game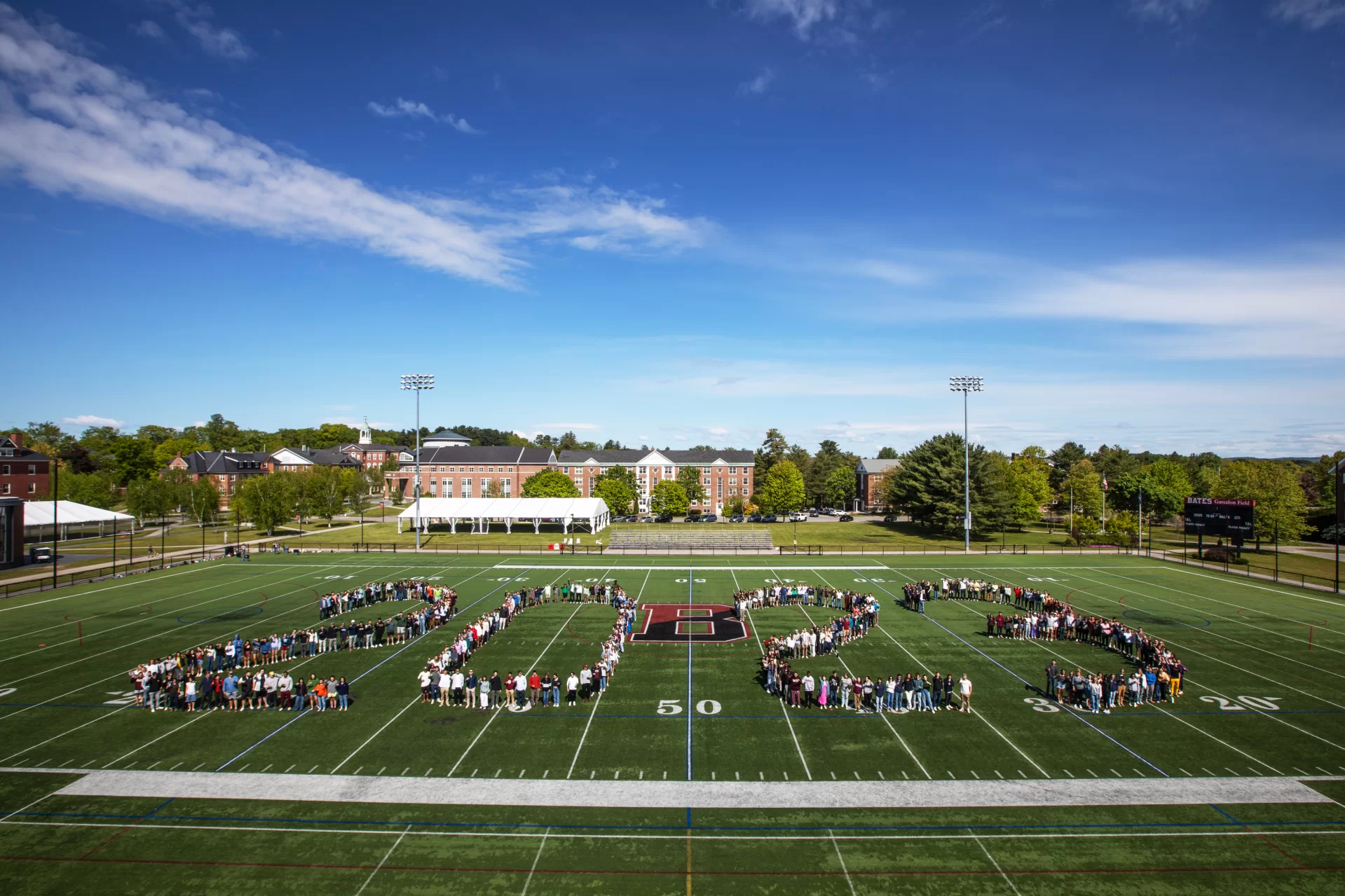 Members of the Class of 2023 take their places on Garcelon Field for their official class portrait on May 26.
---
Their Toast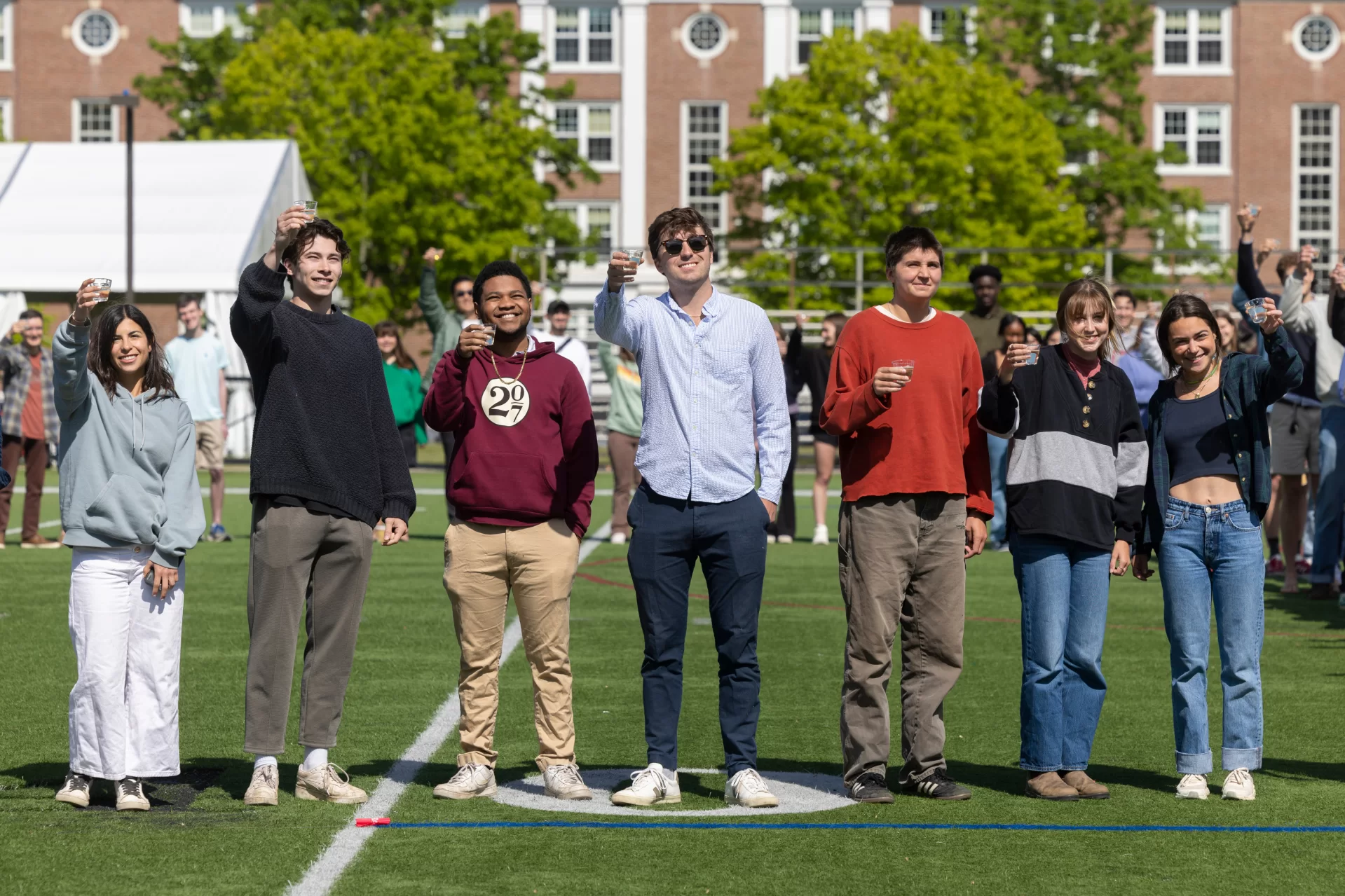 Toasted by James Reese, longtime associate dean, seniors raise a glass to their achievements and hopes for their good fortunes.
---
Seeing Double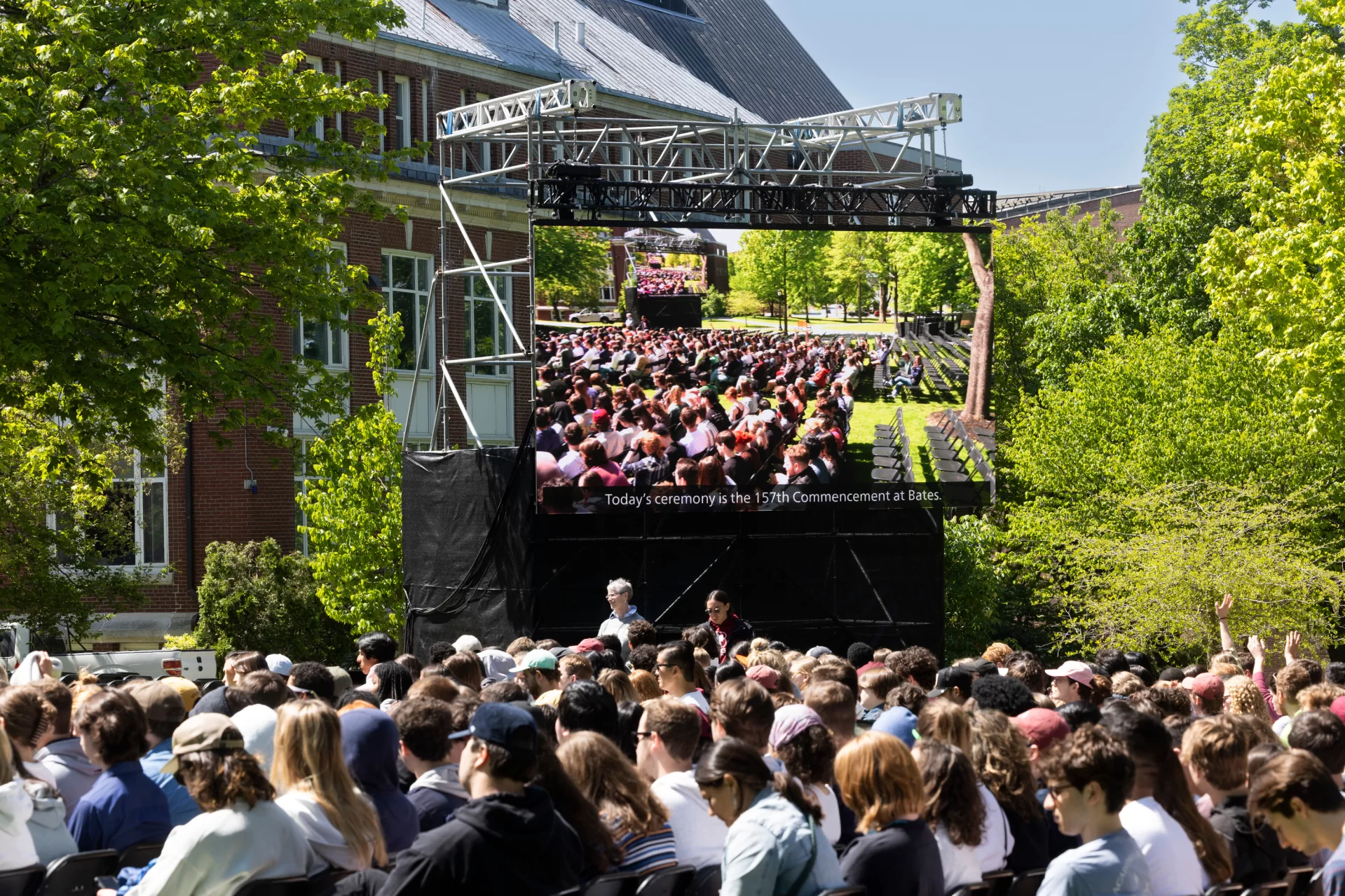 The Droste effect in action: This photograph shows the Commencement audience in front of the large video wall, which in turn shows the Commencement audience gathered in front of the large video wall… ad infinitum.
---
Illuminati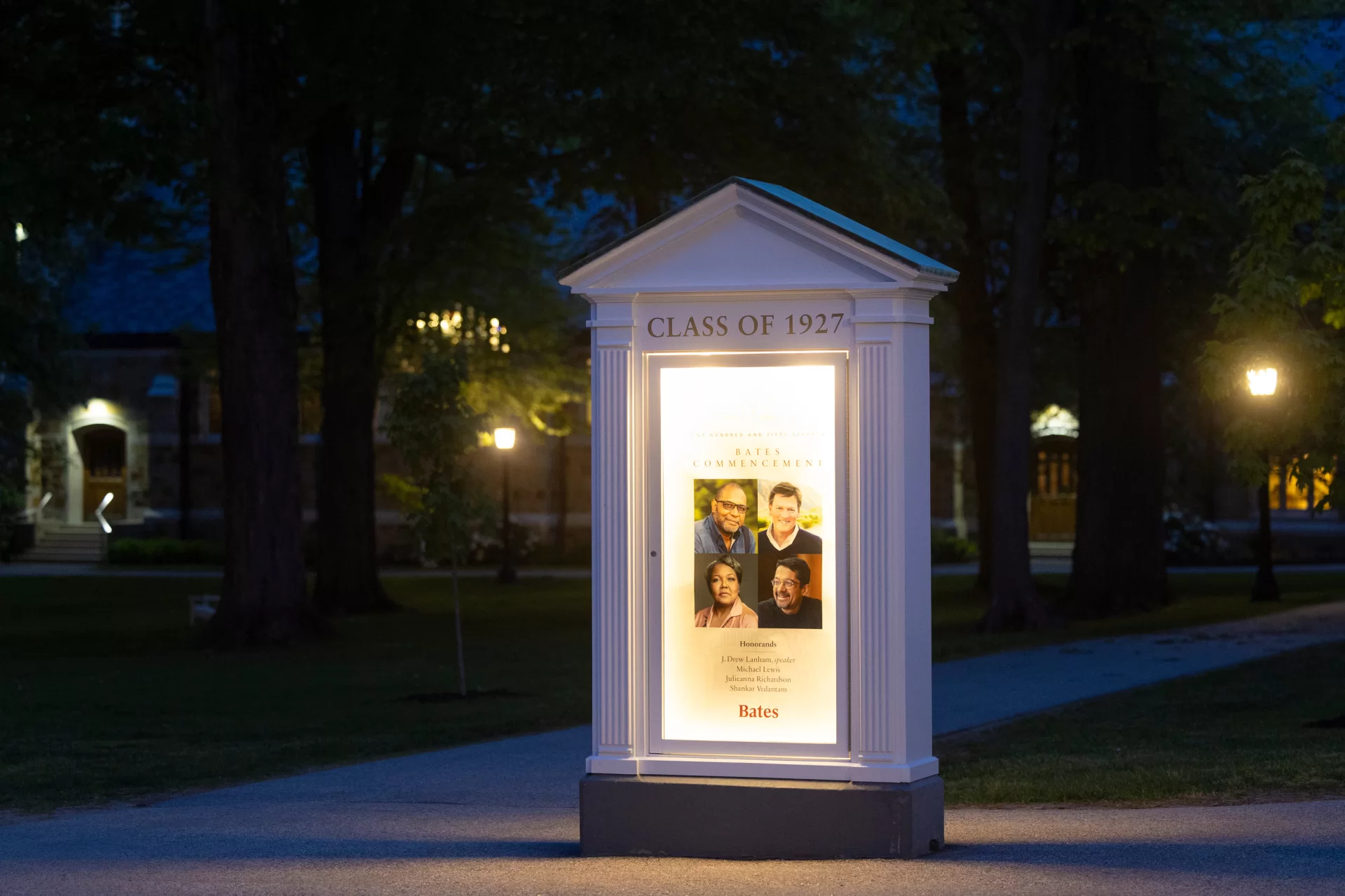 Equipped with LED lighting, the new Class of 1927 Mouthpiece, hand-built by the Bates carpentry shop, strikes a fine figure two days before Commencement. The poster inside depicts this year's honorary degree recipients, clockwise from top left:
J. Drew Lanham (speaker), ornithologist, naturalist, and writer;
Michael Lewis, author of award-winning nonfiction including Moneyball and The Big Short;
Shankar Vedantam, science correspondent; founder and host of the Hidden Brain podcast and radio series; and
Julieanna Richardson, founder and executive director of The History Makers, an archive of African American oral histories.
---
Gift of Song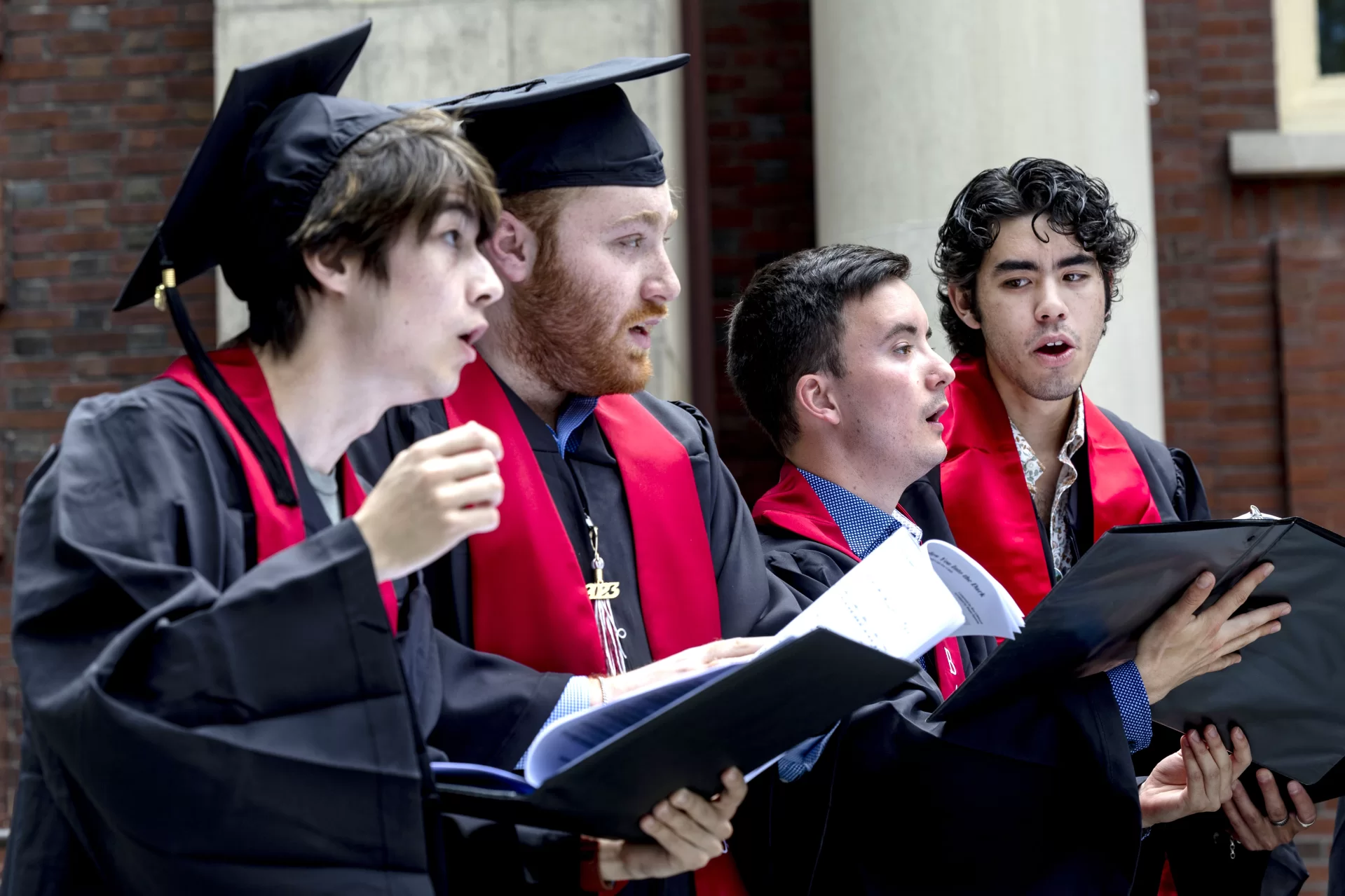 The senior a cappella group performs "I Will Follow You Into the Dark" during the Baccalaureate Service the day before Commencement.
---
Marshaling support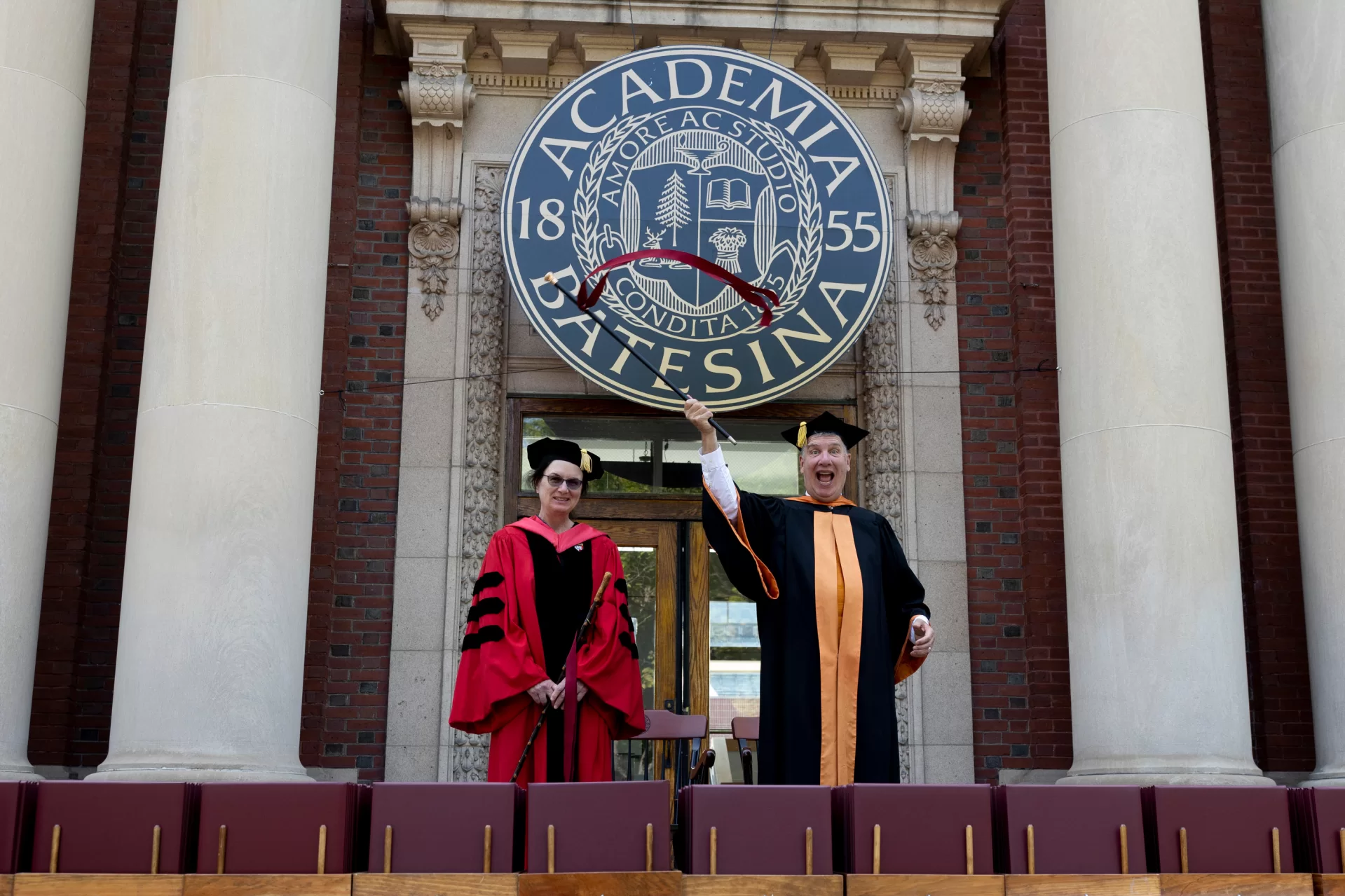 Standing behind Bates diplomas on the Coram Library Terrace, Professor of French and Francophone Studies Kirk Read gets exuberant as he and Dukakis Professor of Classical and Medieval Studies Dolores O'Higgins, faculty marshals for Commencement, observe the arriving academic procession on May 28.
---
In the Moment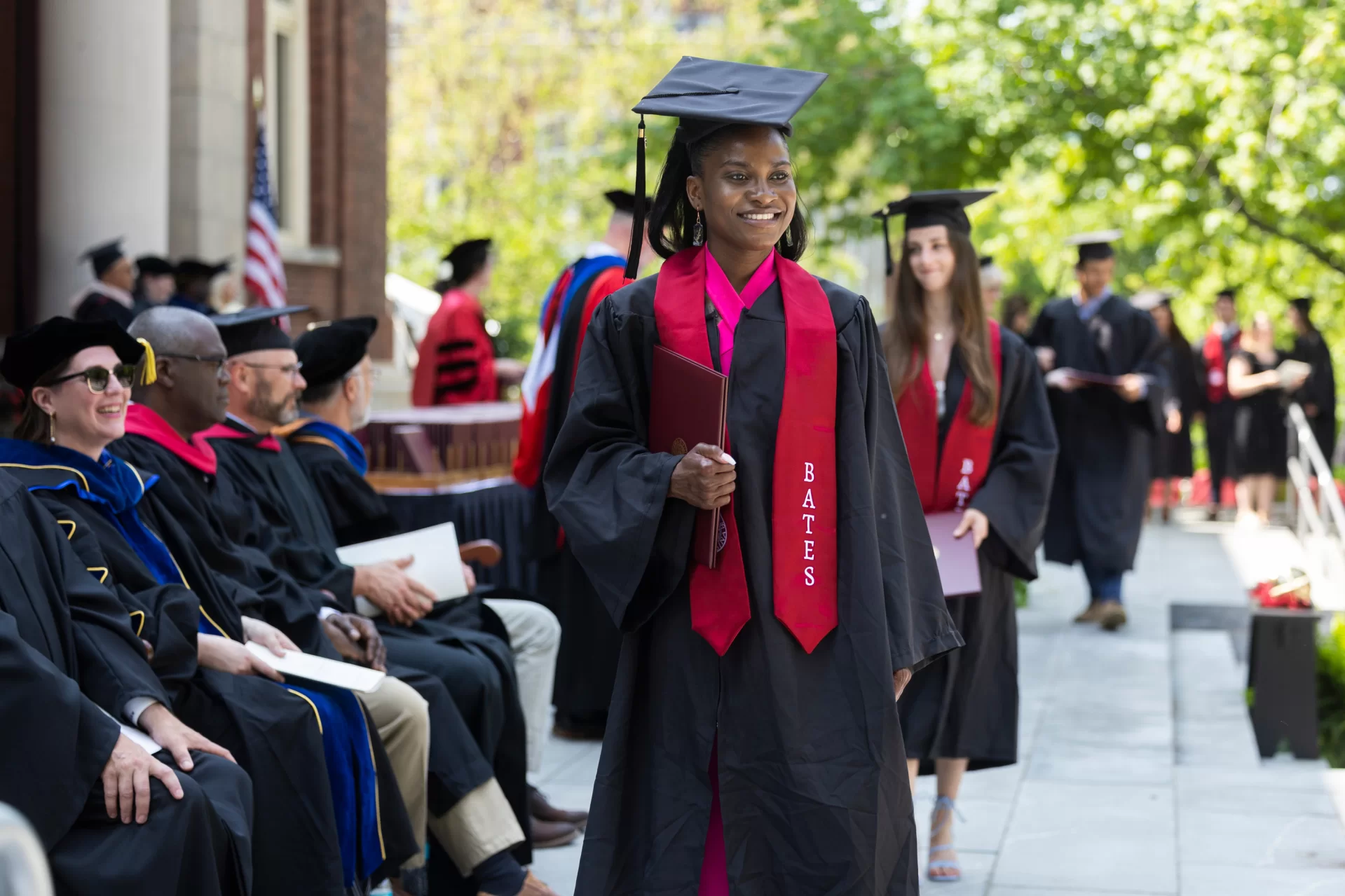 Adelaide Armah '23 of Accra, Ghana, crosses the Coram Library Terrace after receiving her diploma during the 157th Bates Commencement. Degrees were conferred on 439 graduates who gathered in front of Coram Library with family and friends and Bates professors and staff on a warm, sunny morning.
---
Grateful Eight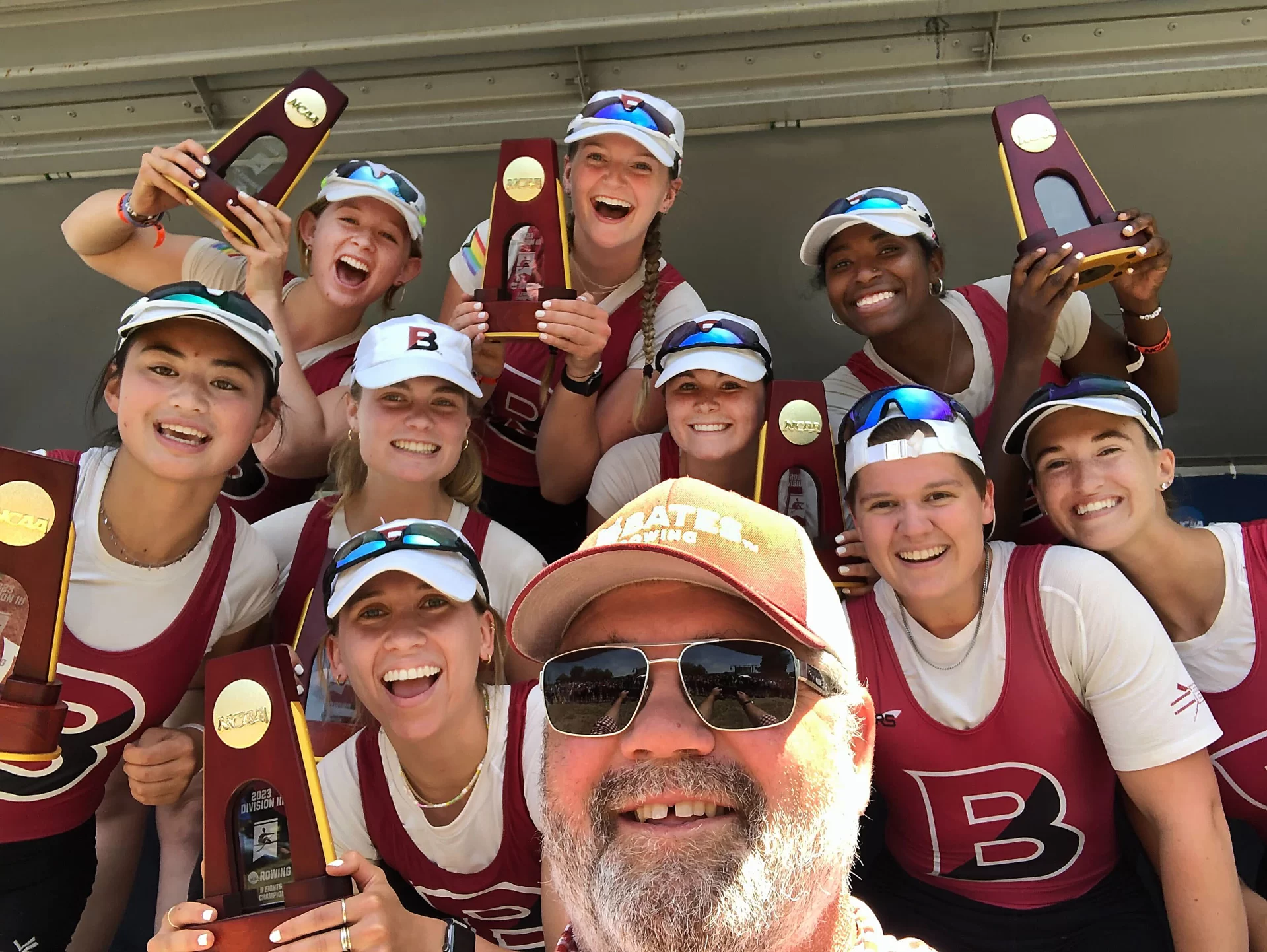 Head rowing coach Peter Steenstra captures the celebration after the Bates women's second varsity eight won its ninth straight gold medal at the NCAA Rowing Championships in May.
"Nine straight gold medals, I'm not sure that is real," he said. "It shows not just the depth of the program but how competitive the bottom is as they push up, and then how unified the group is that comes here."
---
Ready for a Nap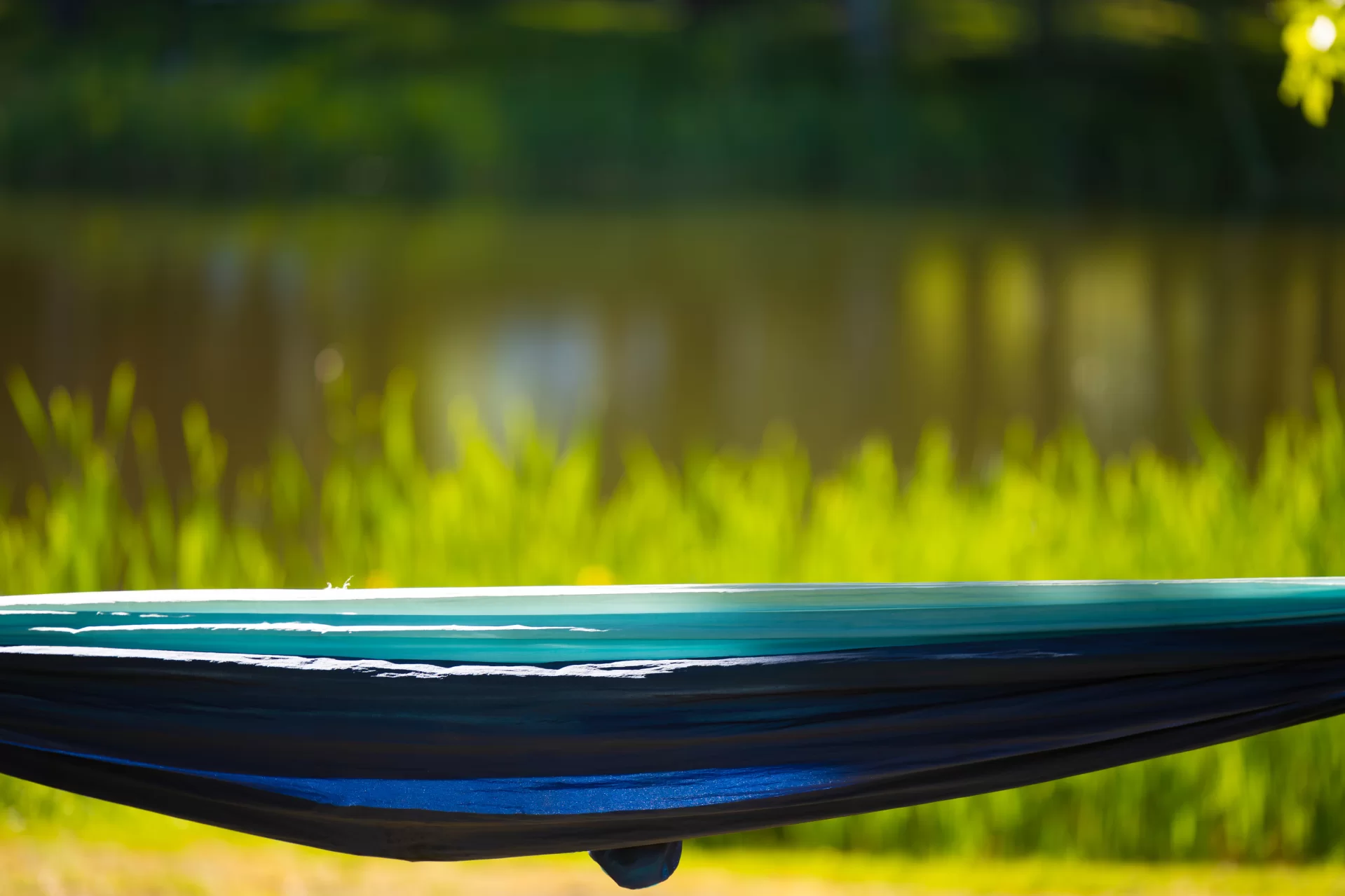 Another academic year has come and gone, leaving behind memories… and a hammock along the shore of Lake Andrews.