A humble pleather armchair sits across from Associate Professor of Education Mara Tieken's sleek desk in her third-floor office in Pettengill Hall.
Foam stuffing spills from holes in the armrests, and the holes get bigger as students fidget with them during office visits. Call it ugly, and she'll agree, but she still loves the green chair for its personality and history, if not its Mad Men style.
She first sat in the chair in spring 2002 when she was a young college grad. One day, as she drove past an elementary school in Vanleer, Tenn., population 310, she thought, "This might be a school I would love to teach in."
So she dropped in, knocked on the principal's office door, and was invited to take a seat in the green chair, where she explained that she hoped to begin her teaching career in a rural setting. Two months later, she was hired.
Tieken acquired the chair the next year when the school moved into a new building. The principal – who hated the chair — wanted it gone. "But it wasn't ready for the trash heap," she says. "It was comfortable."
"I wrote my dissertation in that chair."
So she put it in her classroom. "It was the chair I sat in when I read to my third-graders. We read all sorts of books in this chair." One year, she read every Roald Dahl book, plus Where the Red Fern Grows, "a perennial favorite of mine and my students."
In 2005, Tieken and the chair left Vanleer for the Harvard Graduate School of Education. "I sat in that chair in my apartment to study," she says. "I wrote my dissertation in that chair."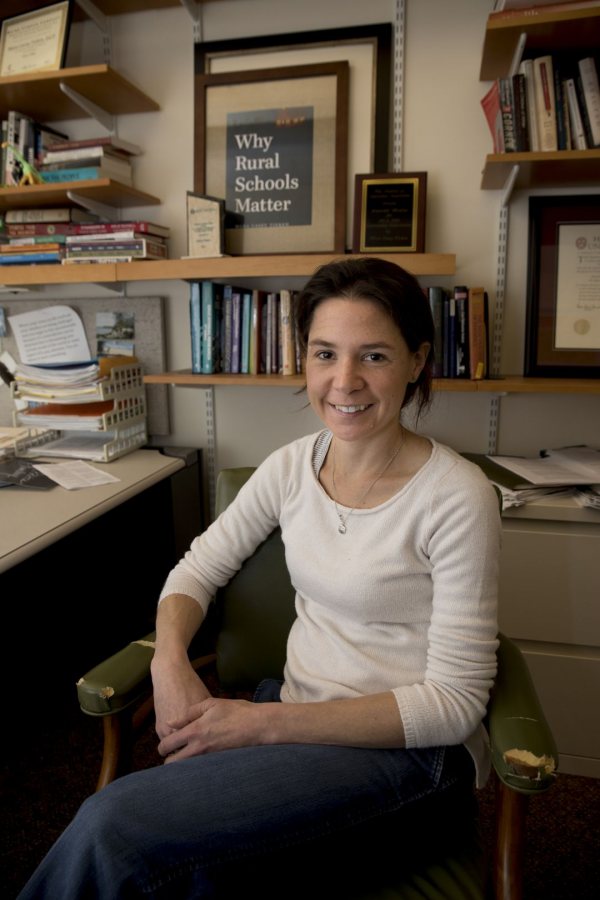 Six years later, the chair came to Bates with her. At the time, Tieken was sure that teaching college students would be very different from teaching third-graders. But when students came to her office, sat in the chair, and talked with her, she saw "how much it was the same."
Tieken is a national expert on rural education and the many ways it differs from urban or suburban educational environments. "I look at how context shapes education and shapes schools." At the same time, the chair is a reminder of "how similar teaching can be and education can be and schooling can be across varied geographies and demographics."
"So much of teaching is about the human element," she says. "It's about having the courage to put yourself out there as a teacher or learner, because there's still a third-grader in all of us. I like that that chair reminds me of all that."
View Comments