Bates in the News: Feb. 2, 2018
How Students Can Shape the Design of Their Courses
Involving students in the process of designing an academic course can get them more interested in the course, the Chronicle of Higher Education reported. It can also "help students reflect on their learning and provide professors with fresh ideas for exploring a topic they may have been teaching for years."
To illustrate that point, reporter Beckie Supiano caught up with Bates Professor of Psychology Amy Bradfield Douglass, who recruited students to help her redesign a statistics course during Short Term.
Among the results: no more statistics textbooks, and quizzes and tests are now given on Fridays. And Douglass records herself doing hand calculations, so students can watch them as many times as they need.
"As a bonus, Ms. Douglass has found that having students watch the calculations on their own time 'allows me to do more interesting things in class,'" Supiano writes.
Why Rural America Isn't a Lost Cause for Progressive Ideas
Rural America is often painted with too broad a brush, writes Yes! Magazine's Ivy Brashear. Politically progressive messages such as "raising the minimum wage, universal health care, and debt-free college" can have an audience in "Trump country."
Brashear talked to Associate Professor of Education Mara Tieken, who studies rural education and "has called progressive politicians and media to task for ignoring people of color in rural America in their post-2016-election analysis."
Tieken said that progressive candidates can succeed in rural areas — but they have to recognize that rural areas are not monolithic, tailor their messages to specific communities, and listen to the people they're trying to reach.
"You have to manage the stance of keeping it local, while also building a broad base across localities," Tieken said. "Unless [a platform] is rooted in a community, it won't resonate."
Film looks at Maine's burlesque performers beyond the glitter
MaineToday covered Associate Professor of Psychology Michael Sargent's first foray into filmmaking, a documentary about Maine's burlesque dancers.
Dennis Perkins writes that Sargent's fly-on-the-wall style "pays off, not only allowing viewers a startlingly intimate look at the adults-only activity both onstage and off, but, in the interviews, an even more insightful exploration of the complex emotional and personal forces at work."
Sargent, who researches the impact of social categories on decision-making, tells a complex story, Perkins writes: feelings of "empowerment, body-positivity and liberation are dominant themes, but issues of self-image, objectification and entitlement all come into play as well."
"I tried my damnedest to carve out ample space for these performers, most of whom are women, to speak in their own words about how and why they do it," Sargent said. "I tried to create a set of spaces where women are the dominant actors."
Using stem cells to restore hearing and build a stronger heart
Michaela Cyr Patterson '05, a postdoctoral fellow at the University of Southern California, studies "a regenerative type of heart muscle cell" that determines how patients recover from a heart attack.
In a recent study, Patterson found that "the natural ability to regenerate heart tissue following an injury, such as a heart attack," varies among individuals.
"If we can identify the genes that make some individuals better at it than others, then perhaps we can stimulate regeneration across the board," she said in a press release.
Her work was featured on USC's site. "These two young scientists exemplify the best and brightest of the next generation of stem cell researchers," Andy McMahon, director of the Eli and Edythe Broad Center for Regenerative Medicine and Stem Cell Research at USC, said of Patterson and a colleague.
Deep Water: 'Well Enough Alone' by Robert Farnsworth
The Portland Press Herald printed a poem by Robert Farnsworth, a senior lecturer in English, as part of its "Deep Water: Maine Poems" column.
In the poem, "a speaker describes what happens when he runs into [his former] therapist in a store," writes Gibson Fay-LeBlanc, Portland's poet laureate and editor of the "Deep Water" column. "In a few moments, a whole story of how this person helped him through a difficult time is unlocked."
Each of the poem's quatrains adds to the story, Fay-LeBlanc writes. But "the sentences of the poem are strung across the line breaks and stanza breaks," he says. "The poet teaches us how to read the poem and what words to emphasize by how it falls down the page."
Farnsworth, who has published three books of poetry and taught at Bates for 26 years, will retire at the end of this academic year.
Q & A: An interview with Francesco Duina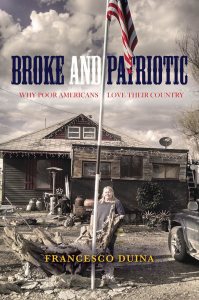 The Portland Press Herald's Tobias Carroll interviewed Professor of Sociology Francesco Duina, who recently published Broke and Patriotic: Why Poor Americans Love Their Country.
Drawing from data that says that Americans living in poverty are some of the most patriotic Americans, Duina sought to understand why that is by interviewing some of the poorest Americans. "The resulting book," writes Carroll, "avoids easy answers and helps put a human face on some of the most complex issues presently facing the nation."
Duina told Carroll how he recruited interviewees in the South and West by posting flyers in public places and spending time in "in laundromats, bus stations, shelters, and used clothing stores."
He learned that his interviewees highly valued "physical and mental freedom" as well as the right to own a gun, and they found a sense of dignity through national identity. They were also able to separate the nation from the state, criticizing the government while loving the United States.
"From a policy perspective, they're ready for opportunity," Duina said. "Any policy that would speak to them and is tailored to help them would find a willing people."
Laura Linney to make London stage debut in My Name is Lucy Barton
The Guardian reported that My Name is Lucy Barton, the most recent novel by Elizabeth Strout '77, will be adapted for the stage.
The story, which is "about a difficult reunion between a daughter living in Manhattan and her mother, who makes her first ever plane trip from rural Illinois to be at her side," will be directed by Richard Eyre.
Eyre "revealed Strout had met Linney and said were her book to be dramatized, 'there would be nobody better than Laura,'" the Guardian reported.
People you know: After 36 years, time for another new beginning
In December, the Lewiston Sun Journal featured Mary Ruchinskas '74.
Ruchinskas recalled her junior year at Bates, when she moved into a High Street apartment, reported the Sun Journal's Kathryn Skelton. When Central Maine Medical Center bought the property and its residents were served eviction notices, Ruchinskas got in touch with a tenants' union and helped negotiate more time for her neighbors to find new homes.
A few years after graduation, Ruchinskas started at New Beginnings, a youth shelter which operated a 10-bed facility in Greene. Over the decades, her work included "working with kids, writing grants, bookkeeping, substituting anywhere in a pinch," and collecting statistics, Skelton wrote. New Beginnings expanded its shelter programs and moved to Lewiston, and Ruchinskas helped develop an HIV prevention and outreach program. The organization's outreach/drop-in center was named after her.
"I developed a real respect and admiration for the kids and the amount of resiliency they had, to live through often pretty difficult lives and still be working towards something better," Ruchinskas told the paper. "I always felt a lot of hope for the future."
View Comments