A framed, typed manuscript of a famous poem by the late Seamus Heaney hangs by the desk of Professor of Psychology Georgia Nigro in her Pettengill Hall office. At the bottom is a handwritten note: "To Georgia — hoping you approve of this order — how you heard it! S."
In the early 1990s, Heaney, who was a friend of Nigro's husband, Senior Lecturer in English Robert Farnsworth, gave a reading at Bates. The reading included one of his newer poems, "A Sofa in the Forties."
The poem begins with children on a sofa pretending they're riding a train, but the reader soon understands that "it is really about the trains taking Jews to concentration camps," Nigro explains. That shift, "from playful to serious was so startling, but beautifully done. I liked the way it grabbed me and sort of massaged my emotions from one place to another."
After the reading, she made a point of telling Heaney how much she admired it. What Nigro didn't know at the time, nor did anyone else in Schaeffer Theatre that night, was that during the reading — as he was at the lectern — Heaney swapped the order of the third and fourth stanzas, and that new arrangement was how the poem would later be published.
She learned about the switch when he mailed her the original typewritten poem, with hand-drawn edits — made right after the Bates reading, reflecting his new preference. And that's how the poem appears in 1996's The Spirit Level, published a year after Heaney won the Nobel Prize in Literature.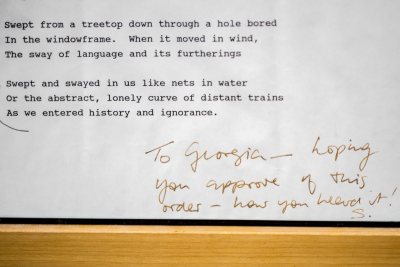 Nigro recalls the thrill of receiving the unexpected gift from a poet who is "the voice you want reading you bedtime stories when you're an adult."
She's loved his work all these years, recalling his "stunning" reading of the poem "Digging" at Bates in 1986, when he received an honorary Doctor of Letters degree.
Nigro has always kept the framed poem — and a photo of the family dogs — near her. The placement is intentional, she says, because the poem is a treasure. "I like having his poem and a picture of my dogs to remind me that there's more to life than the large screen in front of me."
View Comments