Purposeful Work
Bates-Gallup study identifies "purpose gap" among college graduates — Multiple outlets
National media outlets quickly picked up on the April 10 announcement of a Bates-Gallup study exploring the role that purpose plays in the working lives of college graduates.
One of the first stories, by Quartz reporter Jenny Anderson, explained why Bates commissioned the study: to test the founding premise of the college's Purposeful Work program, specifically, "that happiness and fulfillment" among college graduates "comes in large part from finding meaningful work."
Specifically, the Gallup study sought to "find out how important meaning was to their work, whether they had found it, and what undergraduate experiences helped most in shaping that meaning."
As Anderson notes, the study shows that Bates is onto something big: "A whopping 80 percent of college graduates said that it is very important or extremely important to derive a sense of purpose from their work. Less than half had succeeded in finding it. The report…dubs this the 'purpose gap.'"
Read the stories:
---
Sam Francis '17
Former Bates athlete Sam Francis now crunching numbers for Cincinnati Bengals — Sun Journal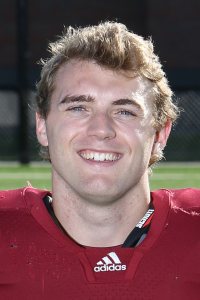 Wil Kramlich of the Lewiston Sun Journal profiled Sam Francis '17, who is using his football talent and proficiency with numbers to help the Cincinatti Bengals up their analytics game.
Francis majored in math and economics at Bates and played football and lacrosse for Bates. Football coach Mark Harriman described the linebacker as both a stellar student and "student of the game"; Francis understood the intricacies of each play and would come in early to watch tape.
A Bates connection helped Francis land an internship with the Buffalo Bills, and after graduation he worked for the Kraft Analytics Group in business analytics.
Now, for the Bengals, he's working to automate the production of scouting reports, so that coaches don't have to go through hours of film to understand plays and come up with game plans. The job is reminiscent of managing his many academic and athletic obligations at Bates, Francis told Kramlich.
"A lot of balls in the air that you're juggling, and long days," he said. "It definitely prepared me very well."
---
Eric Ruta '14
The Garden State is in midst of a craft beer boom, but still has a long way to go — Asbury Park Press
Reporting on the explosion of craft breweries in New Jersey, Alex Biese of the Asbury Park Press talked to Eric Ruta '14, owner of Magnify Brewing Company.
Ruta envisioned Magnify as a student at Bates, when he saw local excitement around craft beer in Maine, and breweries' reciprocal focus on Maine.
"The original goal was to create this community around beer that we'd see in Maine with local support," he told Biese. "We're super-focused on northern New Jersey the same way a lot of these places are focused on Portland, Maine."
---
Krista Crabtree '95
A new women's ski camp pairs gear-testing with skills training — 5280
Morgan Tilton of 5280 magazine received some encouraging words and a ski lesson from Krista Crabtree '95, the creator of a new women's ski program at Colorado's Crested Butte Mountain Resort.
Companies have only been designing ski gear specifically for women since the 1990s. Crabtree, a ski racer at Bates, longtime editor of SKI Magazine, and current director of the Eldora Women's Program, created the Elan Women's Weekend to help test a new line of multi-condition "one-quiver" skis and to help the testers understand their own gear.
"I want to teach women how to look under the hood of their cars," she told Tilton. "I want to help women know their ski equipment on a professional level, in order to empower them with knowledge and keep them from being taken advantage of on the retail floor."
---
Daniel Oyolu '15
1L class represents at Harvard Law School, and it's picture perfect — Above the Law
Daniel Oyolu '15 is one of more than 60 first-year students from the African diaspora at Harvard Law School — one of the largest black classes in the school's history. In March, he helped get everyone together for a photo shoot; the result was widely shared on social media.
Above the Law's Renwei Chung spoke to Oyolu and the other two organizers of the shoot about their paths to law school, the possibilities and shortcomings of law, and the importance of representation.
"We want all students to think, 'I can see myself there,'" Oyolu said. "Sometimes, seeing the possibility is all you need to take the next step. Representation offers that possibility."
---
David Chokachi '90
'Baywatch' available on Amazon — Old Colony Memorial
Don't have enough tan, sand, and swimsuits in your life?
All seasons of Baywatch are now on Amazon Prime Video, and to mark the occasion, David Chokachi's hometown paper caught up with the cast member, who's had a steady stream of TV and movie roles since playing Cody Madison.
Unfortunately, life in the real Los Angeles is not as glamorous as life on the beaches of Los Angeles County; Chokachi and his family lost their home to last year's brush fires in Malibu.
He's looking ahead, though — possibly to a Baywatch reboot, he told reporter Emily Clark.
"What I'm really hoping is that we could do it again," he said. "I think it would be amazing. I mean, why don't we reboot the series? If we shot it in today's world, we could do magic with that thing."
Read the story: "'Baywatch' available on Amazon," Old Colony Memorial, March 21, 2019
---
Jason Hall '97
Through Arch to Park and STLMade, Jason Hall is boosting St. Louis' brand — St. Louis Magazine
Jeannette Cooperman of St. Louis Magazine interviewed Jason Hall '97, a community-minded lawyer, investor, and economic developer in St. Louis.
Hall, the son of a steelworker in nearby Granite City, came to Bates because of its debate team and went on to earn a law degree at Vanderbilt. He came back to St. Louis to work at a law firm and started an LGBT bar association — a scary proposition in a state that at the time was considering a constitutional ban on same-sex marriage.
But in 2009 Missouri's governor appointed him to head a corporation focused on developing small tech-focused businesses, and he's worked at the intersection of business, tech, and government ever since.
He's now the co-founder and CEO of investment management firm Arch to Park and has started STLMade, an effort to boost St. Louis' reputation.
Hall's credentials could have taken him anywhere, but, he told Cooperman, it was an easy choice to come back to St. Louis after law school.
"The easy choice is to flock to the coasts — but if I care about the place that cared about me, I'm going to go back to it," he said.
---
Caylin Carbonell '12
Does size really matter? Searching for early American women in the archives — The Junto
As a doctoral student in history at William and Mary, Caylin Elizabeth Carbonell '12 is interested in women who lived in what is now the United States before 1750. Problem is, their voices are often not preserved in archives — and if they are, the documents aren't well-labeled, she wrote in a guest post for The Junto, a blog about early American history.
To find women's voices, Carbonell has to take an approach of "skimming," reading over everything she can in a manageably small archive to recover notes and records that provide insight into how women lived in early America. Often, she finds what she needs on small, loose scraps of paper — notes and records folded into larger, more "official" documents.
Digitizing archival papers has potential to lift up overlooked voices from history, Carbondell wrote — but digitization could also perpetuate the labeling systems that make women's stories hard to find.
"When creating digital resources, we might try to think more critically about the ways we categorize and tag such data so as to open up new pathways rather than reinforcing old biases," she wrote.
---
Janna Lambine '73
Coast Guard officer women aviators are "the firsts" — Coast Guard Compass
The blog Coast Guard Compass highlighted the career of Janna Lambine '73, a Coast Guard aviator who was nominated at the Women in Aviation International Conference in March.
After studying geology at Bates, Lambine joined the Coast Guard and went to flight school, earning her wings for both airplanes and helicopters in 1977.
"This made her the first female aviator, the first female helicopter pilot, and the first female HH-3 helicopter pilot in the Coast Guard," wrote Diana Sherbs.
Lambine, who served on Governor's Island in New York during Operation Desert Storm, now lives on Cape Cod.
---
David Carpenter '94
The Inside Story: David Carpenter and From the Valley of Baca — PARMA Recordings News
PARMA Recordings' news site interviewed David Carpenter '94, a classical composer who recently released an album of chamber music, From the Valley of Baca.
After studying music at Bates, Carpenter earned a master's in music from the Peabody Conservatory and a doctorate from Temple University. He's written an opera based on Edith Wharton's The Age of Innocence.
Carpenter's favorite moment from his latest album is when, as a baritone sings in Hebrew about rainfall, a piano's falling notes evoke the sound of rain.
"I love to use music to paint the words of a text, and I think this is a moment where the words and music come together in a very effective way," he said.
View Comments