Bobcat Nation turned out in force to welcome the 501-member Class of 2023 on Monday.
Student leaders, 184 of them, were everywhere.
Bates staff offered various sessions and programs for parents (plus a barbecue for everyone) while other staff took time from their day jobs to help greet families as they arrived at Commons in the morning.
Top it off with President Clayton Spencer pitching in, lugging gear to the fourth floor of Parker in the morning, and welcoming families in the late afternoon.
Follow along as Bates Communications photographer Phyllis Graber Jensen, teaming with writers Doug Hubley and Emily McConville, captured the day in words and images.
7:17 a.m.
Soon after Opening Day's 7 a.m. start, vehicles are parked end-to-end outside residence halls and houses all over campus, where they're swiftly unloaded by dozens of student Orientation leaders.
Here, Peter Gadaleta hands off pillows to Maya Seshan '20 of Wilton, Conn., as his daughter Brianna Gadaleta '23 of Chappaqua, N.Y., moves into Page Hall.
7:52 a.m.
Otis Caron '23 gets a hug from his mother, Tammy Roy Caron, as he prepares to head to Bates, a move of just a few blocks.
A Lewiston native, Otis is one of 48 first-year students from Maine and four from the Lewiston-Auburn area.
Bright and early (for him), Caron lays his things on the living room sofa — a suitcase, assorted bags, a hamper that doubles as luggage. He'll make a couple trips in the family car to get moved into Parker Hall.
Among Otis' items is a blown-up picture of himself and his friend and fellow first-year, Hunter Landry '23, wearing their Lewiston High School graduation clothes in front of St. Dominic Academy, where they went to elementary school.
In the photo, they're holding Bates admission letters that Tammy, a senior visual designer at Bates, redesigned for the class. Otis' dad, the late David Caron, passed away in 2009.
Otis is no stranger to the Bates community. In addition to his mother's long relationship with the college, he worked for Dining Services' catering operation in high school and took Russian courses with Associate Professor of Russian Dennis Browne.
Interested in languages and international affairs, he's eager to start his intermediate Russian courses and his First Year Seminar, "Japan on Screen."
Still, on the cusp of moving in, "it's a whirlwind of emotions," Otis says. "I'm mostly very excited."
---
8:11 a.m.
Commons is the first stop for arriving first-years. They're dropped off on the building's Central Avenue side and, after, picking up ID cards and handling other check-in duties, they emerge on the other side of the dining hall.
There, three Orientation Week Leaders — from left, Avery MacMullen, Gemma Rubi, and Shae Gwydir, all '20 — greet them with cheers, dancing, and then, if needed, directions to their dorm.
"OWLs, fly!" a leader proclaims upon seeing a first-year come through the door.
---
8:17 a.m.
After checking in for his Bates ID and dorm room key, Tori Kusukawa '23 of Salt Lake City, Utah, chats with Brenda Pelletier, conference and campus events manager, in the lobby of Commons.
---
8:29 a.m.
Bates staff join the Opening Day team. Here, Alicia Rea, associate director of annual giving in the Office of College Advancement, helps out a family as they arrive on Central Avenue outside Commons.
---
8:34 a.m.
Adelaide Armah '23 of Accra, Ghana, receives directions from President Clayton Spencer, who welcomed incoming members of the Class of 2023 as they arrived to sign in at Commons on Central Avenue.
---
8:38 a.m.
Outside Commons, Jared O'Hare '23 of Hamden, Conn., at right, runs into Kenny Aruwajoye '22 of Owo, Nigeria. The two are alumni of Avon (Conn.) Old Farms School.
O'Hara's parents Judy and Kevin, meanwhile, are still marveling at how fast student Orientation leaders worked when the family pulled up to the dorm. "Within two minutes, everything was up in the room," Kevin says.
Jake is looking forward to taking two philosophy courses, in contrast to the scarcity of electives at the high school level. "I never had the opportunity to branch out," he says. "The new academic freedom is nice."
---
8:46 a.m.
After greeting students outside Commons, President Spencer heads across campus to help student leaders lug belongings into Parker Hall (in this case, to the fourth floor).
---
8:50 a.m.
Amanda Waugh hoists a mirror as she helps son Jack Cantor '23 of Chevy Chase, Md., move into his Parker Hall residence.
---
9:33 a.m.
Roommates Jackson Chung '23 of Nyack, N.Y., and Nathan Berry '23 of Augusta, Maine, hug the wall as a fellow first-year hauls his belongings up the Parker staircase. The new roommates were on their way down to move Berry's belongings into the room, where Chung had already settled.
It's about as close to an assembly line as you can get in a college dorm.
When a new Bates family's car pulls in front of Parker Hall, a swarm of OWLs descends, grabbing boxes and suitcases and minifridges and hauling them up flights of stairs, pausing just long enough to get the first-year's room number.
Cars stay on Alumni Walk for just the time needed to unload; if one lingers longer, a security employee politely asks a parent or relative to move it.
---
9:05 a.m.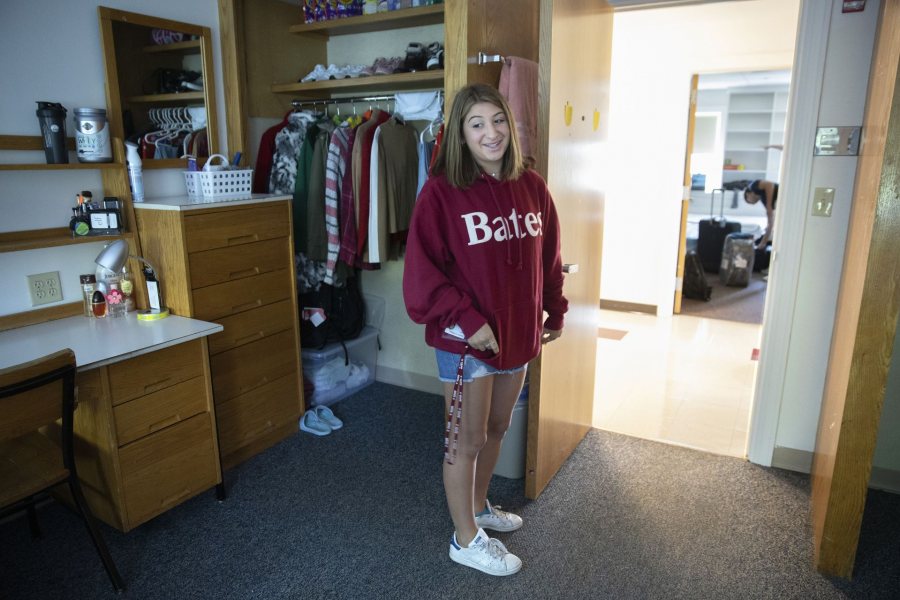 "This is a really big dorm!" exclaims Gabi Meisel '23 of Chevy Chase, Md., as she sees her room on the fourth floor of Parker Hall. Indeed, in most rooms there's plenty of room for beds and desks without the need for lofting or bunking.
Gabi gets to the room first; her parents, Deb and David Meisel, are not far behind. Gabi pulls out one unusual item she's brought from home: a big photo collage shaped like the letter G, a present from her aunt.
Like the O'Haras, Gabi's parents are still amazed by the efficiency and friendliness of the student and staff volunteers, and they're impressed with the community their daughter has already found in the swim team, which she's soon to join.
And Gabi herself? After all the campus visits and applications and scouting and decisions, she's relieved to finally be here. "This is where I need to be," she says.
---
9:43 a.m.
Over at Chu Hall, the stream of cars has slowed to a trickle, giving the student Orientation leaders some time to breathe…or do some eye-high kicks for a photographer.
J'Von Ortiz-Cedeno '22, at left in the photograph, is a junior advisor from Portland, Texas. Ortiz-Cedeno and other JAs serve as peer advisors in residence halls for groups of first-year students.
He says Opening Day is about the "little things" — carrying boxes, making rounds to introduce himself to each first-year as they move in, sharing songs that he solicited from his new residents over the summer.
"I'm making it feel like a place where they can spend four years and be happy," he says.
Then: "We got a car!" shouts another student leader, and Ortiz-Cedeno is off.
---
10:02 a.m.
Mason Bunker '23 of New York City enjoys a hug from his father Dan Bunker.
---
10:15 a.m.
Parents Mayu and Kimi Nakamura (right) help their daughter Ayano '23 (left) of Bethesda, Md., settle into her Chu Hall room.
Behind them is roommate Lia Silberberg '23 of Jackson, Wyo., who had arrived earlier with her brother, Adam, who is a senior at Bowdoin.
For Silberberg, setting up her room was the last leg of a long journey for the siblings — from Wyoming to New York, then a drive up the coast to Bowdoin, where Adam is a senior, then, finally, to Bates. Finishing the setup, they gratefully accepted a Bates custodian's offer to take away broken-down boxes for recycling.
Silberberg, who is interested in law, is looking forward to taking a biomedical ethics course and, maybe, joining club ice hockey.
As she settled in, Nakamura is asked if she brought anything special from home. In response, she pulls out Rirakuma, a stuffed bear designed in the style of Japanese animation.
Nakamura also has a brother close by — a lot closer, in fact.
Taihei Nakamura, a university student in Japan, is on campus for the year as a Hirasawa Scholar, participating in Bates' historic program named after Kazushige Hirasawa '36 that brings Japanese university students to campus for one year.
Taihei, though, is in next-door Kalperis Hall. "We requested different dorms," Ayano says.
---
10:31 a.m.
Asked if he brought any favorite thing to Bates, Chas Van Damme '23 (left) of Harpswell, Maine, pointed to his older brother Henry, right, who helped him move in. The two compete for height bragging rights as Chas arrives in his Kalperis Hall room.
---
10:43 a.m.
At this moment in this room, the count is six: Joanna Atwater '23 of Short Hills, N.J., shown with her mom, Bernadette; plus Joanna's dad, James, and her roommate, Molly Connors '23 of Westwood, Mass., and Molly's two younger siblings.
Despite the crowd, there's generally enough room to move around.
Both Atwater (tennis) and Connors (rowing) are gearing up for the start of their athletics programs and have brought their favorite snacks from home. Connors has supplemented the usual dorm decorations with a succulent, a fern, and a bamboo plant.
Like most, Atwater has been impressed with the efficiency of student Orientation leaders. The move-in is "not as hectic as I thought it would be," she says.
That leaves more time to focus on tennis and her first classes, which include a biology course on emerging and re-emerging infectious diseases.
---
11:19 a.m.
Carolyne Chepkemboi '23 of Nairobi, Kenya, speaks with Laura Conforte of Information and Library Services at the Resources Fair in Pettengill's Perry Atrium. She's looking forward to reading more world and U.S. history.
Representing the Harward Center for Community Partnerships is recent graduate Ella Ross '19, an AmeriCorps volunteer; she says she's "having major déjà vu."
Four years after her own Opening Day, Ross remembers the whirlwind of moving in and the dread of saying goodbye to her family at the end of it. The nervousness dissipated in time, and Ross became heavily involved in the Harward Center and the Lewiston-Auburn community, earning an induction into the College Key upon graduation.
With Ross at the Harward Center table is Muskan Verma '21 of Shimla, India, who as a Bonner leader volunteers frequently through the Harward Center.
Two years ago, Verma's move-in experience was quite different — she was so jet-lagged that she didn't feel as deeply the mix of nervousness and excitement that churns through many first-years' heads.
This year, after being on campus all summer as an Admission intern, it's like she's seeing Opening Day for the first time. There's no jet lag, and all the feels.
"I've got tears in my eyes," she says. "I'm feeling all the things I should have felt in my first year, now."
---
12:34 p.m.
After spending the morning moving in, many students and families migrate to the Library Quad, where they can grab classic barbecue fare or, if they want, a nice tofu salad.
Claire Lim '23, seated under a tree with parents Adrienne and Dominic, is enjoying the relatively cool weather — she's from tropical Singapore, and she specifically looked for a college in a cold climate. She's interested in studying economics, and she's excited about her First-Year Seminar on inequality, community, and social change.
Adrienne Lim says she thought it might be tough to say goodbye to Claire. But "seeing the close-knit community, it's not going to be too painful to leave her today."
---
1:07 p.m.
Kian Moaledj '20 of Doha, Qatar, and his mother, Maryam Moaledj, speak with James Reese, associate dean for international student programs, during the International Circle Students and Parents Group Greeting in the Fireplace Lounge of Commons.
In his welcome, Reese explains that the definition of "international student" is broader than statistics might suggest.
Around 150 Bates students are considered international students, meaning they are in the U.S. on a student visa.
But, he adds, more than twice that number are dual citizens or have some other fundamental connection with another country.
And all, Reese says, can benefit from the college's international student programs. "If you're wondering if you're in or out, nobody's out. Everyone's in."
---
1:43 p.m.
Topher Castaneda '20 of Los Angeles, who is a residence coordinator at Turner House this year, dives into a Bobcatnap in front of Commons.
---
2:45 p.m.
Grace Warder '20, an environmental studies major from New York City, hands a key piece of overnight gear — a fork— to a first-year during equipment checkout for the mid-week Orientation program known as AESOP.
AESOP is a four-day, three-night overnight Orientation program offering everything from hiking and surfing to community service, farm visits, and arts exploration in Maine and New Hampshire. Warder is one three AESOP coordinators.
This year's AESOP program offers 57 outdoor trips, each led by two upperclass leaders.
"I loved AESOP," says Ellie Beckerman '22, an environmental studies major from Washington, D.C., who is leading a backpacking trip to Franconia Notch. Last year, her own first-year AESOP destination was Mahoosuc Notch.
"Spending four days with a small group, including upperclassmen, means that when you're done, you can remain a group for a bit until you start to find your niche at Bates. It's really hard coming in as a first-year and not quite knowing where you fit in, and AESOP gives you a group and a space very early on at Bates."
---
2:46 p.m.
Lilah Lesniak '22 of Philadelphia and Will Sylvia '20 of Newtonville, Mass., juggle sleep bags during the equipment handout for AESOP outside Chase Hall.  Will is the son of Jim Sylvia '84 and Lori Rogers Sylvia '83.
---
2:57 p.m.
Emily DiBartolo '23 of Florence, Mass., strikes a pose for parents John and Patty on the steps of Coram, a prime location for countless family photographs all afternoon.
So, what happens if Emily — or any other Bates first-year — calls home in a few weeks, worried that they may never be able to pursue a certain career because of a bad grade or two?
What advice might be relevant for that student?
"I hear this a lot from students — I'll have students literally sitting in my office crying, saying, 'Well, I thought I wanted to be a psychologist, but look what I did in Psych 101,'" Rebecca Fraser-Thill, director of faculty outreach for Purposeful Work and a visiting instructor in psychology, told parents in the workshop "Your Evolving Relationship: Parenting a College Student."
"But when you're applying for jobs, transcripts really aren't a huge part of that process, honestly. Certainly, being a diligent, conscientious worker plays a big role in what kind of references you get from faculty members.
"But I will say I've given some glowing references to students who weren't my A students by any means, because they were creative thinkers, they're bringing a lot of enthusiasm into the classroom, and we're speaking on a regular basis and thinking in new and novel ways."  
---
3:13 p.m.
Linden Jones '22 of Leicester, N.C., leads a campus tour along one of the walkways on the Historic Quad.
---
3:50 p.m.
"Each and every one of you is an innovator and an inventor with an entrepreneurial drive on your path to Bates," Dean of Admission and Financial Aid Leigh Weisenburger tells the first-years during her Opening Day welcome.
"All of you are coming to Bates with this palpable intellectual curiosity, generosity of spirit, and an authentic and compassionate welcoming way about you. Again, we are so, so proud of you. … We look forward to knowing each and every one of you and watching you flourish over the coming years."
---
4:02 p.m.
A parent listens to President Clayton's two-part Opening Day welcome.
Part one is for parents, in which Spencer acknowledge the high emotions of the day. "So, kids, be nice to your parents today. It's hard to let you go," she says.
Part two is for the students. Here, Spencer asks the first-years "to risk letting go," to "stop holding fast to the things that got you here — the narrative that you'll major in pre-med or econ even if you've never taken a course in pre-med or econ; the identities that have defined you throughout high school."
Why? "A residential liberal arts education, more than almost any kind of experience you will have, gives you the opportunity to explore, to try new things, to take risks. But it's up to you to seize this opportunity."
---
4:19 p.m.
Oliver Kaplan '23 of Los Angeles poses with parents Lauren Tom and Curt Kaplan in front of Coram.
---
4:35 p.m.
Following President Spencer's welcome, it's close to farewells. Lena Soares '23 of Memphis, Tenn., shares a moment on the Library Terrace with her mother, Kathy Steuer.
---
4:36 p.m.
Nearby, Maeve Mikulski '23 of Western Springs, Ill., shares a moment with her parents Mike and Jayne Mikulski on the Library Terrace. Maeve is Lena Soares' roommate.
---
4:38 p.m.
Opening Day is an multigenerational emotion-filled day. Najá Crockett '23 of Washington, D.C., welcomes a hug from mother Florence Kreisman and grandmother Elena Kreisman.
View Comments