Bonner Leader Program
The Bonner Leader Program is an exciting opportunity for students with a passion for community engagement.  Bonner Leaders spend four hours a week working with community partners in the Lewiston/Auburn area.  In exchange for participating in all aspects of this program, Bonner Leaders receive a stipend every semester.  Current Bonner Leaders participate in a wide range of activities, such as tutoring and mentoring in local schools and after-school programs, engaging in social justice activism, gardening, working with adult refugees, and participating in programming for senior citizens.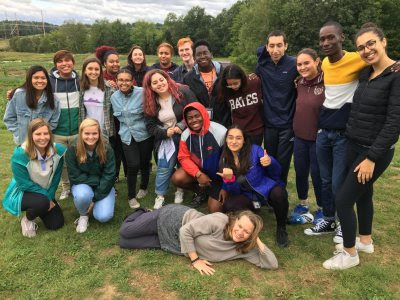 In addition to working in the community, Bonner Leaders spend about two hours together as a group each week reflecting on experiences, participating in trainings to develop personal and leadership skills, and having fun.
Regardless of whether or not you choose to apply for the Bonner Leader Program, we are excited to meet you in the fall, hear about your interests, and let you know about all of the many opportunities to engage with Lewiston/Auburn, your new "home away from home."
If you do choose to apply for the Bonner Leader Program, please click here to submit an application.  The deadline to apply is Monday, July 26, 2021 at 4:30pm.
Please feel free to call or email with questions!
Regards,
Ellen Alcorn
Harward Center for Community Partnerships
161 Wood Street
Lewiston, ME 04240
207-786-8235