Bonner Leader Program
The Bonner Leader Program is an exciting opportunity for students with a passion for community service and civic engagement
The Bates Bonner Leader Program, overseen by the Harward Center for Community Partnerships, is part of a national network of 80 campuses across the country. This four-year program features sustained civic learning and action, one-on-one and small-group mentoring relationships, collaborative and cross-cultural problem-solving experiences, ample opportunities for reflection and skill building, and financial support. Thanks to their sustained, four-year investment in community work, Bonner Leaders are typically highly regarded by community partners and are able to make significant contributions to the off-campus community. They also receive valuable guidance, expertise, and mentoring from community members.
If this sounds interesting to you, we encourage you to apply to be a Bonner Leader!
Download the Application Form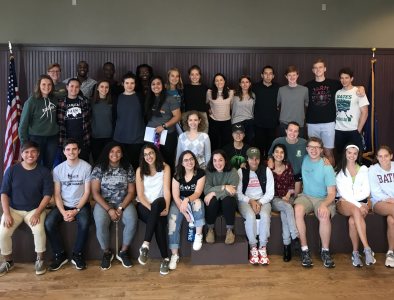 And what will you do as a Bonner Leader?  Lots!  You'll spend six hours each week working with community partners in the Lewiston/Auburn area.  Current Bonners participate in a wide range of activities, such as tutoring and mentoring in local schools and after-school programs, gardening, working with adult refugees and participating in programming for senior citizens.  You will pick a specific community partner with whom to do the majority of your work over a given semester (although we encourage you to explore various options).  The work that you do can take a variety of forms, including volunteerism, academic community-engaged learning, or community-engaged research.
In addition to working in the community, Bonner Leaders spend about two hours a week together as a group, reflecting on experiences, participating in trainings to develop personal and leadership skills and having fun.
The Bonner program begins each fall semester with a weekend retreat away from campus.  This is a time to reconnect with one another, to meet the program's newest students, and to begin to reflect on how we would like our year to proceed.  In addition, there are various opportunities for interested Bonners to participate in national conferences.
Please feel free to call or email with questions!
Regards,
Ellen Alcorn
Harward Center for Community Partnerships
161 Wood Street
Lewiston, ME 04240
ealcorn@bates.edu
207-786-8235