Bonner Leader Program
The Bonner Leader Program is an exciting opportunity for students with a passion for community service and civic engagement
In a typical year, Bonner Leaders spend six hours each week working with community partners in the Lewiston/Auburn area, participating in a wide range of in-person activities, such as tutoring and mentoring in local schools and after-school programs, gardening, working with adult refugees, and contributing to programs for senior citizens.  To support the public health of the on-campus and off-campus communities, Bonners will do their community work remotely until it is safe to do in-person engagement. Remote options will include providing virtual tutoring and mentoring for local youth, conducting community-engaged research projects, developing learning activities and videos for use by K-12 teachers, and a host of other projects. As it turns out, there are a lot of exciting ways to contribute to community using digital technologies!
As effective treatments and vaccines for COVID-19 become available, you will transition to in-person work at a specific community partner site (although we will also encourage you to explore various options).  The work that you do can take a variety of forms, including volunteerism, academic community-engaged learning, or community-engaged research.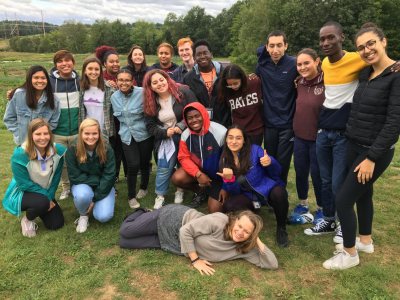 In addition to working in the community, Bonner Leaders spend about two hours together as a group each week reflecting on experiences, participating in trainings to develop personal and leadership skills, and having fun. Some of these activities may need to occur remotely for a time.
Typically, prospective Bonners apply for the program during the summer before they arrive on campus. Given the unusual circumstances of the present moment, this year we plan to recruit first-year Bonners during the fall, for January entry into the program. Once you are on campus, please drop us a line or come visit us on Wood Street! We are excited to meet you, hear about your interests, and share more information about the Bonner Leader Program as well as all of the many other opportunities to engage with Lewiston/Auburn, your new "home away from home."
Click here to download an application.  The deadline to apply is 4:30pm on Monday, October 12, 2020.
Please feel free to call or email with questions!
Regards,
Ellen Alcorn
Harward Center for Community Partnerships
161 Wood Street
Lewiston, ME 04240
207-786-8235