"I'm damned lonesome," a research subject in his 80s told Grace Ellrodt '20 last year. "But I don't know what the hell to do about it. I just don't know."
For sure, there's no one-size-fits-all cure for loneliness, a condition particularly troublesome for older people. But with the help of that widowed Maine farmer and more than 50 other folks who shared personal experiences or professional expertise, Ellrodt has assembled an impressive new resource for lonely elders and those who support them.
"The EngAging Project" is first and foremost an online gallery of photographs and stories depicting the 29 people who shared their own experiences with Ellrodt, an environmental studies major from Lenox, Mass. Loneliness was a central theme in the interviews that she conducted in and around Lewiston, Maine, and during study abroad in Temuco, Chile. (The photos are also hers.)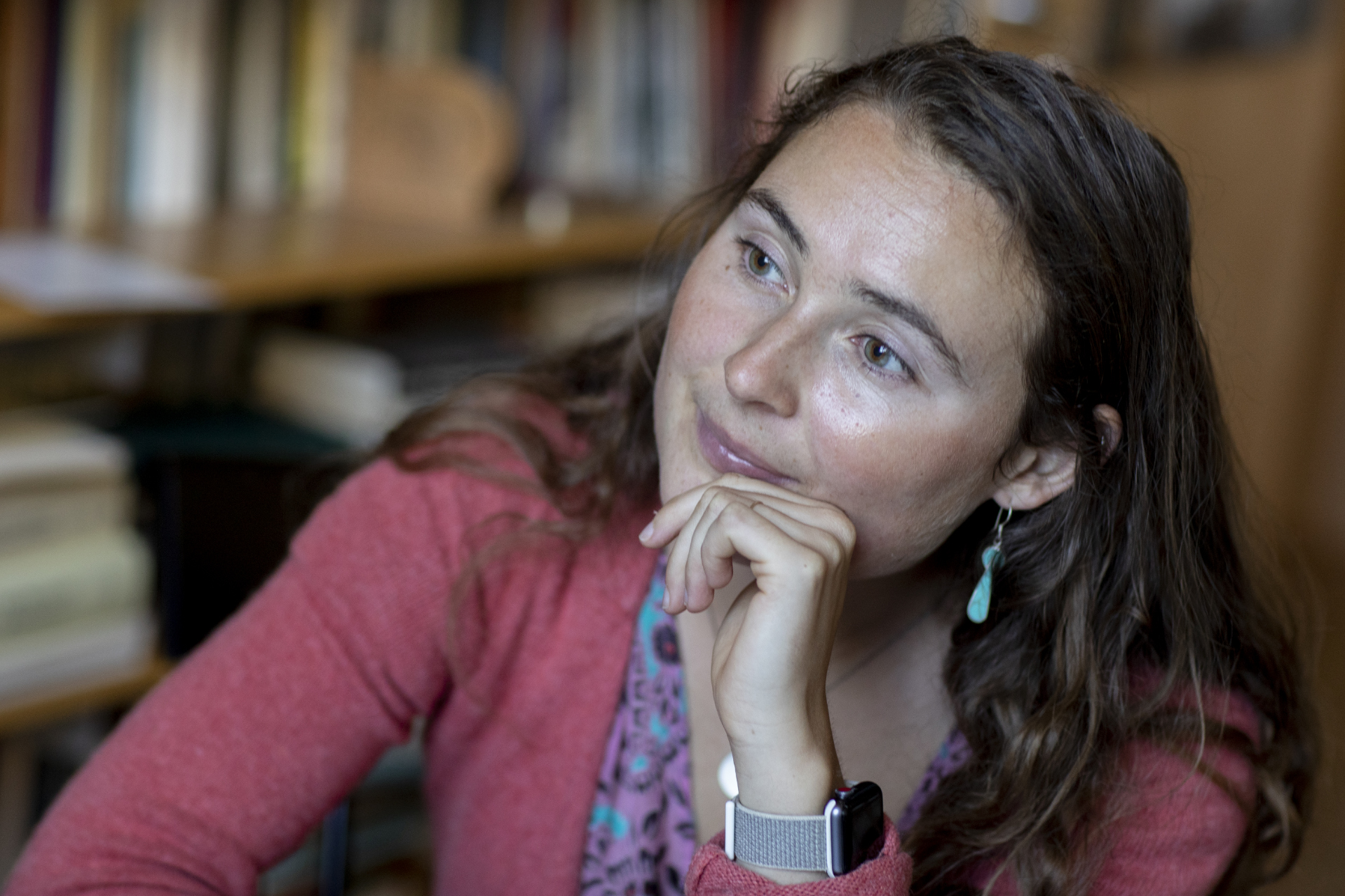 "I've interviewed older adults who told me that loneliness is like a darkness, you're just alone in the darkness," says Ellrodt. But on the other hand, there's the woman in her late 70s who's earning a college degree, is a social activist, and who says that "loneliness just exists in your mind, essentially. You just have to get out, get moving."
Bringing a strong record of community engagement to The EngAging Project, Ellrodt, a recipient of the Harward Center's 2020 Outstanding Community-Engaged Academic Work Award, addresses a widespread problem linked to adverse effects both psychological and physical. (A Brigham Young University researcher likened the physical harms of loneliness among people of any age to the effects of smoking 15 cigarettes a day.)
"Loneliness has been shown to contribute to heart disease, loss of motor control, dementia, depression, and anxiety," says Ellrodt, whose website describes six broad causes of elder loneliness, from financial insecurity to a disconnection from accustomed social and occupational roles.
In its "Takeaways" and "Toolkits" sections, respectively, the extensively researched EngAging Project proposes countermeasures against those causes; and it suggests strategies, comprehensive lists of action steps, and outside sources of assistance, all organized by specific constituencies, whether older adults themselves or local officials or policymakers.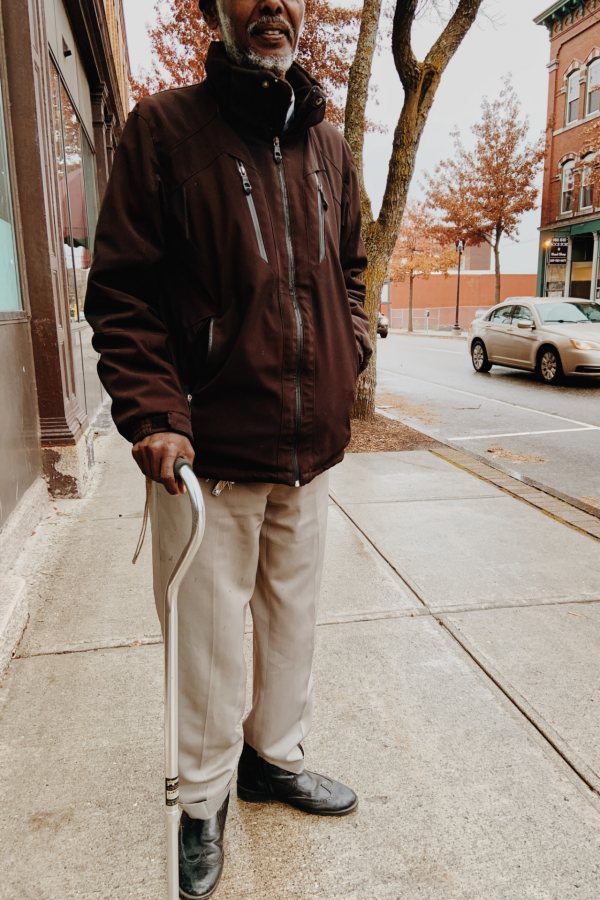 An overriding theme of the project, though, is the role of place, specifically the importance of place in providing opportunities for social engagement among older folks, Ellrodt says. (Following the federal definition of older adult, her focus is people age 65 and up.)
"It's a way of saying, 'Let's not focus on the public health crisis and epidemic of loneliness when aging is already characterized by problems.' Instead, let's make it about encouraging social engagement."
And Ellrodt focuses on the growing policy emphasis on so-called aging in place, where older people are encouraged to stay in their homes as long as possible. "But loneliness seeps into these arrangements," she says. "If this is to be a sustainable trend, we'll need expanded state and local support."
Still, the EngAging Project positions lonely older people as the prime movers in their own healing. "While they need support, such as infrastructure and emotional resources, it has to be their own process and they have to be in control," she says.
The website was Ellrodt's major project for an environmental studies course that substitutes substantial published writing for the customary senior thesis. The project's focus, she allows, may seem unconventional for environmental studies — but she sees at least two strong connections. One is the considerable overlap between ES and the field of public health (the area in which she hopes to make her career, perhaps through journalism).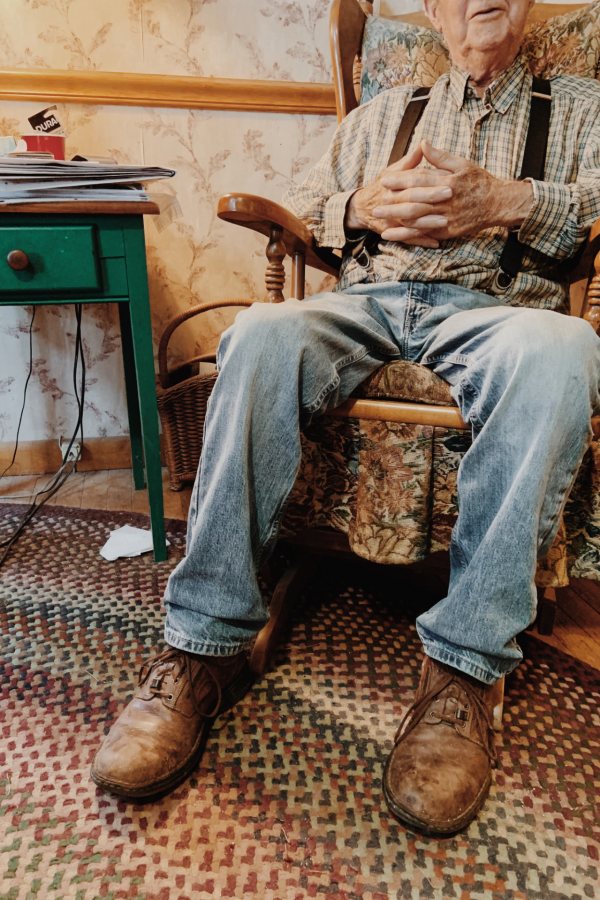 Then there's sociologist Eric Klinenberg's concept of "social infrastructure" — in Ellrodt's words, "the programs and physical places where we form bonds, where social cohesion happens.
"And one of the main things Klinenberg talks about is 'third spaces,' places like libraries and public parks, but also the diner down the street." That widowed farmer, pre-COVID-19, found friends and companionship at The Settlement, a gas station-cum-restaurant in the town of Sabattus.
Francis Eanes, visiting assistant professor of environmental studies, taught this semester's edition of that capstone course, "Environmental Writing in the Public Sphere." And Ellrodt, he says, "reasonably makes the case that 'social infrastructure,' the web of social networks and institutional offerings that foster human connections vital for staving off loneliness, is inextricably bound up with the built environment." These are integral parts of ES, he says.
Begun as a yearlong thesis, The EngAging Project morphed into Ellrodt's final project in the capstone, for which seniors develop an online portfolio of writings for public consumption. To Eanes, the project exemplifies the intentions of a course designed to unpack complex socio-environmental phenomena for diverse constituencies, including "aging lonely individuals, caregivers, families, and practitioners and policymakers," he says.
"Some loneliness is natural, but long-term and intense loneliness is unnecessary suffering. We have a community responsibility to intervene."
Ellrodt has been both "artful and rigorous" in fusing solid research with rich human stories, Eanes says. She strikes a "sensible balance between asset- and deficit-based approaches" by offsetting the real harms of elder loneliness — harms rooted in economic and societal structures — with depictions of "the amazing personal qualities and solutions that her aging subjects offer."
Ellrodt's interest in public health comes in part from her parents, who work at the Berkshire Medical Center, in Pittsfield. Her father is Dr. Gray Ellrodt, who chairs the Department of Medicine at the hospital. She recalls, "We'd sit at the kitchen table and he would take a napkin and draw charts of the different social determinants of public health trends that we were seeing" in Berkshire County, which shares certain economic and demographic qualities with the Lewiston-Auburn region.
A philosophy minor, Ellrodt also points to a biomedical ethics course at Bates as informing her thoughts. "Elder loneliness isn't just a societal 'resource strain,'" she says. "It represents an injustice. Some loneliness is natural, but long-term and intense loneliness is unnecessary suffering. We have a community responsibility to intervene."
She zeroed in on elder loneliness as a research topic while studying public health practices in Chile in 2019. "In conversations with my host mother, herself an older adult, as well as my own dad, we arrived at this question of loneliness among older people as a public health crisis." And that question found its way into the interviews she conducted among Temuco residents.
Those subjects included indigenous people and European descendants; and in Maine, in addition to European descendants whose local roots go back generations, Ellrodt talked to older adults from the Democratic Republic of the Congo, Mexico, and Brazil.
"There's a unity" among all the subjects in terms of how they comprehend loneliness, Ellrodt says, "but there's also such a disparate experience. And so I've been navigating it, really, just by letting interviewees define aging for themselves, define loneliness for themselves, and set out what brings them social integration, or prevents that.
"And then once they've each articulated that for themselves, I'm allowed to come in and find patterns and differences."
So, even as The EngAging Project is abundantly researched, Ellrodt has been deliberate about putting storytelling at the center of it. While there are patterns of experience common to humans confronting loneliness, even across cultural differences, ameliorating loneliness is always an individual journey, and storytelling reflects diversity and individuality.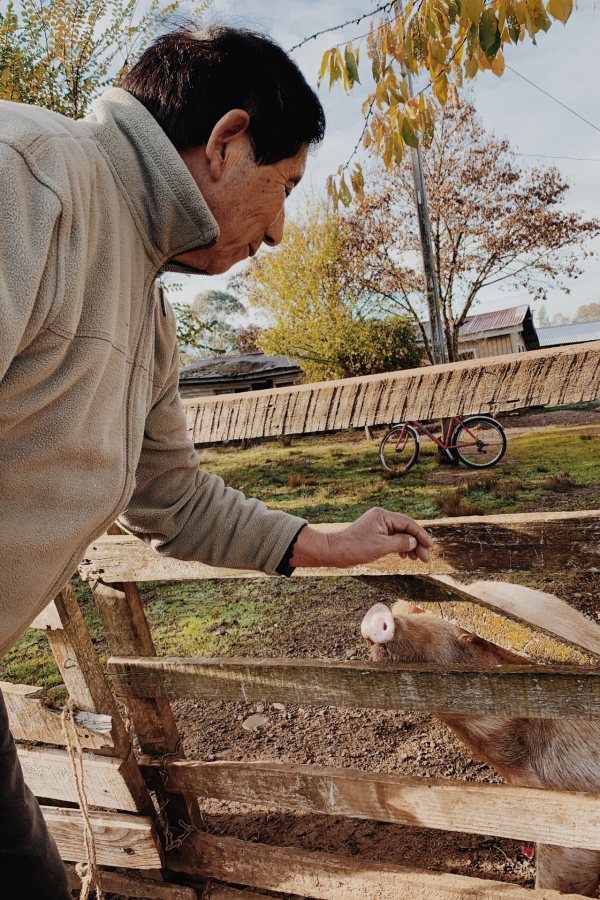 "What kinds of social bonds are you looking to form?" she wonders. "What is your identity? What is your life history and how is that being interrupted by the process of aging?"
In her profiles, Ellrodt combined audio and photos with the texts. "Visuals and voices make the storyteller human — more than worthy of our eyes and ears," she says. She framed most of the photos, she adds, to conceal the subject's identity. "That was not only as a comfort for the photographed, already sharing so much," she says, "but also lets the subject take on qualities of any older person you may love, or wonder about as you flit by, or imagine yourself becoming in time."
Something Ellrodt has heard a lot during the past few months is that the COVID-19 pandemic has made The EngAging Project more relevant than ever. But the truth is just a semantic difference away: The problem of loneliness among older adults was no less relevant back when they were isolated not by a pandemic but by infirmity, distance, or a lack of money.
"While we see an alarming swell in loneliness right now, loneliness ran deep and wide through older adult communities long before COVID," Ellrodt says, "and it will remain long after COVID."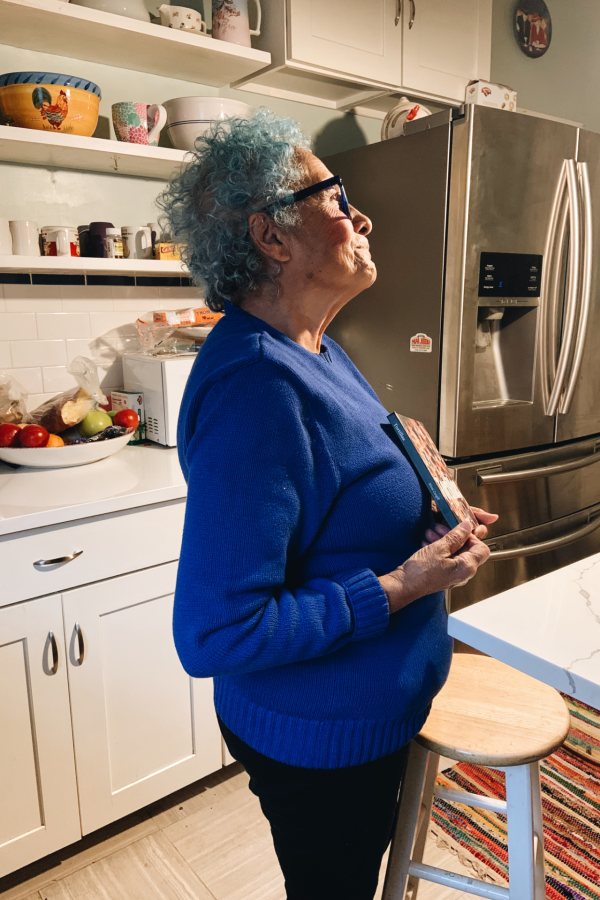 View Comments