Offering the Senior Address at Bates' 2020 Commencement is Alexandria Onuoha, a double major in psychology and dance from Malden, Mass.
Commencement 154
What: 154th Bates Commencement
When: Noon, Eastern Daylight Time, May 31, 2020
Where: The ceremony will be conducted remotely via livestream.
How to Watch:
Bates Web: bates.edu/commencement/live/ (via Facebook embed)
Facebook: facebook.com/batescollege
            The two locations will afford the same viewer experience.

Well-known on campus for her work in social justice and her leadership, she's been an essential part of many campus organizations, including Women of Color (serving as co-president this year) and Amandla! Black Student Union, and the Caribbean Student Association.
She has served as a Senior Fellow in the Admission Office and the Center for Purposeful Work and as a student manager of the Academic Resource Commons.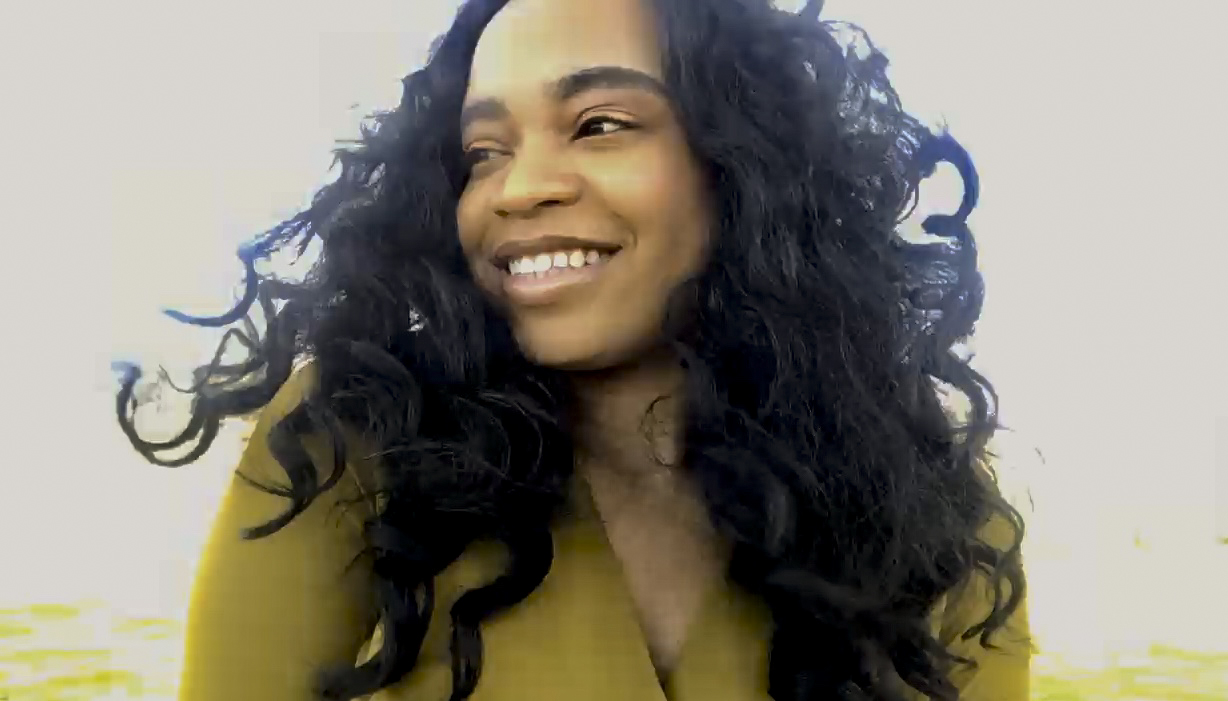 In January, she offered the student Welcome at the college's Martin Luther King Jr. Day observance, encouraging the Bates community to continue the difficult work toward greater equity and inclusion "from the ground up. Speak out against injustice even when it might be uncomfortable. We cannot be silent. "
In the fall she starts a doctorate in applied developmental psychology at Suffolk University.
Your Commencement speech, "Stay Strong & Walk Like You Got Some Sense," was inspired by something your mother, Vinette Gayle, says to you. It was filmed earlier this month to be part of the virtual ceremony on May 31. Where did you film it?
About 10 miles from my house, at Powder House Park in Somerville. It's not Bates, but it resembles Bates because of the greenery. My mom was able to be in a little cameo.
Why did you want to give the Senior Address?
Part of it is representation — it does matter when you see a woman of color, specifically a Black woman, having this honor — but the other part is that I felt I had a great Bates experience in that I was able to build relationships across differences.
I felt it would be doing a disservice if my speech did not mention COVID-19, the elephant in the room. But I wanted to make sure that I am also speaking life and motivation into the Class of 2020. I did not want to use COVID-19 as a sad story. It is just one of the many things that has happened for the class.
How did you choose Bates, four years ago?
I remember this vividly. It was between Bates and another liberal arts college, both of them fit what I needed in terms of a financial aid package. But when I visited Bates, that was the best college tour I had been on.
The environment was really amazing. The students looked like they loved being there. The other institutions I went to didn't feel like that. Dean [James] Reese gave me a hug! I don't even know what to call it, there was a family vibe. After the Admitted Students Reception, my mom was like, "Your face. You want to be there."
And also, I wanted to go to a school where I was going to challenge myself, personally. I applied to some of the historically black colleges and universities, but I wanted to make myself uncomfortable, a little bit. The thing about Bates is, no institution gets it right all the time, but at Bates, they will keep trying and trying until they get it right. Bates exceeded all my expectations. Bates is a part of the woman I am today.
You've been a campus voice around issues of equity and inclusion. How do you approach that work?
I was co-president of Women of Color this year, along with Kati Cabral '20. We meet new students of color and say, "We want you to feel safe on this campus. Bates wants you to feel safe on this campus."
Our goal for Women of Color is to create an inclusive environment, where all women of color are celebrated. In the past it seems it has been mostly for Black women. It needs to be inclusive of other women as well. I think we did a great job of that this year.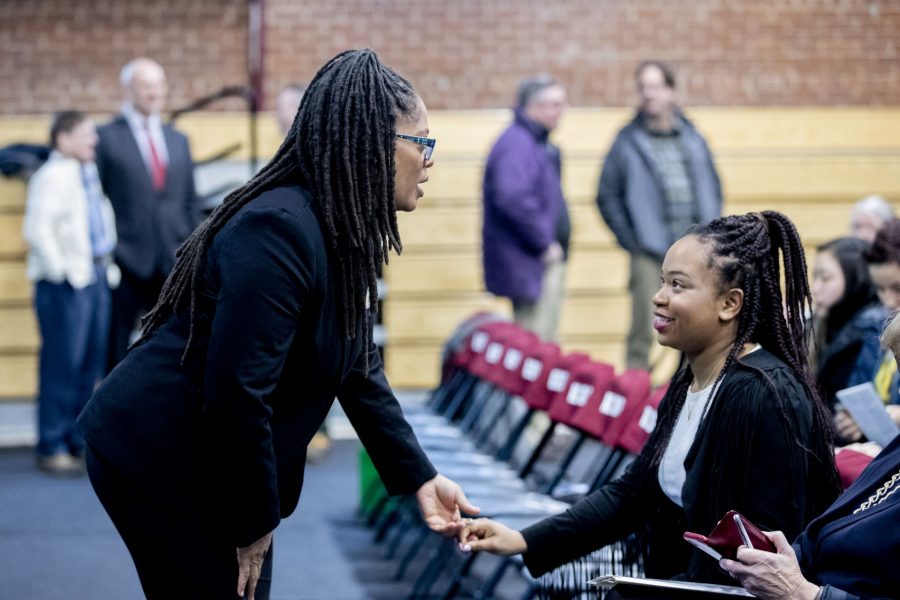 We did tabling in Commons, we gave out little stickers, we had the Center for Purposeful Work collaborate with us on bringing in Dr. Monique Brown '07. She is from the Caribbean and she is an epidemiologist. We had Michelle Pham '15, who is Asian and works at Google — she is just dominating tech. We had a great conversation with her.
Amandla! Black Student Union is there to have the conversation and create a fun learning environment. We meet regularly and talk about our experiences, from the uplifting to our difficult experiences on campus, and about mistreatment of Black individuals at Bates and all around the world, and healthy ways of dealing with that.
"It is difficult to talk about race especially if you don't know all the right words and you don't want to offend anybody. I would just try to show them that it is OK to make mistakes."
If we have a concern, we need to find a healthy way that is safe for us emotionally, and not silencing our voices, to make sure that our voices are being heard. We also have white students who come and listen. We tell them, "You need to be prepared. You may be uncomfortable. These are real experiences that happen."
We want to make sure that Bates has students who love all people. We want the liberation of everybody. We want people to feel OK with being a woman, being a person of color, being queer.
Bates is one of those institutions that is striving to be more inclusive — and it has done an incredible job — but at the same time, there is a lot of work to be done.
Your work extends to other areas, like Admissions, where you started training to give tours during freshman year and ended as a Senior Fellow. What is your role there?
Helping Bates reach students of color. Engaging with students and parents who come through the door. There have been a lot of people visiting Bates. Our applications have gone through the roof.
As a Senior Fellow I do interviews with prospective students and write up reports. An interview does not make or break an application, but does help give a face to this awesome application. To me that makes a difference. What we want at Bates are individuals who are passionate and curious.
You've also worked at the Center for Purposeful Work this year and at the Academic Resource Commons all four years, except when you were studying abroad in Denmark during junior year. How did you get involved in the work of peer tutoring and support?
As a freshman, I took the First Year Seminar "Race, Justice, and American Policy in the 21st Century," with [Associate Professor of Politics] Leslie Hill. She is a gem.
As a sophomore, I was attached to that class as a tutor. I would attend every class to prompt their thinking if there was a long silence. I was never the first person to raise my hand but I'd just try to keep that conversation going. To let people know this is a safe space, that this is a hard topic.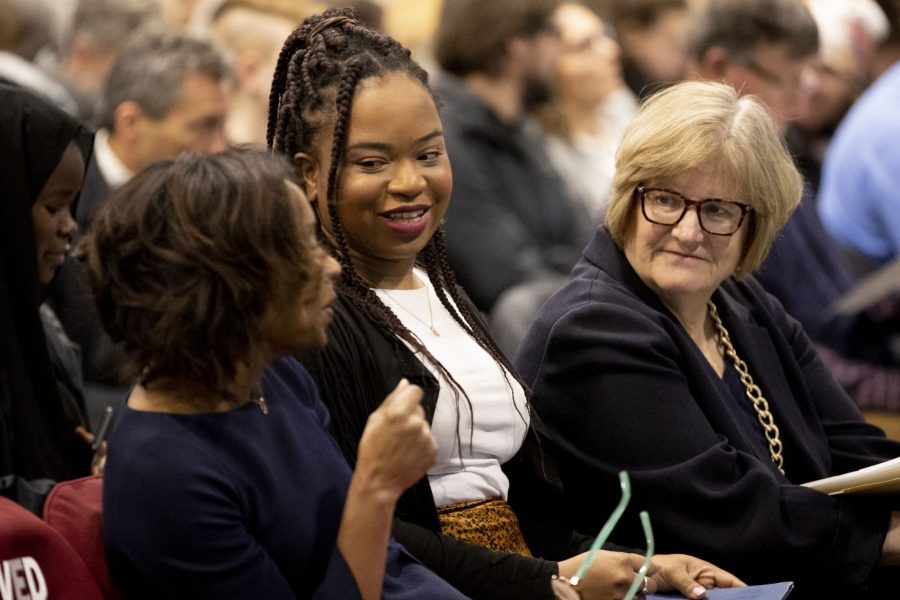 It is difficult to talk about race especially if you don't know all the right words and you don't want to offend anybody. I would just try to show them that it is OK to make mistakes. And not to be defensive.
At ARC we have more than 70 tutors for different content areas. The purpose is to serve students with tutoring and writing and speaking sessions. I also did learning strategies, basically meeting students to help them figure out ways to get better study habits.
I always encourage students to use ARC. When I was a freshman, I was sort of hesitant. We want to make sure that you finish and you succeed. I tell people, if you work hard and use ARC and go to professors' office hours, you will not fail.
At the Center for Purposeful Work, I help create events that will help students find their career path and their interests. I also look over resumes and cover letters and offer feedback to students during drop-in hours. I get to engage with students across all years.
What excites you about your graduate program at Suffolk University?
The focus on activism and social justice. It's one thing to conduct research in the comfort of a lab, but when you physically get to engage with communities and learn for yourself in person, it creates something magical. Suffolk will allow me to continue my community partnerships that I have developed over the years.
Suffolk is crafting leaders, just like Bates. The flexibility of the degree captivated me when I was exploring Suffolk in depth. It is an applied psychology doctorate, which means the expertise I will be engaging in is useful in every context; policy, government, education, and nonprofits.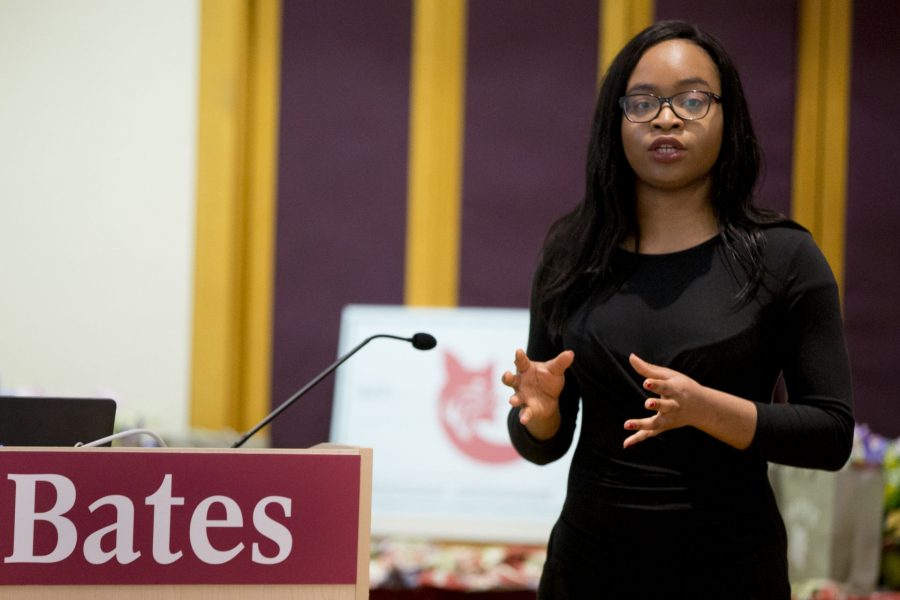 My advisor is Dr. Mimi Arbeit, who runs the Youth Equity & Sexuality research lab. Her research interests are in adolescent sexuality development, the ways in which white supremacist ideologies impact marginalized communities, and exploring right-wing extremism perpetuating rape culture. She is also a brilliant, kind, and committed community organizer, which I also aspire to be.
"Every time I perform, people come up to me, people that I've never met, saying, 'I went out feeling uplifted after that.'"
I am not sure what specific career this degree will lead me to, but I know that it will lead me to a position where I can help change policies, create supportive communities, education and healthcare systems, and educate future students on race and sexuality. There is a system here that has only been working for a certain demographic. It needs to work for everyone.
How did your dance major contribute to your thinking?
I have been dancing since I was younger but I never had any formal training. My mother is Jamaican and I learned from her family about Jamaican dance. I'm also half-Nigerian, but I don't have that same relationship with my father, so I had to learn those dances from my peers.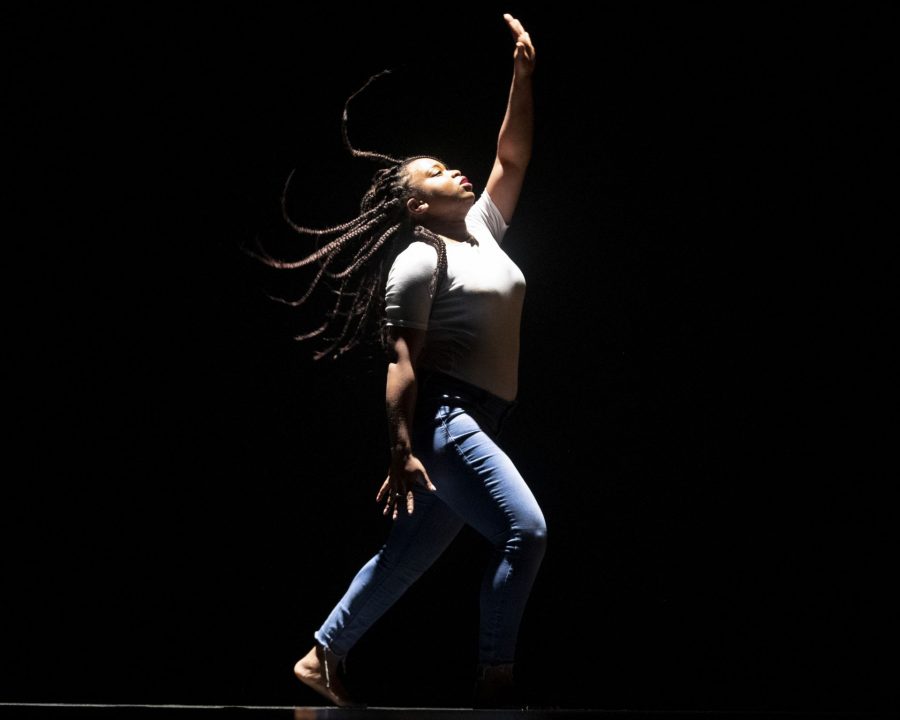 Every time I perform, people come up to me, people that I've never met, saying, "I went out feeling uplifted after that." I use art as a form of activism, celebrating women and their bodies, letting people know about being OK with whatever size you are.
But my dance major encompassed much more than a physical practice. Creating a work of art and then having to explain in the words of the theories you were digesting and the influences you were taking in is a complex and intellectual exercise.
"I am going to watch it with my mom. It is my day, but it truly is her day too. She came from Jamaica and created a great life for me."
There is also beauty in focusing on different disciplines — sometimes you have to be extremely factual and on point, and sometimes you can be intentionally uncertain. In dance you consider yourself, what is going on in the world, race, class, sexuality. I might cast all Black women, and I don't owe anyone an explanation for why.
I couldn't turn in a paper to my psychology advisor, Professor Amy Douglass, and say, "Take this for what it is." We would both laugh! My work is for my people and it is what it is. There is power in that.
What was a major highlight of your Bates experience?
Being on the committee to choose the honorands. That is one experience at Bates I will always remember. I'm a sophomore in the room with all these people with Ph.D.s and medical degrees who are not only asking for my opinion but receiving it. Like, "Alex, why do you think this person is deserving of this?" It was a really nice, positive exchange. I don't think I ever felt uncomfortable in that room.
Who are you going to watch Commencement with?
I am going to watch it with my mom. It is my day, but it truly is her day too. She came from Jamaica and created a great life for me. I am very taken care of and I thank her. According to her, even at the age where I get married and have children, I will still be her baby!
I might put the cap and gown on. We might order something to eat after. We will celebrate the best way we can. Knowing that this too shall pass.
View Comments