For the first time since 2019, a Bates senior class will march as one from Alumni Walk to the Historic Quad to celebrate their graduation from Bates College.
This year's Commencement, the college's 156th, begins at 10 a.m. on Sunday, May 29.
In 2020, Commencement was a fully virtual ceremony due to the pandemic. In 2021, reflecting physical distancing guidelines, Bates offered two ceremonies with restricted attendance, one for last names A–K in the morning and the second for L–Z in the afternoon.
This year, while some basic COVID-19 public health guidelines are in place, the ceremony is open to all and will probably look something like this scene from 2019 — whether or not it rains, as the ceremony is now held outdoors rain or shine.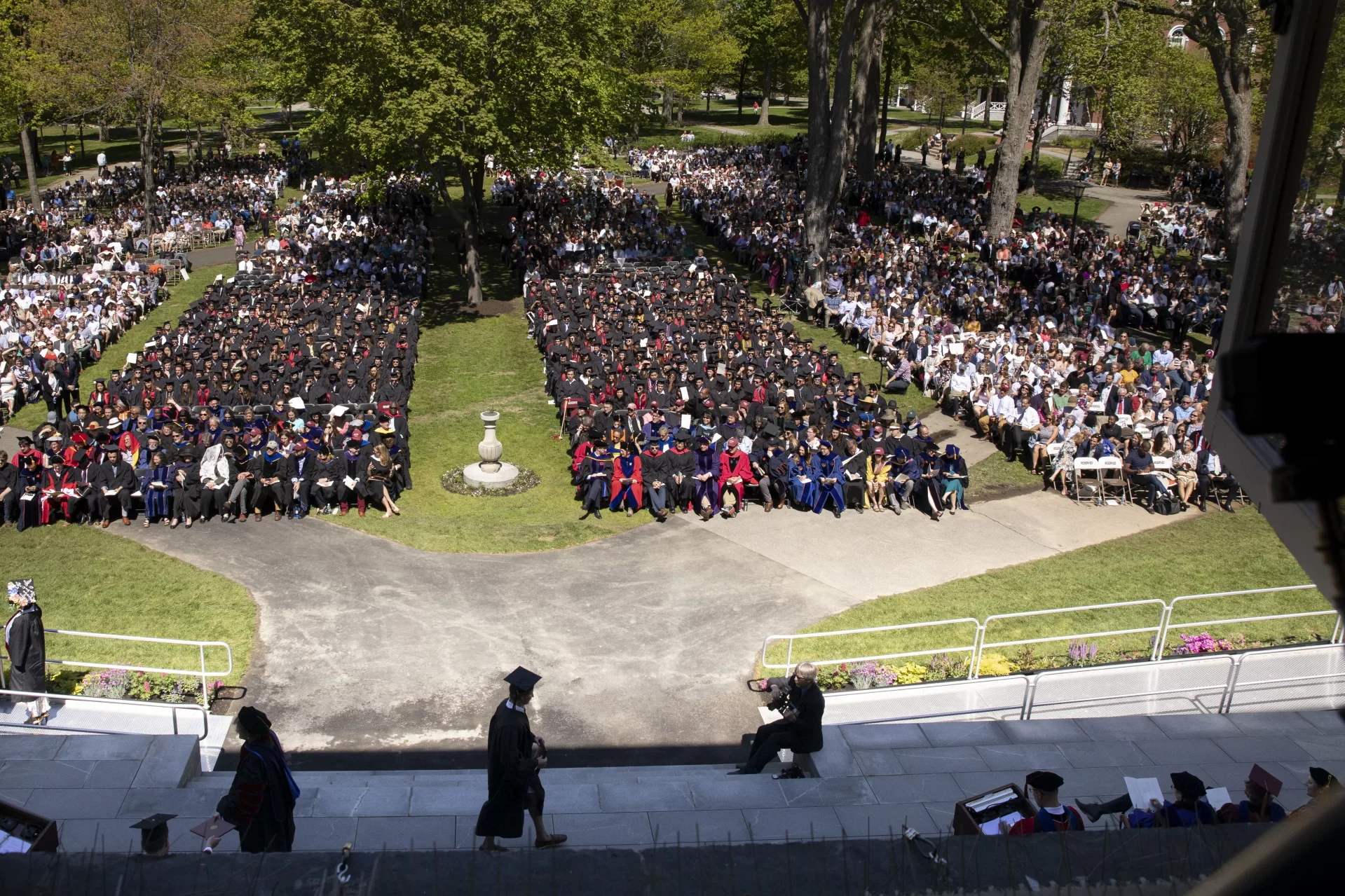 How do I watch the livestream?
Commencement will be livestreamed on the Bates website, and also on the college's Facebook page, featuring a four-camera setup that will provide a variety of perspectives on the festive event.
The livestream starts around 9:30 a.m. with the arrival of the academic procession, led by mace bearer Michael Murray, Phillips Professor of Economics, to the traditional setting at Coram Library.
What do we know about the senior class?
There are 498 members of the Bates Class of 2022 participating in Commencement, representing 39 U.S. states, including D.C., and 40 nations. 
50 seniors are from Maine (10%), consistent with prior years.
59 seniors are first-generation-to-college (11.8%) .
370 seniors have a single major.
127 seniors have a double major (25.5%).
1 senior has a triple major.
35 completed honors theses (one, Emma Christman '22 of Litchfield, Maine, received honors in both biology and geology with one thesis).
45 (8.9%) studied abroad for a semester or year (a figure that would be closer to 60 percent pre-pandemic).
199 seniors earned a varsity letter (40%), in keeping with prior years.
10 seniors have received Fulbright Student award offers for 2022–23.
One senior, Essie Martin, has received a Truman Scholarship.
Who is the Commencement speaker?
Dr. Nirav D. Shah, director of the Maine Center for Disease Control and Prevention, is this year's speaker, joining three fellow honorary degree recipients.
Shah is not your average state epidemiologist. As COVID-19 barreled into the state in 2020, he became something of a phenomenon, providing guidance, information, and leadership. Displaying an uncanny ability to deliver comfort while never ducking the reality at hand, he led daily media briefings, notable for their civility and mutual respect, joined public radio call-in shows, and convened Zoom discussions with community leaders.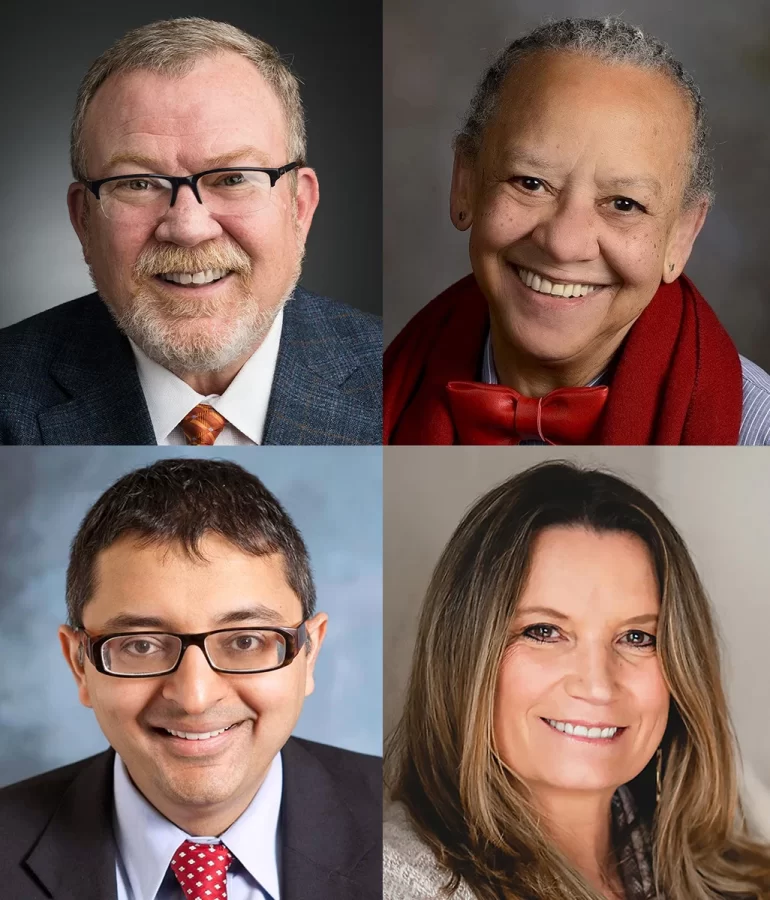 Perhaps more challenging, he successfully made deft and often witty forays into the Twittersphere, where he has 30,000 followers (gulp, more than double Bates' followers, and we've been around since 1855, while he's only been around since 1977).
The Facebook page "Fans of Dr. Nirav Shah" — created by admirers and not affiliated with Shah — has 39,000 members. (What other CDC director would make a dad joke around Christmas noting that Santa Claus was vaccinated and thus had "santibodies"?)
So, how deft and witting are Dr. Shah tweets?
Here are two.
Back in 2014, Gwyneth Paltrow infamously referred to her separation from husband Chris Martin, lead singer of Coldplay, as "conscious uncoupling." In April, Shah dropped that iconic pop-culture phrase into a tweet as he educated Mainers on how COVID-19 infections were rising, yet hospitalizations weren't.
2. He shared this quote attributed to the Danish philosopher Søren Kierkegaard to underscore the near impossibility of accurately identifying and confirming trends while in the midst of a pandemic.
Who is the senior speaker?
This year, Teresa Chico '22, a double major in rhetoric, film, and screen studies and in Africana from New York City, will deliver the senior address.
Chico says that she became something of a "plant person" while at Bates. She will use her experiences with two plants — a sturdy, low-maintenance pothos and a more "dramatic" Chinese money plant— as a metaphor for her route through Bates.
What Commencement elements return this year?
After a streamlined version last year, the college's traditional inside-out academic procession returns in full force.
The procession assembles on Alumni Walk. The first group to depart is the seniors, followed by the faculty, the college's deans and vice presidents, and then the mace bearer, who leads the platform party of President Clayton Spencer, the honorary degree recipients, and faculty marshals.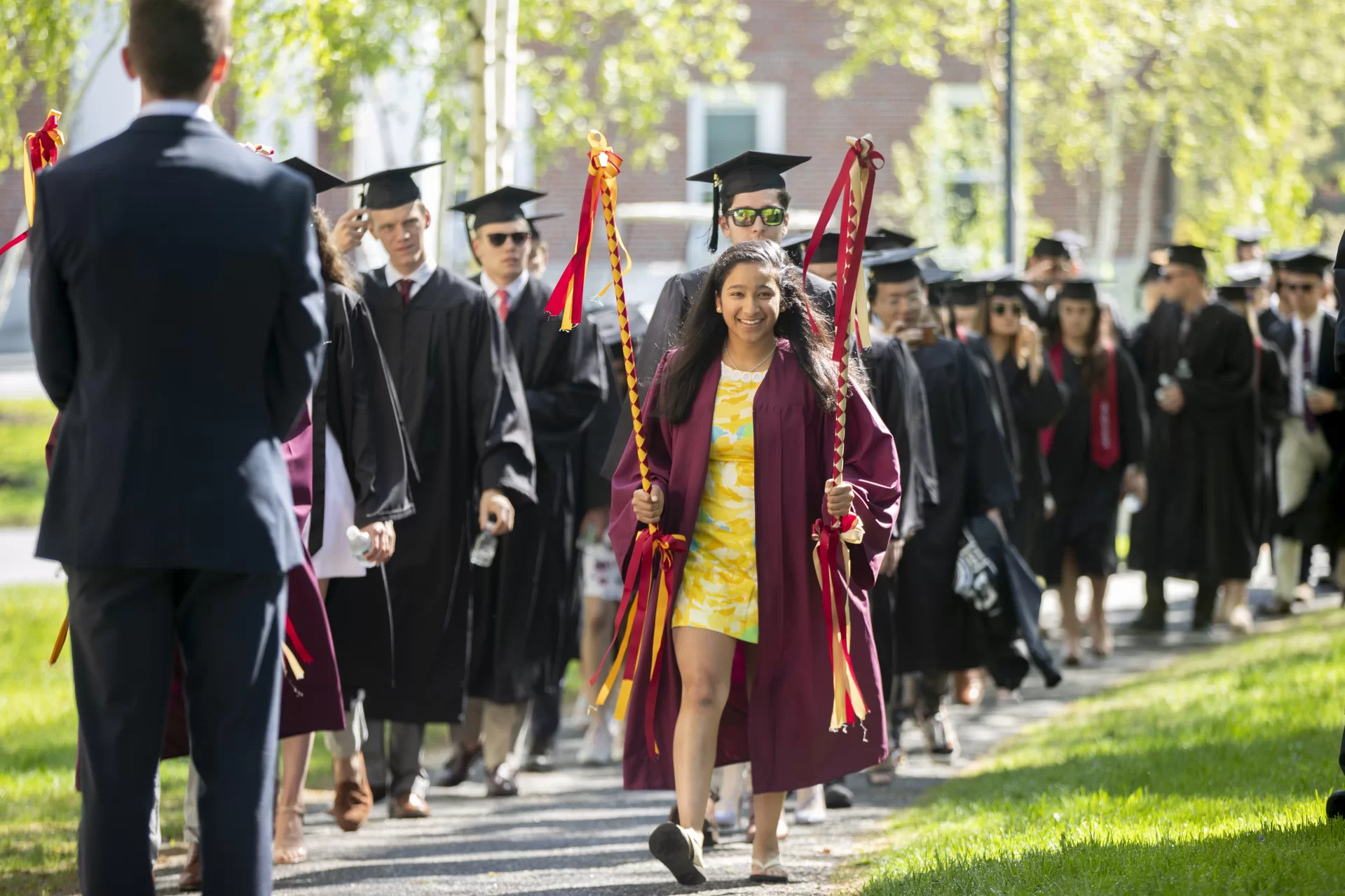 Mostly out of sight of the crowd gathered at Coram, the seniors and the faculty come to a halt and step off the pathways, allowing the mace bearer and platform party to parade through them. Then, in a maneuver known as "skinning the cat" — like turning a sock inside out — the faculty at the end of the procession fall in behind the platform party, then the seniors fall in behind the faculty.
The maneuver allows the mace bearer and his team to be the last to depart Alumni Walk and the first to arrive at Coram, plus allows the faculty to parade past the seniors, and generally provides a bit of "the last shall be first" variety to the procession. (Granted, there might be less complex ways of achieving this, and the origins of this maneuver are not clear.)
What's new about this year's Commencement?
There's one change to college policy, and one transition in a professor's career.
For the first time, and reflecting the disruption caused by the pandemic, Bates will welcome seniors to participate in Commencement who do not yet have the credits required to graduate.
At the conclusion of this year's ceremony, mace bearer Michael Murray, the Charles Franklin Phillips Professor of Economics, will quite literally hand off his duties, an honor he's had since 2016 as the senior member of the faculty. He retires this spring.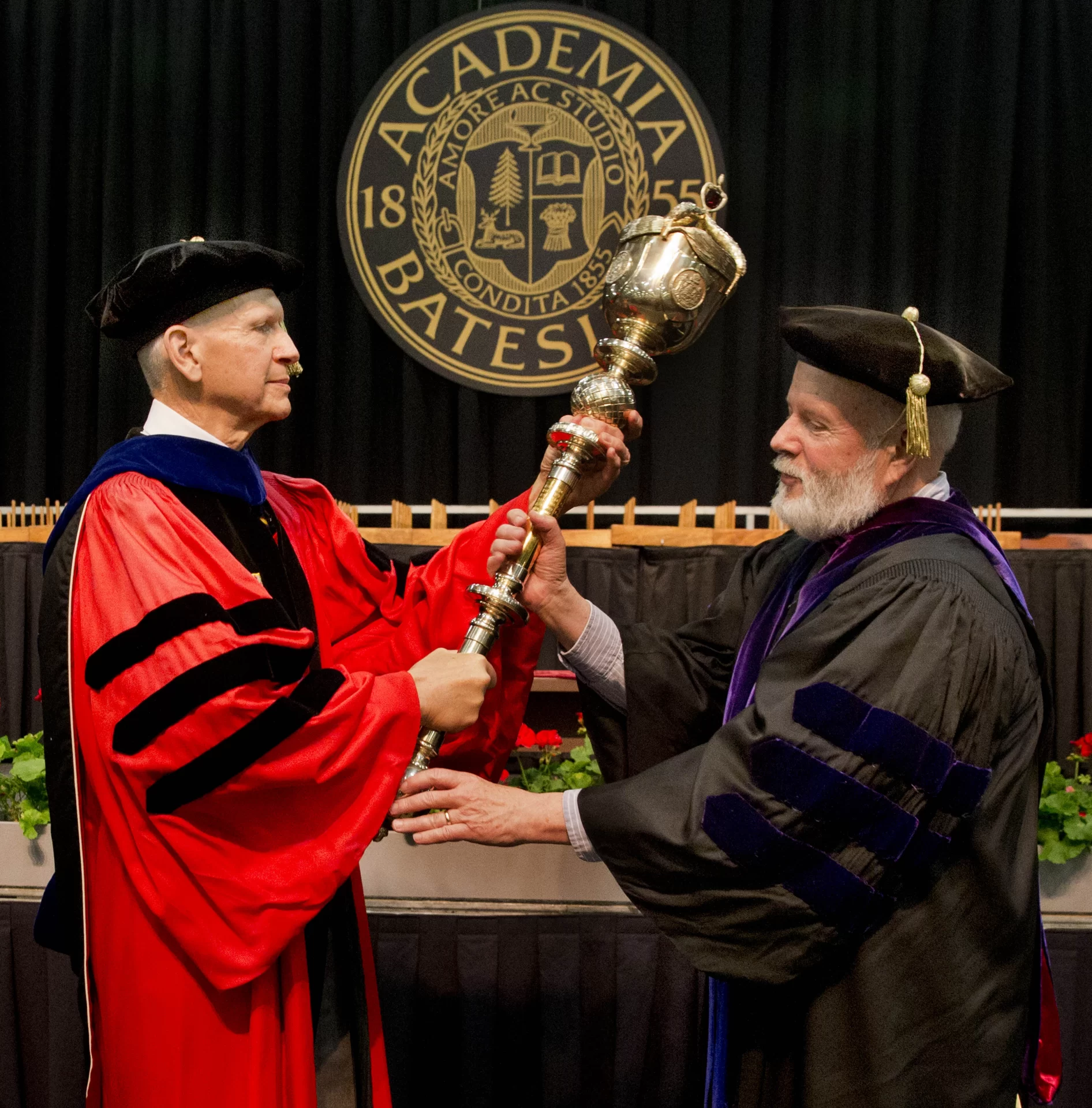 As Murray leads the platform party from the Coram porch, he will pause and hand the mace to his successor, Professor of French and Francophone Studies Mary Rice-DeFosse.
The college's 10th mace bearer since the tradition was born in 1949, Rice-DeFosse will be the first in her department and first woman to carry the mace. When she arrived at Bates in 1984, one day serving as the mace bearer wasn't on her mind. "It's an unexpected honor," Rice-DeFosse says.
In 1984, only one of the 32 full professors was a woman, Ann Scott, now Dana Professor Emerita of Music. Today, the gender balance among full professors is nearly 50–50. "We've come a long way since those days," Rice-DeFosse says.
She notes that she'll be one of the shorter mace bearers in recent times, quipping, "I hope that I measure up!"
View Comments