Early Wednesday morning, Jason Therrien of Facility Services was tending to a dozen new Adirondack chairs arranged in a circle on the Historic Quad. Armed with a tape measure and cable cutter, Therrien was measuring the appropriate 6-foot distances between the chairs, then attaching security cables.
The task, part of a pandemic-prompted effort to increase outside seating for students this fall, was a bit outside his purview as a carpenter. But, he said, "everyone's helping out to get everyone safely into school. That's the most important thing. And it's a team effort."
The team effort to bring the Bates campus back to life hits a milestone on Aug. 25, the first of three move-in days through Aug. 27.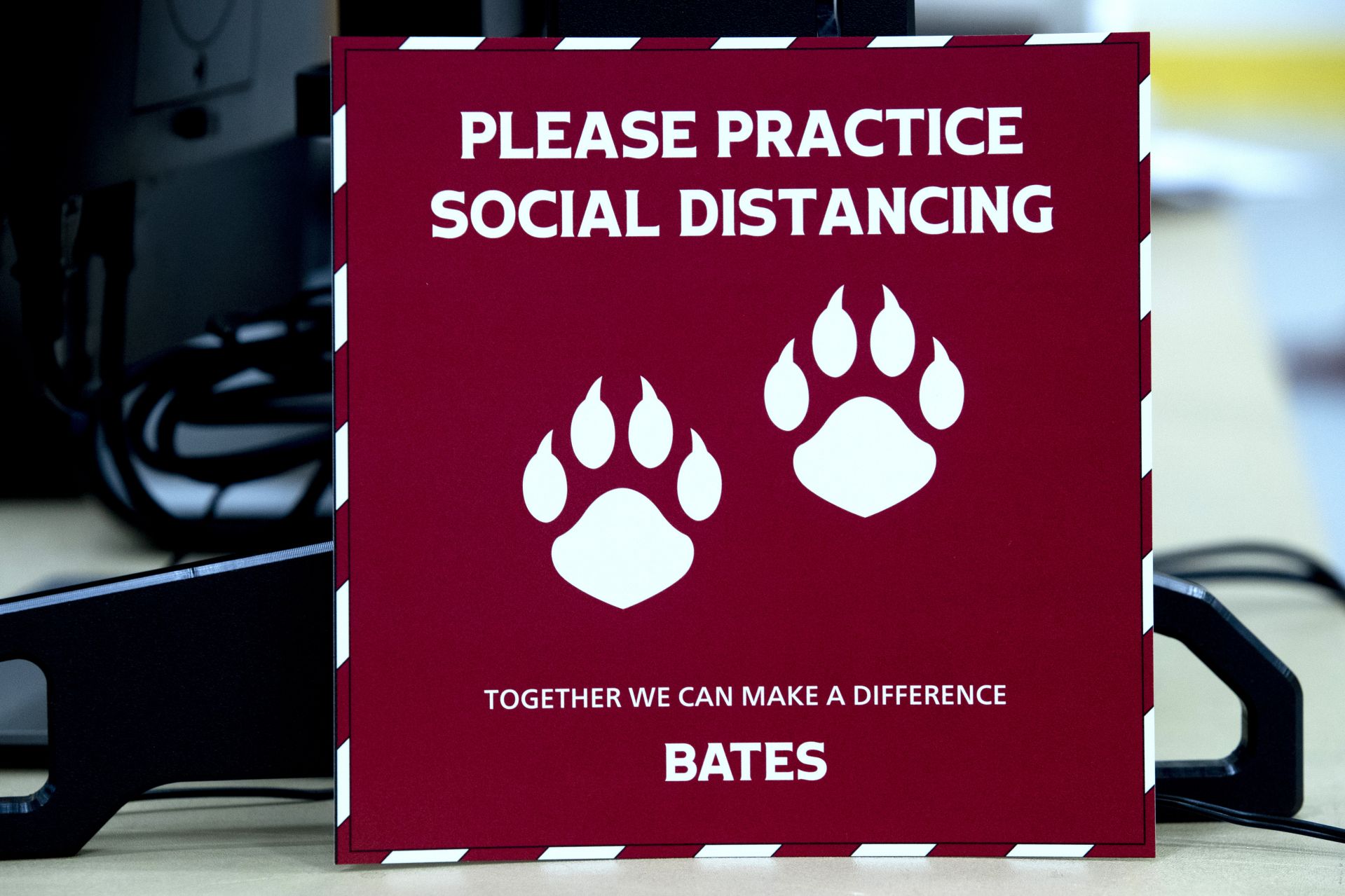 If there's a VIP set of arrivals each August, it's the first-year class, and they arrive on the 26th and 27th. The class totals 480, some 26 of whom have elected to begin their Bates experience remotely, reflecting the hybrid model for the college's fall semester: Students and faculty could choose in-person or remote learning.
Overall, around 150 students have chosen remote learning among the 1,883 students enrolled this fall. Among the faculty, about two-thirds have chosen to teach their courses totally or partially in-person; the balance will teach remotely.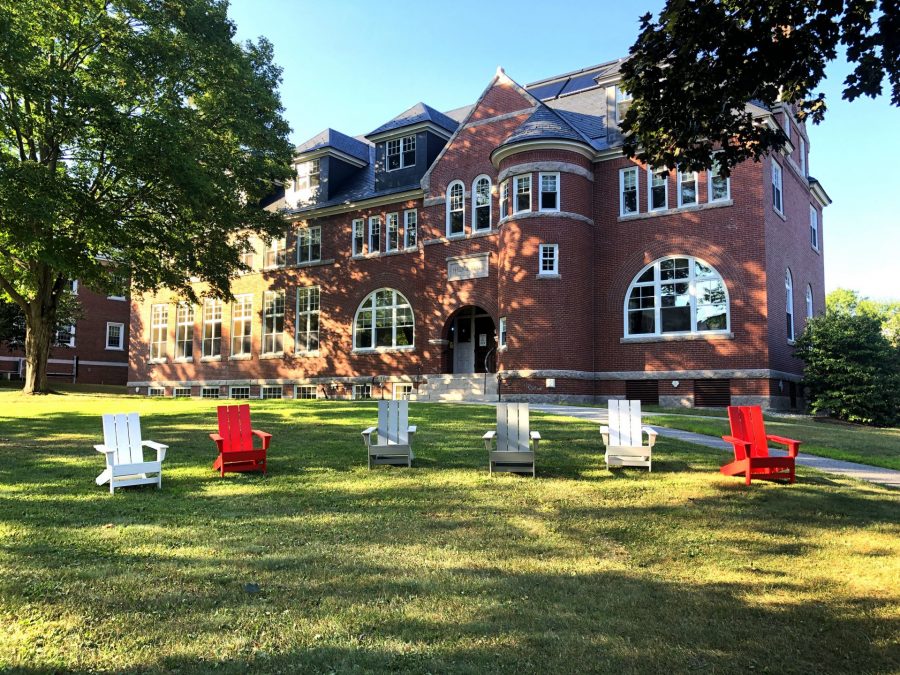 In terms of courses, about 70 percent will be either in person or a mix of in-person and remote. The rest will be remote only. Courses that have any in-person component will be fully available to students who are studying remotely.
Students will return to a vastly different campus experience this fall, a belt-and-suspenders set of overlapping strategies to address COVID-19 that were designed over the summer by Bates planning teams and advised by infectious disease experts from the Mayo Clinic and elsewhere.
And while sophomores, juniors, and seniors will recall campus life before the pandemic — and will need to adjust to protocols like distancing, face coverings, twice-weekly COVID-19 testing, and more limited campus life programming, including no fall sports — the Class of 2024 arrives on campus tabula rasa.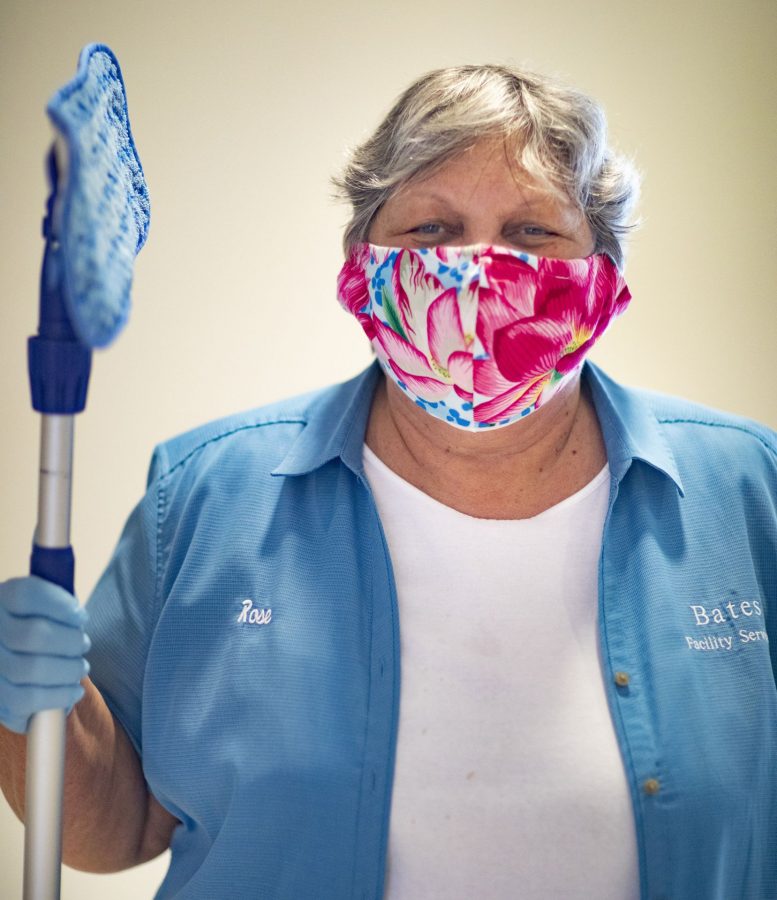 That's significant to Dean of Admission and Financial Aid Leigh Weisenburger, for whom the arrival of the new class marks the happy conclusion to the long admission season.
Noting that returning students understandably might "still be pining" for a traditional campus experience, the new first-years don't have those expectations, she says.
"Most of them have done a remote experience in myriad ways around the world as they wrapped up their high school careers. Now, we are asking them to do the same, but in a different place," she says. "They have the potential to be leaders in creating a new Bates experience this fall."
"We felt that Orientation was disjointed: unrelated events that students felt they needed to sit through."
This year, Bates has redesigned Orientation, which kicked off this week with online presentations within Lyceum, the student portal. Unlike so much else that has changed due to the pandemic, the decision to revise Orientation began last February with reviews by a campus committee.
If alumni recall their Orientation at all, they might only remember a blur of info sessions, punctuated by the overnight AESOP program, then more sessions.
"We felt that Orientation was disjointed: unrelated events that students felt they needed to sit through," says Blake Reilly, an assistant dean of students in the Office of Residence Life and Health Education.
Joining Reilly as an architect of the new Orientation is Professor of Politics Stephen Engel, a Faculty Fellow for Student Affairs. "Orientation should offer a bridge to the Bates experience, an opportunity for our students to encounter and explore, for the first time, the values that are central to our community," says Engel.
In his contributions to the revamped Orientation, Engel drew less on his expertise in constitutional law and LGBTQ legal and political issues and more on his work 15 years ago in student-life programming at New York University, before he embarked on his doctoral studies, and on his undergraduate experience at another NESCAC college, Wesleyan.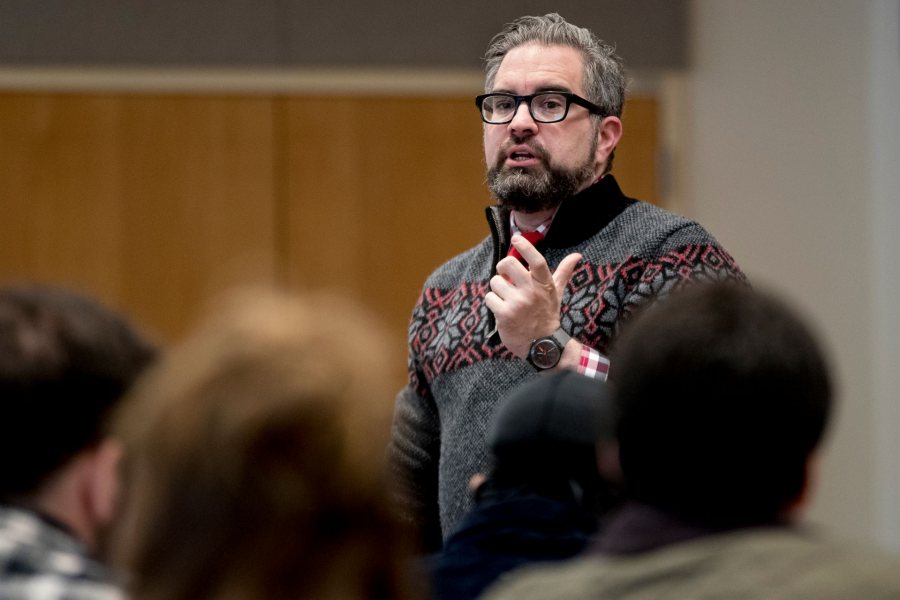 "I loved Wesleyan for how it embraced its history, good and bad. We tell the story about how Wesleyan admitted women, then threw them out in 1911 before admitting them again in 1971," Engel says. "There was a culture of telling stories" to reinforce a shared identity.
"Bates has wonderful stories about its key values, and when students enter Bates, we need to tell the stories about those values. Students need to know they are entering a community, not just a school."
Organized into six different modules featuring readings, videos, and reflections exercises, the new Orientation adopts a storytelling approach to convey Bates values, which have been specifically defined as community; equity, inclusion, access, anti-racism, and educational justice (EIAAREJ); academic inquiry and exploration; purpose and identity; health and wellness; and sense of place.
"By grounding Orientation in specific values, we hope that students see a thematic relationship among the videos, reflection activities, and opportunities for live chats," says Engel.
For example, the theme of the first module is "Welcome to Bates." Within that module, one activity invokes the values of EIAAREJ, academics, and a sense of place by offering a story about the college's pre-Civil War connection to cotton grown by enslaved persons.
After reading the story, students watch a discussion by professors Joe Hall (history), Anelise Hanson Shrout (digital and computational studies), and Sue Houchins (Africana); students Perla Figuereo '21 and Alya Yousef '21; and recent graduate Emma Soler '20.
(Regarding AESOP, the longtime outdoor program will be in a scaled-down, on-campus format this year.)
Perhaps fitting in the topsy-turvy world we're in, the Class of 2024 received the happy news of their Bates admission at exactly the same time — the weekend of March 14–15 — that Bates students were packing to leave campus.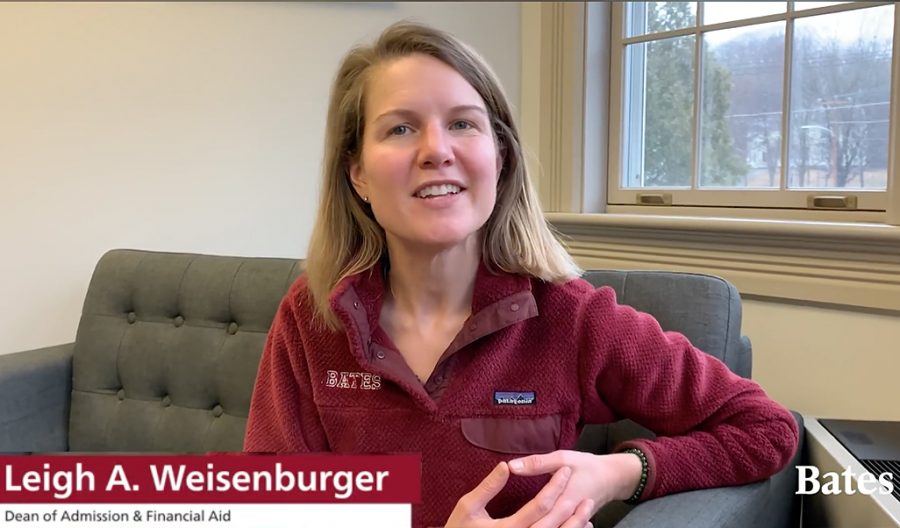 The closure threw a wrench into Admission's strategic efforts to finalize the recruitment of the new class. For one, it meant no on-campus receptions for admitted students. Second, it constrained the use of social media, especially Instagram, to celebrate the new class with upbeat and celebratory photographs and text that the entire campus could feel good about.
For example, an initial Instagram post in mid-March celebrating the Class of 2024's admission got blowback from current students, especially seniors, who were feeling the deep pain of their forced departures. "We learned a tough lesson," said Weisenburger. "So we moved our admitted students program to a private online space."
With all on-campus admitted-student events cancelled and with Instagram being used more to honor the experience of seniors, the Admission team turned aggressively to Facebook for its admitted-student programming.
"We also surveyed admitted students early and often about what they wanted," Weisenburger said. "We're not going to pretend we know."
Bates learned that admitted students wanted to know more about certain things that were very important to them: career preparation resources including Purposeful Work, extracurriculars, academic advising and facilities, housing options, social life, Lewiston, and off-campus opportunities.
Between March 23 and April 27, the Admission team, in conjunction with an array of campus partners, Bates alumni, and Bates families, produced 12 "Ask Me Anything" Zoom sessions for admitted students featuring Bates professors, students, and program leaders addressing top-of-mind questions from the survey results.
Like the rest of the world learning to move their in-person communications to online formats, takeoff for Bates' brand-new programming was challenging at the start, admits Weisenburger. "It was anxiety-ridden. But we learned that we didn't have to be perfect to engage our audience. We could just be ourselves. And that made it fun and real for the folks producing it, the Bates people speaking, and also the audience."
Speaking to prospective students on Facebook "wasn't quite the same as being able to greet 600 students and families from the podium in Memorial Commons" during a typical Admitted Student Reception on campus, says Weisenburger. "But it was still pretty cool to watch the chat feed light up and engage with students live, yet in a virtual world."
Notwithstanding Facebook losing Gen Z audience to other platforms, the Class of 2024 Facebook group now has 550 members, including some from other Bates classes. "It's an impressive turnout, and we've seen more posts and comments within the group this year than in the past," says Weinsenburger.
In a typical year, after moving gear into residences and into rooms, a barbecue lunch, and afternoon talks and information sessions, a move-in day for first-years would end with new students and their families gathering on the Historic Quad for a final moment of reflection and greetings.
There, the students and families would hear from Weisenburger and President Spencer. Weisenburger won't have that platform this year, though Spencer will share a welcome message online, and Weisenburger took part in a walking-tour video of Lewiston as part of the virtual Orientation programming.
But what would Weisenburger like to say to the Class of 2024?
"I think I would say, 'Just take your time. Take it slow. Be nice to yourself and to others. We've all struggled during the pandemic, so try to appreciate this. It's not what we expected, but we hope there will be positives. This fall will be a unique experience that will shape you and your class like no other.'"
View Comments