More than a half century ago, Peter Handler '69 recalls lounging on the Historic Quad in warm weather, "my back against a tree, my books by my side."
Based in Philadelphia, Handler is a maker of fine furniture who has thought about what happens when people sit in a chair. "When designing for clients, it's about how to bring people together, how to use furniture in a home to build connection."
The same goes for outdoor public seating, he says, which must promote "gathering and connection — and now, how to do that safely physically distanced. Because we all want, we all need, safe social connection."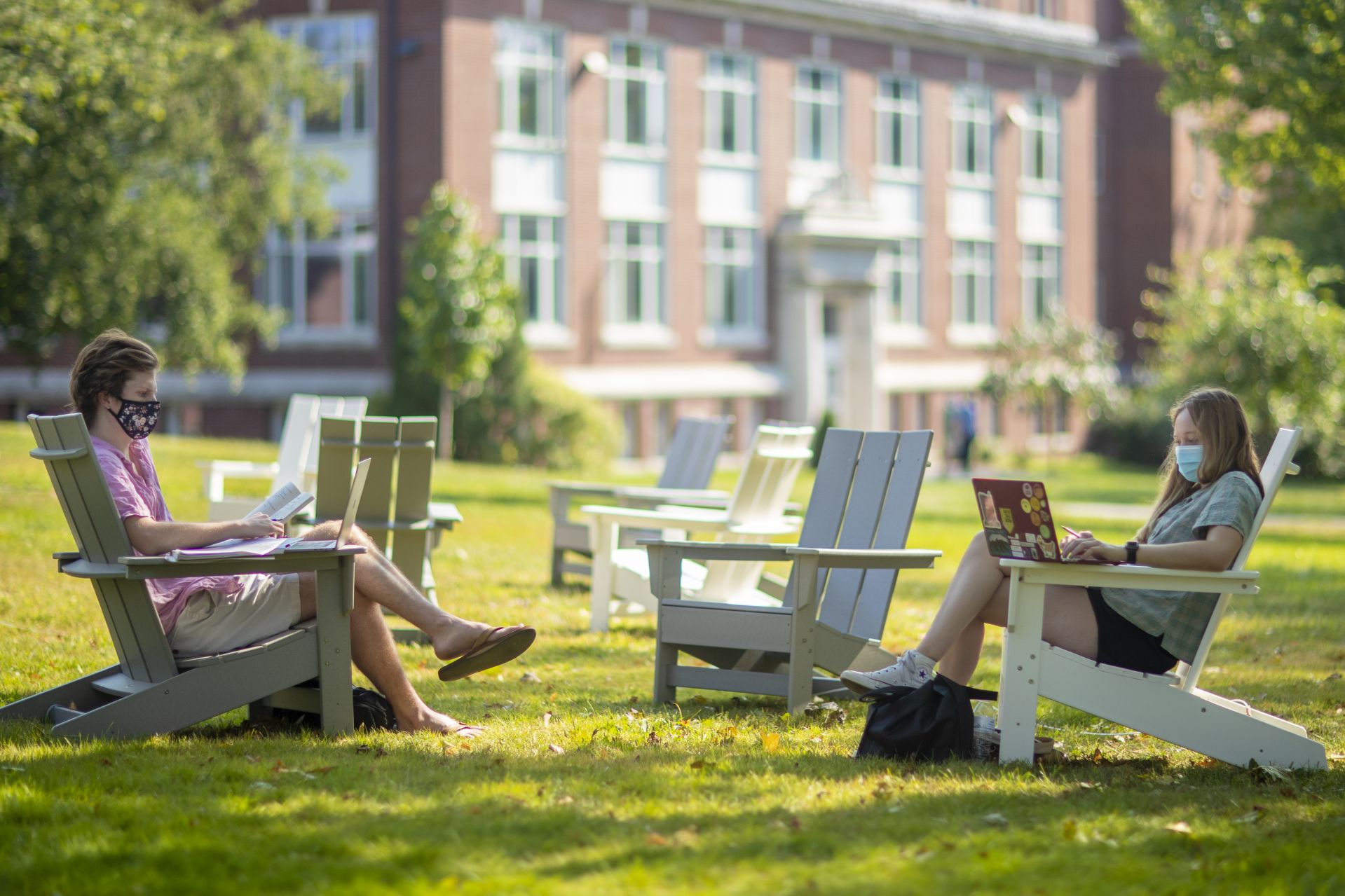 On the Bates campus once upon a time, outdoor seating was at a premium. Benches, especially, were deemed a hassle to maintain.
But not now — especially when COVID-19 makes the outdoors safer than indoors and especially with some beautiful early fall weather at hand. Indeed, Bates has busted out the outdoor furniture in a big way.
The first to arrive, in August, were 95 Adirondack chairs. Not flimsy ones from the big-box store that rot in a single season but maintenance-free poly lumber chairs by Durogreen.
With demand high for outdoor furniture, Bates wasn't able to order up a selection of garnet and white chairs. Instead we have a variety — red, blue, green, gray, white, and Aruba — that gives the campus a nice "pop of color," says project manager Shelby Burgau of Facility Services. The chairs are deployed in sensible locations around campus in groups of a dozen or fewer.
But there's more. New steel tables and chairs are outside Ladd Library and on Alumni Walk; a parallel bench near Commons; chaise lounges, also on Alumni Walk; and bar tables and chairs on the Ladd Arcade.
With that in mind, here are a few ways students and faculty have been using the Bates outdoors so far, during a semester like no other.
As a reminder of what the campus protocols are, and why students are flocking outside: Students may not visit other students' residences; no large parties; no competitive sports; restricted in-person club activities; no dining in Commons (only to-go meals, or "Dash"); universal masking required unless eating; and physical distancing required.
Step into My Office
Office hours are moving outdoors, chairs be damned. Here, Assistant Professor of Chemistry and Biochemistry Andrew Kennedy meets with his First Year Seminar student Matt Schreiber '24 of Mount Sinai, N.Y., in front of Coram Library on the Quad.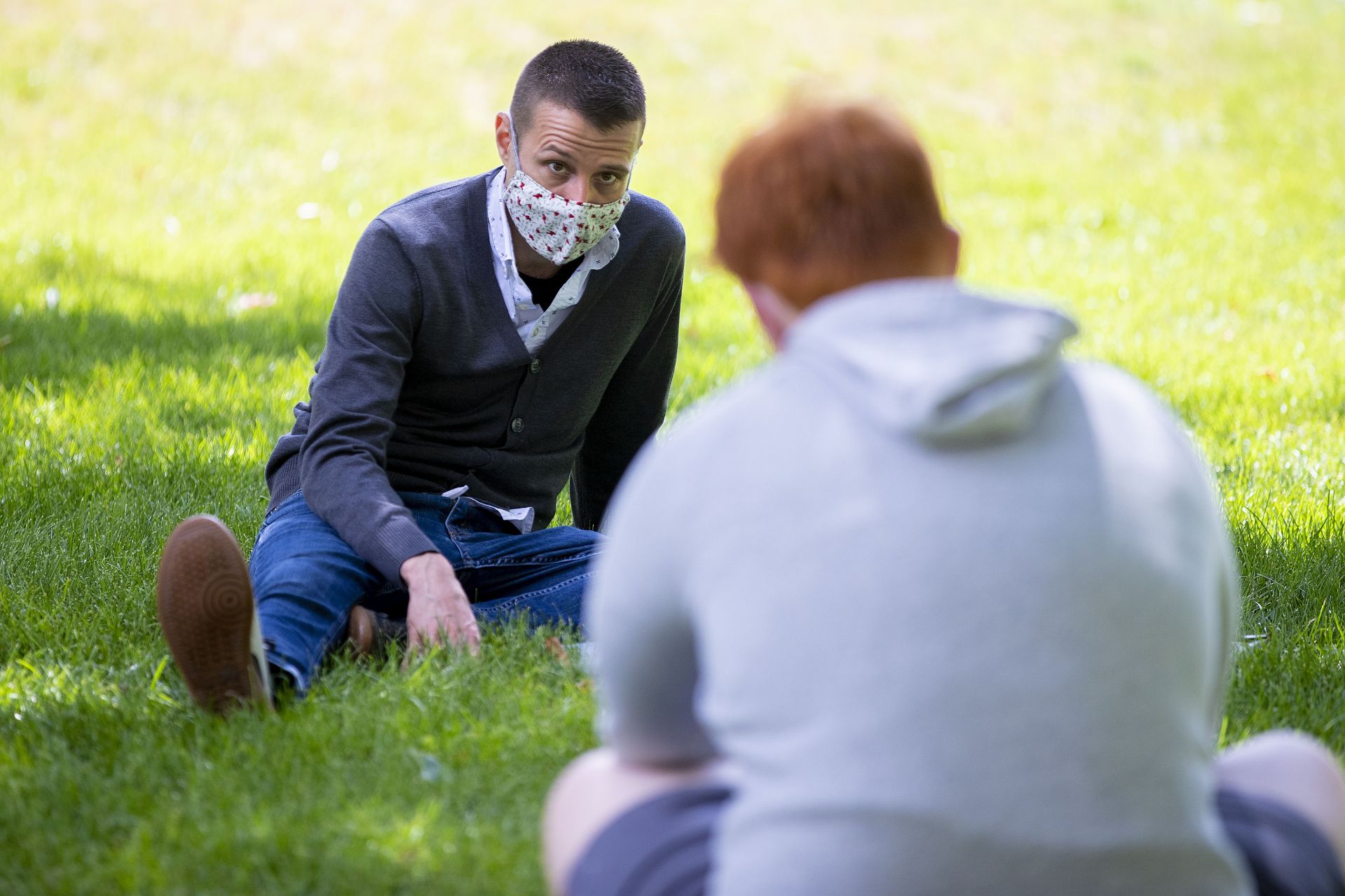 Step 'N' Sit
There's nothing fancy about the wooden roll-top benches on the Parker porch. But they do the trick.
"Some of my best memories are sitting in front of Parker porch, laughing with friends," says Emily Diaz '23 of Corona, N.Y. "You can see everything happening in the Quad, and it's a nice spot to end the night."
"Parker porch is consistently fun," says Eliza Brower '22 of Seattle. "Whether I'm doing work out there or just hanging out with my friends, it's the perfect spot to overlook the Quad and say hi to people walking by."
(Parker didn't have a porch when built in 1857. It was added in 1911, adding "greatly both to the attractiveness and to the convenience of the building," The Bates Student reported.)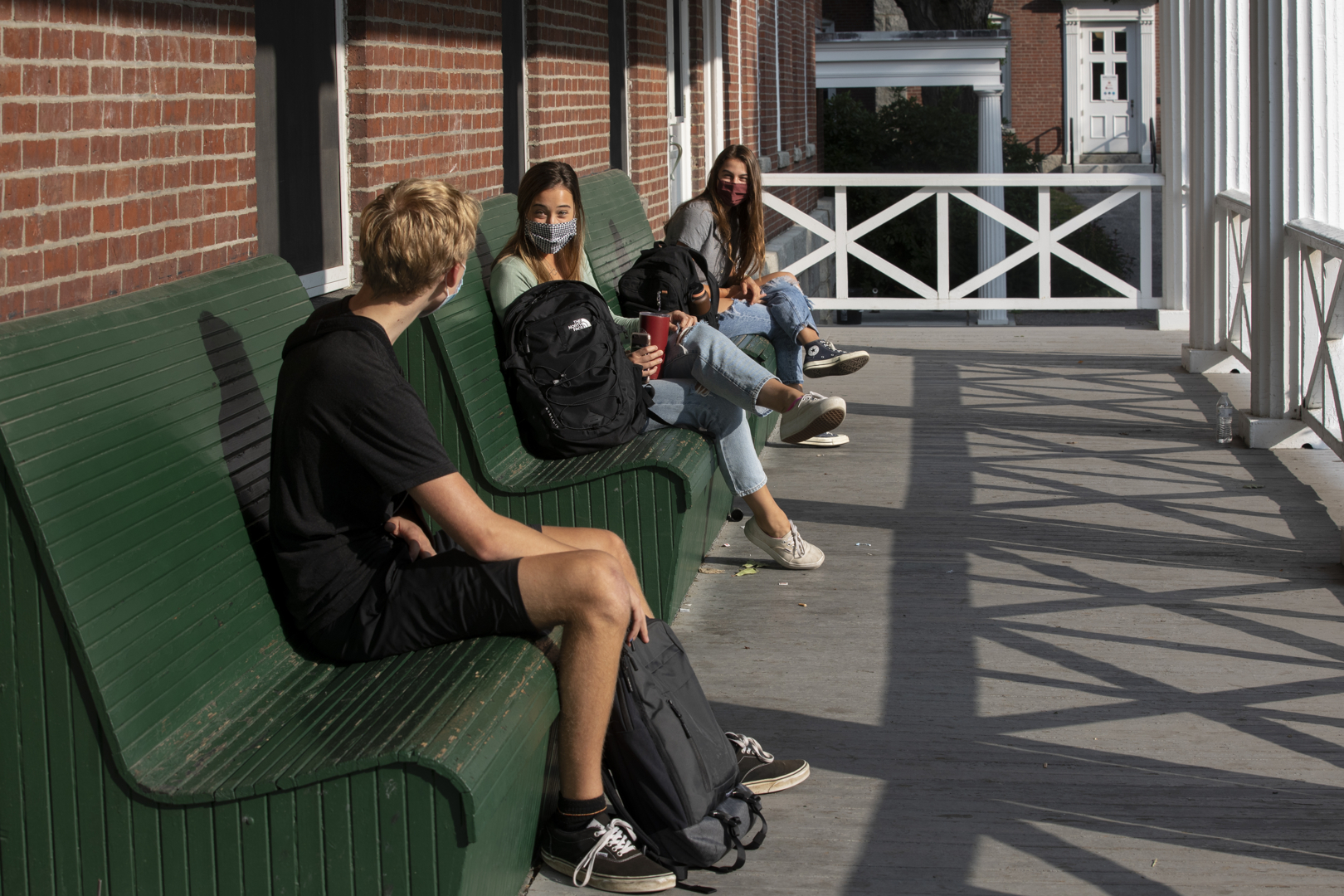 Trusty Trees
Sitting beneath a tree — an oldie but goodie. "My favorite spot to study is under one of the big maple trees on the Quad. You can read in the shade while seeing friends, professors, and cute campus dogs," says Alix Zabin '22 of Milford, Conn.
Sitting isn't the only way to enjoy the Bates outdoors. "I like to sit under the trees on the Quad because it allows me to take a shape that isn't the shape of a chair. I get to sprawl," says Anna Mangum '21 of Atlanta.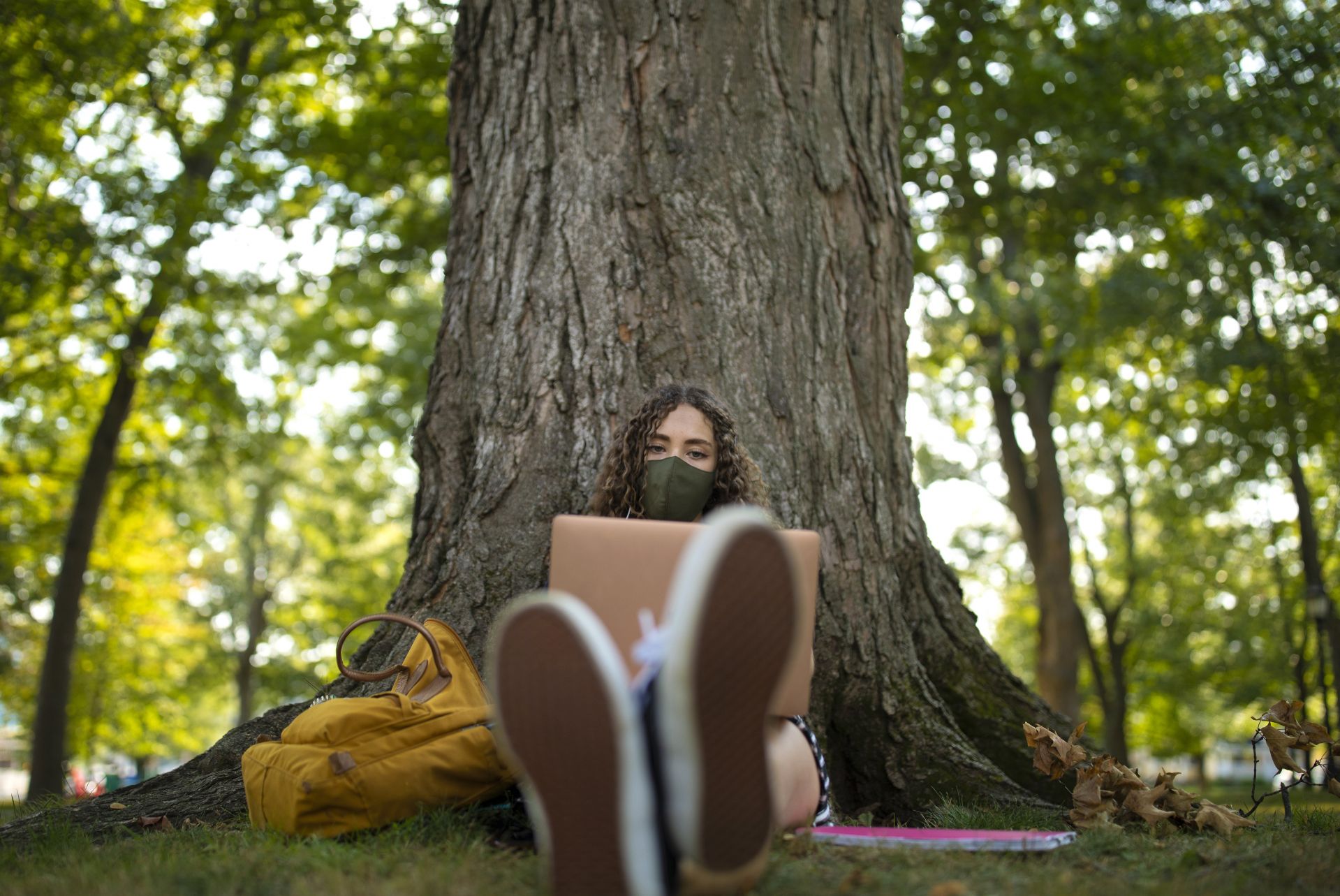 It's great for people watching, and helps with her thesis thinking, too, as an English major preparing to do a creative-writing thesis.
"I'm trying to get a sense of how people move through physical spaces on campus," Mangum says. "Watching other people move through a space can make you think about how you have existed in the space before. What has changed? What remains the same?"
This semester is under the "module" format. Rather than four courses for the entire semester, students are taking two courses for seven and a half weeks, then two more for seven and half weeks. The module format reduces density in academic spaces.
"The module schedule has really changed the daily migration patterns," Mangum says. "I'm trying to understand now how people move in the fall versus how it will be in the coming months."
Finding your place
Not all Bates benches and chairs are front and center like those on the Historic Quad and Alumni Walk. Others are placed in more hidden spots, like the granite bench in the Margaret Brearley Commemorative Garden next to Hathorn Hall or the memorial benches along the Burgoyne Walk around Lake Andrews.
Here, Aaliyah Moore '24 of Phoenix, Ariz., reads the inscription on the Ben Lyster '04 bench along the Burgoyne Walk. The inscription says it's the "pling pling" bench, celebrating Lyster's love of steel-pan.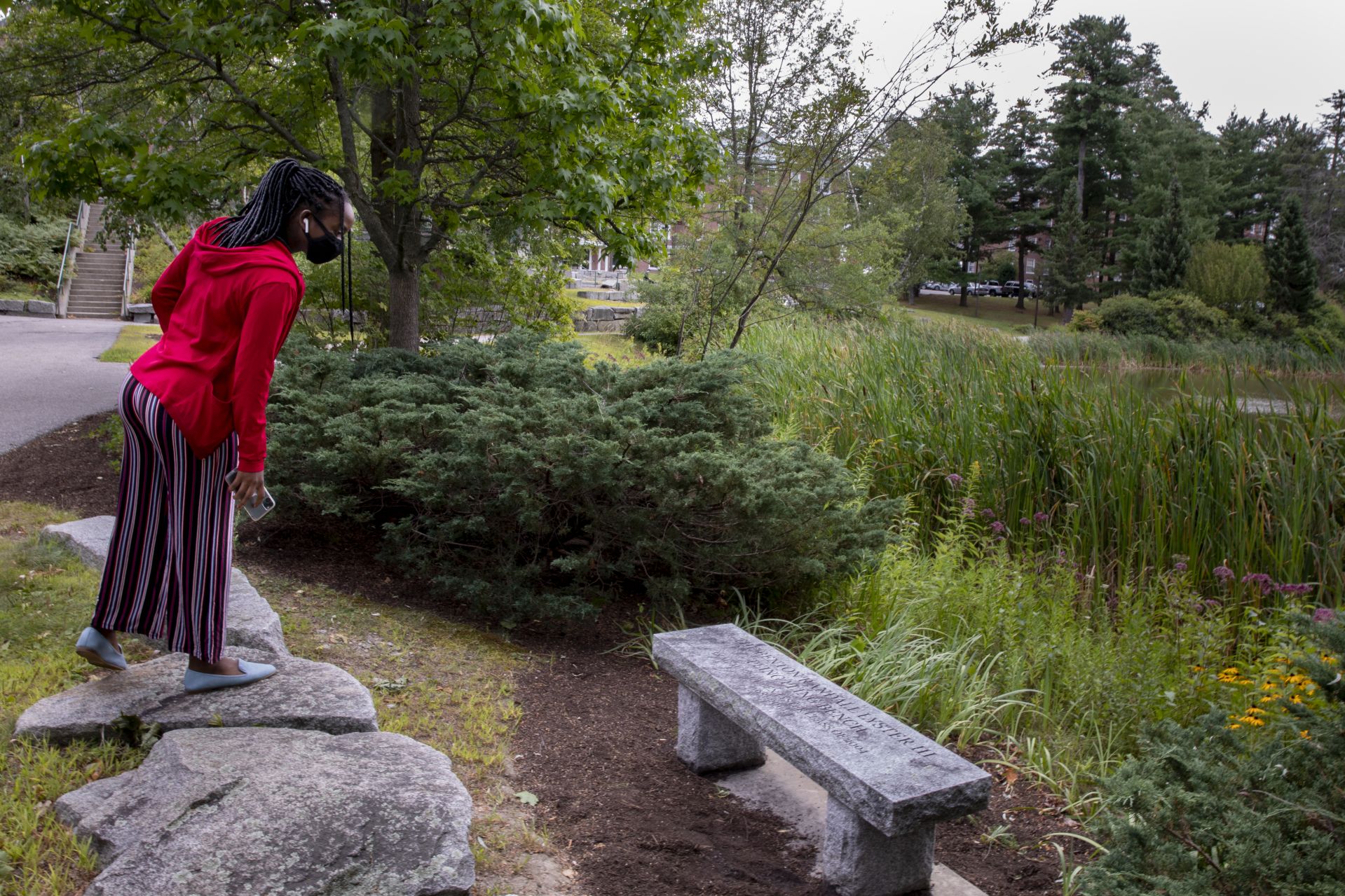 In addition to the memorial benches around Lake Andrews, there's the Philip J. Otis Memorial Wall and Reflection Area in the pine grove between Lake Andrews and Smith Hall.
Along with an endowment that supports various Bates activities, including an annual speaker on environmental issues, the reflection area was given by the family of Phil Otis '95, who died attempting to rescue an injured climber on Mount Rainier.
"It's my study spot," says Martin Carriere '24 of Davis, Calif. His residence is Page Hall, across the pond from the Otis area. "I like the view of the lake. And there's not a ton, or any, people, here. That's what makes it different from the amphitheater: That's more a public space."
And he likes being partially surrounded by "the green wall," the hedge behind the curving granite border, that "keeps me from being distracted."
In sum, he likes the solitude. "You can find solitarity in your room. But then you're not in nature."
Over at the Keigwin Amphitheater, four sophomore friends — Hazel Delehey '23, Katia Ryan '23, Avrah Ross '23, and Clare Trinity '23 — were sitting, playing music, and on the lookout for friends (and ducks).
"The ducks are our groupies," says Ryan. The amphitheater, she says, has a "perfect balance of passers-by without feeling too crowded."
"It's so nice to connect with people passing by," says Ross. Music draws a crowd, she adds. "People come up and join us. It's been so nice to find new ways to create community during this time."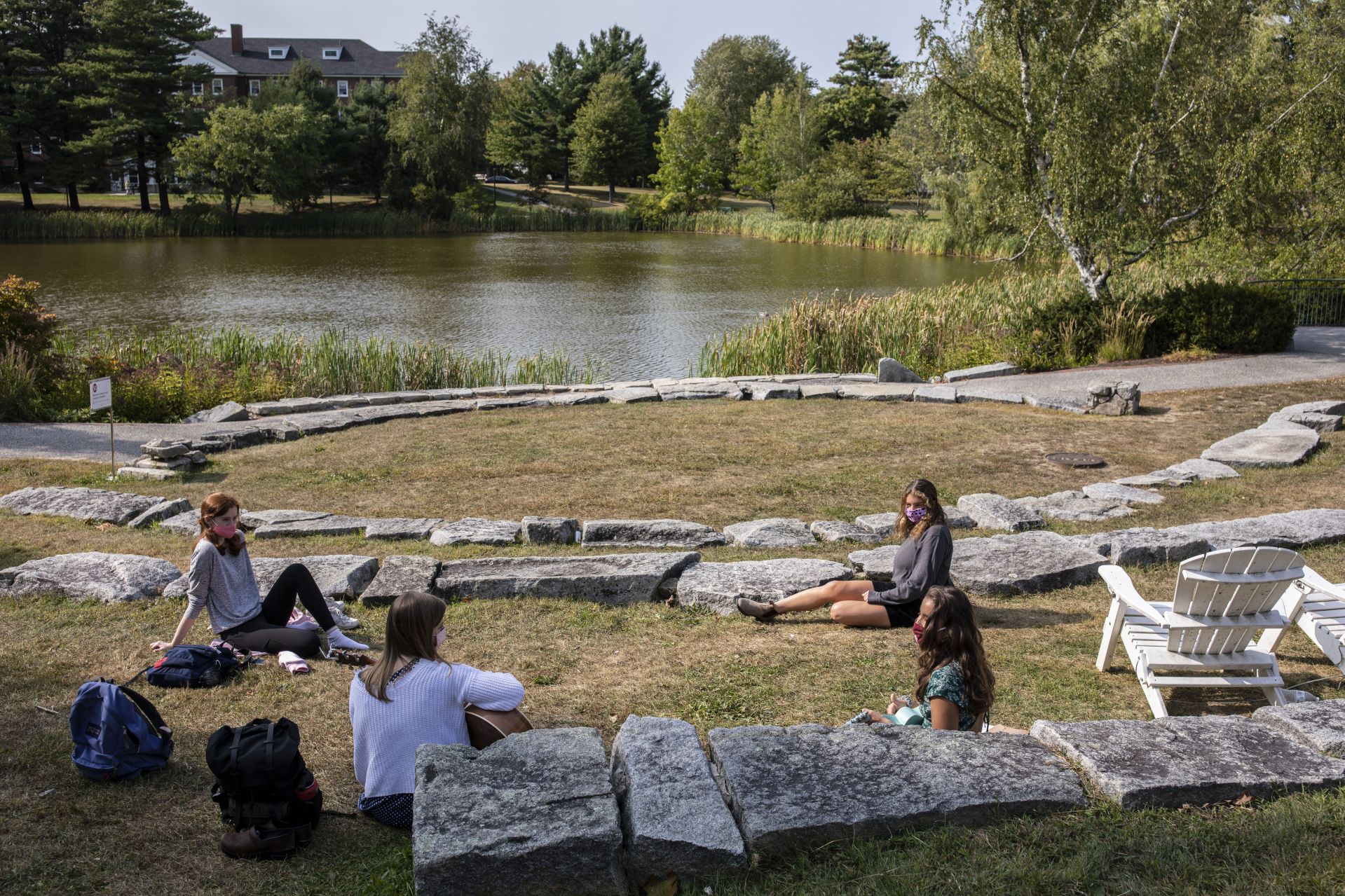 Inside out
Even on a warm day, Ladd library is still a great spot to sit and study while still getting a taste of the outdoors, at least visually. On the ground floor, a student presents the classic college silhouette: laptop, mask, hat, and water bottle.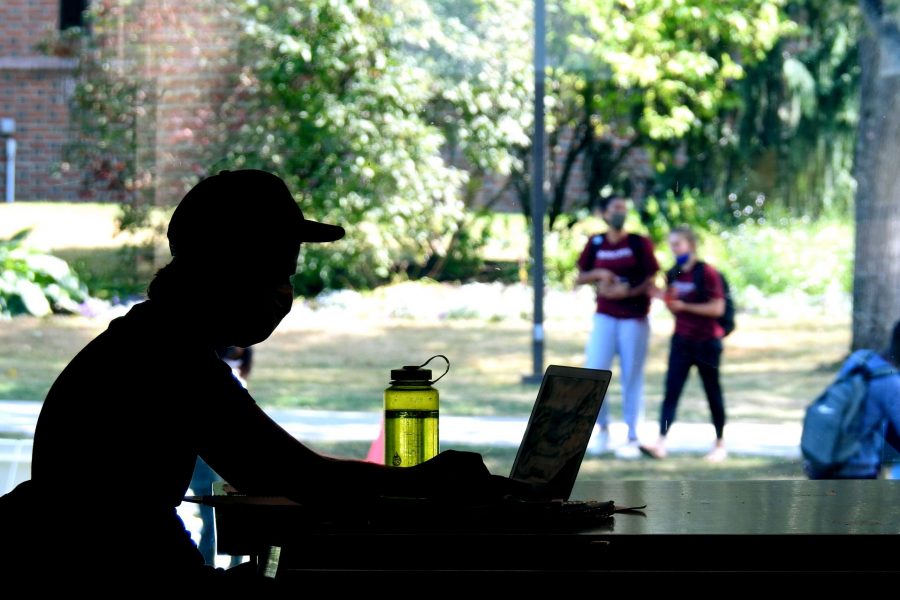 A book by the Puddle
Jack Keigwin '59, the Bates donor who, with his family, funded Lake Andrews' restoration in the 1990s, made a point that the natural beauty of the Bates campus helps students keep their bearings. "Therapy for the stress of achievement," he said.
That sounds just right to Kate Weinberg '22 of Wayland, Mass., "I have a really busy schedule, so in between classes it's nice to just sit outside, hear nature around, and have a little peaceful moment to relax and reset before I get back to class."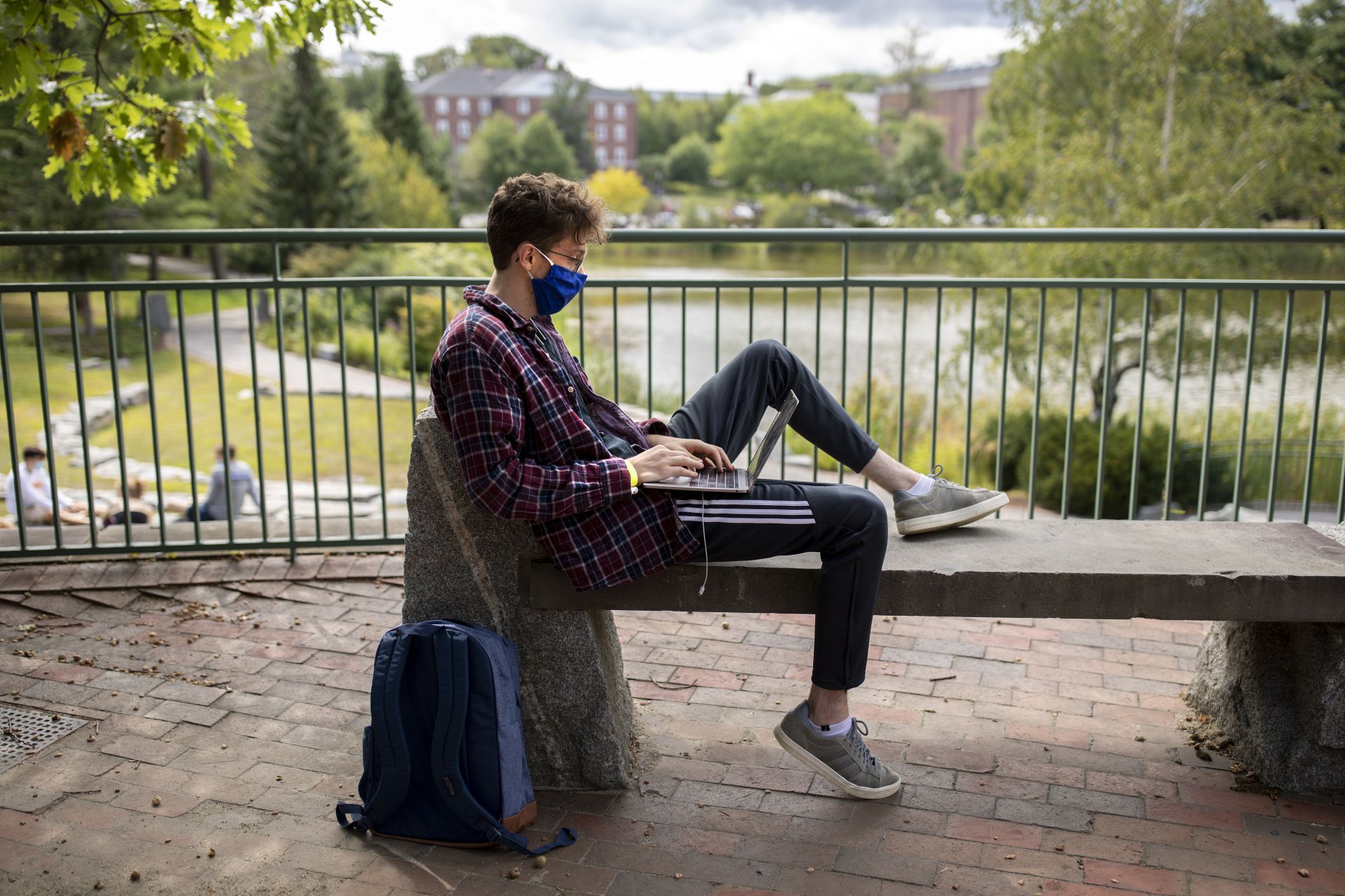 "I love being able to enjoy nature while reading a good book," says Riley Theriault '22 of Saint Agatha, Maine. "If you're lucky, sometimes you'll even make a new friend when turtles come up to the edge of the Puddle."
Garcelon Beach
"Especially at a time when we have to be confined to smaller spaces, it's nice to be outside with people in an open area where you can be free and safe and social," says Dawrin Silfa '21 of New York City. "Garcelon is my spot."
"Getting some sun on Garcelon after a long day of class and work instantly boosts my mood!" says Alexa Flores '22 of Tucson, Ariz.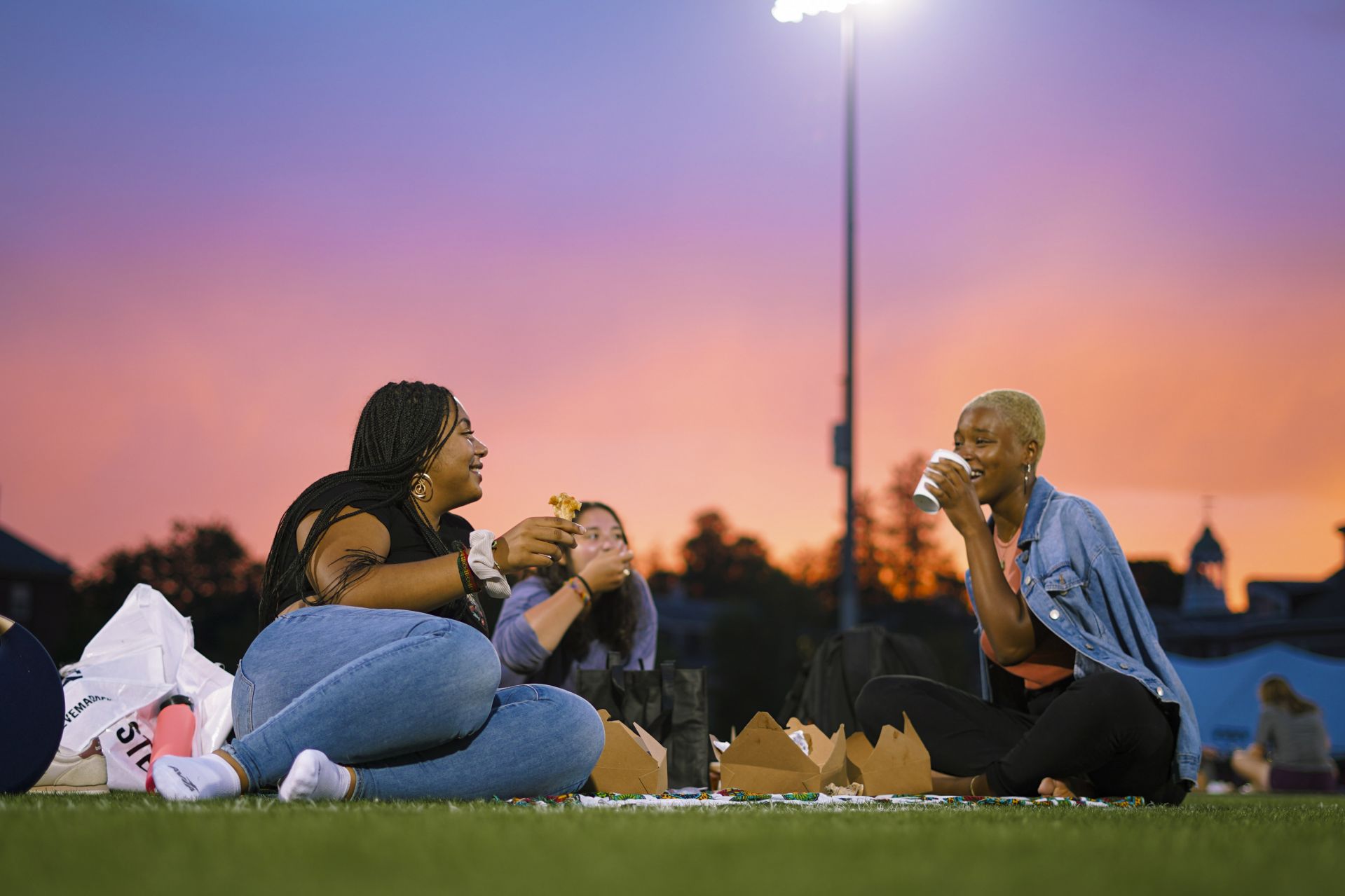 Hold sway
"Hammocks are a great place to do readings for my class, or even just to hang out," says Sarah Wood '21 of North Bennington, Vt. "I love laying around, getting a change of scenery, and seeing everyone enjoy their days."
Katherine Buetens '24 (right in photo below) of Orono, Maine, is also a hammock fan; she got hers as a high school graduation gift from her mother. Meanwhile, Svea Althausen '24 (left) of Reno, Nevada, prefers a camp chair because it's quicker to deploy than a hammock — it's really comfy, she says. Plus, she finds the sway of a hammock distracting.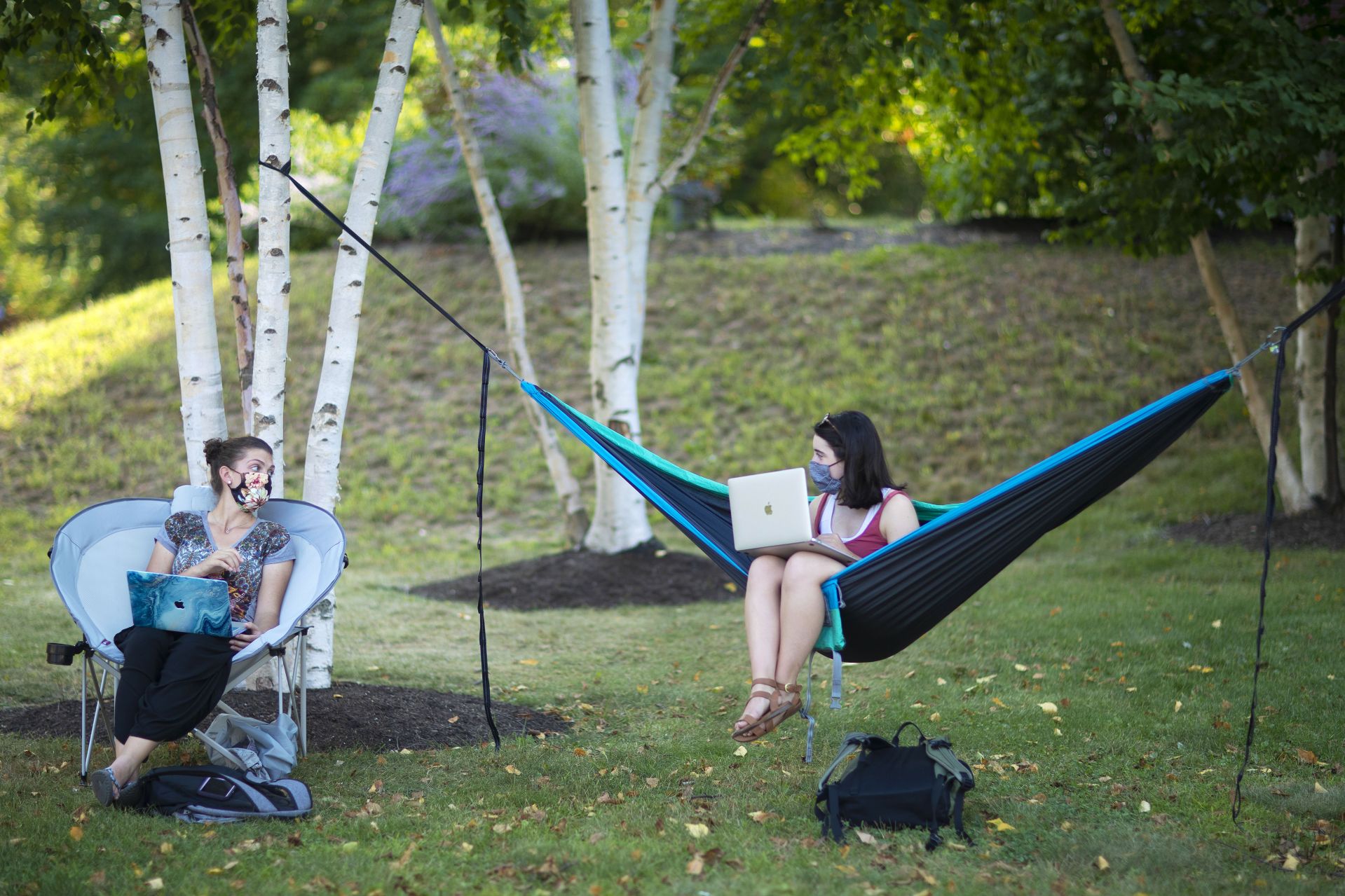 View Comments