During the second week of September, the folks involved in creating Bates' new Veterans Plaza met at the site to review punch-list items, the inevitable fixes needed at the end of any construction project.
Afterward, Facility Services project manager Shelby Burgau paused by one of the plaza's new benches to tie her shoe. She then decided to take a quick break in that tree-screened plot near the Residential Village.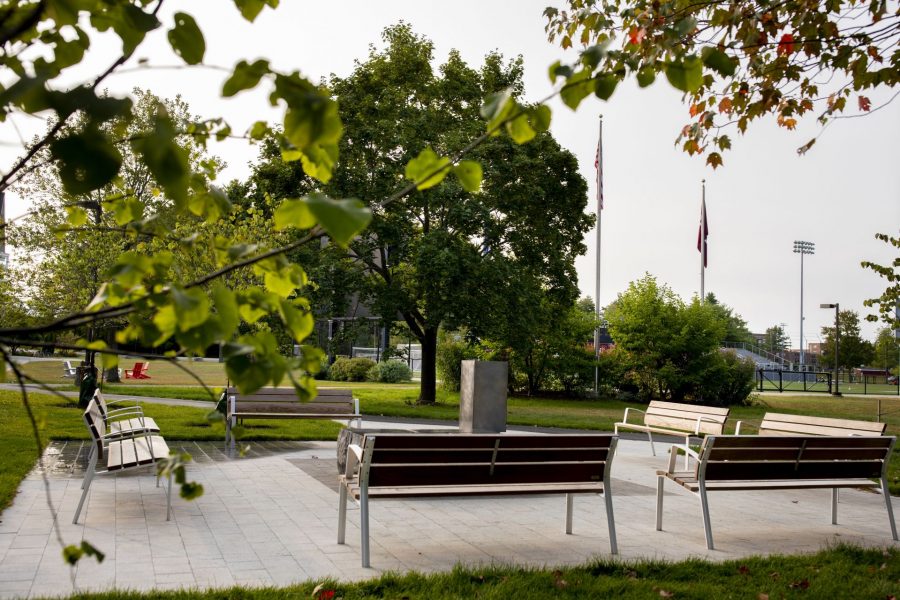 "I thought, 'Hey, this is really nice,'" says Burgau. While the plaza was built as a place to contemplate the impacts of war and honor the service of Bates' military veterans, she notes, its comforts stand on their own.
"But if you're going for those purposes, I think we met the goal — especially," she adds, "once the trees become fuller and give a little bit more privacy. Right now, obviously, they're still young. But it'll just become more of an oasis over the years."
In early August, the two elements that really define the site were placed: the focal object, which is a sculptural centerpiece combining natural and polished basalt, and a steel marker designating the plaza entrance. The construction fence surrounding the site came down at the end of the month.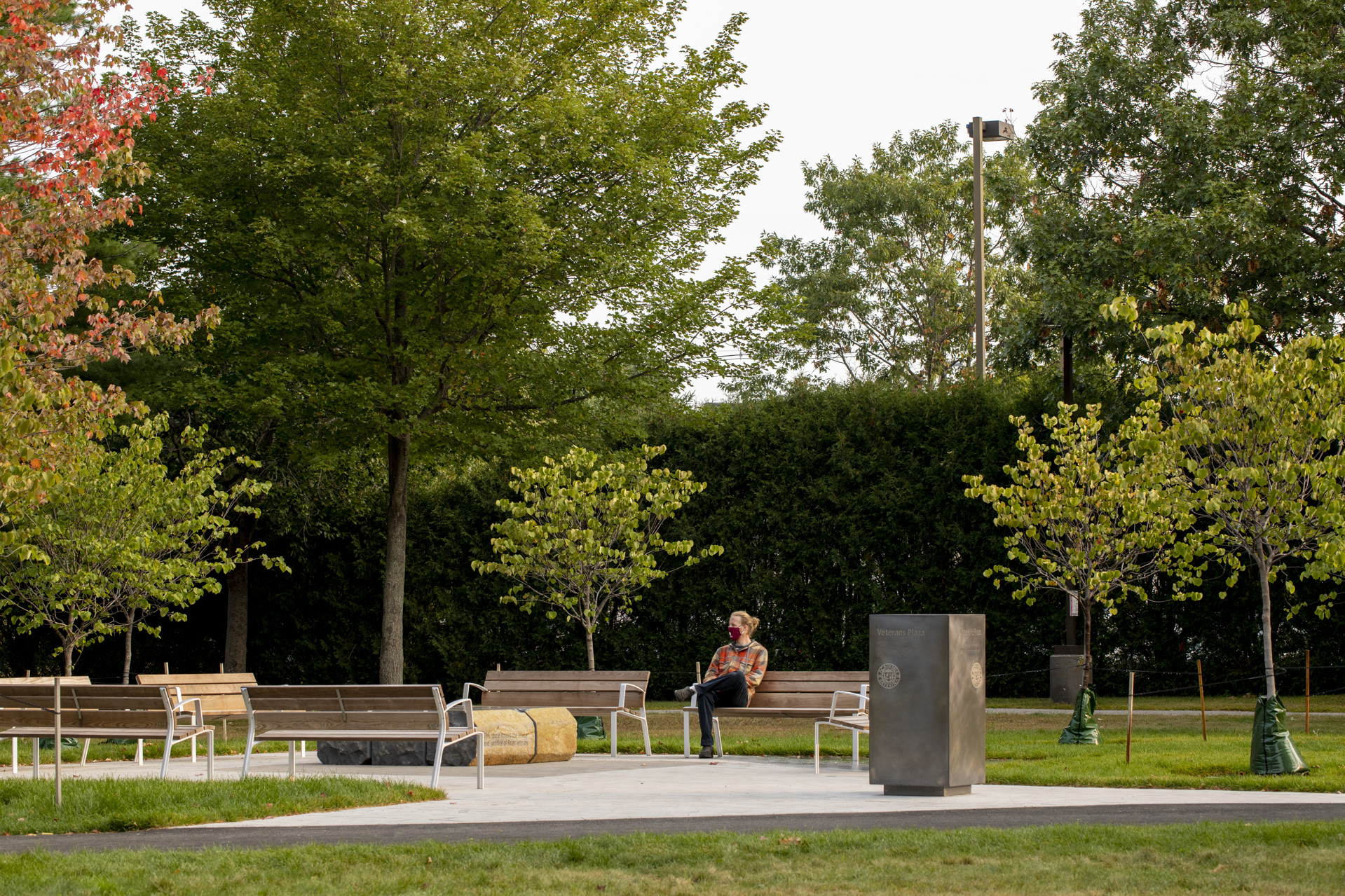 The plaza will be dedicated at 11 a.m. Friday, Oct. 9, in a virtual ceremony whose speakers will include U.S. Navy Capt. J.J. Cummings '89, commander of the world's largest aircraft carrier, USS Gerald R. Ford; and U.S. Rep. Jared Golden '11, who served with the U.S. Marine Corps in Iraq and Afghanistan. To register for this Zoom event, please click here.
Room to run: It could be the title of a song that Bruce Springsteen didn't quite write. But instead, says Bates project manager Chris Streifel, "'room to run' is kind of the catchphrase of the last month or so" at the Bonney Science Center construction site.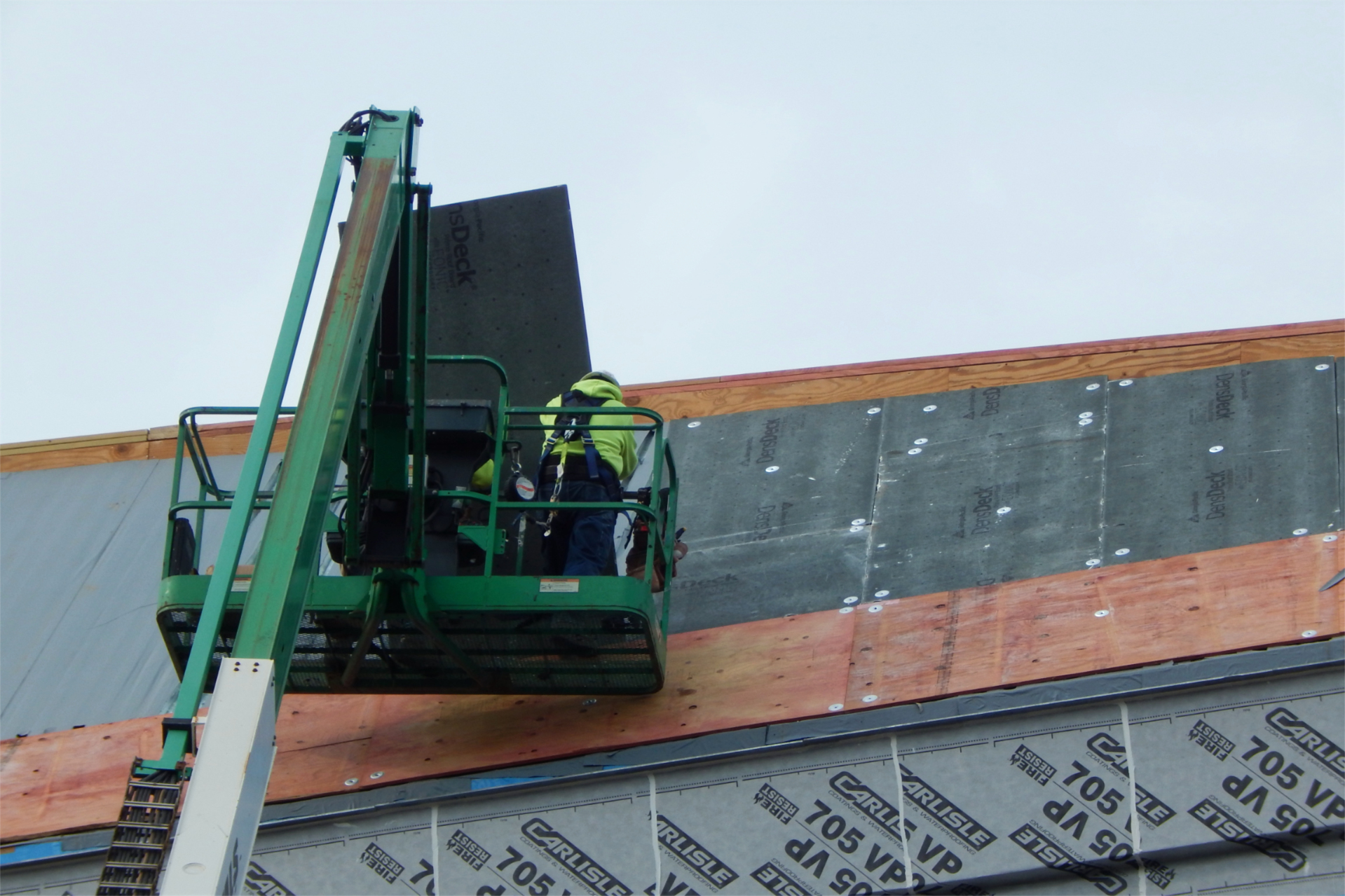 "There's this intricate dance amongst all of the exterior work," he explains. Making room to run is "just basically clearing space so that each individual trade can do their own work unencumbered, unimpeded."
From the top down, that exterior work includes:
roofing, notably the fabrication of Bonney's elaborate gutter system;
application of weatherproofing membranes, although that job is about done;
installation of window units, followed by glass;
and bricklaying, including the attachment of major steel components to support the brick.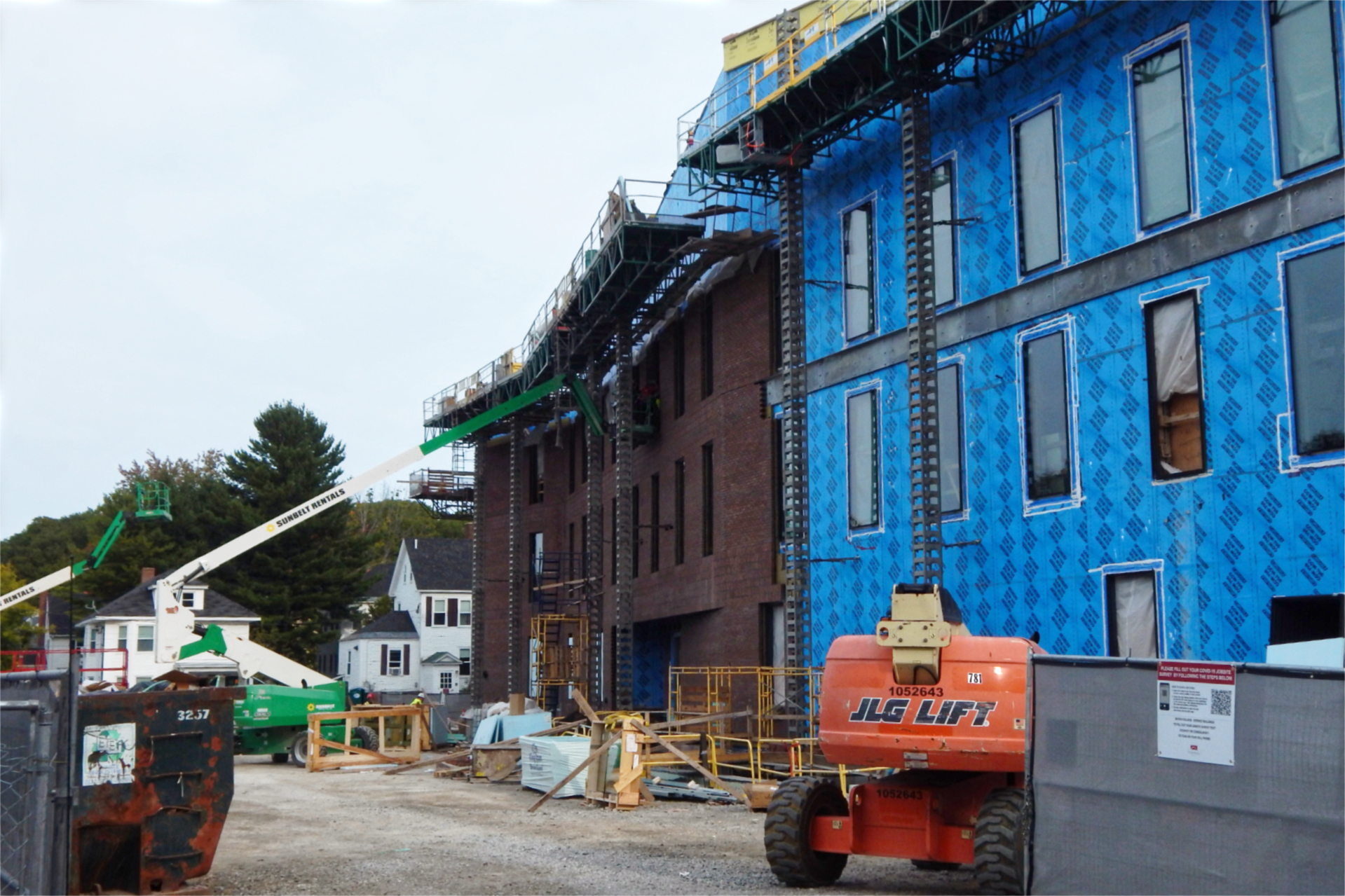 So "when the masons are going to a certain area of the building," for example, there shouldn't be "work overhead that's complicating it, making it dangerous, or just creating conflicts," Streifel says.
For Consigli Construction, the firm that's managing the building of the science center, "looking ahead and keeping all those different pieces aligned is the biggest trick, I think — orchestrating those moves so that everybody has work to do consistently. It can be a little tricky given how tight" quarters are on the site.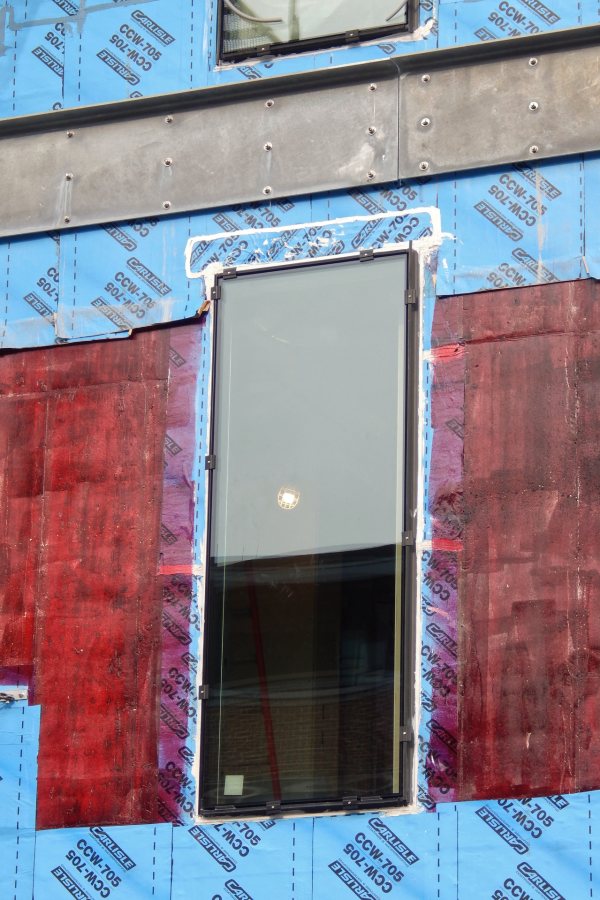 Consigli's planning, Streifel adds, "is a collective function. There are regular meetings to talk schedule and logistics, and to understand how things have to come together so everybody's moving in the same direction. And everybody has an opportunity to voice their opinions." That being said, the day-to-day direction falls to Consigli's Lee Follett, project superintendent, and Matt Rose, executive field supervisor.
So what's up with the roof? As we've previously noted, the Bonney lid is a complex design that ultimately will be topped with a charcoal-gray copper product. Now visible on the roof are weatherproofing membrane and DensDeck roofing panels, both medium gray, and plywood-colored plywood. But soon the dark copper will appear along the gutters.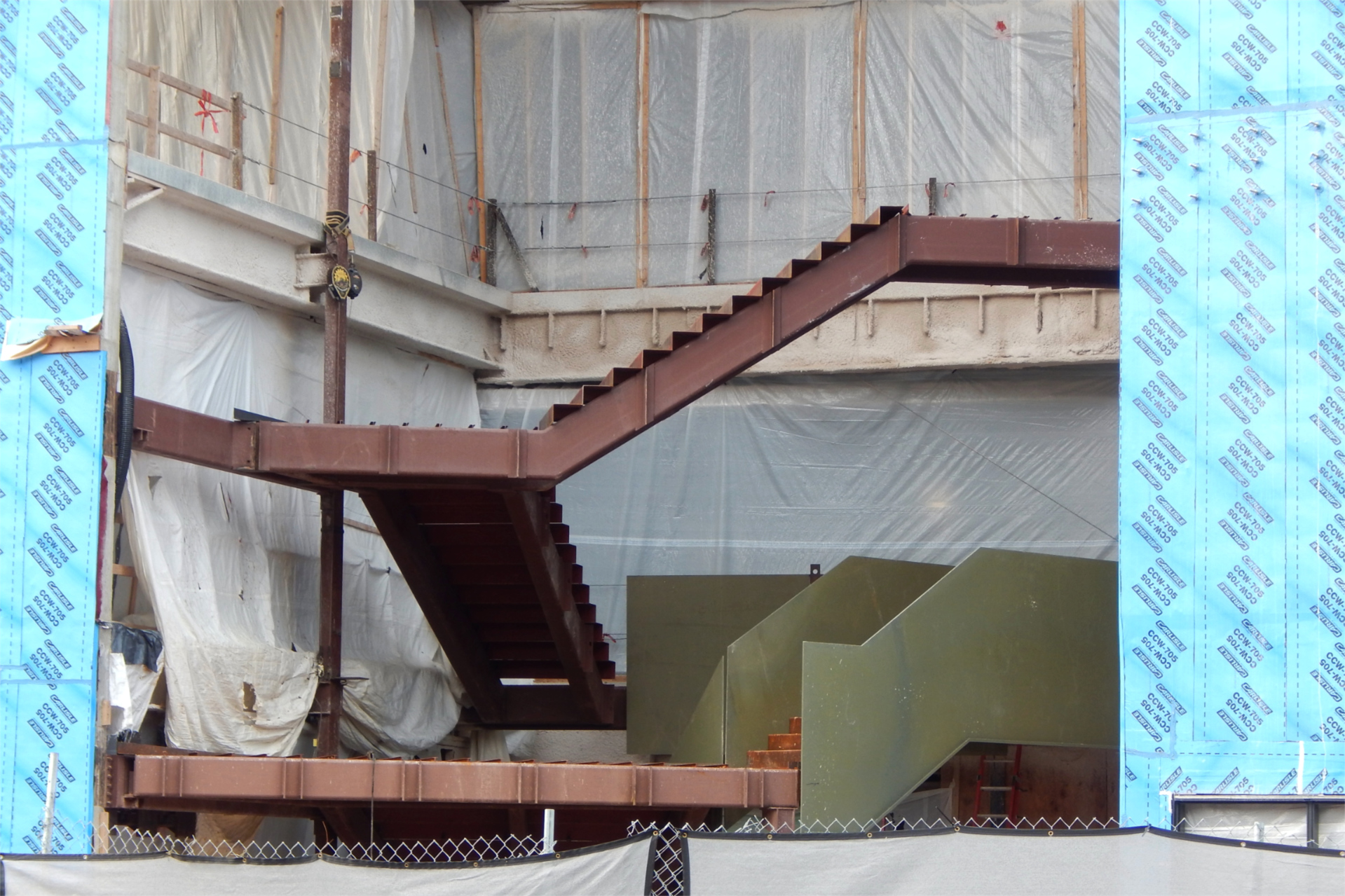 "We're getting close," Streifel says. "They're working through some issues on the corner near Bardwell Street that are giving them pause, to make sure that everything is understood, just because of how specialized, intricate, and challenging that work will be. But I hope to see some copper on there very soon."
As for windows, the Bonney center will have two varieties. One is the floor-to-ceiling style that, repeated in quantity along all four walls, will someday dazzle students and faculty with generous views. For those, all the steel frames and panes have arrived at the construction site, and at least half of the frames have been installed.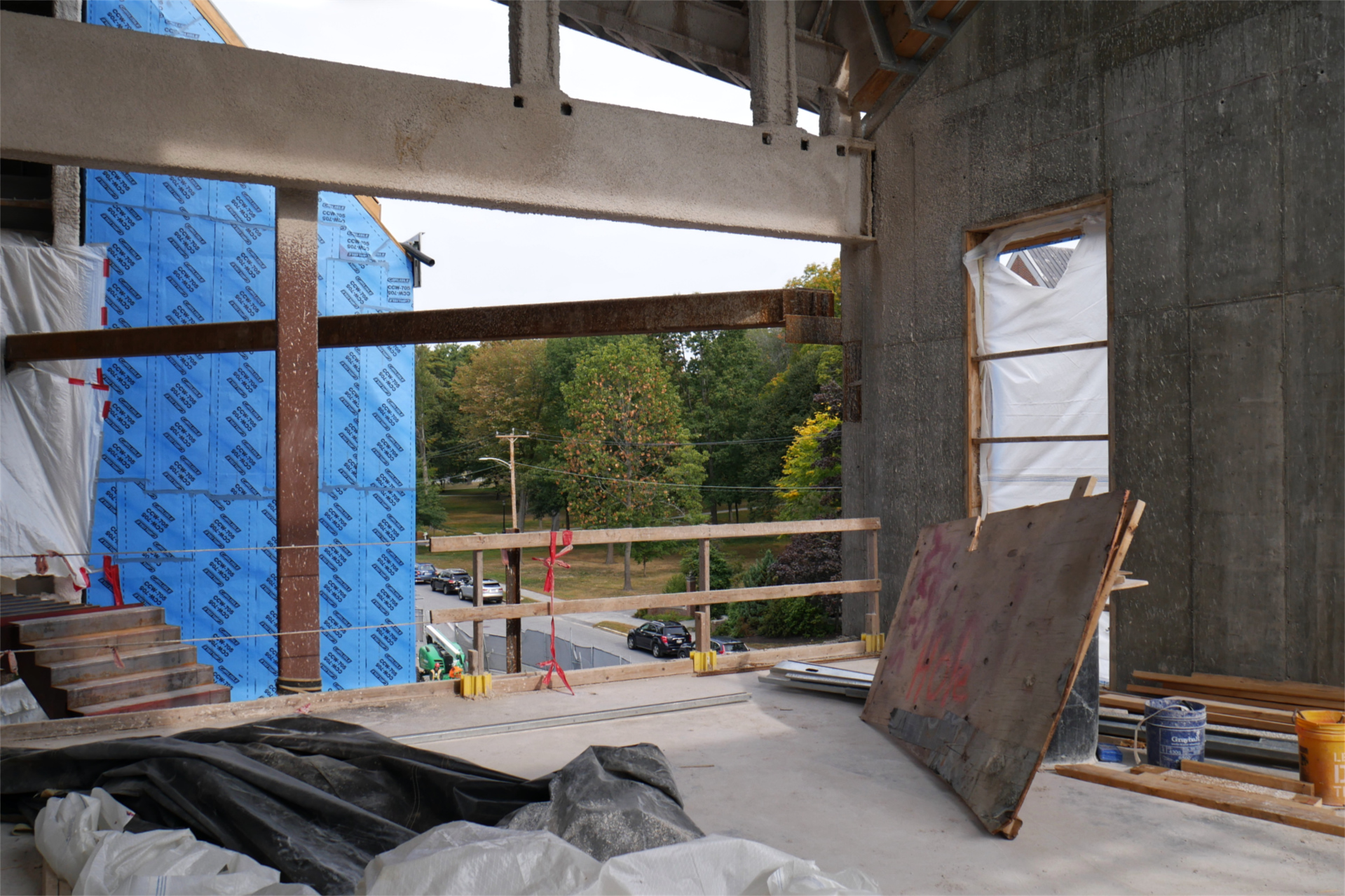 Better still, installation of the glass has begun, its reflections and refractions giving passers-by a frisson of new visual interest (at least until the windows are temporarily covered with protective foam panels). When we visited on Sept. 22, window glass was evident on the Bardwell Street and Campus Avenue sides, and around the corner on the south wall.
We were interested to learn that although these are all essentially the same window, the frame and glass are custom-fitted to each window opening, thanks to subtle, unavoidable size variations from one opening to the next.
The other type of Bonney window is what industry folks call a curtain wall and what we call something that we wouldn't want to wash, because those windows are just plain big. Affording dramatic views both inward and out, Bonney will sport a few of these glassy expanses. (Which leads one to wonder why "curtain wall" became the name of this configuration, since both curtains and walls block the view.)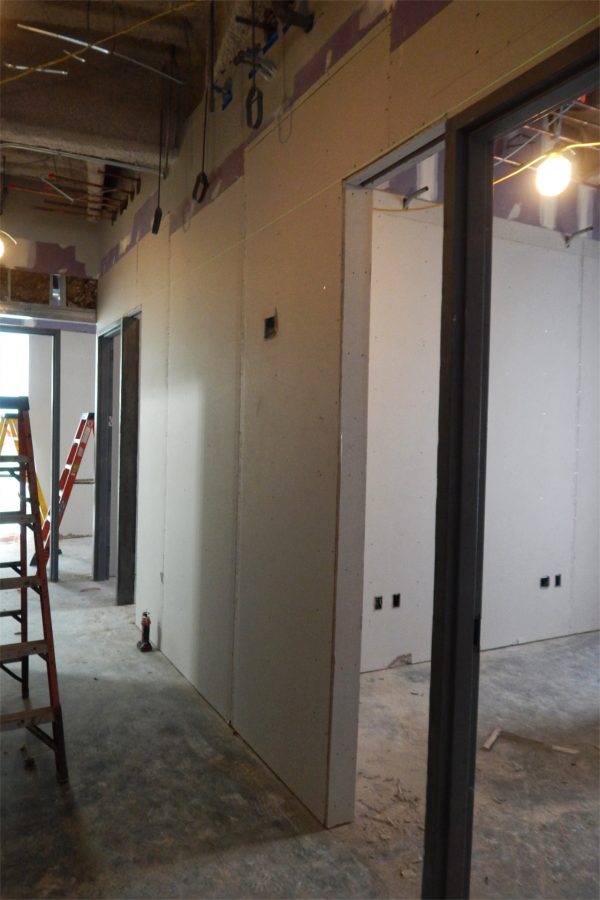 One, spanning three stories, will enclose the so-called Monumental Stairs that face Carnegie Science Hall. A third-floor classroom will have a glass wall facing east. And then there's the signature Beacon, sited at the northwest end of the building and overlooking the Historic Quad and Campus Construction Update's usual parking place.
With the Monumental Stairs still being built, the Beacon will come first. Its frame is being fabricated now, with the metal components resembling the floor-to-ceiling frames.
Insider trades: In the basement, those bus-sized air handlers have been tested and were due for inspection this week, although they won't actually start huffing and puffing in earnest till next year. Metalworkers are nearly done fabricating air ducts, and electrical and mechanical technicians are still running their pipes and conduits from here to there. Similar work continues on the fourth floor, the so-called penthouse that like the basement is jam-packed with big machines serving the entire building.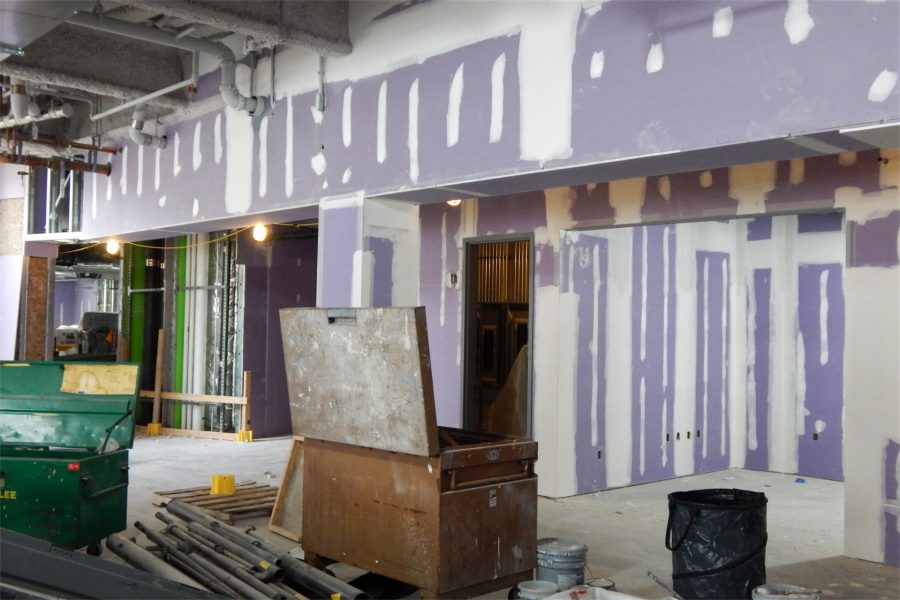 In between are floors one through three, and they're following, more or the less, the same progression. All the mechanical, electrical, and plumbing infrastructure that needs to be placed up high, snug against the decking above, is installed first. (Pros call it MEP, pronounced M-E-P — as opposed to "mep" infrastructure, which is fine but nothing to get excited about.)
"Then that stuff gets sprayed with acoustical soundproofing or fireproofing, depending on where you're at in the building," Streifel explains. "Then the walls go in, and then the drywall tops go around all the upper big infrastructure." Next comes the in-wall MEP stuff — cables and conduits and pipes, oh my! — and those are installed while a given wall still has one side open for access. Then MEP infrastructure is run into the ceilings.
The first floor is ahead of the second and third. There, MEP crews are finishing up ceiling installations. The bigger news is that painters have arrived — that is, drywall installers have made enough progress that there are walls ready to prime, and in fact there are now discernible offices, storerooms, and corridors.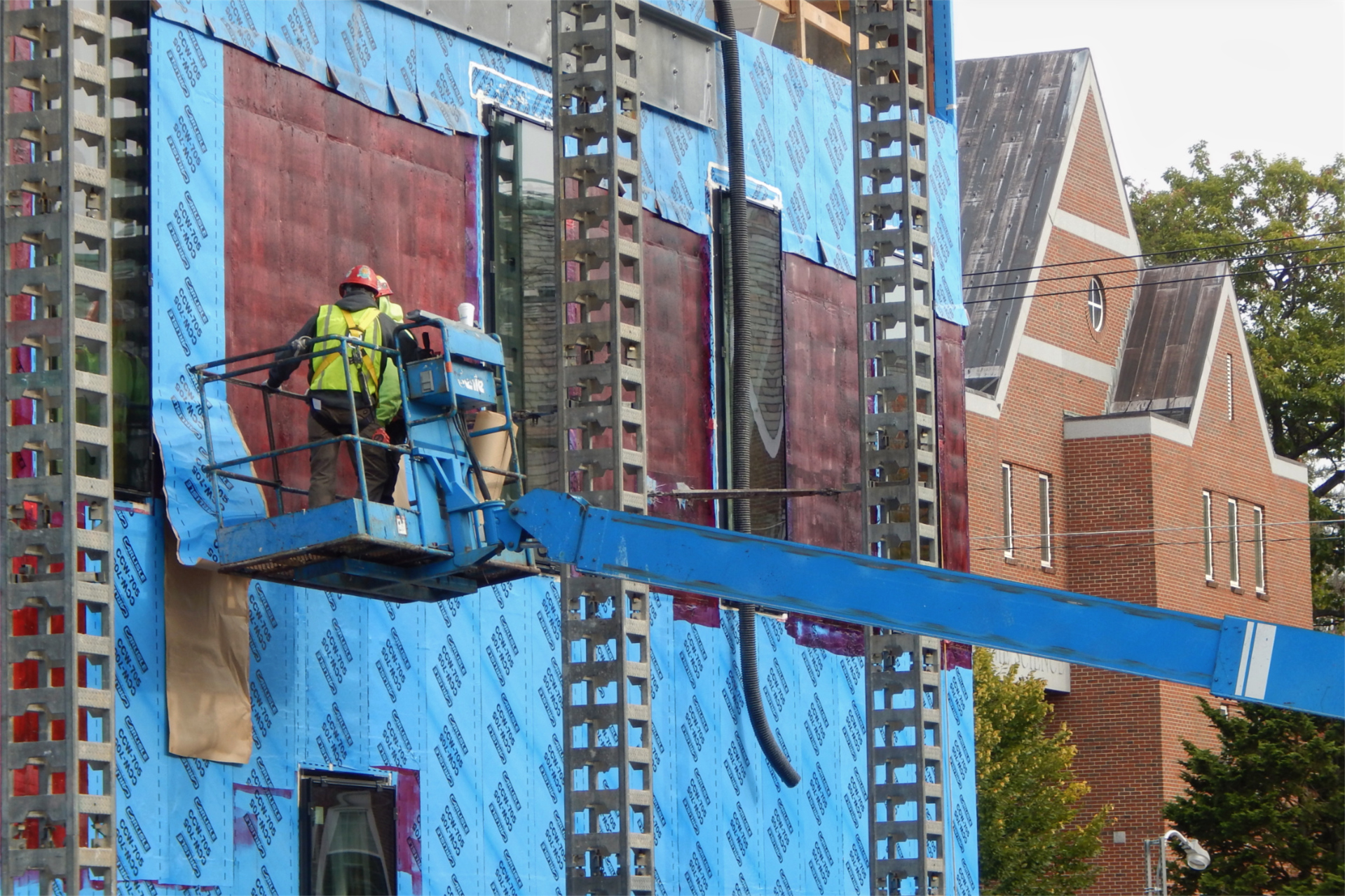 On the second floor, the focus is on hanging drywall, but enough progress has been made with MEP rough-ins, and their accompanying inspections, that the drywall crews are closing up both sides of walls started previously. And on the third floor, the in-wall MEP is getting underway.
In short, to quote Fats Waller, the joint is jumping. Streifel describes a Sept. 16 visit to the science center: "It felt busy. 'Commotion' is almost the right word. There was a lot of action. I was mostly on the second and third floors, and you didn't even have to really see it — you could just kind of feel progress being made inside.
"It was really encouraging."
Can we talk? Campus Construction Update welcomes queries and comments about current, past, future, and aspirational construction at Bates. Write to dhubley@bates.edu, putting "Campus Construction" or "Brrr, it's frisson in here" in the subject line.
Doug Hubley is a writer and musician living in Portland, Maine.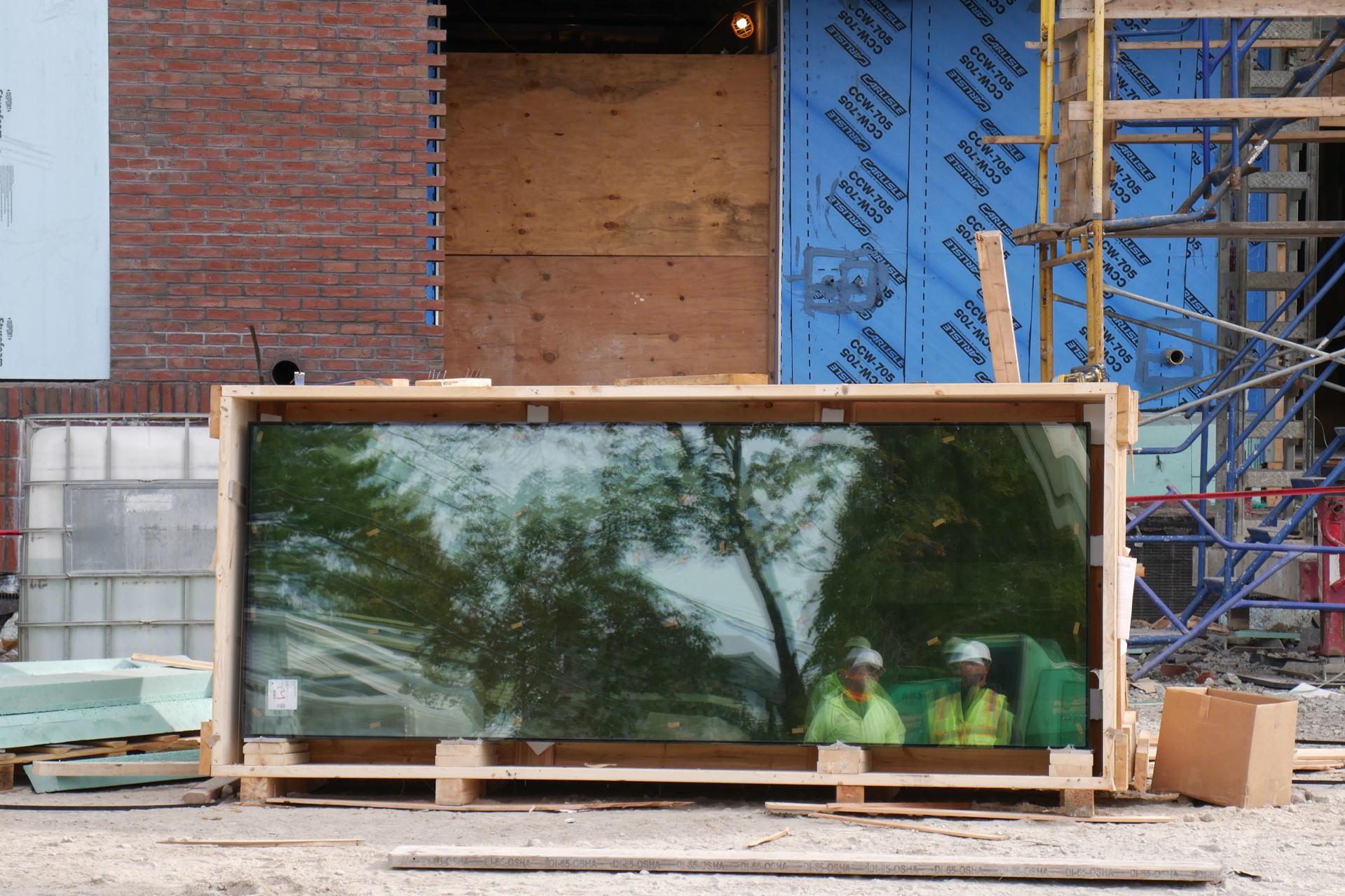 View Comments